Automatic Coffee Machines Market size is expected to reach USD 7.78 Bn by 2033, and CAGR of 4.51%
Mark J
Updated · Mar 29, 2023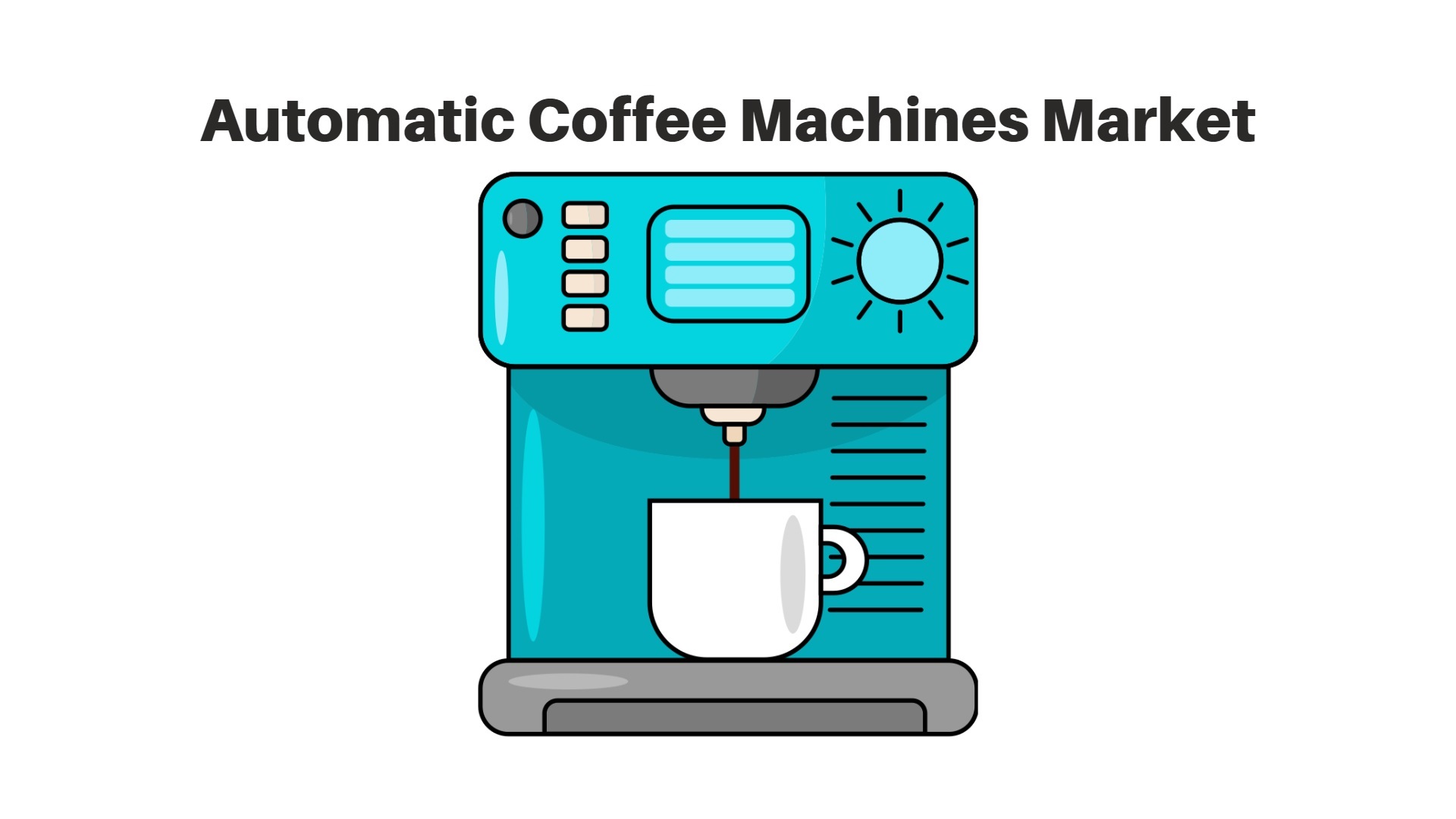 Market Overview
Published Via 11Press: In recent years, the Automatic coffee machines Market has experienced steady growth as more consumers embrace coffee as a daily ritual and seek convenience and quality. You can now find these machines in all sorts of settings-from homes and offices to cafes and restaurants with ease. The Automatic coffee machines Market size is expected to reach USD 7.78 Bn by 2033, up from its current value of USD 5.0 Bn in 2023, growing at an annual compound growth rate (CAGR) of 4.51% from 2023-2033. The market for automatic coffee machines is expected to expand in the coming years, driven by innovations such as smartphone connectivity, touchscreens and automatic milk frothers. Furthermore, manufacturers are looking towards eco-friendly and sustainable coffee machines which reduce energy consumption and waste production. Regionally, Europe and North America are the primary consumers of automatic coffee machines, driven by a high demand for premium products. Asia-Pacific is also witnessing significant growth, particularly in countries like China, India, and Japan. Overall, this dynamic space is highly competitive with an emphasis on convenience, quality, and sustainability.
Key Takeaways
The automatic coffee machine market is experiencing tremendous growth due to the growing demand for coffee around the world. Consumers are seeking convenience and speed in their coffee-making processes, which has driven demand for automatic machines. There is a wide range of these machines available on the market – from basic drip coffee makers up to more sophisticated espresso machines with built-in grinders and milk frothers.
Automatic coffee machines tend to be more expensive than their manual counterparts due to their added convenience and features, though prices can vary greatly depending on the model and brand of the machine. Online retailers have made it simpler for consumers to research and purchase automatic coffee machines. Now, shoppers can easily compare prices, and read reviews from other customers before making a purchase.
Automatic coffee machines are often associated with specific brands, and this has created intense competition among coffee machine manufacturers to develop unique features and enhance their products' quality. The automatic coffee machine market is expanding into emerging regions such as Asia-Pacific and Latin America, where coffee consumption is on the rise. This presents manufacturers with an opportunity to increase their market share in these regions.
Request For Sample Report Here:
https://marketresearch.biz/report/automatic-coffee-machines-market/request-sample/
Regional Snapshot
In recent years, the automated coffee machine market has experienced tremendous growth due to a rising need for convenient and effective coffee-making solutions.
North America: The North American market for automatic coffee machines is the largest in the world, with the United States leading growth. This region has a high adoption rate of coffee machines due to busy lifestyles, higher disposable incomes, and an enthusiastic coffee culture. Furthermore, demand for high-end and technologically advanced machines is on the rise in this region.
Europe: Europe has become a major market for automatic coffee machines, with Italy, Germany and France leading the charge. This region's strong coffee culture and preference for high-quality beans have contributed to an uptick in demand for these machines; additionally, there has been an increasing push towards eco-friendly and sustainable options in recent years.
Asia-Pacific: The Asia-Pacific region is experiencing rapid growth in the automatic coffee machines market, with China, Japan and South Korea leading the charge. Thanks to an expanding middle class and rising disposable income levels across this region, more people are investing in automatic coffee machines – leading to higher adoption rates with premium models featuring advanced features being particularly sought after.
Latin America: The Latin American market for automatic coffee machines is primarily driven by Brazil, the world's leading coffee producer. With a vibrant coffee culture in this region and increasing demand for high-quality machines that can brew various types of beans, the market is expected to experience significant growth over the coming years.
Middle East and Africa: The Middle East and Africa region has a rapidly developing coffee culture, leading to an increasing demand for automatic coffee machines. This market is mainly driven by the United Arab Emirates, Saudi Arabia, and South Africa due to their hectic lifestyles and increasing urbanization.
Inquire Here & Query for report:
https://marketresearch.biz/report/automatic-coffee-machines-market/#inquiry
Drivers
Automatic coffee machines are electronic devices designed to brew coffee without human interaction. These machines come equipped with built-in grinders, milk frothers, and other advanced features that enable users to make coffee quickly and efficiently at home or in a commercial setting.
Production of Automatic Coffee Machines
Automatic coffee machines are manufactured worldwide by various companies. The production process usually involves designing and assembling its components – such as boiler, pump, grinder, and brewing unit – before testing them to meet safety and quality requirements before being released onto the market.
Automatic Coffee Machines
Automatic coffee machines are becoming more and more commonplace in households worldwide, offering users the convenience of making high-quality coffee without needing manual intervention at home. Automatic coffee machines are commonly found in commercial settings like cafes, restaurants, and offices. They enable businesses to provide customers with a wide selection of beverages quickly and efficiently. Automatic coffee machines are essential in the production of specialty coffees such as espresso and cappuccino, giving users the power to customize their cup by changing its strength, temperature, and milk frothing settings. The hospitality industry relies heavily on automated coffee machines to supply guests with top-notch beverages during their stay.
Excipients are chemicals added to medications or other products in order to enhance their functionality, stability, or aesthetic appearance. In the automated coffee machines market, excipients are utilized in producing coffee capsules and pods that are utilized by these machines.
Recently, the demand for excipients in the automatic coffee machines market has been rising due to the growing popularity of coffee capsules and pods. These products provide convenience and ease of use, making them a go-to choice for many consumers. Excipients are added to these containers in order to provide necessary barrier properties, flavor, and aroma.
One of the most commonly used ingredients in automatic coffee machines is polypropylene, which serves as the material for coffee capsules or pods. Polypropylene is a thermoplastic material that's durable, heat-resistant and lightweight – perfect for producing coffee capsules and pods. Other common excipients found within automatic coffee machines include aluminum and paper which are both utilized in their production of capsules and pods.
Restraints
Automatic coffee machines can be expensive, especially those equipped with advanced features such as grinders and milk frothers. Their cost may deter potential buyers, particularly those with lower disposable incomes. Regular cleaning and maintenance for these machines are necessary but time-consuming and costly; failing to keep them running optimally could cause poor performance or even breakdown – leading to additional repairs at additional expense. Furthermore, using coffee capsules or pods – commonly used in automatic coffee machines – generates a considerable amount of waste which has negative environmental impacts and raises questions about the sustainability of these devices.
Automatic coffee machines offer convenience, but may not offer the same level of customization as other brewing methods. Some coffee connoisseurs prefer having more control over their brew process and may find automatic coffee machines lacking in this regard. Although automatic coffee makers remain popular, other brewing methods such as pour-over, French press, and drip coffee makers remain viable alternatives for those seeking a more traditional experience when making coffee.
Opportunities
Increased Demand for Premium Coffee: There is an increasing interest in premium and specialty coffee drinks such as espresso, cappuccino, and latte. Automatic coffee machines with built-in grinders and milk frothers can produce superior coffee drinks, giving manufacturers a lucrative opportunity to cater to this growing market segment.
Growing Popularity of Coffee Pods and Capsules: Due to their convenience and ease of use, coffee pods and capsules are becoming more and more popular. Manufacturers can benefit from this trend by creating innovative eco-friendly pods and capsules that meet the demands of environmentally aware customers.
Advances in Technology: Technological advances in automatic coffee machines have enabled them to produce an array of coffee types, from cold brew to nitro. As manufacturers strive to stay innovative and create machines with cutting-edge features that meet consumers' changing demands, these capabilities will continue to evolve over time.
Expansion into Emerging Markets: Manufacturers have numerous opportunities to expand into emerging markets like Asia, Africa and the Middle East where demand for automatic coffee machines is on the rise. By customizing products according to individual needs and preferences in these emerging markets, manufacturers can tap into their growing middle classes and rising disposable incomes.
Shift to Sustainable Manufacturing: Consumers are increasingly demanding eco-friendly and sustainable products, including in the automatic coffee machines market. Manufacturers can benefit from this trend by adopting sustainable production techniques and producing environmentally friendly machines that appeal to environmentally aware buyers.
Challenges
Environmental Impact: The use of single-use coffee pods and capsules in automatic coffee machines has resulted in an enormous rise in plastic and aluminum waste. The production, use, and disposal of these materials can have a negative effect on the environment by contributing to pollution and depletion of natural resources.
Health Concerns: Automated coffee machines often use pre-ground coffee, which may result in a loss of flavor and aroma over time. Furthermore, some pods and capsules contain additives and preservatives which could have detrimental health effects.
Cost: Automatic coffee machines can be expensive, and the expense of purchasing and running one may prove overwhelming for some consumers. Furthermore, coffee pods or capsules used in these machines tend to have much higher costs than traditional ground beans do.
Quality: While automatic coffee machines provide convenience, they may not produce coffee of the same high quality as manual brewing methods. Machines restrict users to adjusting variables like grind size, water temperature and brewing time which can affect the flavor and aroma of the beans.
Market Segmentation
Segmentation by coffee machine type:
Super Automatic Coffee Machine
Fully Automatic Coffee Machine
Semi-automatic Coffee Machine
Segmentation by end-use application:
Home
Commercial
Industrial
Key Players
Nestlé Nespresso S.A.
Keurig Dr Pepper Inc.
JURA Elektroapparate AG
De'Longhi Appliances s.r.l
WMF Group GmbH
Koninklijke Philips N.V.
BSH Hausgeräte GmbH
Melitta Unternehmensgruppe Bentz KG
Delonghi Ltd.
Breville Group Limited
Report Scope
| | |
| --- | --- |
| Report Attribute | Details |
| Market size value in 2023 | USD 5.0 Bn |
| Revenue forecast by 2033 | USD 7.78 Bn |
| Growth Rate | CAGR Of 4.51% |
| Regions Covered | North America, Europe, Asia Pacific, Latin America, and Middle East & Africa, and Rest of the World |
| Historical Years | 2017-2022 |
| Base Year | 2022 |
| Estimated Year | 2023 |
| Short-Term Projection Year | 2028 |
| Long-Term Projected Year | 2033 |
Recent Developments
The automatic coffee machine market is constantly progressing, with new technologies and innovations emerging to meet consumer demand for superior coffee experiences.
Smart technology in automatic coffee machines is becoming more and more commonplace. Users can control brewing settings, temperature settings, and other features via smartphone apps. There's an increasing demand for eco-friendly and sustainable automatic coffee machines; manufacturers are developing products with recyclable or biodegradable components to reduce waste and improve the environmental impact of these devices. Specialty coffee demand has grown exponentially in recent years – thus leading to the development of specialty espresso, cappuccino, and latte machines that can brew different types of coffee simultaneously.
Automated coffee machines are equipped with features that enable personalized brewing. This includes the capacity to adjust the strength, temperature, and other settings according to individual preferences. Milk frothing is an integral component of many coffee drinks; automatic machines with built-in milk frothers are becoming increasingly popular as they can quickly and easily froth milk to your desired consistency without needing manual intervention.
Key Questions
1. What is an Automatic Coffee Machine? An automatic coffee machine is a modern electronic appliance that brews coffee without human intervention. These units often include built-in grinders, milk frothers, and other advanced features to allow users to make coffee quickly and efficiently. 2. What is driving the growth of the automatic coffee machine market? This sector can be attributed to factors such as rising disposable incomes, hectic lifestyles, and expanding coffee culture. People are seeking convenient and efficient ways to make coffee at home or in a commercial setting. 3. What are the major regions driving growth in the automatic coffee machines market? The key regions driving growth in the automatic coffee machines market include North America, Europe, Asia-Pacific, Latin America, and the Middle East and Africa. These regions boast an enviable coffee culture and consumers are increasingly turning to automated machines for high-quality espresso at home or work. 4. What are the different types of automatic coffee machines available on the market? On the market, consumers can choose from various automatic coffee machine types like bean-to-cup machines, capsule machines, drip machines, and espresso machines. Each has its own features and advantages that enable consumers to pick a model that best meets their requirements and preferences. Contact us Contact Person: Mr. Lawrence John Marketresearch.Biz (Powered By Prudour Pvt. Ltd.) Tel: +1 (347) 796-4335 Send Email: 

[email protected]
More Posts By Mark J