Productivity Software Market
By
William Elcock
Feedback
In today's fast-paced business environment, any tool that can help workers to complete tasks more efficiently is an asset.
Tools such as time trackers and app blockers are being used more regularly because of the clear benefits offered by these apps. Apps like this fall under the category of productivity software for which there is a huge market.
Here, we'll provide an overview of productivity software and look at the current and projected state of the market:
Productivity software
Productivity software helps organizations to manage their tasks more effectively and efficiently. It helps individuals to organize their work better, so they are able to be clear and focused on tasks that need to be completed. This category shouldn't be confused with collaboration software, which facilitates more effective collaboration by teams on tasks.
Productivity software market
The productivity software market was valued at $45.81 billion in 2019 and is expected to grow at a compound annual growth rate of 13.4% from 2020 to 2027.
The market has been driven by the increased adoption of cloud computing, which makes it easier to implement the software.
Mobile workforces are also helping to drive market growth, since productivity software helps to keep teams focused on the task at hand. This is sometimes more difficult with remote employees, unless an organized approach is taken, such as through productivity software.
There are quite a few players in this large market, such as:
Oracle

Monday.com

Slack Technologies

Microsoft

Google
Types of productivity software
There are many different productivity applications in the market, but they generally fall under a few key categories:
Task organization/project management
These apps allow you to organize your tasks in a coherent way. Apps like Monday.com and Zoho Projects fall into this category.
Focus/time tracking
The digital world is full of distractions.
These apps can either block unproductive tasks or they are designed to provide timers that let users set amounts of time. Many of these apps use Pomodoro timers that run every 25 minutes and allow for five-minute rest periods.
Performance measurement
Some apps are able to measure productive output. Based on the tasks that you complete within a certain time, these apps can provide visuals such as graphs that show how well you did when completing a task. For example, Todoist is a to-do list app that visually shows the progress you make completing tasks on a daily and weekly basis.
Elimination of repetitive tasks/automation
Tasks like sending invoices and setting up meetings can be time consuming. However, there are apps that can eliminate this work. For example, Calendly lets people sign up for meeting slots on your calendar and handles scheduling the meeting and sending out virtual meeting links.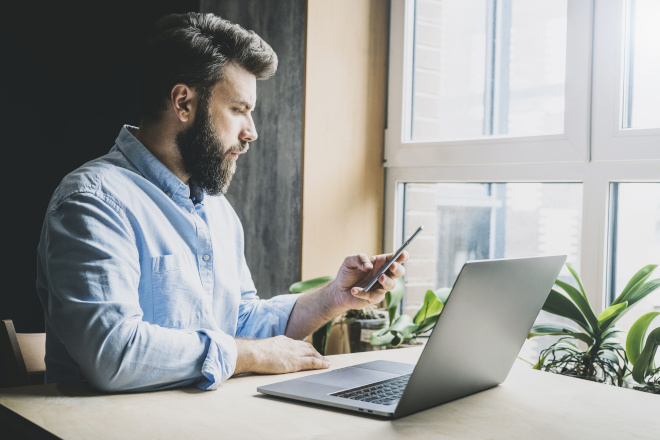 Courtesy Adobe.
Productivity software features
Visual interfaces: Visual interfaces allow for more intuitive interaction with the everyday app.

Task management: This is one of the staples of productivity software. Being able to organize tasks helps employees to stay on top of tasks. This feature lets users clearly see what they need to do.

Automation: Automation is key for speeding up work. Tasks like creating a task that repeats every week and the automatic creation of events can help to reduce the amount of unnecessary work done by employees. For example, Trello is a productivity app that can automate board creation based on your behavior.

Customization: Customization simply lets you change the layout of the productivity app you're using to suit your needs better. For example, many apps let you change around dashboards based on your preferences.
Benefits of productivity software
Effective project management: Organizations that use productivity software have a better handle on tasks and the progress that has been made.

Evaluation is easier: Since projects can be organized and tracked using productivity software, managers can evaluate employees using this format and easily provide useful feedback.

Facilitates remote working: Teams with access to productivity software can set up tasks that need to be completed and have relevant remote team members manage their work based on the set-up tasks.

Efficiency is improved: Since everything is set out so clearly in productivity software, this lends itself to increased productivity. This is especially the case with apps that have dashboards that visually give an account of an individual's level of productivity.
Productivity software use cases
Time-tracking software helps build trust and increase productivity
Some time tracking software is set up in such a way that managers can access time information. This isn't meant to make employees feel that there is someone always looking over their shoulder. However, it does let managers see if employees are working on the right tasks and helps build trust between managers and employees. This is the case at Setupad, whose CEO and employees use DeskTime to track their time. The software helps build trust between the CEO and employees, and they can always see how long it takes them to work on tasks.
Project management software helps team productivity
Mindshare uses Clickup, a project management application, to manage and track their marketing activities. With many tasks and clients, they are able to keep careful track of how projects are moving along, due to features such as custom statuses and time tracking.
Productivity software helps users meet project deadlines
Wildfire works with high-profile clients on their PR campaigns. These campaigns tend to have tight deadlines and require tight execution. In order to achieve this, Wildfire uses Clicktime to track progress to ensure that employees are making the required progress on their tasks.
Related articles
This article was originally published on July 17, 2021