Live Chat Statistics By Usage, Demographic, Reason, Technologies Market Share, Customer Preference, Company Improvement and Platforms
Barry Elad
Updated · Aug 22, 2023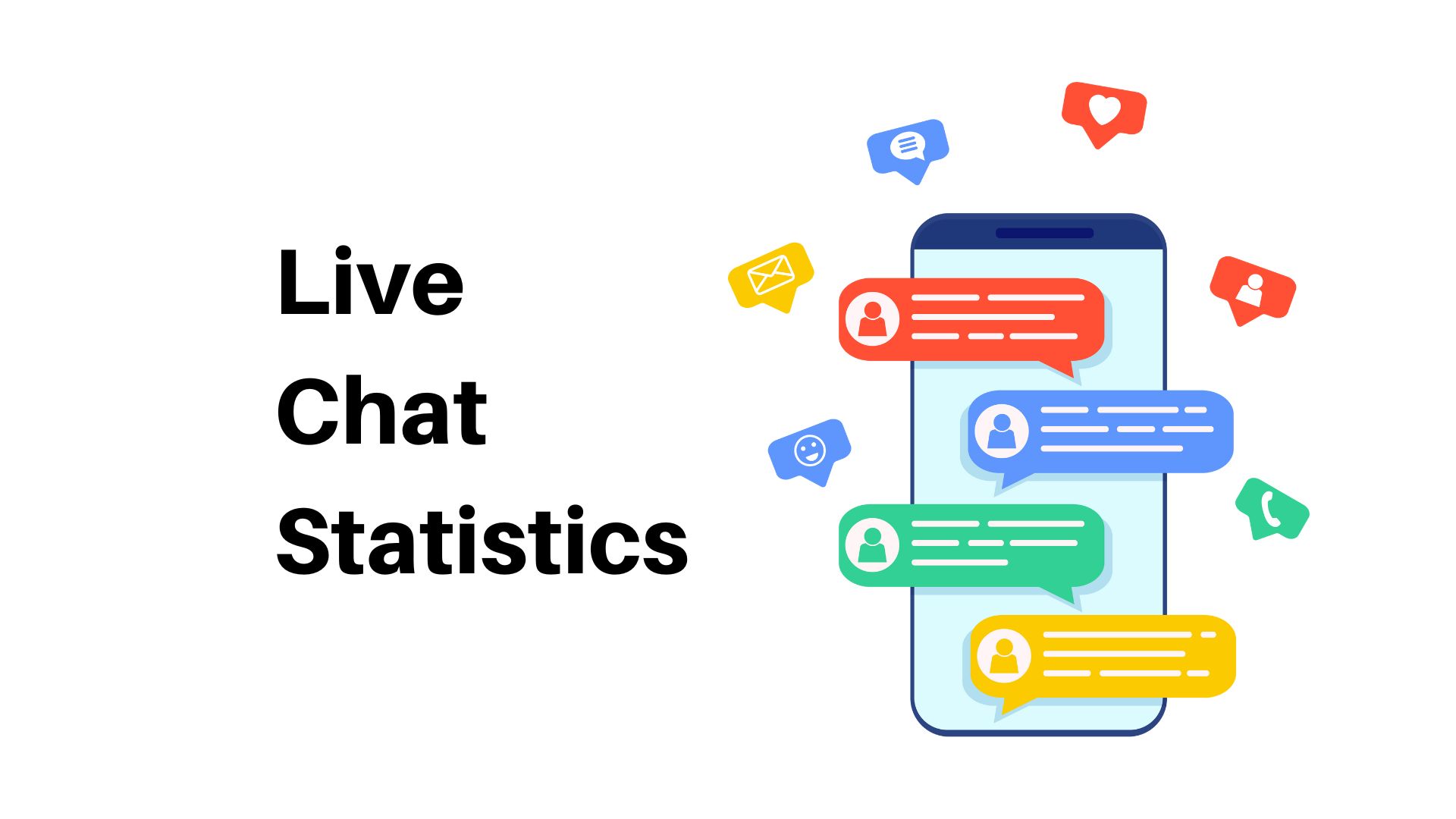 Introduction
Live Chat Statistics: As of reports the market of global life chat is expected to cross the worth of $987.3 million by the end of 2023 and the market size of live chat software is expected to reach $1.7 billion by the end of 2030. Worldwide businesses are implementing live chat as the most important factor in current days almost 73% of clients have agreed live chats as a convenient way of business communication. Live chat tools are way beneficial as they enable solutions in an effective and timely manner and this form of communication is termed as top form of customer choice. These Live chat statistics include insights from effective aspects that will provide knowledge on why live chat is an effective tool for business today.
Editor's Choice
In the United States in 2022, almost 69% of buyers or shoppers preferred live chat and this is also termed as the top service choice among online buyers aged between 18-49 years.
Companies that have included live chat were known to be the most satisfactory form of communication accepted by 73% of customers across the world.
As of 2023, the annual market revenue is going to be $987 million which has increased by 7.3% of CAGR from last year.
According to Software Advice, consumers spend 60% more on purchases from companies with live chat facilities.
The highest live chat satisfaction rate was observed in Mexico at 94.11% in 2022.
The conversion rates have improved by 3.84% because of live chat.
The costs of companies reduced by 15-33% after implementing live chats as compared to phone support.
By the end of 2022, the option of live chat was supported by 85% of worldwide businesses as it allows in accessing instant support.
This is also termed an important website feature which was believed by 44% of online consumers.
An experienced live chat agent helped in handling 4 to 6 chats at a single time.
Facts About Live Chat
(Source: 99firms.com)
As of 2023, the option of live chat was supported by 85% of businesses across the world.
On the other hand, 81% of departments of customer services have planned on investing in live chat in the coming future.
If the preferences of customers are considered that businesses are levitating due to 35% of customers now more towards live chat,
38% of customers in case of purchasing any products or services for the first time always preferred live chat support websites in 2022.
In the United States, 36.5% of women who used live chat at least a single time were aged between 18-29 years, and 37.5% of people were aged between 30-39 years.
The most significant time observed for live was between 10 A.M. to 3 P.M. and almost 50% of transactions occurred during this time period.
73% of live chat is the best communication channel that enables enhanced customer satisfaction.
Companies offering live chat support where 63% of people's monthly spending has turned out to be $250-500 on purchasing.
General Live Chat Statistics
(Source: 99firms.com)
38% of people after having an effective conversation in live chat mostly tend to purchase online products and consumers spend 60% more on purchases on companies with live chat facilities.
57% of customers abandoned online purchases in companies without live chat services.
It has also been observed that 63% of customers happily returned to the e-commerce platform with live chat options.
The revenue growth has increased by 2865 in Rescue Spa, after introducing live chat.
38% of customers have stated that they got frustrated because of poor experience on live chat support services and 43% stated that the live chat experience was not good enough.
Live chat also includes many scripted information and where 29% of customer's responses were frustrating and 38% of businesses agreed.
Whereas 24% of customers felt frustrated when they need to wait longer for getting responses through live chat and 19% of companies agreed on this reason.
by Usage
(Source: 99firms.com)
In 2022, live chat usage statistics in different stages of the customer cycle were around 39% of cases live chat used for conversion in creating potential leads, sales prospects, post-sales customer support, and education.
The other uses are followed by 32% of cases used for early-stage direct sales engagement, 29% for marketing awareness, 24% for mid-stage direct sales engagement, and 18% its tool for closing deals.
by Demographic
In 2022, Millennial groups 63% were the most preferable users of live chat over traditional modes such as phone or email customer support as live chat helps in achieving the best answers to their questions across the world.
Followed by Gen Z groups 36% preferred live chat for contacting customer services in any need.
Only 20% of baby boomers used live chat for getting any purchase-related information.
Better experienced was achieved by live chat was experienced by people aged between 18 to 49 years across the world.
The highest satisfaction rate was achieved by Mexico (94.11%), which is followed by Australia (93.59%), and Canada (88.36%).
by Reason
The main reason why customers prefer live chat over other communication channels in 2022, is as 79% of customers get their queries solved immediately within 35 seconds.
Furthermore, reasons are followed by 51% of customers are able to multi-tasking while using live chat.
46% of customers said this is the most effective method of communication and 29% claimed that live chat ensures getting better information than other modes of communication.
22% of consumers don't prefer talking over the phone and 21% of people were unable to pick up calls when they are at work, and 15% of people said their doubts get clearer when they engage in a live chat over phone calls.
(Source: statista.com)
In 2022 the global live chat software industry was "tawk. to" was having a market share of 21.41%.
The other software market sizes are followed by Facebook Customer Chat Plugin (18.08%), Zendesk Chat (8.46%), Tidio (8.09%), LiveChat (6.03%), and others (37.93%)
by Customer Preference
As of 2022, above 95% of customers wanted to get a quality live chat support system, and is preferred over time while experiencing conversation.
79% of customers said that they mostly used live chat for getting immediate responses to their questions.
Live chat helped in enhancing the loyalty rate of customers by 51% worldwide.
51% of customers wanted that companies should enable effective service available 24/7.
42% of customers claimed that companies are more trustworthy when live chat services are available.
72% of customers expected that agents of live chat services must about their purchase history and contact details too.
Live Chat Statistics for Company Improvement
As of 2023, customers by 53% have abandoned online purchases when they find appropriate answers to their product-related queries.
38% of customers the worst thing about live chat was the poor customer service.
27.5% of customers have dropped out of the live chat live due to longer waiting times.
Businesses by 26% still do not offer online live chat services for customers to date.
A total number of people when logged in for a live chat 21% left chat because support team members of live chats didn't answer them on time.
The resolution rates of live chat services have increased by 13 times which is more than other online communication forms.
by Lead Generation
In the case of lead generation live chat is termed as an effective tool by which businesses can extend their overall sales rate, customer loyalty, and revenue rate.
Live chat services ensure proper answers to customers' queries in the middle or during the online purchasing process which was accepted by 44% of customers that allow for gaining an effective customer base.
Out of overall users of live chat, 40% of users get connected with the company after having online chat and to date, 22% of customers never used the services of live chat.
It has also been observed that when questions were answered within a few minutes, in such cases 59% of customers are more likely to purchase more.
Across the world, live chat has influenced almost 38% of customers for making more purchases.
The average satisfaction rate of live chat support was 83.1% in 2022.
Empowering Live Chat Statistics by Chatbots
(Source: fitsmallbusiness.com)
Implementing chatbots on live chat services helped businesses in reducing 30% costs of services.
Chatbots were used for customer service across the world by 67% of customers.
By the end of 2022, chatbots within live chat helped in handling 75-90% of queries in the healthcare and banking sectors.
Millennials by 67% have claimed that live chat with a chatbot support system has helped them in purchasing more products and services from different companies.
As of the survey, 6% of customers said that businesses should never use a chatbot for enabling the services of live chat.
Chatbot is an enhanced technology that allows for resolving better queries of customers with 90% of accuracy.
by Platforms
In 2022, after implementing live chat, the conversion rates of Virgin Airlines have boosted by 23%.
Whereas the conversion rates of Intuit have experienced a spectacular rise by 190% by implementing live chat services.
According to Kayako, 79% of businesses accepted that the presence of live chat has impacted positively enhancing their annual revenue, customer relations, and sales rate.
As per the reports of Goinflow, the conversion rates of live chat have improved by 3.84% and overall revenue has increased by 6% in 2022.
According to ICMI, worldwide companies have engaged 4.5 times more customer leads by implementing live chat than other online services.
According to Forrester, the average order value by customers has increased by 10% by engaging live chat options in the business.
Response Time of Live Chat
(Source: superoffice.com)
As of 2023, the average wait time for getting answers in live chat was 2 minutes and 40 seconds.
Whereas the other timings are followed by the fastest response within 7 seconds, and the longest response takes about 9 minutes.
After having a conversation on live chat 55% of companies have sent chat session copies in emails and asked for feedback and 45% never asked for any feedback.
by Companies
(Source: financesonline.com)
Companies used live chat services more for enhancing sales over support. Thus 85% of live chats were used for B2B sales and 74% for B2C sales.
On the other side, 67% of companies have implemented live chat for B2C support and 66% for B2B support.
The highest rate of queries received on live chat by 90.3% of Entertainment industries through mobile.
Furthermore, industries are followed by Recreation (66%), Healthcare (42%), Hospitality (37%), Finance (35%), Customer service (34%), Government and Nonprofits (33%), Telecom (32%), E-commerce (31%), Education (24%), and Transportation (23%).
The highest and positive customer satisfaction rate was achieved by Real Estate companies with 97.7%, which is followed by Insurance companies (92.9%).
The shortest wait time stats by industry were Entertainment (40.2 seconds), Real Estate (44.9%), and Insurance (49.8 seconds).
60% of companies were using live chat for less than 1 year, 23% of companies (1-2 years), 11% of companies (3-5 years), 4% of companies (6-10 years), and 2% of companies (more than 10 years)
Live Chat Channel Statistics by Age Group
In the 1st quarter of 2022, customers aged between 18-24 years used live chat via the website or mobile app (40%), social messaging app (35%), and SMS/texting (21%).
25-39 years: used live chat via website or mobile app (42%), social messaging app (39%), and SMS/texting (17%).
40-45 years: used live chat via website or mobile app (47%), social messaging app (31%), and SMS/texting (20%).
Above 55 years: used live chat via the website or mobile app (48%), social messaging app (24%), and SMS/texting (22%).
by Customer Service Agent and Manager
Customer Service Agent
To date, customer service agents of live chat can handle 18.2 chats on a daily basis but according to research handling 5 chats is more beneficial for resolving queries.
Most agents took less than 40 seconds of time to respond to each customer.
Customer satisfaction depends on many factors such as agent's behavior, types of answers and etc in which the satisfaction rate of customers turned out 72.8%.
If an agent responds with 5-10 seconds then in such a situation satisfaction rate changes to 82.7%.
Customer Service Manager
As of 2023, the average daily availability of business in live chat is 16 hours.
Mobile devices are used for live chat by 91.4 % of customers and desktops and laptops by 8.6%.
The average waiting time of getting an appropriate solution is 3 minutes and 28 seconds.
Whereas due to the manager's delay in responding the average queues dropout rate turned out to be 24.8%.
Conclusion
As of now after completing the article on Live Chat Statistics it can be easily stated that live chat is an important tool of business communication that allows for enhancing revenue and sales rate, provides faster customer support, and delivers better experience for customers. This is also termed as a remarkable customer service strategy that provides a maximum amount of benefits. If currently you are not using live chat in your business then this is the right time to implement it. These articles include many effective statistics about live chat hope those above will help in understanding the importance of the platform well.
How can I add LiveChat to my website?
First you need to sign up for a 14 days free trial, then you will receive a tracking code from the section of LiveChat code, next place the code in your websites HTML files and lastly login to the application and start chatting with visitors.
What kind of pricing plans are available?
Mainly there are 4 plan available are for startup companies 'Starter' ($24per agent/month), for small and medium companies 'Team' ($49 per agent/month), for enterprise class businesses 'Business' ($68 per agent/month), and for big enterprise businesses (custom pricing)
Can I invite visitors to chat?
Yes, you can invite visitors by sending them greeting such as automated greeting and manual greeting for engaging more visitors those are browsing your pages.
Barry Elad
Barry is a lover of everything technology. Figuring out how the software works and creating content to shed more light on the value it offers users is his favorite pastime. When not evaluating apps or programs, he's busy trying out new healthy recipes, doing yoga, meditating, or taking nature walks with his little one.
More Posts By Barry Elad