Buying Guide for Call Center Software
By
Drew Robb
Feedback
Enterprises selecting call center software have a huge array of options. These are some of the best.
Writing a buying guide to cover call center software is somewhat like doing a short blog post that is supposed to detail the cultures of planet earth. There is just too much to cover and not enough space.
So rather than trying to list and describe every single one of the many facets of call center technology and applications, we decided to cherry pick some key applications to provide an overview of the many tools available.
But no matter how it is approached, there are always going to be glaring omissions. And to make matters worse, the technology is evolving so rapidly that guides like this can quickly become dated. Karen Hardy, vice president of product and business management at Avaya, noted that whole areas of technology are now being absorbed into call center systems.
"Analytics are big in call centers, as well as the gathering of data across various sources like back-end systems, which traditionally has never been done," said Hardy. "These developments endeavor to deliver a personalized and proactive customer experience."
Buying Tips
For those about to enter the vendor selection fray, here are some tips from Hardy to help smooth the process:
Select tools that are flexible enough to allow you to respond at the pace of the consumer.
Don't lock yourself into something that limits your ability to adopt other tools to satisfy ongoing business needs.
Understand your customer's optimal journey – and prioritize what will bring the combination of 1) highest satisfaction resulting in improved net promoter score, 2) lowest friction experience, 3) biggest return.
Look for contact center interfaces that parallel how the agents do their jobs.
Move from traditional or queue-based routing to attribute-based routing or matching, as the former optimizes resource utilization at the cost of the customer experience. Attribute-based routing, on the other hand, augments the incoming interaction with details from others systems to figure out age, demographics, interests are and other information useful to the agent.
Factor in ease of operation, simplicity of management, and ability to extract extensive and complete data events for later analytics.
"A platform that makes it simple for managers to really manage the way they think about their contact center will improve employee satisfaction at all levels — not just for managers," said Hardy. "Also, a platform that makes it simple to apply the best analytics of the day makes the company more competitive against others in their industry vertical."
Rajeev Venkat, senior director of solutions marketing at Verint, offered additional buying tips:
Partner with a provider that offers services that go beyond deployment, such as helping companies plan, implement and integrate contact center solutions efficiently in a way that's practical.
To increase employee engagement, adopt a knowledge management system along with a call center technology suite. This makes it easier to provide answers to customer issues along their channel of choice. Such tools should also help agents find answers by searching, browsing or following guided processes.
Craig Borowski, a researcher for Software Advice, a site that offers reviews and comparisons of call center software products, had several additional buying suggestions:
Start with an examination of existing workflow processes. Reevaluate, then redesign, those in light of any planned company-wide shifts in strategy. Once strategy and workflow have been clarified, begin looking for the software that will best support them.
Whereas yesterday's call center focused on solving each issue as cheaply as possible, an engagement hub takes a long-term perspective. From this perspective, customer engagement hubs can invest more time and expense solving each issue rather than being focused too much on call queue management and call scripting as part of a cost-containment strategy.
Look to improve self-service resources supported by a knowledge management application on the backend. These applications are increasingly integrated into customer service (and even CRM) platforms, making self-service resource creation an extension of the workflows of frontline agents.
Vendor Tools
Here is a brief sampling of some of the noteworthy call center tools to consider. At the end, we provide additional sources where you can find long lists of further call center products and solutions.
Avaya Oceana is promoted as being a next-generation customer engagement platform that supports all traditional media, as well as social engagement, reporting and analytics. Such omni-channel functionality has been touted by vendors for many years, but rarely measures up. Avaya claims to provide a singular, high-quality personalized experience that occurs regardless of where or what the customer is using to get service.
"Multi-touch typically means separate streams for each channel rather than a blending of channels that can and are often used during the customer's transaction journey," said Hardy. "Reports and data sources can end up disjointed, embedded into individual programs, systems, applications, making it nearly impossible for the business to have a single view of the customer."
She said Avaya Oceana has dramatically improved the user experience via a browser-based interface that facilitates any channel or customer touchpoint. Agents are fed a customer profile, interaction history, preferences, screen pops from the CRM system and other contextual data.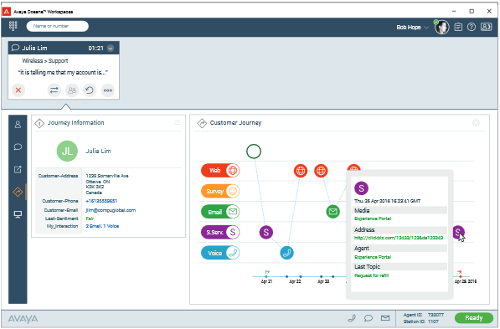 Avaya Oceana
Five9 is a provider of cloud software for the enterprise contact center market. The latest version of Five9's Virtual Contact Center (VCC) includes voice, web, chat, email, video and social media capabilities.
Many contact centers use of a variety of different on-premise systems that are cobbled together. This shackles agents with tools that are not integrated and don't allow them to easily support customers. Five9's integrated and cloud-based approached is aimed at solving this problem. In addition to allowing agents to connect with customers across all channels and in a fully integrated manner, other features include the following:
Customer journey analytics and lifetime journey visualization: Provides enterprises with insight into the entire customer journey, understanding customer behaviors, patterns and preferences.
Proactive engagement: Shifts care from reactive to proactive to meet evolving customer expectations by combining analytics and context in real-time to predict customer behavior patterns and recommended next steps.
Personalized service: Integrates the customer journey across systems to deliver a personalized experience, addressing many consumers' top expectation, which is to know their history. Leveraging data, knowledge and resources across all systems eliminates the "one size fits all" disjointed experience common with many businesses.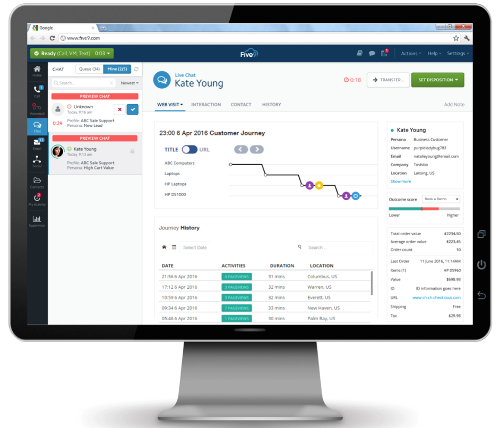 Five9's cloud-based Virtual Contact Center (VCC).
This article was originally published on January 19, 2017