10 Useful Mobile CRM Apps
By
Tim Wilson
Feedback
A sales force can be left behind if its mobile solutions aren't able to navigate a highly competitive CRM environment. Here are 10 useful mobile CRM apps and platforms.
Customer relationship management (CRM) was around long before mobility became the norm, but now it's becoming a necessity for CRM applications to offer mobile capabilities. After all, who is on the go more than sales people?
"The major CRM vendors have recognized that mobility is a key trend affecting their industries," says Ben Dickie, a research analyst at Info-Tech Research Group. "As smartphone and tablet adoption have skyrocketed, major players like Salesforce.com and Microsoft have been adding mobile CRM applications at a rapid clip."
A complementary trend to mobility is the burgeoning popularity of social media. More and more organizations are leveraging social media for business purposes, and CRM vendors are incorporating social media listening and management capabilities into their offerings as well.
"Microsoft Dynamics CRM has rich social connectors, and last year Salesforce.com acquired Radian6, a top social media management vendor, adding it into its portfolio under the Marketing Cloud banner," says Dickie. "Companies looking for a CRM vendor with strong mobile support need to challenge those vendors to demonstrate built-in social media management feature sets in their mobile apps."
Enterprise Apps Today picked some expert brains to find applications and platforms that are transforming how CRM is being delivered to mobile devices. Here are 10 top picks to keep your eyes on:
touch.salesforce.com: By far the leader in mobile CRM right now is Salesforce.com, thanks to its significant investments in touch-enabled mobile apps over the last 18 months. "The platform uses device-agnostic HTML5 to provide access to Sales Cloud, and also serves as an extensible platform for organizations to build and deploy their own apps," says Dickie. He adds that as device fragmentation continues (Android, iOS, Windows Phone 8), more enterprises are expressing interest in mobile solutions based on HTML5 rather than native mobile applications.
SAP 360: "Mobility is central to SAP's strategy," says Rebecca Wettemann, VP of research at Nucleus Research. SAP 360 leverages SAP's technology, including the in-memory database HANA and enterprise social networking software Jam, Wettemann says. In fact, by selecting HANA as a "platform of choice," SAP is making headway in building its customer management and interaction capabilities, she says.
Yammer: Microsoft's $1.2 billion acquisition of this enterprise social network has had its critics. However, the software giant is pushing for full integration with its Office Suite by the end of next year, which means that by the close of 2013 Microsoft will be well-established on the cloud, with architectural changes providing big support for mobility.
Oracle CRM On Demand: Oracle – along with Microsoft, SAP, and Salesforce.com – is one of the four leaders in this space. The company has significantly streamlined the user experience. Now, applications can be customized without having to write code, and it is much easier to add custom fields and labels, as well as objects.
"In some ways, mobile becomes an artifact of the collision of the cloud, social media, and analytics," says Nigel Wallis, a research director in Application solutions at research firm International Data Corporation (IDC). "Oracle's acquisition of RightNow (which allows people to resolve customer issues from any device) would indicate how much the major players care about this area."
Active Endpoints: "We're seeing development platforms like Active Endpoints that end-users can use to adjust mobile app inputs on the fly to enable companies to make their CRM much more tailored to their specific sales situation," says Wettemann from Nucleus. "This includes using it to drive specific sales coaching practices."
Dropbox: "For file sharing Box is used by more corporate users than Dropbox, but Dropbox has more users overall," says Ed Thompson, a vice president and distinguished analyst with Gartner Research. "That said, usage is mostly on laptops or tablets, not mobile phones." Now the race is on for the two content-sharing leaders to take charge in the mobile space.
Antenna: Antenna Software's AMPchrome application supports Java and allows for mobile apps to be built with standard languages (HTML5, CSS, and JavaScript) and also third-party development tools (jQuery Mobile, Sencha Touch, Dojo Mobile, Appcelerator). "Antenna or maybe Spring Wireless would be the most used for mobile application development and support – but also for integration to the four main vendors," says Thompson.
coresuite: Developed by coresystems, a Swiss company, the coresuite mobile sales app is a popular tool for updating information on contracts, products, and inventory. Specifically, direct order processing on a mobile device facilitates more rapid contract closings.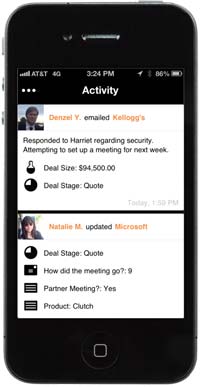 Hive: This mobile CRM app for iOS and Android is from San Francisco-based DoubleDutch. It uses location-based and behavioral information to support a sales team. This is a context-based CRM application that integrates with a Salesforce.com account, and links with NetSuite and Microsoft Dynamics are planned.
Kpi.com: Kpi.com offers a cloud-based software suite that includes CRM capabilities for mobile devices. It integrates project management, HRMS, and financials so that contacts can be moved through the complete sales cycle – and all from an iPhone or Android device.
A graduate of McGill University, Timothy Wilson joined IDC Canada in Toronto as a research analyst in 1997. In 2000, he began T Wilson Associates and continued to consult for research companies, as well as working directly with large vendors such as Microsoft and SAP. Throughout his career Timothy has contributed to the IT, trade and mainstream press. He has lived and worked in Latin America and is proficient in Spanish. For his non-fiction writing, Timothy has received a first place CBC Literary Award and a Gold National Magazine Award.
This article was originally published on January 29, 2013