Top 10 Most Expensive Hot Wheels Cars In The World
Aditi Kandhari
Updated · Oct 02, 2023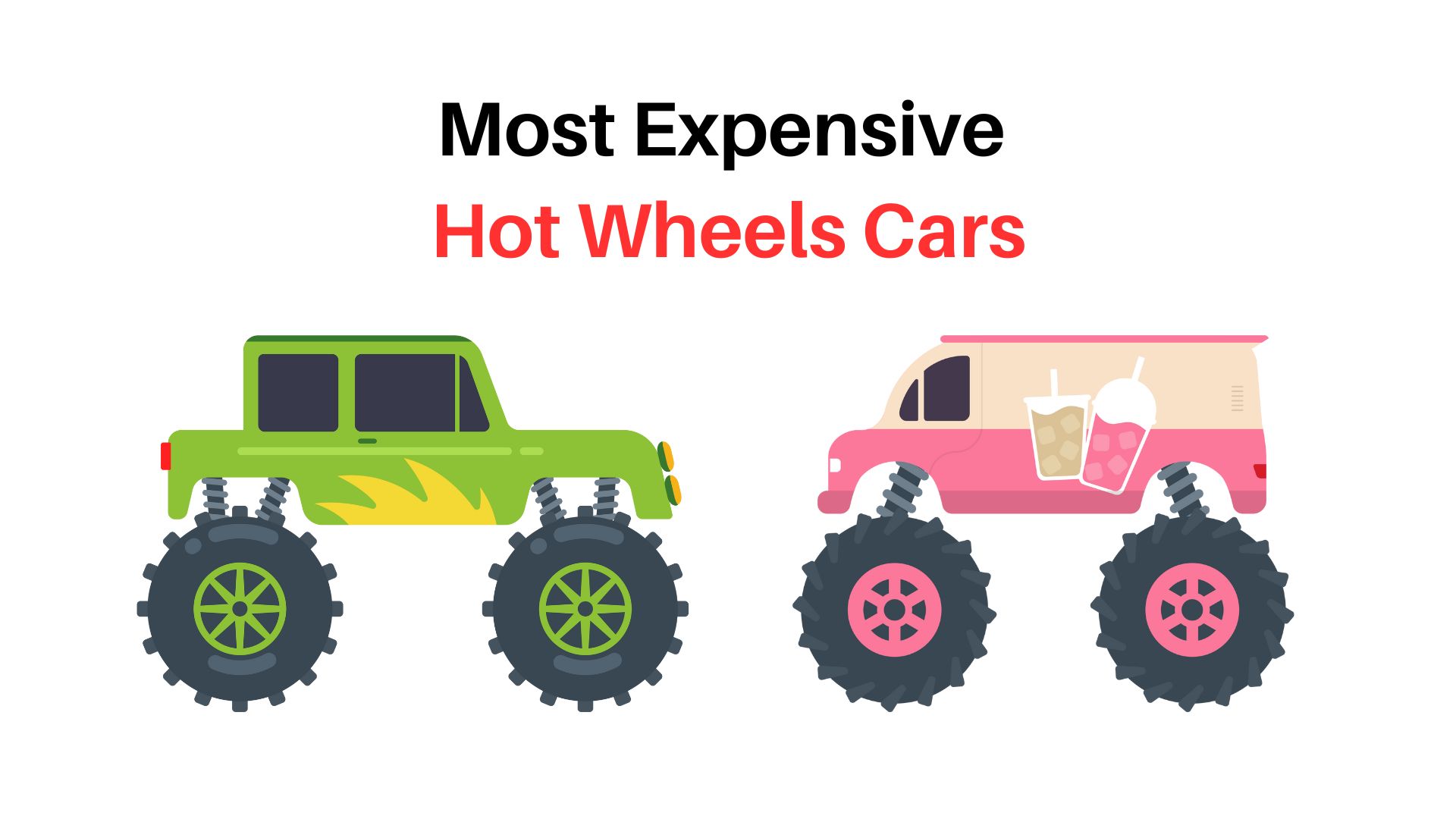 Most Expensive Hot Wheels Cars: In 1968, a company called Mattel in the United States introduced a brand of toy cars called Hot Wheels. These toy cars are known for their cool designs and shiny, colorful paint jobs. They are usually small, about 1:64 scale, and they can look like classic muscle cars or futuristic concept cars.
Many people love to collect Hot Wheels cars. They come out with new models every year, and some of them are special and limited editions, which makes collectors really excited. Hot Wheels cars are not just toys; they also show up in video games, TV shows, movies, and special collections, which makes them even more popular!
About Hot Wheels
Since Mattel first released the Hot Wheels brand of die-cast toy automobiles in 1968, it has quickly become one of the premier toy lines ever created. Boasting an ever-increasing selection of vehicles, tracks, playsets, and accessories – not to mention some truly legendary playsets and tracks – Hot Wheels has since grown into one of the most widely recognized toy companies ever.
Hot Wheels automobiles are known for their elaborate and detailed designs, vibrant colors, and eye-catching patterns. Measuring 1:64 scale vehicles based on various models ranging from futuristic ones to classic muscle cars or more modern supercars are produced.
Hot Wheels has long been revered for its cutting-edge and exciting track systems, which allow children (and adults!) alike to create customized courses and perform impressive acrobatic feats. Hot Wheels product offerings also include playsets and accessories like garages, racetracks, storage containers, and carrying bags; as well as other innovative playsets and track systems.
Hot Wheels has made an indelible mark beyond toy stores with appearances in video games, TV shows, and motion pictures – not only did the brand expand beyond toys but its presence also expanded well beyond toy collecting circles! Now with an active fan base of enthusiasts and collectors eagerly awaiting new releases or limited-edition vehicles – children and adults alike find inspiration in Hot Wheels to be creative, imaginative, and passionate about automobiles and racing! It remains a timeless classic!
Due to the overwhelming success of Matchbox die-cast toy automobiles, Mattel introduced Hot Wheels in 1968 in response. Elliot Handler, one of Mattel's co-founders and the creator of Hot Wheels had a vision for an innovative line of toy automobiles that would surpass anything previously available in terms of speed, flash, and excitement. Hot Wheels team employed cutting-edge engineering methods and design approaches in creating automobiles featuring low-friction wheels and aerodynamic bodywork for optimal performance.
Hot Wheels released 16 original Hot Wheels models, such as iconic cars like the Custom Camaro, Cougar, and Mustang models, which quickly became bestsellers among both collectors and young collectors alike. Bold colors, metallic finishes, and unique designs drew children's as well as collectors' attention instantly.
Hot Wheels' success can be attributed to Mattel's ability to create an ecosystem around their vehicles – something Hot Wheels was widely known for doing during its heyday in the 1970s. Alongside actual vehicles, Mattel produced track sets, playsets, and accessories that allowed children to design courses themselves or perform amazing acrobatic feats with them. Furthermore, during that decade Hot Wheels was continually developed and innovated annually – including their popular Redline series of faster yet more stable vehicles featuring red stripes on their wheels that allowed faster speed/track stability – made them immensely popular with kids of all ages.
Hot Wheels began facing increasing competition with other toy vehicle manufacturers during the 1980s, as well as changing customer tastes. To remain current, Hot Wheels focused more on licensed models from well-known movies and television series as well as working directly with real automakers to produce accurate reproductions of iconic models from them to stay ahead of rivalry and keep customers satisfied. Through new models being released each year as well as virtual experiences that enable fans to engage with automobiles more directly via smartphone apps and virtual experiences, Hot Wheels has also fully embraced digital technology with open arms!
Why Do People Prefer Hot Wheels Cars?
People prefer Hot Wheels automobiles over other toy car manufacturers for various reasons, including its longstanding history and stellar reputation. After 50+ years in business, Hot Wheels has built up an avid following among collectors and enthusiasts who appreciate its creativity and attention to detail in each design.
Hot Wheels' wide array of models is one reason behind its immense popularity. Collectors may assemble collections that reflect their individual interests with such variety on offer from Hot Wheels. Imaginable and futuristic vehicles coexist alongside classic muscle cars from days gone by as well as contemporary supercars in this collection, providing collectors with an exciting array of models.
Hot Wheels offers more than just vehicles; there's also an impressive variety of playsets, track setups, and accessories that allow kids and collectors to create custom courses or perform feats of their own. Hot Wheels enthusiasts will find this personalized approach engaging and exciting.
People appreciate Hot Wheels due to the pleasant memories associated with racing Hot Wheels cars around their living rooms or bedrooms when they were children. Collecting Hot Wheels vehicles allows many to relive this joyful period in their life and remember all of its joyous memories.
Hot Wheels vehicles are well-known for their fine craftsmanship and meticulous attention to detail; boasting intricate and realistic designs, exact replications of real-world automobiles, and special extra features and extras that set them apart as toys from others. Due to this meticulous attention to detail; Hot Wheels toys become more of an art piece than mere toys – increasing their allure among collectors and enthusiasts.
Why Hot Wheels Cars Are Expensive?
Hot Wheels vehicles can be costly for various reasons, depending on their model, edition, and rarity. Here are some key contributors to their high cost:
Hot Wheels vehicles are often produced in limited editions, meaning fewer units are made available overall and therefore their prices tend to increase due to collector interest; for instance, one produced with only 10,000 units would likely cost more and be rarer.
Some Hot Wheels vehicles may be harder to come by due to limited production runs or distribution in specific markets or areas; these rare models may be in higher demand among collectors, which may elicit higher prices from them.
As is true of any collection, the condition of Hot Wheels cars can have a considerable effect on their value. Vehicles in great shape free from dents, scrapes, and other damage are worth far more than ones in disrepair; finding such models may prove particularly difficult for those interested in older or more unique collections.
Older Hot Wheels vehicles may be worth more money than modern ones, particularly if they come from an era when the brand was particularly well-known or significant. Cars from the 1970s or 80s might be considered more highly valued by collectors than ones produced since 2010.
Hot Wheels has introduced several vehicles with celebrity sponsorship or partnership connections, such as bands' or sports teams' logos on them. Due to these models' connection with certain businesses or individuals, their costs may exceed that of regular Hot Wheels models.
The Popularity of Hot Wheels Cars:
Worldwide, Hot Wheels has amassed an immense fan base of collectors, enthusiasts, and young enthusiasts. Here are a few reasons for its immense popularity:
Hot Wheels provides collectors with an assortment of automobile models that spans imaginary and futuristic creations to vintage muscle vehicles and contemporary supercars, creating an engaging assortment that reflects individual tastes and styles.
Hot Wheels automobiles are beloved collectibles due to their exquisite craftsmanship and intricate detail. Each model includes elaborate yet realistic designs that mimic real-world vehicles as closely as possible, accurate replicas from real-world automobiles, as well as special features and extras that set them apart as miniature pieces of art rather than toys – adding yet another attraction for collectors and fans of Hot Wheels vehicles.
Many individuals over 50 years old remember playing with Hot Wheels automobiles as children and now collect these vehicles to relive those carefree years and bring back fond memories.
Hot Wheels provides collectors and children with playsets, track setups, and accessories that allow them to customize their courses and accomplish feats of their own. This level of individualization and creativity provides additional engagement and excitement!
Hot Wheels has built its name through quality and creativity for decades; and has earned itself an esteemed position among toy vehicle companies worldwide. Their popularity has earned them an avid following of collectors and enthusiasts worldwide.
Certain editions and variations of Hot Wheels vehicles command high prices on the secondary market, making them highly collectible. This has caused greater demand for rare or limited edition automobiles among collectors, sparking excitement and rivalry between collectors.
Economical Reference of Hot Wheels Cars
Hot Wheels vehicles represent an intriguing economic phenomenon. Here are a few details regarding how Hot Wheels cars are utilized:
Hot Wheels vehicles are accessible and affordable; most regular models retail between $1 and $2 USD, making them affordable to a wide range of customers, such as children, casual fans, and collectors.
Hot Wheels vehicles have great collectability, making them highly sought-after on the secondary market. Prices may depend on factors like model, condition, and other considerations – expensive or limited edition cars may sell for hundreds or even thousands of dollars depending on these criteria. Due to this phenomenon, collectors now engage in trading vehicles through websites or other channels.
Although most Hot Wheels vehicles may not increase in value significantly over time, certain rare or collectible models could make good investments for collectors. Investing in Hot Wheels automobiles requires extensive research, market knowledge, patience, and perseverance for value to increase over time.
Hot Wheels vehicles have long been used as marketing tools by various movie studios, sports teams, and automakers – from movie studios and sports franchises automakers themselves. By entering into license and collaboration agreements with these entities, Hot Wheels can grow its sales further while expanding to new markets.
Although most Hot Wheels vehicles are reasonably priced, collectors who invest their time and consider each purchase carefully may discover that rare or collectible models could prove worthwhile investments.
Top 10 Most Expensive Hot Wheels Cars In The World
1969 Pink VW Beach Bomb – Worth $150,000
Original Mattel-Produced Hot Wheels Chevrolet Camaro – Worth $100,000
40th Anniversary Diamond and Ruby Otto – Worth $60,000
Autographed Hot Wheels Tesla Cybertruck – Worth $50,000
1968 Watermelon Over Chrome Mustang – Worth $40,000
1968 Antifreeze Over Chrome Custom Camaro – Worth $20,000
Hot Wheels Mercedes-Benz 300SL – Worth $12,000
Exclusive 2016 55 Chevy Bel Air Gasser – Worth $10,000
Exclusive 2018 Hot Wheels Rodger Dodger – Worth $10,000
2018 MEA Dinner Dance 55 Chevy Gasser – Worth $5,500
#1. 1969 Pink VW Beach Bomb – (Worth $150,000)
The 1969 Pink Volkswagen Beach Bomb Hot Wheels car is very special and is worth about $150,000. What makes it unique is that it's pink, and none of the 12 beach-themed toy cars made in 1969 were pink.
This pink Hot Wheels van is like a prototype, which means it was never sold to regular people. It even has two plastic surfboards in bright yellow and orange, just like the ones you can buy. But unlike other 1969 Volkswagen Beach Bomb Hot Wheels, this one has surfboards at the back, not on the sides.
Unfortunately, not many of these were made, and they were not sold in stores. In 2013, Hot Wheels made a new version, but it wasn't pink and didn't have surfboards like this one. There were only about 150 prototypes made, and now only around 50 of them are left, mostly owned by collectors. So if you want one, it might be hard to find!
#2. Original Mattel-Produced Hot Wheels Chevrolet Camaro – (Worth $100,000)
Mattel first produced this Hot Wheels Chevrolet Camaro back in 1982 and its design may seem plain vanilla to you – there are obvious signs of wear-and-tear on its body, and its black paint around the hood has been scraped away – yet this vehicle ranks second most expensive worldwide at around $100,000 cost! Additionally, The Original 16 collection contains this 1:64 Chevrolet Camaro as part of its first collection under this name.
It's an extraordinary treasure, a prototype for the 1968 Hot Wheels Chevrolet Camaro that makes for an extraordinary find. Both historical significance and rarity add an additional value to this white and black Hot Wheels Chevy Camaro that was never intended for public viewing.
#3. 40th Anniversary Diamond and Ruby Otto – (Worth $60,000)
The 40th Anniversary Diamond and Ruby Otto car is a favorite among Hot Wheels enthusiasts for more reasons than its beautiful gem-encrusted body. Based on Otto Kuhni's drawings as one of Mattel Hot Wheels' original graphic designers, this magnificent creation stands alone among Hot Wheels offerings.
Kuhni also comes packaged in an elaborate electronic display box that spins its jeweled car while lighting up an LED monitor inside its interior panel. When opened, this monitor reveals details about Kuhni such as her history and manufacturing.
40 brilliant-cut diamonds embellish this display, far fewer than the 2,700 jewels found on its predecessor vehicle which went up for auction and fetched $60,000 in 2008.
#4. Autographed Hot Wheels Tesla Cybertruck – (Worth $50,000)
Hot Wheels released two sizes of its Tesla Cybertruck toy vehicle in 2020: it is a standard (1:64) toy vehicle size and an even larger 1:10 version with a remote control that initially cost approximately $400.
However, an autographed copy signed in 2021 by Tesla founder Elon Musk can be obtained on eBay for approximately $50,000. Due to its unique design and the "cracked windshield" decal included with it, as well as Elon Musk's signature on it, this exclusive Hot Wheels vehicle is not only valuable but could become historically significant as well.
Though this remote-controlled Hot Wheels car can reach 25 mph (about 40 km/h), that's not what drives its high price tag. Instead, its blue-inked signature of Elon Musk – one of the richest and most influential individuals on Earth – on its side drives this Hot Wheels Tesla Cybertruck up in value significantly. His influence is unmistakable and anything bearing his mark fetches exorbitant prices.
#5. 1968 Watermelon Over Chrome Mustang – (Worth $40,000)
Hot Wheels was able to surpass Matchbox early in its competition for many reasons. First off, its wider wheels allowed diecast toy cars to slide faster down tracks.
Second, Hot Wheels created vehicles with bold exterior colors in order to differentiate their toys from their plain competitors; notable among these being Over Chrome set models; the 1968 Watermelon Over Chrome Mustang may be the most notable (its worth is estimated at $40K). When featured in advertisements in 1968 for Hot Wheels it instantly became a hugely popular model.
Overchrome vehicles were only released to the general public in limited numbers, making them increasingly scarce and therefore valued and rare. When it comes to their extraordinary value as Hot Wheels toys, rarity is key; combined with its use as an advertisement vehicle. Therefore, more people demand this specific automobile than is available and this leads to exorbitant costs.
#6. 1968 Antifreeze Over Chrome Custom Camaro – (Worth $20,000)
Bruce Pascal may own one of the world's most expensive collections of Hot Wheels vehicles. His impressive array of rare and vintage Hot Wheels cars could be worth over $1 Million!
That collection includes the 1968 Antifreeze Over Chrome Custom Camaro, valued at about $20,000. Initially released as the inaugural Hot Wheels model ever produced in 1968 and featuring dark blue paint with a dark roof variant, due to its rarity and inclusion in the Over Chrome package with vibrant paint colors for increased visibility, its lime-green variation with the dark roof is highly prized and sought-after.
As with other rare and valuable Hot Wheels vehicles, its value stems primarily from difficulty finding it but is made even more costly by owner Bruce Pascal keeping it in excellent condition thus further increasing its value.
#7. Hot Wheels Mercedes-Benz 300SL – (Worth $12,000)
Bonham announced in 2021 that 50 IWC X Hot Wheels Racing Works Collectors Sets will go up for sale, each including an IWC Pilot's Watch Chronograph Edition and one of only 50 Hot Wheels Mercedes-Benz 300SL Gullwing models produced.
These luxurious packages will go under the hammer. Both items are housed in a custom metal toolbox designed specifically to house collectible artifacts, with the Hot Wheels automobile estimated to be worth roughly $12,000.
One set originally priced at PS70,000 has recently sold for an incredible $96,500! As a point of comparison, this Hot Wheels Mercedes-Benz is worth more than some of the priciest LEGO creations! Mattel produced 50 Hot Wheels Mercedes-Benz 300SL Gullwing vehicles in total; their rarity contributed significantly to IWC X Hot Wheels Racing Works Collectors Set phenomenal 2021 sales success.
#8. Exclusive 2016 55 Chevy Bel Air Gasser – (Worth $10,000)
As part of its Employee Recognition program in 2018, Mattel provides its Hot Wheels Design Team members – such as Rodger Dodger – with a special gift vehicle each year, typically around the winter holidays.
One such vehicle is the 2016 '55 Chevy Bel Air Gasser Employee Edition, which is priced similarly to its 2018 equivalent. Mattel created one particularly stunning flame-covered 55 Chevy Bel Air Gassers which can now be found for an astonishing $10,000 on eBay.
Additionally, only 30 of these Hot Wheels vehicles were distributed to staff members in 2016. At first glance, this Hot Wheels automobile may seem to be relatively affordable since it comes packaged in its trademark blister box. This diecast car's $10,000 auction price more than justifies its exclusivity and scarcity.
#9. Exclusive 2018 Hot Wheels Rodger Dodger – (Worth $10,000)
The 2018 Hot Wheels Rodger Dodger may be well-known if you were blessed to join the Mattel Hot Wheels Design Team.
Only lucky employees were given this gold-painted hot rod – with one notable exception. An avid player of Hot Wheels ID, an app-based game; was delighted to receive one 2018 Hot Wheels Rodger Dodger in 2019.
On its side are listed all of its design teams – each car being identified by an 18 for its year of introduction. One of these limited-edition Hot Wheels sold for an amazing $10k on eBay in July 2022! However; its standard store release model remains available online for as little as $3.
The Employee-Exclusive 2018 Hot Wheels Rodger Dodger is one of the priciest diecast Hot Wheels vehicles on the market due to its scarcity and uniqueness; less than 50 examples may exist due to limited production by Hot Wheel Design Team which only comprises about 40 members.
#10. 2018 MEA Dinner Dance 55 Chevy Gasser – (Worth $5,500)
Corporate executives attending the El Segundo Mattel Employee Association (MEA) dinner dance can only obtain this special, candy-striped 2018 MEA Dinner Dance '55 Chevy Gasser as it is highly limited.
One Hot Wheels car decorated with candy canes was sold on eBay in 2022 for $5,500 – an astounding sum for such an ordinary diecast toy car! But it shouldn't come as a shock that the 2018 MEA Dinner Dance Hot Wheels sold at such an attractive price, given their collectibility and rarity as 1955 Chevy Gassers are extremely scarce – making this Hot Wheels automobile more costly.
As they were exclusively given out at the 2018 MEA dinner dance, these collectible items made an impressionable first impression! The 2018 MEA Dinner Dance '55 Chevy Gasser came packaged in a protective container with its own built-in background display, unlike most Hot Wheels vehicles which come in plastic blister packs with cardboard backings.
Therefore, this Hot Wheels car featuring festive designs was intended to be more expensive; in fact, it costs more than several Barbie dolls combined!
Final Words
Hot Wheels vehicles have long been beloved toys, captivating both children and collectors. Thanks to their detailed designs and attention to detail, Hot Wheels vehicles continue to bring delight. Hot Wheels vehicles have grown from their humble roots in the 1960s into beloved cultural icons that can bring pleasure and surprise to fans of all ages.
Hot Wheels automobiles are known for their stunning craftsmanship and realistic designs, which is one of their hallmark features. Replicating classic muscle cars to modern supercars with meticulous attention paid to every detail – working doors, hoods, and trunks as well as rubber tires with accurate paint applications make these stunning miniature replicas truly lifelike! Their realistic paint schemes and decals also impress fans.
Hot Wheels vehicles are accessible to a range of customers, including children, casual fans, and serious collectors. While some sought-after or rare models can fetch high secondary market prices, most reasonably priced Hot Wheels models allow fans to complete their collections within budget without breaking their collection bank.
Fans of all ages are engaged with and inspired by Hot Wheels automobiles; their everlasting popularity captures imaginations while sparking creative expression across age ranges – providing fans of casual enthusiasts or serious collectors alike an exhilarating feeling!
What sets Hot Wheels automobiles apart?
Hot Wheels were engineered to move smoothly at high speeds - an innovation at the time! Their broad hard plastic tires caused far less friction and tracked more smoothly than any of the smaller metal or plastic wheels found on contemporary Matchbox cars.
Why did someone create Hot Wheels?
Mattel co-founder Elliot Handler wanted a toy car that was both more appealing and effective than anything on the market at that time, so his design team included both a rocket scientist and a GM car designer. (pictured left, with wife Ruth Handler).
Which materials are utilized to manufacture Hot Wheels?
Hot Wheels toys are constructed using metal and plastic. Most often, an alloy of zinc and aluminium known as ZAMAC (sometimes misspelt Mazak ) is the primary metal source; white metal or pot metal are other names for it.
What type of enterprise is Hot Wheels?
Hot Wheels is part of Mattel, an American toy manufacturing firm established in 1968 that is well known for producing limited edition collector models and toy automobiles under its brand.
Aditi Kandhari
Aditi is an Industry Analyst at Enterprise Apps Today and specializes in statistical analysis, survey research and content writing services. She currently writes articles related to the "most expensive" category.
More Posts By Aditi Kandhari