Qlik Sense: Business Intelligence (BI) Software Review
William Elcock
Updated · Jun 05, 2021
WHAT WE HAVE ON THIS PAGE
Business intelligence (BI) tools help enterprises use data to their advantage.
See below to learn more about BI software and what Qlik Sense has to offer as a BI tool — in terms of features, integrations, benefits, use cases, users reviews and pricing:
Business intelligence software
Business intelligence software takes data from all across a business and processes it, producing visualizations and reports that help lead to change through actionable insights.
These changes are often necessary due to changes in market conditions or consumer behavior.
This data-driven approach is facilitated by BI software that helps enterprises to make better decisions.
Qlik Sense features
Qlik Sense offers a number of BI features:
Insight advisor: The insight advisor lets users use natural language to create queries. The answers can be provided in visual form. It is also able to provide association recommendations and other suggestions.

Responsive design: The tool can be used effectively on several different devices. Visualizations and windows will automatically scale to the optimal size depending on the size of the screen being used. 

Augmented intelligence: Augmented intelligence complements human intuition with machine learning. This leads to faster and improved analytics. This feature provides suggestions based on the context. It gathers information based on the behavior of the user, feedback, community trends and industry knowledge.

Collaborative storytelling: Insights can be captured and shared among users in an organization.

Data combinations: Data can be combined in many ways and relationships between data sets can be combined, allowing for hidden insights to be uncovered.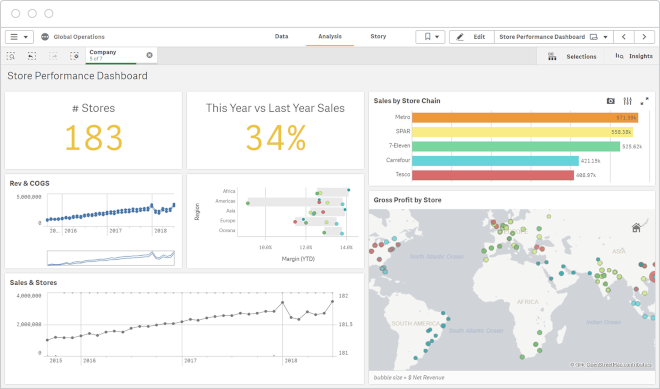 A screenshot of a Qlik Sense dashboard. Photo via Qlik.
Qlik Sense integrations
Qlik Sense can be integrated with several solutions from several software providers to facilitate powerful data processing capabilities:
Microsoft

Google

Amazon

Amazon Web Services

Salesforce

Dundas

Targit

ConverSight AI

Element Data

Alteryx
Qlik Sense benefits
Qlik Sense offers several benefits to BI users:
Ease of use: Allows users to carry out many actions by simply dragging and dropping. This design choice makes the platform intuitive and accessible to users of all skill levels. 

Encourages collaboration: It's easy to share insights with colleagues. 

AI-powered decisions: Capable of making intelligent recommendations. The AI continuously learns from user behavior as well. 

Flexible deployment: Can be deployed on premises or in the cloud.
A screenshot of Qlik Sense's self-service visualization. Photo via Qlik.
Qlik Sense use cases
Transportation
Vancouver International Airport (YVR) uses Qlik Sense to get real-time information that helps it to reduce connection times. It is also able to generate reports more quickly. Reports can now be done in under a minute — instead of over 30 hours. 
Automotive
Volvo is using Qlik Sense to simplify its data gathering process. In the past, it heavily relied on spreadsheets that made verifying the reliability of data challenging. This can be done quickly with the BI tool, which has simplified Volvo's data gathering process, freeing up time for more data analysis. 
Food and beverage
Enolytics uses the data analytics abilities of Qlik Sense to analyze key performance indicators for wine salespeople and to figure out the languages used by wine consumers in geographic regions.
User Reviews of Qlik Sense
Many users praise Qlik Sense for its simplicity. However, there were some complaints about customer service. Power users may also prefer tools like Tableau. 
| | |
| --- | --- |
| Site | Average User Rating |
| Capterra | 4.4/5 |
| G2 | 4.4/5 |
| TrustRadius | 7.8/10 |
Qlik Sense pricing
Potential users need to contact Qlik Sense for many of their packages. However, with the Qlik Sense Business package, organizations will have access to a cloud solution for $30/user/month.
Qlik Sense competitors
The BI market is expected to reach $33.3 billion in 2025, up from $23.1 billion in 2020.
Many businesses are focusing on digital transformations, analytics and visualization. These factors are helping to spur the growth of the market.
These are some of the top companies also in the BI market:
Tableau

Microsoft

Zoho

MicroStrategy

Teradata

Salesforce
Related articles
More Posts By William Elcock