Zoho Tightens CRM Integration for Unified Customer Experience
By
Ann All
Feedback
Zoho's latest CRM release integrates marketing, sales and support software and adds new Web analytics and social capabilities.
While CRM vendors are striving to improve the usability of their products, integration is a far bigger issue. There is much talk about offering a more holistic customer experience, but that is practically impossible to do when customer data is contained in multiple, siloed systems.
Zoho's latest CRM release, CRM Plus, brings together the company's marketing, sales and support software in an effort to help companies create a truly end-to-end, multi-channel customer experience.
"Taking leads and closing deals has become the purpose of CRM over the last 10 years," said Ragu Vegesna, Zoho's chief evangelist. This led CRM vendors to focus on salesforce automation, he said, while many companies augmented their CRM systems by investing in best-of-breed marketing, customer support and sales analytics tools.
Zoho already offered several of these tools, Vegesna said, so it decided to tightly integrate them to create "a seamless flow of information." In addition, he said, Zoho is selling CRM Plus for a monthly price of $50 a user to counter the often significant expense of integrating multiple products from multiple vendors. "Companies can spend five to 10 times more on integration than on the software itself," he said.
Web Analytics
As part of the offering Zoho is introducing several key new capabilities, including a Web analytics system called SalesIQ that Vegesna said offers the ability to drill down into data on an individual site visitor basis. SalesIQ recognizes the country where a visitor is based, the browser and operating system he is using and the referral source. It tracks the visitor's site activity and offers chat functionality to communicate with visitors that satisfy desired criteria.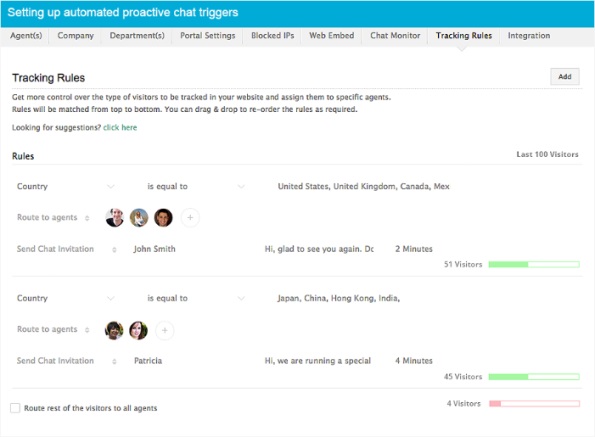 Because it is integrated with CRM Plus, SalesIQ also recognizes any previous interactions site visitors have had with a company. Companies can create rules that will trigger phone, email, chat, or social media contact with prospects that meet selected criteria.
"We are taking this realtime information and connecting it with your CRM, where you can then use your sales tools and your analytics tools. No one else has tied everything together like this to make sense of all the data that is available," Vegesna said.
Google AdWords Integration
Another new tool offers integration between Zoho CRM and Google AdWords to give companies insight into how many Internet users that click on Google AdWords are converted into leads. Previously companies lacked this visibility, Vegesna said, which made it difficult to optimize their advertising spend.
"If you are spending money on Google AdWords but you don't know how many prospects are being converted into customers, the ROI is completely lost," he said. "We worked closely with Google to get a tight integration. Now you know which ads are working and which are not, so you can double down on the appropriate ads."
Social CRM
Zoho also beefed up its social CRM capabilities with Zoho Social, a new tool that allows companies to monitor feedback about their brand and interact with consumers on Facebook, Twitter, LinkedIn and Google+. Zoho Social automatically suggests the best days and times to post on each social network based on when the company's audience is most likely to be online and ready to engage. Zoho Social also offers sentiment analysis and the ability to create and share customized reports.
Zoho CRM Plus is available now, Vegesna said. While the most cost-effective pricing is offered for the bundled software, he said companies can also opt to purchase modules such as SalesIQ and Social separately.
Zoho is not the only CRM company trying to offer a customer experience that encompasses marketing, sales and support. Both Salesforce and Oracle acquired marketing specialists in 2011 and 2012, and Salesforce purchased customer service provider Assistly, later rebranding its technology as Desk.com. Salesforce announced several updates to its sales and support software earlier this week.
This article was originally published on October 9, 2014