Virtual Assistant Statistics By Company, Race, Gender and Age
Barry Elad
Updated · Aug 07, 2023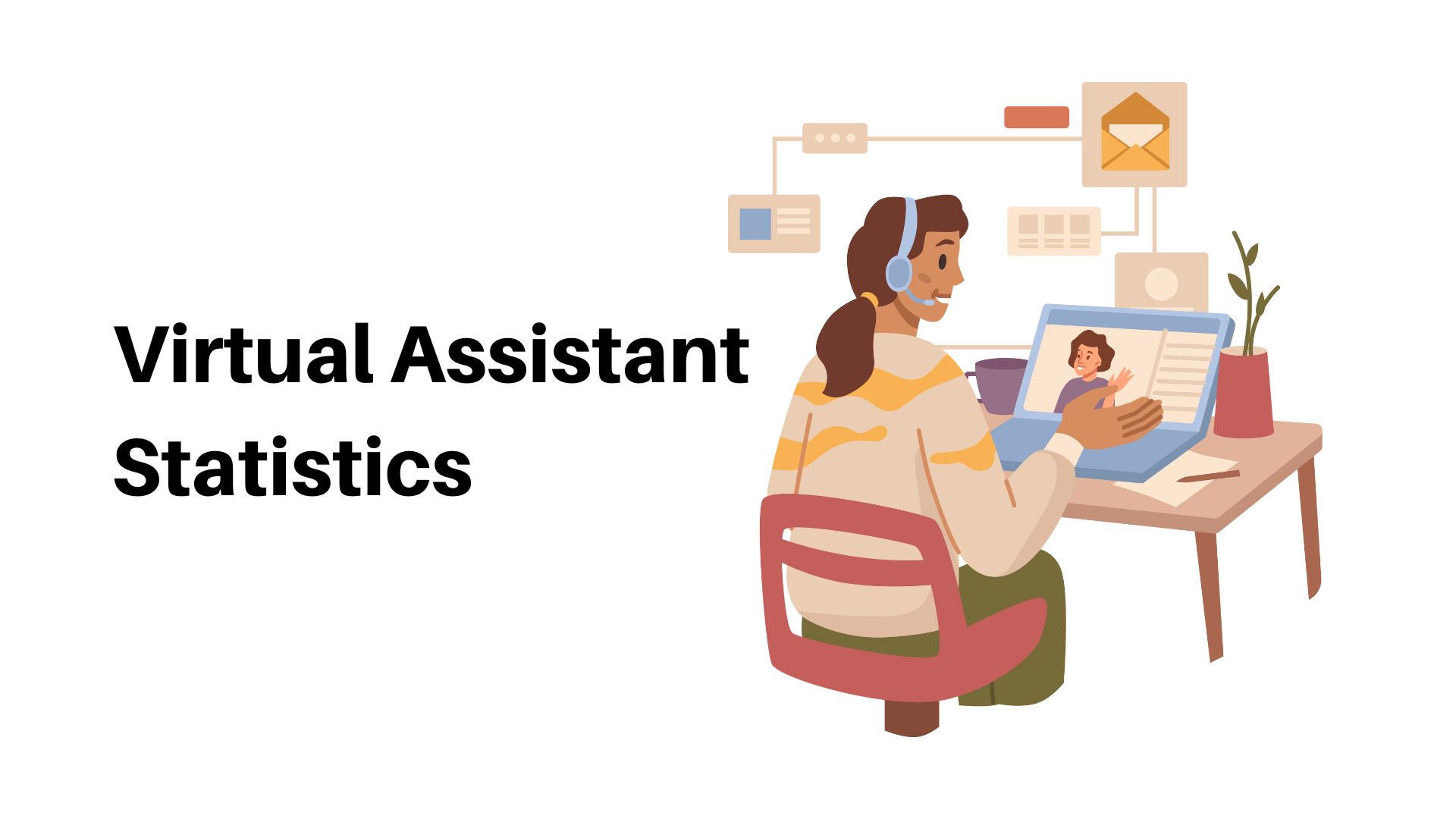 Introduction
Virtual Assistant Statistics: According to reports, a virtual assistant is an experienced professional and self-employed person who is offering administrative services to different clients; usually, they are working from remote areas. The tasks that are most importantly performed by them are managing email accounts, making phone calls, maintaining the department of travel arrangements, and allow in scheduling appointments on the other side, they also deal with marketing and social media services, blog writing, graphic designing, and bookkeeping. By the end of 2028, the United States is expecting to have 50% of the workforce on virtual ground. They are also termed as flexible and independent employers mostly used by startups and small businesses for increasing the overall size of the business by adjusting expenses.
The world of virtual assistance is thriving more than ever. With remote work becoming increasingly prevalent, more executives are opting for remote support from virtual assistants for their administrative, sales, and back-office tasks. Let's delve into the landscape of the virtual assistant industry and understand how they help streamline executives' work.
Firstly, let's clarify what a virtual assistant (VA) is. In essence, a VA is a remote administrative support, taking on a broad array of daily tasks, which can include:
Arranging meetings
Handling email and phone communications
Organizing travel and managing expenses
Managing customer relationship management (CRM) data
Following up on sales leads
Handling email marketing
Taking care of social media management
Processing invoices and payments
Performing data entry and cleanup
Keeping the books
Carrying out general admin duties
However, some VAs offer more than just administrative support. They're trained professionals who provide specialized services in areas such as:
Graphic design
Website creation and management
Content creation and writing
Accounting
Search engine optimization (SEO)
And now, let's dive into some interesting statistics about the virtual assistant industry!
 Editor's Choice
In 2022, operational expenses of businesses have seen a significant drop of 78% after incorporating skilled virtual assistants.
As per the 2022 data, the US virtual assistant (VA) industry has seen substantial growth, generating around $4012 million. The compound annual growth rate (CAGR) is predicted to reach 22.35% in 2023.
Interestingly, VAs from the US are the highest-paid globally, contributing significantly to the VA industry's overall growth, which has now surpassed the $100 billion mark. By 2028, the growth is projected to reach a staggering $8613.5 million.
When it comes to qualifications, about 91% of VAs in the US hold a college degree, indicating a highly educated workforce.
Post-COVID, businesses have ramped up their hiring of VAs, with 2 out of every 3 new hires being a VA.
In 2022, the US had around 285,028 VAs actively involved in various business operations.
The average age of VAs is around 50, with about 75% of them being over 40.
The VA market in the US is predominantly female-dominated, with women making up 83% of the workforce in 2023.
Compensation-wise, approximately 87.7% of VAs are paid on an hourly basis.
Majority of VAs, nearly 59%, are employed full time.
A surprising yet welcome statistic is that about 13% of employees report being more productive when working remotely.
Businesses looking for VAs often turn to the Philippines as their top choice for sourcing this talent.
The VA's monthly rates vary widely, ranging from $400 to $5,600.
Large corporations, about 49% of which have over 1000 employees, are actively hiring VAs.
In terms of ethnicity, Asian VAs command the highest average salary.
Married individuals constitute a significant part of the VA workforce, with 69.3% being married.
Lastly, while India has the lowest-paid VAs, companies that opt for a VA over an in-house employee stand to save up to 78% in operating costs annually.
Facts About Virtual Assistant
Companies with 100-1000 employee capacity hired 31% of virtual assistants and those with more than 1000 employees hired 49% of VAs.
Virtual Assistants were hired to reduce business expenses and have been accepted by 70% of business organizations.
By the end of 2027, the United States is expecting to gain 86.5 million freelance workers.
In the U.S., California is a mostly paid state for virtual assistants in which San Francisco city was known to be the highest with a $7.099,5 month salary, Fremont city with $6.805, and San Jose city with $6.624.
As of 2023, the most demanding services of VAs were email communication and cold calling, whereas in 2022 social media marketing services remained highly demanding.
In 2022, 13% VAs workers resulted in more productivity in the United States.
As of March 2022, the United States itself was having 140 million VAs users using smart speakers and Smartphones.
In general, international virtual assistant day is celebrated every year's 3rd Friday. In 2022 it was celebrated on 20th May and as of 2023 on 19th May.
Virtual Assistant Demographics
The majority of virtual assistants (70.8%) are white.
Most virtual assistants in the U.S. are white, followed by Hispanics (14.8%), then African Americans (8.7%), and Asians (3.5%).
The vast majority of virtual assistants are women, making up 82.6%.
Most virtual assistants are women. The number of men in this field has increased slightly over the last decade, but not by much.
Over half of the virtual assistants, 62.1%, can speak Spanish.
Many virtual assistants are bilingual, with Spanish being the most common second language. Some also speak French (8.6%), German (6.9%), Portuguese, and Japanese (3.4% each).
Around 60% of virtual assistants have a college degree.
Many virtual assistants have a college degree, but it's not necessarily required to do the job well.
Most virtual assistants are above 40 years old.
A large percentage (78%) of virtual assistants are older than 40, with fewer in the 30 to 40 age range (16%) and even fewer between 20 and 30 years old (6%).
Many virtual assistants are married and have children.
About 69.3% of virtual assistants are married, and 76.1% have kids. This might mean that they are emotionally mature and likely to enjoy their job.
Virtual Work Statistics
Businesses can save up to 78% each year by hiring a virtual assistant.
Hiring a virtual assistant instead of a full-time employee can cut costs significantly, up to 78% per year. This includes saving on office space, internet, and other overhead expenses.
People who work remotely are 13% more productive.
Statistics suggest that remote workers, including virtual assistants, are more productive because they take fewer breaks and sick days.
Asian virtual assistants earn the highest average salary.
Even though they are one of the smaller groups, Asian virtual assistants earn the highest average salary at $40,932. White virtual assistants make the least on average, $38,409, while African American and Latino VAs earn a bit more, around $39,100.
Virtual assistants in the U.S. are paid the most globally.
Virtual assistants in the U.S. are highly experienced and, as a result, earn the most, with an average annual income of $57,206 or $27 per hour. Conversely, Indian virtual assistants earn much less, averaging just $3,715 per year or $1.8 per hour. This doesn't mean all American VAs are excellent or all Indian VAs are subpar. Quality varies from person to person.
Positive Impacts Statistics
As of 2023, the market of virtual assistants is dominated by 83% of women in the United States.
According to a survey, 84.4% of business organizations that have hired Virtual Assistants have experienced positive outcomes.
Due to this job opportunity, the lives of Virtual Assistants has impacted positively which was agreed by 3.1% of business entrepreneurs.
Almost 93.1% of VAs remained satisfied with their jobs and are willing to work permanently even in the future.
After hiring efficient virtual assistants the operational expenses of companies and businesses have reduced by 78% gradually in 2022.
Virtual Assistant Degree, Salary and Jon Openings
Examining the educational background of Virtual Assistants (VAs), we find a well-educated workforce. Here's the breakdown:
VAs with Bachelor's degrees constitute the largest segment at 45%.
Those with an Associate degree represent 8%.
VAs with High school degrees make up 7%.
Interestingly, those with Master's degrees are just behind at 6%.
There is a sizable group of VAs with "Other" degrees, constituting 24% of the workforce.
When it comes to compensation, as of June 2023, the average salary for VAs in the United States is impressive:
On an hourly basis, most VAs are earning around $27.32.
This translates to $282 per day and $1,506 per week.
On a monthly basis, VAs are bringing in about $5,826.
Over a year, this amounts to a substantial $82,292.
When we drill down into the statistics for Virtual Administrative Assistants specifically:
As of 2023, there are approximately 61,190 job openings in the U.S. that pay an average of $18.50 per hour.
Less experienced assistants, with less than a year of experience, earn on average $3,525 per month.
Those with 1-2 years of experience see a slight dip to $3,397 per month.
However, with increased experience, compensation rises: 6-9 years of experience can expect $3,675 per month.
Assistants with more than 10 years of experience are the highest earners, with an average of $4,060 per month.
These figures demonstrate the thriving industry of virtual assistance and the potential for high earnings, particularly as experience levels rise.
Virtual Assistant Statistics by Top Cities of the United States
In reviewing the average salaries of Virtual Assistants (VAs) across various cities in the United States, it is evident that the geographic location can play a significant role in compensation. Here's how it breaks down:
Tulsa, Oklahoma, emerges as the top city for VAs, with an impressive average monthly salary of $8,084.
Sacramento, California, follows closely behind with VAs earning about $7,604 per month.
Chicago, Illinois, also offers substantial earnings for VAs, with an average of $6,187 per month.
Both New York and Los Angeles, California, maintain a consistent average salary for VAs at approximately $5,861 per month.
Over in the South, Houston, Texas sees its VAs earning around $5,035 monthly.
The city of Tennessee, Illinois, offers its VAs an average monthly salary of $4,679.
Down in Tampa, Florida, the average VA salary hovers around $4,589 per month.
Lastly, Atlanta, Georgia, provides its VAs with approximately $4,241 each month.
These figures indicate a promising trend for VAs, as several U.S. cities offer attractive salaries, highlighting the increasing value and demand for their services nationwide.
Virtual Assistant Market Research
The virtual assistant market is now worth over $100 billion.
(Source: Virtudesk)
The value of the virtual assistant industry has increased from $85.7 billion in 2018 to over $100 billion now. This rise is due to the increasing popularity of entrepreneurship around the world and the need for help with various tasks.
The most popular services provided by virtual assistants are in marketing and sales.
(Source: Reviano)
Sales and marketing tasks are the most commonly outsourced to virtual assistants. These include creating ad campaigns, optimizing SEO, and copywriting. By delegating these tasks, business owners can free up more of their time.
There's an International Virtual Assistants' Day.
(Source: Days Of The Year)
Every third Friday of May is International Virtual Assistants' Day. This day was created by the Alliance for Virtual Businesses to recognize the work of virtual assistants and raise awareness about the profession.
There's a major association for virtual assistants.
(Source: IVAA)
The International Virtual Assistant Association is a nonprofit organization that supports and educates virtual assistants and helps people find the right VA for their needs. As the role of VAs becomes increasingly popular, more such organizations are expected to emerge.
Virtual Assistant Statistics by Company
TEEMA Solutions Group Inc is a company in the United States that provides most jobs in the Virtual Assistant sector with a monthly salary of $8,466.
Lancaster Archery Supply also provides VAs opportunity with a monthly salary of $5,857.
Amedisys provides salaries for Virtual Assistants of $5,587 per month
Virtual Assistant Statistics by Race, Gender and Age
Race:
Among Virtual Assistants, most of them, around 70.8%, are White Americans. The next largest group is Hispanic, making up 14.8%, followed by African Americans at 8.7%, and Asians at 3.5%. There are also 2.2% who didn't share their race.
Gender:
Looking at gender, the majority of Virtual Assistants are female, about 82.6%. The percentage of male Virtual Assistants is significantly smaller at 13.3%. Additionally, 4.1% preferred not to reveal their gender.
Age:
When it comes to age, the biggest group of Virtual Assistants is those over 40 years old, they make up 78%. The 30-40 year age group accounts for 16%, and only 6% of Virtual Assistants are between the ages of 20 and 30.
General Statistics
Time management and commitment are the two important factors that keep Virtual Assistants engaged in their work results 60% of VAs are full-time workers and the rest are hourly paid workers.
Attrition rates of organizations have decreased by 50% only after investing in Virtual Assistants.
In Columbia, Bogota and Medellin were the highest-paid cities with a $394.73 monthly salary.
In the world, the Philippines are termed the highest-paying country with $520.54 in Manila City and Taguig City.
The top two countries from where the most VAs was hired are India and the Philippines.
According to the report of American Express, the productivity of VAs workers has increased by 43% over office workers.
As of 2023, the average monthly range of virtual assistants varies from $400 to $5,600.
The VAs has helped in increasing the productivity rate by 13%.
Language spoken by VAs over the world; Spanish = 62.1%, French = 8.6%, German = 6.9% and Portuguese and Japanese = 3.4%.
In Private Company there are around 65% of Virtual Assistants workers, 30% belongs to government companies, and 5% to educational institutions.
(Source: researchandmarkets.com)
The above chart represents the statistics of the virtual assistant market size in the United States.
In 2022 it turned out $4.67 billion and is expected to reach 30.12% of CAGR in 2027 which will be $17.42 billion.
Companies that provide the VAs most are Amazon.com Inc, Apple Inc, Artificial Solutions, Baidu Inc, Google LLC (Alphabet Inc), Harman-Kardon Inc, IBM Corp, Inbenta Technologies Inc, Innovators, IPSOFT INC, Kore.ai Inc, Microsoft Blackberry, Bose Corp, Cognitive Code, Creative Virtual Ltd, Facebook, Serviceaide Inc, Sonos Inc, and Xiaomi Inc.
(Source: marketsandmarkets.com)
The above figure represents the market share statistics of the Intelligent Virtual Assistant Market in 2023 across the globe.
North America ranked top due to its advanced adoption of technology in Virtual assistant industries.
The most market share is generated from automated customer services and smart appliances like Artificial Intelligence used virtual assistants.
Companies playing an effective role in enhancing the Intelligent VAs market size are Alphabet, Amazon, Apple, Nuance Communications, IBM, Microsoft, Blackberry, and Inbenta Technologies all belonging from the U.S., Baidu (China), and Samsung Electronics (South Korea).
(source: 99firms.s3)
The above graph describes the annual salary statistics of the United States organization in 2022-23.
The highest range of annual salary starts from $130,500 and the lowest range is from $15,000.
A maximum of 15.5% of organizations earn in the range of $25,500 – $35,999.
Only 3% of organizations earn in the range of $120,000 – $130,500.

(Source: myvirtudesk.ph)
The above graph describes the global average monthly salary of a Virtual Assistant in 2022 which is calculated in USD.
(Source: zippia.com)
The above graph describes the overall salary stats of Virtual Assistants in the United States as of 2022-2023.
The lowest pay was $29,000.
The usual pay started at $39,915.
The most anyone was paid was $54,000.
IBM paid Virtual Assistants the most.
Hawaii, Washington, and Alaska were the top three states that paid an average salary to Virtual Assistants.
VA's Level Statistics in the United States
25% of Junior-level VAs earn $33,000/year and $15.87/hour.
50% of Mid-level VAs earn $39,915/year and $19.19/hour.
75% of Senior-level VAs earn $46,000/year and $22.12/hour.
VA's Applications Statistics
Samsung's Bixby: 14.5%
Apple's Siri: 13.1%
Amazon's Alexa: 3.9%
Google Assistant: 23.3%
Microsoft's Cortana: 2.3%
Global Market Statistics
The global VAs market has grown with 35.47% of CAGR from 2022 to 2023.
The market growth has expected to reach $26945.07 million starting from 202 to 2027.
Major countries involved in the VAs market growth are U.S., China, UK, and Germany.
Out of which North America itself has helped in covering 39% of the market share in 2022.
Virtual Assistants were used in different job areas in 2022:

37.7% in administrative work
20.5% in the marketing industry
14% in sales and finding new customers
9.7% in operational jobs
6.3% in customer service
4.3% in finance and bookkeeping
7.5% in jobs like human resources, social media marketing, projects, real estate, and video editing
There were some problems with using Virtual Assistants:

43.6% found the time difference a problem
30.7% said they lacked the needed skills and knowledge
16.2% had issues with cultural differences
6.3% had management problems from leaders
3.2% had language issues

In 2022, Virtual Assistants used different smartphone systems:

60.3% used Android
17% used Apple
5.4% used Samsung
22.7% used Baidu

Virtual Assistants were used in many different industries in 2022:

14% in professional services
12% in technology
8% in media
8% in start-ups (new businesses)
8% in Fortune 500 companies (the biggest companies)
6% on the internet
6% in manufacturing (making things)
3% each in government, hospitality, finance, construction, non-profit organizations, and real estate
2% in insurance
1% each in transportation, telecommunication, energy, and the car industry.
Conclusion
After completing the Statistics on Virtual Assistant it can be easily concluded that across this huge business world, VAs has already become very much popular as it provides a wide range of services as well as makes the overall business cost-effective. VAs provides an efficient and competitive advantage that helps in maintaining tedious administrative work along with boosting the success rate of businesses. The article includes lots of statistics on VAs that will help in better understanding, why the majority of the businesses are creating such opportunities and how they are benefited successfully.
What is the importance of virtual assistance?
Importantly, VAs helps in reducing massive workload of a business. VAs mainly does the admin tasks such as replying emails, taking phone calls, scheduling meeting dates and many more.
What is the important factor between the Company and VAs?
Communication is the important factor that plays the most important role. There are several ways of communicating with VAs are by phone calls, email, messenger, Skype, different project management tools and screen-sharing.
Which factors makes Virtual Assistant so successful?
Multitasking quality that makes VAs more efficient  as well as they are mostly technology oriented employees with proper knowledge of IT that helps them in handling and managing multiple clients, organizing and scheduling meetings by saving lots of time.
Barry Elad
Barry is a lover of everything technology. Figuring out how the software works and creating content to shed more light on the value it offers users is his favorite pastime. When not evaluating apps or programs, he's busy trying out new healthy recipes, doing yoga, meditating, or taking nature walks with his little one.
More Posts By Barry Elad