Work From Home Statistics By Generation, Gender, Communication, Social Aspects, Country, Preference and Region
Barry Elad
Updated · Aug 07, 2023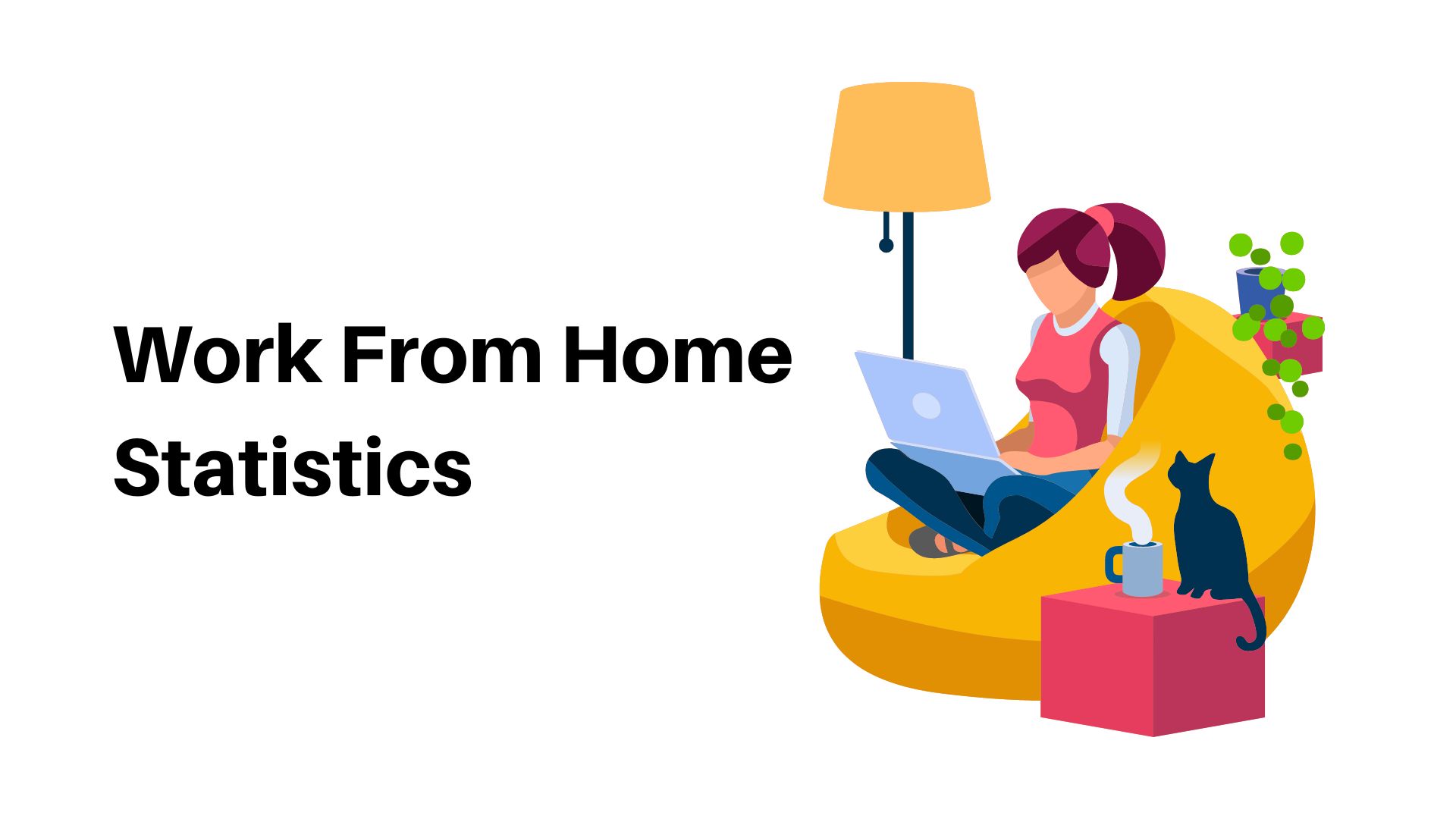 Introduction
Work from Home Statistics: Working from home is an in-house working opportunity which becomes more popular and effective during Corona Virus Pandemic days. In this system, the company allows employees to work outside the office only requiring proper mobility and a strong internet connection so that the work can be done smoothly. In this case, employees need to visit the office once a week or month that depends on the particular company and also termed as hybrid working. Work-from-home opportunity is preferred by 82% of employees across the world in 2022. This article includes many insights that share informative statistics based on the topic will provide a better idea.
Editor's Choice
Working from home made people 47% more productive.
82% of workers like working from home better.
44% of people in a survey said working from home made them feel better mentally. They slept more, had better family relationships, and had more time for exercise.
63% of women said they'd change jobs if they could work from home.
Almost all of the carbon footprint (98%) comes from people traveling to work.
71% of workers would turn down a promotion if they could keep working from home.
More than 95% of businesses in India will keep letting people work from home.
87% of workers would rather work from home.
45% of workers want to work from home all the time, while 42% like a mix of home and office work.
In 2023, 12.7% of full-time workers were working from home and 28.2% were doing a mix of home and office work.
It's expected that 32.6 million Americans will be working from home by 2025.
Nearly all workers (98%) want to work from home at least some of the time.
Most employers (93%) plan to keep doing job interviews remotely.
16% of U.S. companies are all-remote.
27% of U.S. workers were working from home as of 2023.
It's estimated that 36.2 million American workers will be remote by 2025.
40% of workers said they did more work at home during the pandemic than at the office.
Remote jobs are now 15% of job opportunities in the U.S.
Facts About Working From Home
In 2023, full-time employees that work from home are 12.7% and a hybrid worker is 28.2%.
From February to May 2022, employees working from home have increased from 13% to 24%.
37% of hybrid workers have switched jobs in 2022.
32% of total work-from-home employees don't want to work in the office again.
Economist survey resulted that due to this work opportunity from home; employees remained focused =36% and unfocused employees = 28%.
As of 2022, a survey was done with 9000 workers by Accenture, and in which 83% of employees preferred the environment of hybrid working.
In 2022 between April to May almost 14% of the total population was involved in working from home.
29% of employees reported hybrid work those were age group of 30 to 49 years.
According to the survey done by Microsoft including more than 30,000 employees from 31 countries resulted 70% of employees preferred flexible working.
Managers are the direct connection within a company said to 60% of hybrid workers.
In the coming future companies are going to offer 90% of work-from-home opportunities.
Recently, 49.8% of employees are working on this model of working across the world, and 52.3% in large-scale organizations.
General Work From Home Statistics
This working structure has improved employees' mental health condition, enabled proper sleep hours and wellness, and enhanced better relationships that are preferred by 84% of companies.
In India, more than 95% of businesses are now implementing the model of working from home.
As of 2022, the working from home employees turned out to be 82%.
The overall productivity of organizations has also increased by 47% after using the model of work from home.
This model has improved the employee productivity rate by 72%.
Because of this working opportunity around 63% of women are interested and willing to shift towards work from home.
Working from home is way more comfortable and preferable for employees 70% of them can sacrifice their promotion too.
A hybrid working model has been adopted by 42% of people and 45% of employees adopted remote work facilities.
70% of IT sectors planned to invest in securing virtual connectivity for maintaining a proper balance with hybrid workers.
64% of companies provided better training facilities to managers for managing the overall virtual workforce effectively.
57% mainly invested in modifying the systems of conference rooms for availing better virtual connectivity with employees who are working from home.
General Work From Home Statistics
Between 2005 and 2018, the number of people working remotely surged by 173%, thanks to improvements in internet connectivity and personal computers.
More than half of the companies worldwide offer the perk of remote work. 16% are fully remote, while the rest are hybrid, having both in-office and remote workers.
The COVID-19 pandemic saw 88% of global organizations offering remote work options to their staff. Up to 97% of these firms canceled work-related travels.
Even before the pandemic, 52% of workers would work from home at least once a week, and 68% would do so at least once a month.
Companies that offer remote work enjoy a 25% lower turnover rate, showing how employees appreciate this flexibility.
Small companies, due to their agility and open mindset, are twice as likely to hire fully remote workers compared to larger enterprises. They also take 33% less time to hire new employees.
Even before the pandemic, over 4.7 million people in the US were already working remotely, representing 3.4% of the workforce.
The benefits of remote work are diverse, with 51% of workers saying it improves their work-life balance, 47% appreciating the lack of commuting, and 25% finding it financially beneficial.
Surprisingly, 75% of people find themselves less distracted working from home than at the office, despite home-life distractions.
When workers need to concentrate on an important task, 76% prefer to do it away from the office due to less distraction.
Contrary to the common belief that remote work is less productive, 77% of remote workers claim to be more productive at home.
To combat monotony and boredom, 37% of remote workers take regular breaks to maintain productivity.
While remote work has many benefits, it also presents challenges. Loneliness is a major issue for 20% of remote workers, along with communication issues and the inability to switch off from work.
Remote work's biggest benefit, according to 40% of workers, is the flexibility it provides, including balancing family time and personal errands with work.
An overwhelming 99% of workers are interested in trying remote work at least once in their career, demonstrating its appeal.
Remote work also boosts company reputation, with 81% of remote workers saying they'd recommend their company to others due to its flexible work policies.
More than half of office employees would consider leaving their job for one that offers remote work. This means companies without remote work policies risk losing talent.
Demonstrating the value of flexibility over compensation, 25% of employees would take a 10% pay cut to work remotely. Conversely, 74% of employees are less likely to leave their jobs if they can work remotely.
Remote work promotes better health and less stress, with 80% of employees reporting less stress and 86% saying they take better care of themselves when working from home.
The roots of our modern remote work culture can be traced back to World War II, when the first digital computer was invented, paving the way for today's internet-connected work-from-home arrangements.
Studies indicate that working from home leads to a 47% productivity increase because employees work more hours and waste less time.
82% of employees enjoy working from home, according to a survey.
Remote work has generally improved employees' mental health, with 44% reporting better sleep, relationships, and time for fitness.
For women, 63% would consider changing jobs if it offered remote work, highlighting how it helps them balance career and family.
The environment also benefits from remote work, with reduced littering, carbon footprints, and greenhouse gas emissions due to less commuting.
Looking ahead, 87% of employees would prefer to work from home, with 45% wanting 100% remote work and 42% preferring a hybrid model.
The shift to remote work, initially a pandemic response, is becoming permanent, with 95% of Indian businesses planning to continue offering remote work options.
Benefits of Work From Home
Companies saved about $11,000 per employee each year by letting them work from home.
54% of people working in offices said they would quit their current job if they could get a job that let them work from home.
84% of people said working from home cut down on their travel time.
75% of people said they saved money by working from home.
26% of people said they had more time for their family and pets because they were working from home.
15% of people said working from home made it easier for them to take care of their children.
Employees found a better work-life balance when working from home.
Working from home eliminated the stress of a daily commute, improving overall health and well-being.
With remote work, employees could design their own workspace to be more comfortable and boost their productivity.
Employees could also eat healthier and more affordable home-cooked meals.
There's more flexibility for employees to manage their time according to their preferred work hours.
Work From Home Statistics and Facts
(Source: biteable.com)

(Source: statista.com)
The above graph represents the level of work from opportunity across the world given by IT organizations in 2022.
Companies decided to send 60% of employees back to the office in 2022 but in which only 37% were confident about returning and the rest were not ready.

(Source: zippia.com)
The above pie chart describes the from-home or hybrid work model plan stats of U.S. companies.
47% of companies started implementing this work process from the pre-pandemic period.
27% of companies started since the pandemic and planned to keep the model intact in the future.
16% of companies made a plan to withdraw from this model.
10% of companies have never implemented it at all.
(Source: cepr.org)
The above graph represents the planned level of employee statistics for those who were working from home across the globe in 2022.
(Source: hubspot.com)
The above image depicts work-from-home employees statistics choose to go office for communicating more efficiently with their colleagues by 40% and connect with colleagues by 43%.
Stats by countries:
(Source: pewresearch.org)
The above image describes the growing share of hybrid workers in the United States.
As of 2022, almost 43% of employees were working from home, and in 2023 the rate has decreased to 35%.
Other side employees who were working both in the office and at home turned out 35% in January 2022 and as of February 2023, it becomes 41%.
In 2022, most employees mixed working from home and office (hybrid) 17% of the time, did it sometimes 18% of the time, rarely did it 11% of the time, and never did it 11% of the time.
In the first 3 months of 2023, employees worked from home most of the time 20% of the time, sometimes 21% of the time, rarely did it 12% of the time, and never did it 12% of the time.
(Source: pewresearch.org)
(Source: bloomberg.com)
The graph shows how working from home in 2022 affected workers' productivity all over the world.
40% of workers did a lot better.
30% of workers did about the same as they did in the office.
15-16% of workers did a little better.
6-7% of workers did worse.
Another 6-7% of workers did a lot worse.
(Source: biteable.com)
The image shows how many workers in different countries were happy working from home:

Canada: 70%
United States: 62%
United Kingdom: 64%
Australia: 48%

This is how many days a week people worked from home:

5-6 days: 32% of workers
4 days: 10% of workers
3 days: 16% of workers
2 days: 18% of workers
1 day: 13% of workers
No days: 13% of workers

Most people who worked from home (75%) missed social events at the office.
However, 32% of home workers didn't miss them.
And 25% missed them but still preferred working from home.
Workers had different preferences for how often they wanted to be in the office:

Only 2-3 days a week: 50% of workers
Entirely from home: 13% of workers
Back to the office: 11% of workers

How much people planned to work from home in 2022 varied by region:

Americans: 0.833 days a week
Europe: 0.621 days a week
Asia: 0.775 days a week
Other regions: 0.75 days a week

How much people worked from home also varied by age group:

Gen Z: 42% worked 1-2 days a week from home, 30.4% worked 3-4 days
Millennials: 34.5% worked 1-2 days a week from home, 37.8% worked 3-4 days
Gen X and Baby Boomers: 28.3% worked 1-2 days a week from home, 36.4% worked 3-4 days

More men worked from home than women:

Men: 38% worked from home full-time, 23% part-time
Women: 30% worked from home full-time, 22% part-time

49% of women said working from home made no difference to their families.
But 47% of men said working from home made their family lives happier and improved their relationships.
A big group of employees (57%) said they would look for a new job if they couldn't work from home at their current job.
32% of workers would like a mix of office work and work from home, known as a hybrid schedule.
In 2022, married people tended to work 7-8 hours a day from home (32.5% of them) and 5-6 hours a day in the office (25% of them).
Single people worked a little less at home (7-8 hours for 28.36% of them) and a little more in the office (5-6 hours for 33.64% of them).
When it comes to how people communicate at work in 2022:

Email was the most popular (used by 37% of workers).
Next was Zoom (24%).
Phone or conference calls (12%).
Person-to-person meetings (16%).
Slack, a messaging platform (9%).

Email was especially popular among people who work from home or use a hybrid schedule.
The use of Slack and Zoom went up by 54% in 2022 among these workers.
How much people worked from home in a week varied a lot by country in 2022. For example:

Americans: 1.7 days in Brazil, 2.2 days in Canada, 1.6 days in the USA
Europeans: 1.3 days in Austria and France, 1.4 days in Germany, 1.2 days in Greece, 1.7 days in Hungary, 1.5 days in Italy, 1.8 days in the Netherlands, 1.3 days in Poland, 0.8 days in Serbia, 1.3 days in Spain, 1.5 days in Sweden, 1.7 days in Turkey, 2 days in the UK, 1.2 days in Ukraine
Asians: 1.1 days in China, 2.6 days in India, 0.5 days in Japan and Korea, 2.1 days in Malaysia, 1 day in Russia, 2.4 days in Singapore, 0.8 days in Taiwan
Other countries: 0.7 days in Egypt, 2 days in Australia

On average, people worked the following number of hours per day at home (not including breaks and lunch):

7-8 hours: 28.75% of workers
5-6 hours: 27.25% of workers
3-4 hours: 20.25% of workers
More than 8 hours: 14.25% of workers
1-2 hours: 6% of workers
Less than 1 hour: 3.5% of workers

Finally, some workers miss social aspects of office life, but many still prefer to work from home:

26.75% miss the office but still prefer home.
52.75% miss the office.
20.5% don't miss the office at all.
Conclusion
As of now after completing the article on work-from-home statistics it can be said that employees working in this mode include both positive and negative aspects. These working processes allow two different ways such as full-time work from home and part-time. It has been observed that due to this working mode, the rate of productivity has also increased in companies along with providing a more flexible and convenient way of working to employees. Mainly working from home helped in balancing out my professional and personal life smoothly across the world.
WFH stands for Work From Home and this a policy provided my many companies to their employees so that they can even work from their house without coming to office regularly.
How to work from home successfully?
Firstly employees need to set up effective working hour schedule, appropriate use of communication tools, avoid distraction at workplace, setting up a proper home workspace, strong internet connection with a laptop or desktop.
What are the disadvantages of WFH?
Staying at home any working for hour's increases isolation and chances of overworking, less interaction with managers and co-workers that creates a workplace disconnection, fewer chances of promotion and increments are some important disadvantages.
Barry Elad
Barry is a lover of everything technology. Figuring out how the software works and creating content to shed more light on the value it offers users is his favorite pastime. When not evaluating apps or programs, he's busy trying out new healthy recipes, doing yoga, meditating, or taking nature walks with his little one.
More Posts By Barry Elad