Top 10 Most Expensive Airlines in the World
Aditi Kandhari
Updated · Sep 17, 2023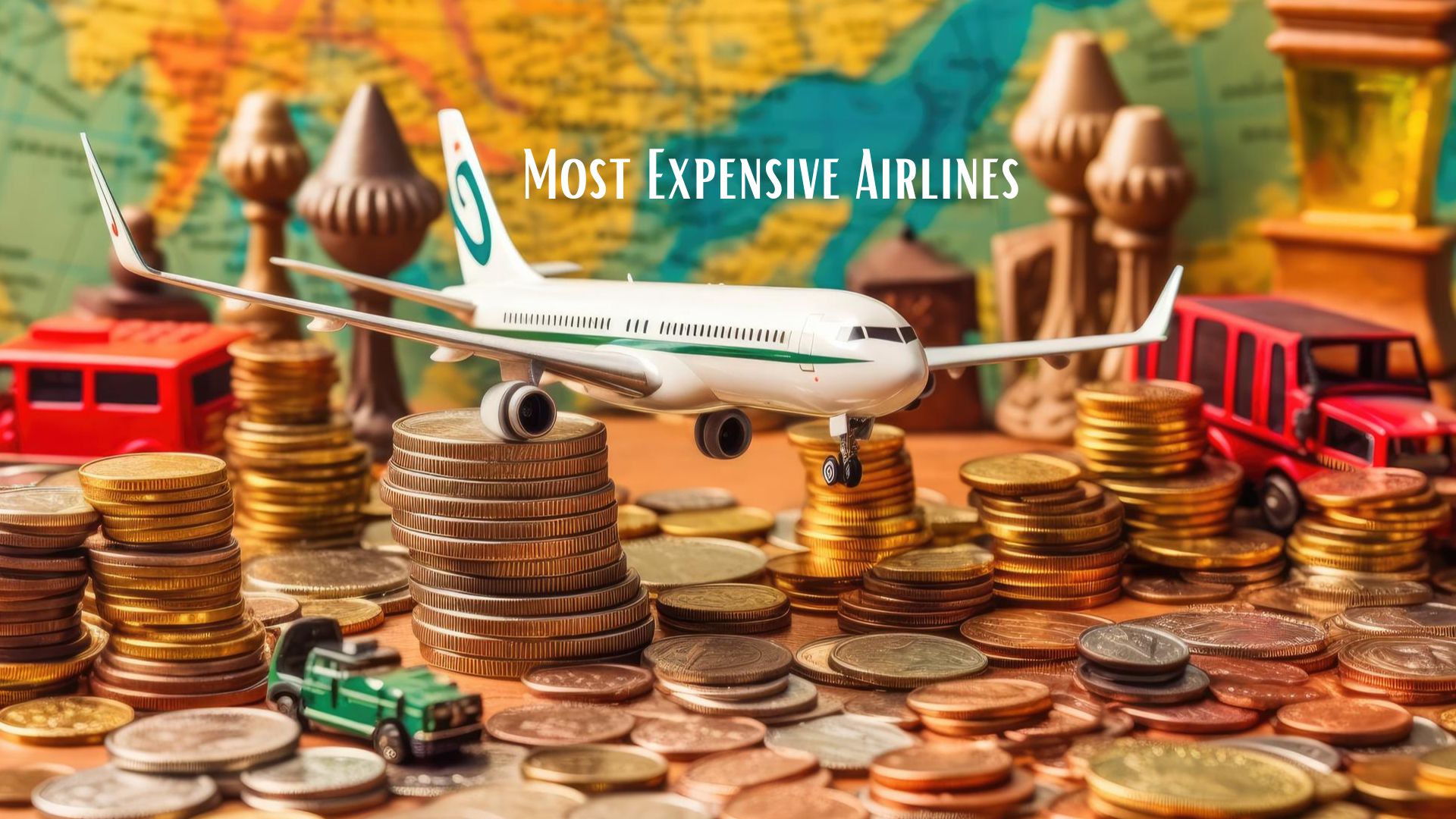 Airlines are companies that use aircraft to transport people or freight between various locations. Most provide regular service on popular routes and have headquarters or terminals from which they fly most of their aircraft. From budget airlines to massive global carriers, airline sizes range and often compete for passengers by offering lower prices, improved services, and more convenient travel options. Airlines must adhere to various safety protocols set forth by both federal and international aircraft operators; some operate privately but are publicly listed while others have been managed and controlled by authorities.
History of Airlines:
Airlines have a longstanding legacy that dates back to the dawn of the 20th century with the invention of aircraft by flight pioneers like the Wright brothers. Germany's first major airline began transporting passengers and cargo between destinations in 1909, marking their entry into modern aviation history.
In 1914, The St. Petersburg-Tampa Airboat Line inaugurated regularly scheduled aircraft service in America – ushering in an era of commercial jet aviation that would span across Tampa Bay with just one aircraft.
Airlines began to become widely popular during the 1920s and 1930s, thanks to the government-owned, one-person operations of many of these carriers. Charles Lindbergh's solo trip across North Atlantic in 1927 captured the public imagination as an iconic figure in aviation.
WWII had a significant impact on the airline industry during the 1940s, as its use to move military personnel and supplies spurred the development of larger, more advanced aircraft. Soon after the war ended, airlines started focusing more on passenger transport while fighter jet technology emerged in the 1950s that further enhanced air transportation.
In the 1960s and '70s; competition in the airline sector increased. Longstanding airlines moved their bases to new locations while numerous new carriers appeared. Computerized reservation and booking technology made it simpler for passengers to book travel arrangements as well as for carriers to run their businesses efficiently.
In the twenty-first century; aviation has experienced a meteoric rise due to technological innovations like smartphone check-in, online booking; and in-flight entertainment. Unfortunately; the 9/11 terrorist attacks and the COVID-19 epidemic severely disrupted operations and profits worldwide – further contributing to this growth. Despite these obstacles; aviation remains an integral component of the global financial system – connecting people and companies around the world.
Types of Airlines:
Full-service airline
Low-cost carriers
Ultra-low-cost carriers
Regional airlines
Cargo airlines
Charter airlines
Environmental Effects Caused by Airlines:
Aircraft emissions of CO2, nitrous oxide, and other pollutants contribute to global warming by trapping energy in the Greenhouse effect. This leads to warmer concentrations and altered rainfall patterns.
Jet engine emissions of small particles and other hazardous pollutants have a devastating impact on human health and the environment, harming animals and plants alike and leading to breathing issues as well as ocean acidification.
Aeroplane noise can be an irritating distraction in nearby neighborhoods, interfering with people's sleep patterns. As a result, those living close to airports may experience reduced quality of life.
Landscape use and biodiversity could be adversely impacted by airfield construction and operation. Airlines require a lot of room, which could disrupt natural habitats.
Aviation generates enormous amounts of trash; such as leftover meals; packing material, and other items used on flights. Unfortunately; much of this trash ends up in landfills; further damaging the ecosystem.
The Popularity of the Airline:
Flying long distances by air is fast and effortless; making it ideal for business, pleasure, or other purposes.
Airlines are now offering more aircraft to more locations at lower fares; making commercial flights more accessible worldwide.
Globalization and increased trading worldwide have resulted in more people traveling by air for employment; training opportunities; or other reasons.
Thanks to advances in aerospace technology; travelers now enjoy healthier flights that last longer.
Airlines have invested heavily in advertising and promotional campaigns that highlight the advantages of flying while also reinforcing their own services.
Some Notable Trends:
Airlines are increasingly placing emphasis on environmental sustainability as people become more aware of global warming and its consequences. To address these issues, airlines have made investments in fuel-efficient flights, switched to ecological transportation fuel, and implemented waste management and recycling initiatives.
Carriers are embracing technological innovations to enhance traveler experiences, from smartphone check-in and online booking to in-flight audio systems and Wi-Fi access.
Airlines are using statistics and data to personalize the traveling customer experience by suggesting tailored accommodations, transportation options, as well as tour packages based on their preferences and activities.
Due to the COVID-19 crisis, airlines have implemented new policies such as improved cleaning procedures, face mask regulations, and frictionless check-in and boarding processes – reinforcing how important safety and well-being are when traveling by air.
Carriers are increasingly placing a premium on customer convenience and well-being during journeys by providing amenities such as lie-flat seats, improved interior air circulation, and nutritious food options.
Aircraft are increasingly emphasizing environmental responsibility as part of their routine operations.
Why Airlines are Expensive?
Operating an airline involves costs such as fuel, upkeep, labour, and landing fees. These expenses may influence ticket prices in certain regions where there may not be much competition amongst airlines; this allows companies to charge more for certain products.
When competition is at its highest, such as during vacations and summer break, ticket costs could go up.
Prices could rise when demand grows for certain places or during busy periods.
The cost of air transport may increase due to government charges and taxes assessed on plane tickets.
Travel expenses could go up if airlines charge extra for services like luggage assistance, priority boarding, and in-flight refreshments.
Air transportation costs may increase if airlines charge for amenities like luggage management, seat selection and refreshments.
Distance also plays a role in pricing; longer journeys tend to be costlier.
Etihad Airlines
Lufthansa
Singapore Airlines
Cathay Pacific Airlines
Emirates
Qatar
British Airlines
Air France
Korean Air
Virgin Atlantic
#1. ETIHAD AIRLINES
Etihad Airlines has earned the title of being the world's premier airline due to its luxurious suites on board; which offer amenities beyond the reach even of the wealthiest travellers. On the most expensive airline tickets; customers are treated to an exclusive lounge; check-in service and driver service during their journeys to and from the airport. In some cases; customers may even choose 175 square foot personal accommodation when purchasing these tickets. This suite offers a parlour space; a bathroom with a bathtub and a dormitory that can accommodate two people. The sitting area includes a couch; a 32-inch Screen television; two dining tables; an ultrawide TV in the dormitory as well as full conveniences in its attached bathroom. Customers have the option to customize their food before boarding by selecting from our selection of snacks!
Etihad Airways does not provide a residence room on every flight it operates. Ten Airbus A380S with various versions of The Residence are among the 113 aircraft in their service.
#2. LUFTHANSA
Lufthansa Airlines may be one of the costlier airline options, but they provide exceptional value for premium customers with first-class cabins and rooms on most long trips. With 200 places served by 293 aircraft in their network; Lufthansa Airlines guarantees you won't regret paying the higher price tag.
Premium carriers provide spacious couches that can be converted into beds of two meters in length; electric outlets and onboard fun activities. Guests are treated to amazing dinners with an extensive wine selection. Furthermore; the most expensive airlines provide access to Cordially Invited club amenities as well as lounges in Munich and Frankfurt.
#3. SINGAPORE AIRLINES
Singapore Airlines; one of the priciest airlines on earth, is renowned for its luxurious aircraft. At the 2018 Skytrax Global Airline Prizes; it was named Carrier of the Year. With hundreds of millions of dollars in annual revenue; this aircraft has become the go-to choice for those seeking an exclusive flying experience. It flies to 62 locations across 32 nations on five continents. Singapore Airlines Rooms provide guests with a private space featuring leather couches; an LED Display mounted on the front panel; a 78-inch mattress and blackout shutters. Six studios are provided; each equipped with a flatbed; a Cinema Display on one side of the structure; a cushioned leather seat; a touchscreen for shades and illumination control; as well as an integrated personal wardrobe featuring a personalized hygiene package and powerstrip. Premium aircraft offer passengers an array of culinary choices from Singapore Airlines' extensive Book of the Chef menu. If they can justify investing in these seats; passengers are sure to have an indulgent journey in luxurious surroundings.
#4. CATHAY PACIFIC AIRLINES
Cathay Pacific Airways' pursuit of luxury has taken them into an opulent world filled with exquisite tastes and surroundings. Customized artworks have been added to suites by Cathay Pacific Airways in order to create a regal atmosphere. Travellers aboard this Hong Kong-based aircraft may feel as if they're visiting an art exhibition. Yet it has earned the distinction of being one of the 10 priciest international airlines and has multiple times won the title of World's Best Flight. Even the priciest airlines offer an impressive selection of in-flight meals to tantalize any palate. Entering the passenger section during a flight; one feels spacious as there's ample room to rest and recharge while travelling. Furthermore; amenities like foreign beverages; flat-screen Televisions; and warm beds add to the enjoyment of spending time in-flight.
#5. EMIRATES
Emirates Airlines has made it its mission to ensure each customer's experience is one to remember long after the plane has landed. Their integrated suites were carefully designed with thoughtful details in order to provide superior care while travelling, further solidifying their position within the airline industry.
Emirates Airlines has earned itself a reputation for offering customers cutting-edge goods and amenities at an exorbitant cost, leading it to be considered among the priciest air carriers. Within 70 miles of their airfield terminal, tourists are provided complimentary mobility in a BMW vehicle featuring a leather interior and Enabled devices. As part of the package, accommodations in luxurious lounges are included as well as the option to arrive and dismount in solitude.
Carriers have taken great steps to enhance your tourist experience. Onboard, the most luxurious flights offer a 40-square-foot special residence in the cabin along with an open bar stocked with water, wine and sodas. Enjoy three-course dinners, unlimited drinks and nibbles for an unparalleled restaurant experience. If you need sleep, zero gravity couches can be converted into beds; additionally, there's an onboard sauna and jacuzzi available for added luxury.
#6. QATAR
Qatar Airlines' rise in reputation and brand recognition has cemented its place among the 10 most expensive global airlines. With 228 aircraft operating out of 172 locations around the world, this carrier serves a growing global passenger demand. Qatar Airlines has taken an extra step to show their guests that they are valued, by offering an enrichment package featuring Giorgio Armani products as part of the in-flight experience. In addition to other amenities, the airline also provides a lounge for added relaxation after each flight. This luxurious airline has made every effort to focus on every detail so customers can receive the best services and technologies. On A380s, passengers enjoy 6.5 feet of space in the first-class compartment. There is also an array of dining choices and entertainment options, from 26-inch personalized television screens to chairs that convert into beds.
#7. BRITISH AIRLINES
British Airways; the national airline of the UK; exudes heritage and grandeur. With 276 aircraft on hand; it can quickly reach 123 locations. But with its luxurious first-class suites and lavish decor; British Airways has become one of the costliest carriers ever run – though many passengers seem to appreciate its extravagance. Overall; British Airways creates an inviting atmosphere where customers seem to savour every detail.
British Airlines' welcome gift to first-class passengers includes a variety of grooming items; such as a 1.98m couch with in-seat electricity and a 15-inch multimedia display. Plus they get access to their own private lounge before takeoff!
#8. AIR FRANCE
Visitors to Air France's aircraft will be delighted with the cuisine served aboard, which is widely renowned throughout all of Europe. Chef Guy Martin (head chef of a three-star Michelin eatery in Paris) designed each meal so visitors can expect nothing but the best on board. Also, guests have access to multilingual programming, publications, songs and Wi-Fi connectivity while in flight; plus they sell travel accessories and skincare goods too!
#9. KOREAN AIR
Korean Air is the national airline and major aircraft of South Korea; operates 150 destinations with 170 aircraft. It ranks among the 10 most expensive airlines globally with four distinct first-class treatment options available. Chairs in its spacious cabin may recline fully for extra headroom. You have your choice of gourmet cuisine and wines to suit every preference – plus Bose headsets; grooming packages; pyjamas and sandals as luxuries to enjoy during your flight!
#10. VIRGIN ATLANTIC
Virgin Atlantic Airways, with hubs at Manchester, Gatwick and Heathrow airports in England, is a British airline with 46 aircraft operating out of 33 destinations around the world.
Virgin Atlantic Airways' expensive fares guarantee luxurious environments, making them one of the most expensive carriers. Here, passengers are practically catered to with onboard beverages and even a spa offering in-flight manicures. If guests require sleep, their chairs can be converted into a mattress for added comfort. In addition to on-demand media options and subdued lighting settings, customers have access to chauffeured vehicles transporting them between terminals as well as nine bars and ten clubs within Virgin Atlantic Airways.
Bottom line:
Over centuries; aviation has undergone incredible advances that have revolutionized how we fly and communicate. Thanks to technological innovations and globalization, air travel is more convenient and economical than ever before – becoming the preferred mode of transport for hundreds of millions around the world. However; airline industries also face challenges such as environmental effects; security/privacy concerns and market uncertainties. To meet changing consumer requirements and standards, airlines are prioritizing creativity; economy; and customer satisfaction. In the coming decades; the aviation sector will keep growing and inventing as it plays an essential role in promoting international flights, business activities and social prosperity. Despite its drawbacks; commercial aviation remains an integral element of modern life – despite all of its benefits!
What information is required by an airline?
When booking a flight, enter all relevant information including full name, birthdate, email address and phone number. All passengers under eighteen or those being carried in lap must be declared.
What services does an airline provide?
An airline is a business that provides flight services for people and/or cargo. They utilize planes to perform these operations or may partner with other airlines in a code-share arrangement to fly the same route simultaneously.
Which airline is the largest?
American Airlines is currently the biggest airline worldwide based on fleet size, total customers carried annually and income per passenger mile as of June 2022.
What best describes the aviation sector?
Air transport and all related operations fall under this industry umbrella, including all aspects of flight operations as well as support functions like maintenance and repairs on aircraft, research institutions and military aircraft - to name a few. Thus, aviation encompasses not only flight operations but also aircraft manufacture, research institutions and maintenance shops alike.
Aditi Kandhari
Aditi is an Industry Analyst at Enterprise Apps Today and specializes in statistical analysis, survey research and content writing services. She currently writes articles related to the "most expensive" category.
More Posts By Aditi Kandhari