Top 10 Most Expensive Barbie Dolls in the World (2023)
Aditi Kandhari
Updated · Nov 09, 2023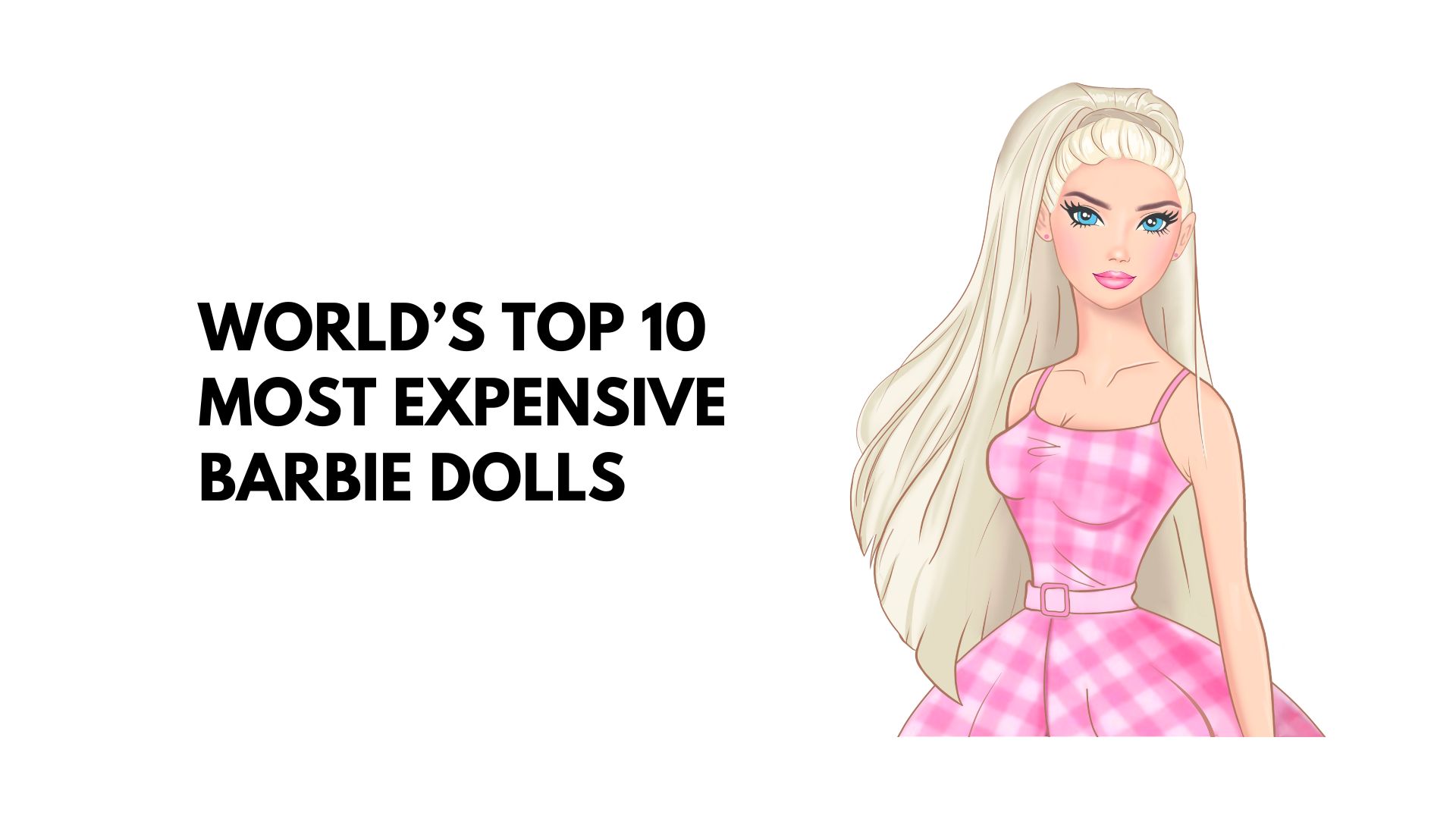 Top 10 Most Expensive Barbie Dolls – Barbie dolls have long been a recognizable part of popular culture, since their release by Mattel in 1959. Soon after their debut, these fashion dolls quickly went viral – famed for their long locks, skinny bodies, and ever-evolving outfits. Barbie has evolved over time to represent many occupations, races, and body types to encourage inclusivity and diversity. Furthermore, these dolls have helped spark children's creativity and imagination by providing role-playing and storytelling opportunities for them. Barbie dolls have captured the hearts of millions of young children worldwide, winning them over with their wide array of accessories, playsets, and themed collections. Barbie has long been a revered and influential toy; motivating generations of children to dream big while embracing individuality despite criticism over body issues and unrealistic beauty standards.
History of Barbie Dolls
Ruth Handler, one of the co-founders of Mattel, introduced the very first Barbie at the New York Toy Fair in 1959 and this marked its birth and launch into history. Handler set out to create a more mature doll because her daughter Barbara was so interested in paper dolls; she wanted the new Barbie to represent a strong and independent woman. The first Barbie featured blonde hair, a slim build, and an iconic black-and-white striped bathing suit. As soon as Barbie hit store shelves in 1959, she quickly became an instantaneous success, captivating both children's and adults' imaginations alike. The name Barbie comes from Barbara Handler (Handler was her mother). Early Barbie dolls focused heavily on glamour. Mattel offers children an immersive fashion and make-believe experience thanks to a selection of fashionable clothing, accessories, and playsets created specifically for Barbie as part of her culture icon status as well as a representation of an ideal lifestyle.
Mattel released their Twist 'n Turn Barbie with the more realistically flexible waist in 1967 as an attempt at reflecting contemporary advancements and encouraging inclusivity. In 1980, Mattel published the iconic Barbie Dream House that provided fans with a peek into Barbie's lavish lifestyle. Following complaints over distorted body proportions in the 90s, however, Mattel introduced "Totally Hair" Barbie, featuring more realistic waist and skin tones for greater realism. Mattel quickly broadened Barbie's representation by offering dolls with different racial backgrounds; professions and body types. To promote diversity and inclusiveness, Barbie dolls now come in an array of skin tones, eye colors, and hairstyles to promote diversity. Barbie has experimented with many career and pastime choices to reflect changing societal norms; encouraging young minds to dream big while challenging gender norms through her array of professions – astronaut, doctor, fireman, and computer engineer among them! Furthermore; the "Career of the Year" line encourages female success through positive role models.
Recently, Barbie has made the leap into the internet age and its Fashionista dolls come with various body types including curvier figures like curvaceous bodies as well as tall and petite ones to represent all types of body types. Mattel has demonstrated its embrace of technology by creating interactive Barbie dolls capable of conversing and responding to voice instructions. Barbie has long been criticized for pushing unattainable beauty standards and encouraging negative body image. However, Mattel has taken proactive measures to address these concerns by producing more diverse and inclusive dolls and engaging in campaigns supporting a healthy self-image and body. Barbie dolls have generated conversations around gender representation, representation of minorities, and empowerment as well as providing hours of imaginative playtime. She remains an icon who inspires children across generations.
Types
Career Barbie
Fantasy Barbie
Fashionista Barbie
Collector's Edition Barbie
Holiday Barbie
Movie and Character Barbie
Playline Barbie
Barbie Signature
Significance
Barbie Dolls have immense cultural and societal relevance; they stand as more than mere toys.
As a symbol of aspiration, fashion, and femininity, Barbie has become a cultural icon. Her impactful presence has altered how society views success, style, and beauty in popular culture.
Generations of girls have been inspired to dream big and explore a wide variety of vocations and objectives by Barbie dolls, serving as role models. Her variety of occupations from astronauts to physicians encourage young girls to believe in themselves and challenge gender norms.
Barbie dolls have inspired imaginative play in children for decades, encouraging them to come up with their own tales and develop problem-solving skills through role-playing. By engaging with these dolls, children develop self-expression, and socialization skills and experience various situations through role-play.
Barbie has come a long way over time when it comes to diversity representation and embracing equality and individuality. By presenting dolls from diverse racial backgrounds, physical characteristics, and skills; Barbie promotes acceptance and empathy in children.
Barbie has had an immense impact on fashion and style. Her popularity as well as the trends that she helped introduce have all been greatly influenced by the doll, while her partnerships with fashion designers and companies only strengthened her standing as an icon of style.
Barbie dolls are historical treasures and collectibles of immense historical importance and value, providing insight into fashion, societal changes, and cultural developments over time. Collectors place high regard on vintage Barbies as they represent part of cultural history that provides a window into past events.
Barbie dolls have long been at the center of conversations surrounding gender roles, beauty standards, and body image issues. Due to the criticism, it has received, however, Barbie has grown more inclusive as a result. Barbie has changed and expanded due to this criticism, helping raise awareness for these concerns while altering conversations around diversity and body acceptance within toy businesses.
Barbie dolls have had an immense economic impact, generating billions for Mattel and contributing to the toy market overall. Furthermore, numerous products, spin-off products, and licensing deals have come about thanks to Barbie's success – creating job opportunities and stimulating economic development in general.
The Popularity of Barbie Dolls
Since their introduction in 1959; Barbie dolls have become immensely popular. From instantaneous success in society to one of the world's most recognized toy brands – here is an in-depth examination of why these iconic toys continue to reign supreme today. There are multiple factors at work here. First and foremost is her capacity to capture young imaginations: children can use Barbie to explore various characters or professions within them by playing imaginatively with these dolls – creating stories or finding out information through play involving various accessories like clothes, playsets, etc – opening up new possibilities for creativity and narrative thanks to her diverse selection of clothing accessories and playsets!
Barbie has evolved with the times and cultural expectations. To promote diversity and reflect an accurate portrayal of women, over the years they have produced an assortment of dolls that represent different races, body types, and professions. Due to her dedication to diversity, Barbie has managed to remain relevant and appealing in an increasingly diverse society. Additionally, Barbie's success can be directly attributed to her association with fashion and style. Barbie has set the trend in fashion by modeling an array of outfits and accessories. Her collaborations with various renowned fashion designers and companies have helped boost her fashion credentials further while drawing in people of all ages who follow fashion.
Barbie's marketing and branding initiatives have played a crucial role in its success. The company consistently creates appealing commercials, engaging advertising campaigns, and eye-catching social media posts to draw consumers in. These initiatives have proven instrumental in maintaining Barbie's popularity among children and collectors, who remain dedicated fans. Collectible versions remain highly desirable even as nostalgia-laden collectibles. People who were raised playing with Barbie dolls as children still harbor fond memories of the company and often pass their dolls down through generations. Limited edition and special edition dolls as well as partnerships with well-known franchises and personalities further increase fans' and collectors' enthusiasm.
Barbie has successfully navigated the digital era by employing technology in creative ways to engage kids in fun and imaginative ways. Barbie continues to stay relevant thanks to interactive dolls, online games, and digital material; engaging tech-savvy generations as well as remaining culturally relevant through interactive dolls, online games, and digital material. Her longevity may also be attributable to her ability to grow as well as serve children's needs while staying culturally relevant despite occasional concerns over body image or unattainable beauty standards – creating lasting icons of childhood culture which inspire imagination, creativity, and empowerment!
Why Barbie Dolls Are Expensive
Barbie dolls can be costly due to various factors that impact their cost.
Barbie enjoys an impeccable reputation worldwide and remains a household name. Due to her wide appeal and cultural significance, the dolls bearing this trademark are seen as having more value and thus enable Mattel to charge higher prices.
Barbie dolls are often created using premium materials and with meticulous attention to detail. To ensure their sturdiness and visual appeal, the dolls go through detailed design and production processes; using expensive fabrics, clothing items, and accessories may increase production costs, which would then increase retail pricing.
Barbie collaborates with various fashion designers, celebrities, and brands in order to produce limited-edition and special-edition dolls that collectors seek after; often this involves extra licensing costs or special packaging making these exclusive dolls more desirable for collectors than standard versions of the same product. Their higher price point reflects their increased exclusivity and value.
Barbie dolls sold as limited editions or collector's items are typically more costly due to their rarity and collectability, with passionate collectors willing to pay higher prices for rare or exclusive pieces with unique features, intricate styling, or special packaging that attract them.
Playsets, accessories, and themed collections for Barbie can add significantly to its price. While these extras broaden imaginative play experiences and opportunities for playtime, they also increase its cost.
Mattel devotes substantial resources to research, development, and testing when creating and improving its Barbie doll line. This involves developing novel features with cutting-edge technologies while designing innovative features for each new doll released. Pricing considerations When pricing Barbies should take this factor into account.
Barbie promotion and advertising come at a steep cost for companies, which must bear all associated with marketing initiatives, advertising campaigns, influencer partnerships, and retail pricing of Barbie dolls – including these expenses.
Pricing Barbie dolls is determined by supply and demand principles in economics. A doll's price may increase due to limited supply or high demand; for instance, if it belongs to a popular franchise or collectible edition that is highly sought after.
World's top 10 expensive Barbie Dolls
Barbie by Stefano Canturi – Worth $302,500
Barbie and the Diamond Castle Promo doll – Worth $94,000
De Beers 40th Anniversary Barbie – Worth $85,000
#1 Ponytail Barbie – Worth $27,450
Barbie in Midnight Red – Worth $17,065
Pink Diamond Barbie – Worth $15,000
Gala Abend Barbie – Worth $13,650
Signed Pillow Talk Barbie Set – Worth $7,680
Karl Lagerfeld Barbie – Worth $3,500
Porcelain Rumba Barbie Doll – Worth $2,640
#1. Barbie by Stefano Canturi – Worth $302,500
The Barbie by Stefano Canturi was the most expensive ever created; upon being auctioned in 2010, this doll brought in $302,500 and the Breast Cancer Research Foundation received some of its proceeds, so its exorbitant cost had real benefits for charity. At first glance, this contemporary Barbie doll may seem reasonably priced. She features a neat updo, plain light pink shoes, and an understated black dress with frills on. However, taking a closer look at her necklace of sparkling gems reveals why this Barbie is the rarest and most costly ever produced. Constructed of three carats of various-cut colourless diamonds arranged cubist-inspired and one vibrant pink diamond sits among these random gems; although not one of the world's costliest diamonds it still possesses tremendous value and should be highly prized as part of any valuable collection.
#2. Barbie and the Diamond Castle Promo doll – Worth $94,000
As part of their promotion for the 2008 Barbie film Barbie & the Diamond Castle; the company unveiled a promotional Princess Doll coated in diamonds at an estimated cost of $94,800; that cost to be created and displayed. Due to this doll never being on sale for purchase, when we say released we really mean created and displayed; unfortunately; this Barbie was outfitted in an extravagant pink-and-purple gown studded with over 20 carats worth of glittering colorless diamonds; costing more than the De Beers 40th Anniversary Doll because its materials combine both gold and diamonds; uniqueness adds even further value!
#3. De Beers 40th Anniversary Barbie – Worth $85,000
De Beers diamonds have long been synonymous with excellence. One of the largest and most profitable diamond mining companies worldwide, De Beers has set multiple price and quality records with their outstanding diamonds. De Beers recently manufactured an unusual Barbie doll priced at $85,000 that wasn't exactly kid-friendly in terms of appearance or parts. De Beers 40th Anniversary Barbie wears an orange-pink skirt adorned with 160 diamonds that contrast nicely against her vibrant orange belt and white gold bra. Don't let your child get their hands on her due to all those precious gems covering its skirt!
#4.  #1 Ponytail Barbie – Worth $27,450
The original Barbie was introduced into production in 1959, making any owner an important piece of history. Over time, its designs changed numerous times, most significantly in 1960 when design modifications first appeared on this doll known as the "#1 Ponytail Barbie." Today, extremely rare originals such as this "#1 Ponytail Barbie" can fetch hundreds of thousands of dollars; an NRFB blond doll dressed for a cookout event that belonged to this special edition was auctioned off for $27,450 at Sandi Holder's Doll Attic in Union City California auction last May 2006 for almost that amount; making these rare collector's items almost as pricey as new vehicles! There were over 300 000 of these blonde-haired dolls available when first released 50 years ago!
#5. Barbie in Midnight Red – Worth $17,065
Unaware collectors might not realize this fact, but many classic Barbie dolls were once sold separately from their stylish clothing and accessories. At one point a basic Barbie costs $3 while more costly items such as costumes and accessories could cost even more; today these antique ensembles can fetch hundreds of dollars!
Once in a lifetime is it rare to come across an antique Barbie dressed in vintage attire – and that certainly was true of "Midnight Red", sold at auction in 2006 for $17,065.
#6.  Pink Diamond Barbie – Worth $15,000
Marilyn Monroe popularized the notion that diamonds are a girl's best friend in 1953; Barbie dolls, on the other hand, were often touted as such as well. So it seems inevitable that these two would come together and create something truly dazzling and extravagant at auction; meet Pink Diamond Barbie! Featuring an extravagant pink gown studded with diamonds affixed with a faux-fur pink coat and shoes (both are lovely finishing touches though); however, this incredible sparkling Barbie is estimated at an unbelievable $15,000!
#7.  Gala Abend Barbie – Worth $13,650
Gala Abend Barbie and other vintage Barbie dolls are quite expensive, especially if they are rare and in excellent condition. In 2006, a flawless Gala Abend Barbie went for $13,650, and it's easy to see why! When the Gala Abend Barbie first became available in 1965, only European consumers could purchase it. This Barbie's name, which translates to "Evening Gala," is mainly German. In the 1960s, it would have been difficult for collectors in North America and Asia to acquire one of these exquisite Barbie dolls. Furthermore, it is difficult to obtain one in top condition today due to the age of this doll.
#8. Signed Pillow Talk Barbie Set – Worth $7,680
In 1959, both Barbie and the movie Pillow Talk were first made available for public consumption, but the Pillow Talk Barbie Set first hit stores more recently – in 2011. This collection included two dolls to represent each of the key characters from the film.
However, these vintage-looking Barbie dolls might not appeal to young children – who are the target market of Barbie – but for adults, these collections make great collector's items, and one set, in particular, can be priceless; one such set features Doris Day's signature in its upper corner; this incredible set sold at auction for $7,680!
#9. Karl Lagerfeld Barbie – Worth $3,500
Karl Lagerfeld Barbie stands apart from traditional play dolls with its solid square base stand and uniquely elegant body, making her the pride of any premium toy collection. 2014 saw its release; all 999 of them quickly sold at up to $3,500 each! Alternatively, for that amount, you could purchase an entire Karl Lagerfeld outfit, complete with accessories. Nevertheless, for serious collectors, it could make more sense to invest in Barbie with miniature Lagerfeld clothing instead.
#10. Porcelain Rumba Barbie Doll – Worth $2,640
Even without wearing expensive fashion lines, this prototype Barbie remains an expensive fashion doll. The Porcelain Rumba Barbie stands out from previous variations because she was initially created with a unique 1920s haircut and look in mind. Starting off, this prototype was never put into full production; additionally, its construction is entirely of porcelain rather than plastic. So this Barbie is very fragile in comparison with more commonly available dolls that may withstand hours of play without showing signs of wear and tear. At auction in 2005, the Porcelain Rumba Barbie brought $2,640; should it ever come up for sale again given its rarity and special nature it could fetch an even higher sum.
You May Also Like Top 10 Most Expensive in the World:
Final Thoughts
Barbie dolls have long captured children's and adults' imaginations alike for over 60 years; leaving an indelible mark on popular culture. Barbie dolls have long been cultural symbols of beauty; style and empowerment; inspiring generations to dream big and embrace their individuality. Barbie has evolved over time to reflect changing societal conventions and encourage diversity through an impressive roster of occupations; body sizes, and races they represent. These dolls provide children with an outlet for creative play; helping to foster imagination and storytelling abilities. Barbie Dolls remain a beloved toy despite the periodic controversy, demonstrating how a popular item can shape society and society debates. We still hold fond memories of them due to their historic significance and impactful fashion influence.
Aditi Kandhari
Aditi is an Industry Analyst at Enterprise Apps Today and specializes in statistical analysis, survey research and content writing services. She currently writes articles related to the "most expensive" category.
More Posts By Aditi Kandhari