Globally Glamorous: Top 10 Most Expensive Gucci Products in the World
Aditi Kandhari
Updated · Sep 02, 2023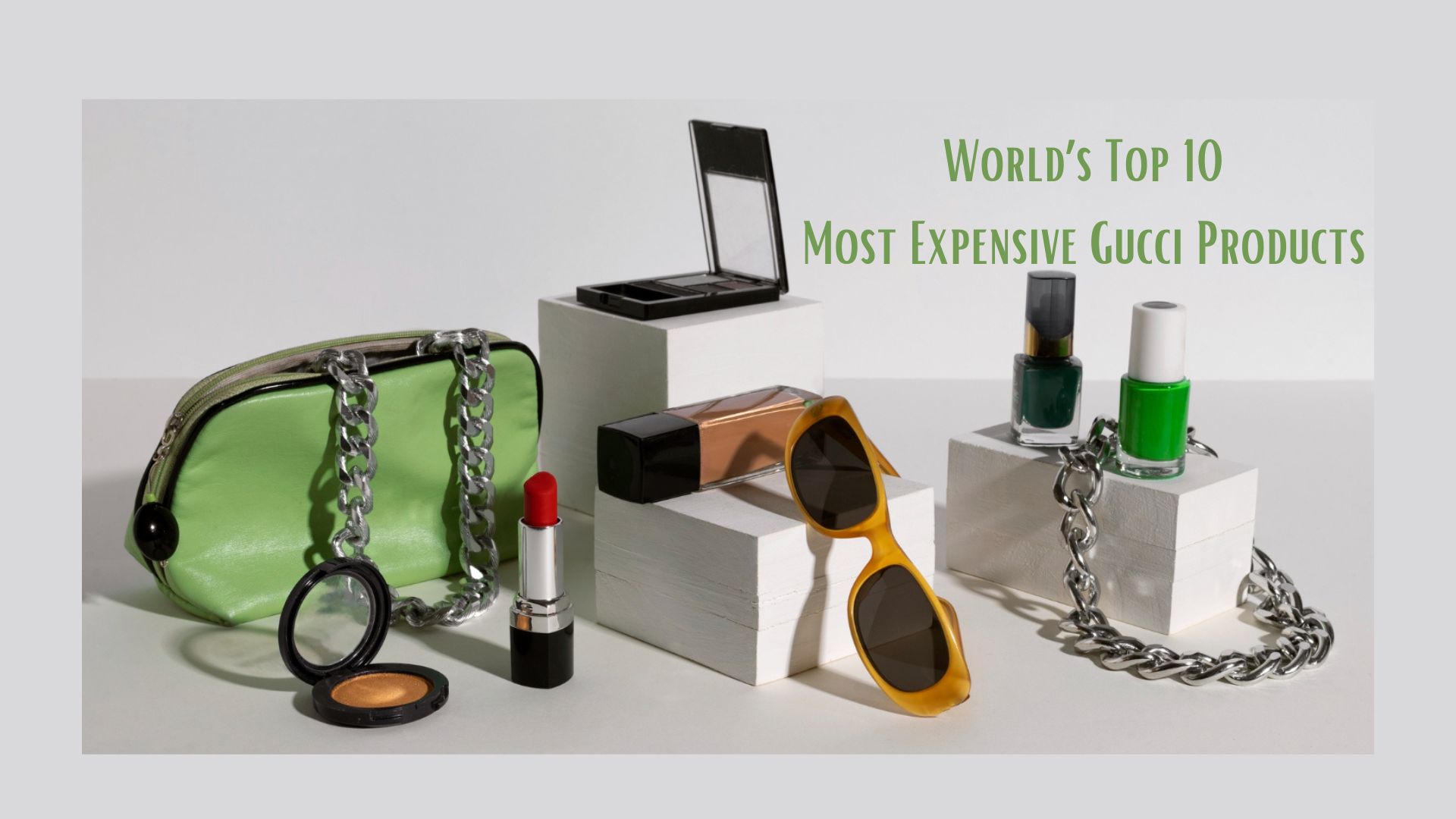 Guccio Gucci founded the luxurious clothing company in Florence, Italy back in 1921. They are renowned for their luxurious apparel as well as leather accessories, shoes, and purses – not to mention the iconic bamboo bag, horse-bit loafer, and GG logo! Currently part of Kering Group, Gucci continues its legacy as a pioneering force within luxury fashion by offering both men and women an extensive selection of clothing items plus fragrances and other accessories. In this article, cover the world most expensive Gucci products in the world.
History of Gucci:
Guccio Gucci founded Gucci in Florence, Italy in 1921 after becoming inspired by his former job as a bellhop in London. While working there, he had noticed the lavish bags carried by visitors to Italy – this inspired him to open his own leather products company there and begin offering leather bags and luggage of his own design.
Gucci expanded its product offering in the 1930s, adding shoes, apparel, and accessories like belts and wallets. At this time they unveiled their iconic "double-G" logo which would become a widely recognized brand hallmark.
Gucci suffered through a manpower and material shortage during World War II, yet they continued producing leather products and accessories. Following the conflict, the company saw an uptick in popularity, particularly among Hollywood celebrities who admired Gucci's luxurious yet fashionable designs.
Gucci opened stores in major cities such as New York City during their international expansion in the 1960s. Unfortunately, as the popularity of their brand grew throughout the 1970s and '80s, they had to contend with imitators creating counterfeit Gucci items.
Gucci experienced internal conflict during the 1990s as family members vied for ownership of the business. In 1993, Investcorp, an investment firm based in Bahrain, bought Gucci. The new management group, led by CEO Domenico De Sole, took action to revive and restore the brand's iconic status for elegance and excellence.
Gucci began a major rebranding effort under De Sole's direction, featuring sleek and contemporary designs. They also ventured into new product categories like eyewear and fragrances. Gucci eventually joined Pinault-Printemps-Redoute (PPR), a French luxury corporation that adopted the name Kering in 1999. Nowadays, Gucci is one of the world's most renowned luxury fashion labels known for their high-end clothing and leather goods as well as creative yet often contentious advertising campaigns. With a global presence, dedication to sustainability, and commitment to social responsibility, this leading fashion label remains at the top of its game today.
The Popularity of Gucci:
Gucci is one of the world's most beloved luxury fashion labels; known for its quality and craftsmanship, cutting-edge designs and materials, as well as its link to high-end luxury and glitz. To stay relevant and appeal to new audiences; Gucci has also demonstrated great adaptability when launching new product lines in line with shifting trends and consumer preferences.
Gucci has seen a recent uptick in popularity and recognition under Alessandro Michele's creative direction; who has given their collections an eye-catching aesthetic. Gucci has been able to maintain its position as one of the top luxury fashion brands when it comes to revenue and profitability. The financial performance of the brand is a clear indicator of its success.
Gucci has faced numerous issues since its success; such as fake goods proliferation; environmental concerns and ethical sourcing procedures in the fashion industry. To combat these issues, the company has taken proactive measures like working with groups to fight copycat activity and incorporating sustainability programs into its supply chain operations.
Cultural Significance:
Gucci has had a profound cultural impact, shaping the fashion industry and inspiring popular culture trends. Celebrities and influencers have long associated the brand with luxury, glitz, and high-end aesthetics. Signature pieces such as the Bamboo Bag and Horsebit Loafer have become iconic symbols of refinement and flair within our society. Gucci challenges traditional ideas about luxury and gender in both its designs and advertising strategies. Under Alessandro Michele's creative direction, Gucci takes a daring and varied approach that incorporates multiple influences into each design.
Gucci has made a lasting impact on the fashion sector while supporting arts and culture. The Gucci Museo in Florence, which showcases the company's history, is just one of many museums around the world where they've sponsored exhibitions or activities. Furthermore, they participate in charitable endeavors and social responsibility projects such as supporting groups that advocate for women's advancement, education, and sustainability – to name just a few. Furthermore, their prominence as luxury fashion icons and influence over popular culture contribute to Gucci's cultural relevance beyond mere relevance within their respective fields.
Why Gucci Products Are Expensive?
Gucci uses only the finest materials, such as beautiful leather, exotic skins, valuable metals, and gemstones to craft its items. The artists responsible for working with these resources must be highly skilled and the resources are expensive to acquire.
Gucci is renowned for its eye-catching designs that often incorporate unconventional materials and methods. To produce these cutting-edge items, the brand invests heavily in research and development – increasing the price tag on finished goods in the process.
Gucci products require exacting standards and experienced personnel, which is why the company employs labor- and time-intensive traditional handicraft techniques like hand painting and sewing by hand.
Gucci is a globally renowned and sought-after brand whose goods epitomize luxury and exclusivity. As such, its exorbitant prices may be partially explained by the brand's prestige and image.
Gucci makes substantial investments in developing its global retail network and marketing and advertising initiatives to sell its products. The price of each finished product reflects these costs.
Gucci Stuart Hughesbag – Worth $250,000
Gucci Crocodile shoulder Bag – Worth $37,400
Gucci Crocodile Tote Bag With Bamboo Handle – Worth $32,000
Gucci 1921 Collection Medium Shoulder Bag – Worth $28,990
Gucci Biker Jacket – Worth $18,650
Gucci Sequin Dress – Worth $13,000
Gucci Men's i-Digital Grammy Watch – Worth $7,900
Gucci Sylvie Purse – Worth $4,000
Gucci Genius Jeans – Worth $4,000
Gucci Women's Leather Boots – Worth $3,800
#1. GUCCI STUART HUGHESBAG – WORTH $250,000
Gucci Stuart Hughes Belt; was the most expensive item ever sold – priced at $250,000. Crafted from 18-carat gold with diamonds and emeralds; this belt can be worn and taken off whenever desired. As with most Gucci items; the owner has full discretion over when to sell or give away their product for profit.
Stuart Hughes is renowned for his luxurious designer jewelry. Gucci Diamonds weighing 30 carats are set into Stuart Hughes' belt clasp and fall down from it.
#2. GUCCI CROCODILE SHOULDER BAG – WORTH $37,400
The Gucci Jackie Crocodile Shoulder Bag is one of the most luxurious purse items available. At first sight; its beauty and comfort will surely capture anyone's heart. This treasure within the world of handbags truly lives up to its name! This style of shoulder bag remains the most sought-after. It was named in honor of Jacqueline Kennedy; an international icon in fashion design. To achieve its perfect shape; this bag is handcrafted by one of the highest-regarded purse clothiers worldwide – made from brown crocodile leather and accented with gold hardware. This bag is an exquisite combination of professional craftsmanship and stunning materials. Though it's quite nice; there's no need to mention it here; the spacious interior can easily hold a few appliances as well as your everyday items. This Gucci bag makes an ideal choice for style connoisseurs everywhere!
#3. GUCCI CROCODILE TOTE BAG WITH BAMBOO HANDLE – WORTH $32,000
Gucci Crocodile Tote Bag With Bamboo Han continues the iconic brand's incredible success in making high-quality purses that have become iconic worldwide. There is simply no comparison when it comes to Gucci; their success speaks for itself! Gucci Crocodile Tote Comes With Bamboo Handle. A landmark among purses, few can compare to this beauty. Crafted with brown leather and crocodile pores for strength, its size makes it a must-have. Not only does it look stunning, but its space inside is much smaller than most standard sizes – yet you still have room to store all of your important items securely inside!
#4. GUCCI 1921 COLLECTION MEDIUM SHOULDER BAG – WORTH $28,990
This medium-sized Gucci 1921 Collection Shoulder Bag was inspired by Gucci's Nineteen Twenties series and quickly became one of their most expensive items. Store your belongings inside this purse that boasts 6 card slots; one zip pocket and another zipper pocket for convenience. Outdoors has leather-based handles and gold-plated hardware in an array of colors such as black; brown; navy blue or inexperienced. The Gucci 1921 Medium Shoulder Bag not only has a high price tag but also provides many ready-to-buy options for those who want it. Gucci bags have been around for years now and continue to be beloved by celebrities like Cameron Diaz or Victoria Beckham; you can get this classic Gucci bag in many colors to match your outfit perfectly.
#5. GUCCI BIKER JACKET – WORTH $18,650
Alessandra Mikelli designed this layout as a tribute to the London punk scene that thrived in the 1980s. Crafted from Italian calfskin, it features plenty of steel studs and chains for added adventure. This jacket is perfect for those seeking an exciting life filled with style. They now enjoy an unprecedented level of financial luxury, enabling them to spend nearly $20,000 on a motorcycle jacket. The loud and hard design was inspired by Sid Vicious from "Sex Pistols" and Joe Strummer ("The Clash") as its foundations. This Gucci product is truly special with its hardcore style. Alessandra Miceli designed the Sylvie handbag and also designed a jacket not often seen in luxury fashion – priced at an eye-watering $18,650 – making it one of the most expensive items ever offered by Gucci. This item cannot be for everyone – making it one of a kind!
#6. GUCCI SEQUIN DRESS – WORTH $13,000
Surprisingly; this outfit is one of the simplest on the list! The quality and layout are unsurpassed – this garment will remain on your shelf for years to come. Crafted from Silk Georgette; it looks like King Midas took it by its palms before dragging it through a river of gold. Priced at nearly USD 13,000; this stunning display of class and glamour will surely turn heads wherever you go. At 12,900 USD; Gucci's most expensive item; composed of either 80% silk or 20% wool plus sequins in various colors for a shimmering effect; Dressing up can be fun whether formal or informal – dress up!
#7. GUCCI MEN'S I-DIGITAL GRAMMY WATCH – WORTH $7,900
The Gucci Men's Idigital Grammy Special Edition Watch is one of several pricey Gucci watches, yet it stands out from the rest. Crafted to honor Skepta's Grammy-nominated album "Konnichiwa"; this watch is one of their most expensive products ever offered. Gucci describes this watch as one of their most highly-regarded products. Not only does it feature an iconic inscription beneath the face; but also various layout features that have made it so desirable. Plus, its sapphire crystal screen is scratch-resistant – all for just $7900! Gucci I-Digital Watch offers a slim black band with a white face, featuring an interactive calendar and alarm clock at the dial. As with all Gucci watches, this model is scratch-resistant with sapphire crystal protection. Now the watch can be worn not just to show off; it can be exposed and used as an accessory too!
#8. GUCCI SYLVIE PURSE – WORTH $4,000
Italian leather is used to craft this stunning handbag. Though not overly extravagant; it is subtle yet; captivating elegance made it a hit among female fashionistas worldwide. Alessandra Miceli; turned an ordinary handbag into something truly remarkable with this design which can last years with proper care if kept clean. If your color scheme has drastically shifted since then; consider investing in something much more extensive!
#9. GUCCI GENIUS JEANS – WORTH $4,000
Gucci Genius Jeans are our next pick. These jeans are among the most elegant and fashionable denim ever sold – with a pair going for almost $4,000, setting an unprecedented record in the logo world. Prices like these would usually only be found on skyscrapers! In 1998,
the iconic pair of denim was released and has become a timeless classic in fashion circles ever since. These garments, embellished with African beads and featuring intricate hand-stitched patterns of feathers and plant life, have become timeless classics among fashion circles. This sample was expertly crafted by artisans in Florence, with its "manufactured in Italy" tagline being an important selling point for many customers. Gucci Genius Jeans are unrivaled in quality and style – many fashion designers have tried to replicate its look without success – making this denim object one of Gucci's top pieces – highly priced and tax deductible at the same time.
#10. GUCCI WOMEN'S LEATHER BOOTS – WORTH $3,800
Gucci always produces an impressive collection of boots and footwear, but none quite compare to their Woven Leather Boots. These stunning shoes are masterpieces in craftsmanship and are sure to become a hit with anyone who sees them. Gucci crafts these fashionable boots in Florence from strong camel-based leather with a glossy leather sole – a signature feature of the brand. Priced at $3800 each, these boots can be worn year-round, regardless of temperature or season, and are among the most expensive offerings in the world at this high price point.
Bottom line:
Gucci products are sought-after luxury goods renowned for their exclusivity; quality, and design. This company has a long history and holds great cultural significance; both the fashion industry and popular culture have benefited greatly from the products of this iconic brand.
Gucci's commitment to quality and craftsmanship is evident in the high price tag attached to its goods, which are crafted using only top materials and time-honored production techniques. Gucci has managed to stay relevant and attract a new generation of customers through its creative designs and marketing tactics.
Despite its success, the company faces challenges such as fake goods proliferation and concerns about sustainability and ethical sourcing practices. Gucci has faced challenges despite its success; such as the proliferation of fake goods and concerns about sustainability and moral sourcing methods. However, Gucci has taken action to address these issues by working with organizations to combat copycats and integrating sustainability programs into its supply chain. Gucci products are more than just expensive; they're cultural icons representing exclusivity, sophistication, and flair. Despite their hefty price tags; these items serve as status symbols and statements of individual taste.
Where are Gucci goods produced?
Gucci departs Italy exclusively to manufacture their renowned watch line in Switzerland, while all of their fashion production is handled by some of Italy's finest factories.
Where Can I Find Gucci at the Lowest Price Points?
Surprisingly, it is not Italy but rather the United Kingdom that offers Gucci at its most budget-friendly price point. That being said, many of Britain's continental European neighbours offer prices that are quite comparable.
What materials does Gucci use?
Gucci does not utilize angora, hair, fur or exotic animal skin in its apparel items. Instead, they primarily make use of down feathers, leather, wool and silk.
What is Gucci's signature item?
Gucci offers a range of product categories, such as handbags, ready-to-be-worn shoes and accessories as well as home decor items. Plus they contract their brand name and trademarks to Coty Inc for perfume and makeup under the Gucci Beauty banner.
Aditi Kandhari
Aditi is an Industry Analyst at Enterprise Apps Today and specializes in statistical analysis, survey research and content writing services. She currently writes articles related to the "most expensive" category.
More Posts By Aditi Kandhari