Top 10 Most Expensive Hublot Watches In The World
Aditi Kandhari
Updated · Oct 02, 2023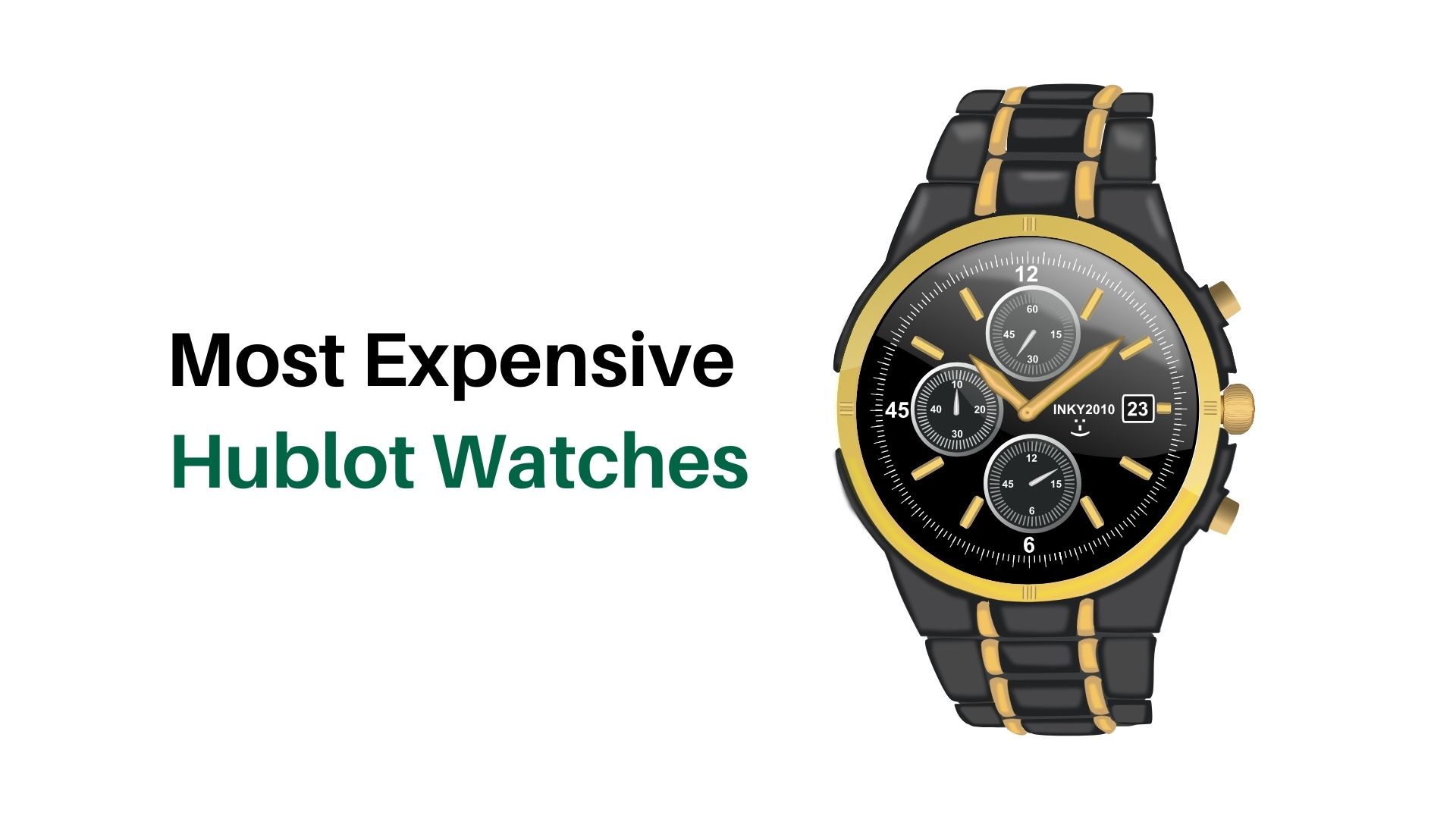 Most Expensive Hublot Watches: Hublot was established by Carlo Crocco in 1980 as one of the premier Swiss watchmakers. Renowned for their original designs that combine cutting-edge materials and technology with classic Swiss watchmaking techniques, their watches have quickly become one of the most desired among collectors and watch aficionados alike, often boasting large cases, bold strap patterns, skeletonized displays, and have come to represent opulence and superior design.
Bold yet athletic in appearance, their watches often boast large cases, distinctive strap patterns, and skeletonized displays – these designs have quickly become beloved among collectors and watch enthusiasts alike and their name has become an emblematic representation of luxury and superior design!
About Hublot
Carlo Crocco established Hublot; a Swiss luxury timepiece company, in 1980. Soon thereafter, Hublot quickly gained notoriety for its unique and ground-breaking designs that fused modern materials and technologies with classic Swiss watchmaking techniques. Large cases, distinctive strap patterns, and skeletonized dials quickly became trademarks of its aggressive yet sporty aesthetic.
Hublot first released its "Big Bang" line of watches in 2005 and quickly won over fans, quickly becoming one of its best-selling collections. It is notable for its large case with visible screws, easily interchangeable strap, and unique clasp design that can be quickly changed out. Since its introduction; this iconic line has grown to encompass various materials like gold, titanium, ceramic, and even sapphire crystal.
Hublot offers an expansive selection of watches beyond its flagship Big Bang collection. This includes Classic Fusion, Spirit of Big Bang, and MP (Manufacture Piece) series which offer diverse aesthetics and difficulties – ranging from three-hand movements to complex tourbillons.
Hublot has become well-known for its alliances and partnerships, having worked with Ferrari, Usain Bolt, and even the FIFA World Cup to introduce more people to its cutting-edge designs and distinctive materials. Through these alliances, they've introduced more people to these luxury timepieces that combine traditional Swiss watchmaking techniques with contemporary design elements and technology – creating some of the most distinctive timepieces available today.
History of Hublot Watches
Carlo Crocco founded the Swiss luxury watch brand Hublot in 1980 after devising the idea of creating an innovative watch that fused classic Swiss watchmaking techniques with cutting-edge components and styling. The first Hublot watch was introduced after years of careful craftmanship to produce something beautiful yet exquisite – and ultimately a successful business venture.
Crocco was inspired to design his watch's unique form by the French term for "porthole," thus inspiring its name "Hublot." His initial Hublot watch had a rubber strap, porthole-shaped design, and gold case; quickly becoming popular within the high-end watch industry.
Hublot began expanding its product lineup soon after luxury goods giant LVMH acquired them in 2004. When they introduced the Big Bang series in 2005, however, Hublot made one of its greatest advances forward – its iconic strap, massive case size, and exposed screws quickly become an instantaneous success – contributing to Hublot's rise to prominence within the luxury watch market.
Hublot has always been at the forefront of watch design innovation, including Magic Gold (an alloy of scratch-resistant gold), Texalium (a composite made up of carbon fiber and aluminum), and sapphire crystal watch casings crafted by sapphire crystal. Furthermore, they have collaborated with world-famous partners such as Ferrari, Usain Bolt, and even the FIFA World Cup tournament.
Hublot is widely admired for its commitment to quality and craftsmanship as well as cutting-edge designs and materials. Each watch is assembled by hand before being carefully inspected and powered by one of Hublot's in-house movements for precision and reliance.
Hublot is widely recognized as one of the world's most innovative and progressive luxury watch brands. Thanks to their commitment to innovation, design, and quality their watches remain among the most coveted timepieces on the market.
Why Do People Prefer Hublot Watches?
People purchase Hublot timepieces for various reasons, but one key reason is due to its distinctive and innovative design. Large cases, distinctive strap patterns, and skeletonized displays are just a few characteristics that distinguish Hublot watches from others – particularly the Big Bang collection which stands out with exposed screws and an interchangeable strap system.
Hublot timepieces have long been revered for their dedication to quality and workmanship, which contributes to consumer demand for these timepieces. All movements used are produced in-house for full control over each timepiece produced. Furthermore, each watch produced by the brand undergoes careful hand assembly with accuracy testing conducted prior to being sent out for sale on the market.
Hublot watches have earned widespread acclaim for incorporating innovative materials in their watches, such as sapphire crystal, magic gold, and texalium which add strength and functionality while giving their watches distinct appearances.
Hublot is well-known for collaborating with high-profile partners, which has increased both its attractiveness and prestige. Hublot collaborated with Ferrari on creating an exclusive collection of timepieces inspired by this legendary Italian sports vehicle; additional noteworthy individuals working alongside Hublot include Olympic gold winner Usain Bolt and Pele.
Why Hublot Watches are Expensive?
Hublot timepieces can be quite pricey for several reasons. First and foremost, this watchmaker uses only premium components, such as sapphire crystal, gold, titanium, and ceramic in its watches compared with cheaper materials like stainless steel used more commonly.
Hublot takes great pride in manufacturing its movements in-house, which requires significant investments in research and development as well as special equipment creation. Due to these investments, the brand has created some of the most accurate and long-lasting movements found anywhere in the luxury watch business.
Hublot watches often boast intricate and elaborate designs that require significant time and skill to craft. For instance, their Big Bang line of watches provides various forms of complexity like perpetual calendars, tourbillons, and chronographs – these intricate watches must be produced by highly experienced watchmakers or craftsmen at great cost to the price tag of these timepieces.
Hublot's limited edition and partnership watches are highly collectible, contributing to their higher costs. Due to small production runs, these timepieces offer exclusivity to collectors.
Finally, exclusivity and grandeur drive the luxury watch industry itself. Luxury watch companies like Hublot appeal to this market by creating watches with superior craftsmanship that are also visually striking and distinctive – owning one is often seen as a display of wealth and prestige.
Hublot invests heavily in marketing and advertising efforts that increase its brand appeal and awareness, including working with well-known partners and sponsoring events such as FIFA World Cup and UEFA Champions League tournaments to amplify brand visibility and attract wider audiences. Money spent on promotion also goes toward the pricing of Hublot timepieces.
The Popularity of Hublot Watches
Hublot watches are beloved timepieces among collectors and fans of fine timepieces for many reasons, particularly their unusual yet cutting-edge design that sets them apart from other luxury watch companies. Large cases, distinctive strap patterns, skeletonized displays, and interchangeable strap systems all define Hublot watches as unique collectible pieces. Their best-known collection – Big Bang – especially stands out as it includes exposed screws as part of its striking aesthetic and an interchangeable strap system for maximum personalization.
Hublot watches stand out due to their commitment to quality and craftsmanship, with all movements manufactured within its factory for full control over timepiece caliber and accuracy. Each watch produced by this prestigious brand undergoes thorough hand assembly before being carefully tested by hand for reliability.
Hublot has become more widely recognized due to its successful partnerships with prominent companies, which has added an attractive element and raised its profile. For instance, Ferrari and Hublot collaborated on limited edition timepieces inspired by this legendary Italian sports vehicle; other notable individuals who have collaborated include Olympic gold winner Usain Bolt and football icon Pele.
Hublot has gained increasing attention as a result of its partnerships with prominent companies, increasing both its attractiveness and prominence. One such collaboration between Hublot and Ferrari resulted in limited edition timepieces inspired by this iconic Italian sports vehicle; additionally, other notable individuals such as Olympic gold winner Usain Bolt and football icon Pele have collaborated with Hublot.
Key Features of Hublot Watches
Hublot watches are widely recognized for their innovative and distinctive designs that blend cutting-edge materials and technology with traditional watchmaking methods. Here are some hallmarks of a Hublot timepiece:
Hublot's signature Big Bang watch collection boasts an iconic case designed after ship portholes. Available in various sizes and composed of materials including gold, titanium, and ceramic.
Hublot produces all of its movements itself, giving the company complete control over the caliber and accuracy of its timepieces. Traditional watchmaking techniques are employed in creating these movements while cutting-edge technologies provide additional benefits.
Hublot timepieces feature scratch-resistant and highly durable sapphire crystal, along with antireflective properties for improved visibility of their watch faces.
Hublot watches offer wearers quick and easy ways to switch out different straps thanks to an interchangeable strap mechanism, providing plenty of choices in materials like rubber, leather, and cloth for straps.
Hublot timepieces are highly coveted among collectors, especially their limited edition and partnership timepieces, which come in small batches with distinct designs and materials.
Hublot's world-famous tourbillon timepieces boast a spinning cage to increase precision. Additionally, their watches boast aesthetic appeal due to being often visible through the face of the watch and having visible tourbillons.
Hublot watches often feature skeletonized dials, which allow users to observe the inner workings of their watch's components moving in an effort to enhance the aesthetic appeal and demonstrate excellence and craftsmanship in manufacturing. This further showcases their commitment to excellence.
Top 10 Most Expensive Hublot Watches In The World
The Hublot – Worth $5 Million
Black Caviar Bang – Worth $1 Million
3 Masterpiece MP 02 – Worth $305,000
Big Bang Tourbillon Limited Edition – Worth $290,000
The Bigger Bang – Worth $260,000
Big Bang King – Worth $250,000
Big Date Power Reserve Indicator – Worth $200,000
Classic Pink Gold and Diamonds – Worth $180,000
Tourbillon Solo Bang – Worth $170,000
Classic Fusion Zirconium – Worth $160,000
#1. The Hublot – (Worth $5 Million)
Hublot's $5 Million Hublot watch stands out as an extravagant timepiece comparable to those offered by Jacob & Co. and Vacheron Constantin.
Hublot watch weighs in at an astounding 140 karats total, with six out of the 1,200 diamonds weighing more than three carats each.
Hublot watch was handcrafted using the assistance of a master cutter from New York City and required seventeen people and 14 months for completion, creating an exquisite timepiece that dazzles. At such an exorbitant price point, it should come as no surprise that Beyonce Knowles was among the initial purchasers, purchasing one for her husband Jay-Z.
#2. Black Caviar Bang – (Worth $1 Million)
Hublot's Black Caviar Bang luxury watch stands out as an eye-catching design, boasting a prominent tourbillon at 6 o'clock like many of their iconic designs. Though its design echoes other watches from their Big Bang line, this watch stands out because of its 18-karat white gold case.
An impressive degree of craftsmanship can be seen in this watch's casing, which features 544 black baguette-cut diamonds weighing in at 34.5 carats total. This watch may make reading the time difficult, but that is precisely why its display of black diamonds should make its owner proud to show it off – and not work!
Black Caviar Bang watches became more costly after they won the Grand Prix de Geneve's Best Watch of the Year Award in 2009. Each one will cost roughly $1 million; therefore they may be beyond your financial reach without Elon Musk's net worth.
#3. Masterpiece MP 02 – (Worth $305,000)
Hublot's Masterpiece MP-02 watch is an enhanced version of the Key Of Time watch we recently examined, offering three ways of displaying time. Although changing between fast and slow time may seem unnecessary, it demonstrates their engineering prowess.
The minute and hour hands are set up in an unusual pattern that appears to mimic spider web threads. Crafted out of dark titanium, this theme continues in white accents on the watch face that run along each number in an intermingled weblike fashion.
Hublot's futuristic Masterpiece MP 02 timepiece boasts an eye-catching black rubber strap and titanium body that give it the appearance of something from science fiction movies. Only athletes with access to significant wealth are able to afford its $305,000 price tag; only then will you experience its sporty premium timepiece quality
#4. Big Bang Tourbillon Limited Edition – (Worth $290,000)
Hublot Big Bang Tourbillon Limited Edition watches are highly prized among horologists worldwide and rank among one the most desirable watches available today.
They make for an eye-catching timepiece in any Big Bang watch collection. The Big Bang Tourbillon Limited Edition watch is priced at an impressive $290,000. One of only 18 available, its price will likely increase over time as more are purchased and made available.
By pressing a button above its crown users can activate its bezel's chronograph feature and turn it on/off as desired. Hublot's Big Bang Tourbillon Limited Edition watch boasts 212 diamonds embedded throughout its case and 48 baguette diamonds have been added for extra sparkle.
Flipping over the watch reveals its complex internal mechanisms; the tourbillon can be seen via its aperture at the six o'clock position. They even released an exclusive purple Big Bang Tourbillon Limited Edition that was limited to just 50 pieces!
#5. The Bigger Bang – (Worth $260,000)
Hublot unveiled their inaugural watch with an upgraded wheel chronograph equipped with a diameter cage – the Bigger Bang. Ten years had passed since the original Big Bang debut at Baselworld 2014; Baselworld 2015 would soon arrive.
Hublot continues its expansion this year by opening up a second production plant alongside its current one. Biver and Guadalupe have focused their attention on two crucial aspects: production and fusion using the Big Bang theory as motivation.
Before Biver joined Hublot, its company relied on multiple outside sources for critical components. Since Biver joined, however, Hublot has focused on internalizing more expertise into their organization with the goal of controlling about 80% of watchmaking processes within themselves.
Hublot watches consist of 262 parts with five-day battery lives; these pieces come equipped with 33 precious rubies to boost their appeal and demonstrate they're worth every cent spent.
#6. Big Bang King – (Worth $250,000)
Hublot Big Bang King boasts a sleek, modern aesthetic similar to its Big Date Power Reserve Indicator watch by using mostly black materials in its construction. One of the most expensive "sports" watches on the market, its impressive features include sapphire crystal hands, ceramic bezels, and an all-black display.
Hublot Big Bang King costs roughly $250,000, similar to many of the most extravagant engagement rings without needing expensive gold and diamonds to jack up its price.
Powered by its self-winding manual movement with an incredible 120-hour power reserve and water resistance up to 100 meters, it features its signature rubber strap with stability-enhancing notched ridges along its length for fastening around your wrist – or more affordable versions starting from around $60,000.
#7. Big Date Power Reserve Indicator – (Worth $200,0000)
Hublot's limited-edition Big Date Power Reserve Indicator Tourbillon watch is an impressive addition to their impressive watch collection; with an all-black construction costing $200,000 and featuring large titanium lugs scattered throughout its strap attachments and bezel.
Big Date Power Reserve Indicator's casing is made entirely of platinum while its bezel features hardy black ceramic construction. Located just beneath the noon position; its power reserve indicator displays how much power remains for five days or longer.
Though the watch comes standard with a sturdy rubber strap, owners can switch it out for one of their choices to further customize it to their preferences.
#8. Classic Pink Gold and Diamonds – (Worth $180,000)
Those searching for an expensive Hublot watch with extra shimmer may find the Hublot Classic Pink Gold and Diamonds watch appealing.
Black leather straps may not be everyone's cup of tea, but they provide security to its wearer while offering a stunning contrast between it and its gold and diamond-covered bezel. At 33mm casing size, it falls within a smaller-than-average men's watch category – held together with titanium screws as well as precious metals – with an impressive 42-hour battery reserve capacity.
Collectors and experts in expensive or rare jewels alike will certainly appreciate this dynamic timepiece.
#9. Tourbillon Solo Bang – (Worth $170,000)
Hublot Tourbillon Solo Bang is an unconventional watch with an outdoor aesthetic, seemingly built to endure 100 meters of water pressure.
Hublot's Tourbillion Solo Bang watch boasts an attractive black rubber strap and deployment buckles to complement its shockproof stainless steel body, along with shockproof sapphire crystal glass shielding of its hand and Tourbillion mechanism.
Available in rose gold, all-black ceramic, and stainless steel, its six o'clock position features the manually wound tourbillon movement available in both vibrantly colored rose gold or sleek minimalist stainless steel varieties; ceramic bezels house the winding mechanism, while sapphire crystal glass shields the hands and tourbillion mechanism from damage or scratches; making the Hublot watch that sells at $170,000 as precisely engineered as any motorbike on the market!
#10. Classic Fusion Zirconium – (Worth $160,000)
Hublot Classic Fusion Zirconium Watch may appear simple at first glance, yet its astounding price of $160,000 will leave you speechless.
As its name implies, its casing is composed of zirconium; Hublot has become known for using unique materials in its watches.
This watch features a 45mm diameter with big lugs on its bezel that give it a contemporary industrial aesthetic while remaining minimalist in style; furthermore, it comes equipped with a 42-hour power reserve, chronograph features, as well as its signature rubber strap – characteristic features found across their lineup of watches!
Final Words
Hublot watches have long been revered as an industry leader due to their distinct and innovative designs, exceptional materials and craftsmanship, limited editions and cooperation pieces, as well as limited releases or partnerships.
As an innovative watch brand that produces its own in-house movements as well as hardy materials like ceramic and sapphire crystal in creating their watches; Hublot stands out as a favorite luxury watch brand among many watch collectors today.
Hublot watches remain highly desirable among collectors and enthusiasts, despite their higher price points; their distinctive design helps the company stand out in an otherwise saturated market. Hublot watches offer collectors an exclusive and rare watch experience, making them an attractive purchase despite costly maintenance and servicing needs.
Hublot watches offer unique designs high-end components and craftsmanship at an unrivaled price, making it one of the world's premier luxury watch brands. However, their price and maintenance requirements may put some customers off.
What Does Hublot Specialize In?
Hublot pioneered the "Art of Fusion"; becoming the first company to combine rubber and gold into one watch - symbolizing both history and innovation combined in one piece - together with traditional; contemporary; and innovative elements combined.
Do Hublot watches illuminate at night?
Hublot timepieces typically glow in the dark thanks to LumiNova, although some watches may still show light up even without much sun exposure absorbing; nonetheless, this material still radiates brilliantly when illuminated.
Do Hublot timepieces run on batteries?
No; both quartz calibres (battery-powered movements) and mechanical movements, including automatic (self-winding) and manual-wind calibres, are featured within the Hublot Classic Fusion series of timepieces.
Yes. Hublot has created its signature warm tint gold hue - called King Gold alloy which mostly contains platinum - that works brilliantly for polishing and satin finishing processes.
Aditi Kandhari
Aditi is an Industry Analyst at Enterprise Apps Today and specializes in statistical analysis, survey research and content writing services. She currently writes articles related to the "most expensive" category.
More Posts By Aditi Kandhari