Coca-Cola Statistics By Consumer, Demographic, Region and Distributing Channels
Ketaki Joshi
Updated · Jun 26, 2023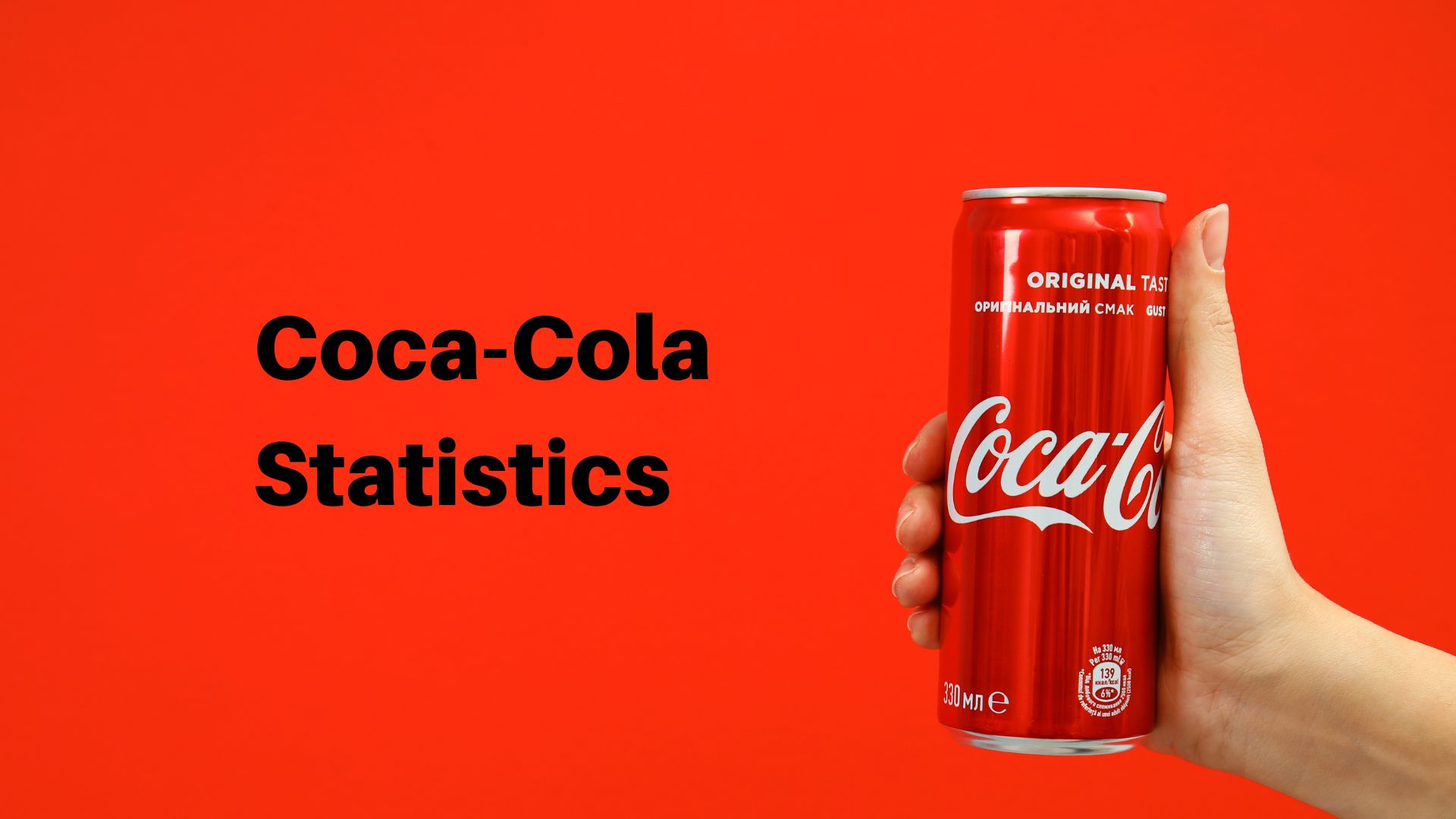 Introduction
Coca-Cola Statistics: Coca-Cola; stands as one of the world's iconic brands and can take great pride in boasting some staggering numbers that show its dominance on both a domestic and global level. By 2022; The Coca-Cola Company had operations in over 200 nations through its vast distribution network; due to this reach its products could be found virtually everywhere around the globe. Furthermore, to meet diverse consumer tastes they offer carbonated soft drinks; juices; energy drinks; bottled water, and their flagship beverage "Coca-Cola Classic"; which was consumed daily by millions each day!
Coca-Cola has consistently delivered impressive financial achievements. Even during its rough patch due to the COVID-19 pandemic in 2020; it managed to record net operating revenues exceeding $33 billion! Coca-Cola continues to firmly assert itself on the market with an estimated market valuation of more than $200 billion and an impressive commitment to both sustainability and social responsibility; in addition to financial success. Coca-Cola has set ambitious environmental targets to reach net-zero carbon emissions by 2040 and implement sustainable packaging solutions; in line with their worldwide presence; diverse product offering, tremendous financial success, and commitment to sustainability.
Editor's Choice
During the first quarter of 2023; Coca-Cola reported a total revenue of $10.98 billion; which represents an increase of 4.66% compared to the same timeframe in the previous year.
In the fiscal year that ended on March 31, 2023; Coca-Cola's earnings amounted to $43.493 billion; indicating an increase of 8.39% from the prior year.
In the year 2022; Coca-Cola experienced a sales increase of 11.25%; with its yearly sales reaching $43.004B; up from the previous year's sales figures in 2021.
The remaining 57.5% ownership interest of Fairlife LLC was purchased by the business.
To offer essential personal protective equipment and hygiene kits to frontline workers during the COVID-19 pandemic in India; Coca-Cola collaborated with United Way Mumbai.
General Coca-Cola Statistics
Coca-Cola, a beverage company widely associated with fun and refreshment, boasts an impressive list of noteworthy statistics that showcase its dominance across the world and influence in the beverage sector.
Coca-Cola is one of the best-known and wide-reaching global brands, operating in over 200 nations across five continents. From dense metropolises to remote villages, its products can be found virtually everywhere imaginable.
Coca-Cola provides a selection of beverages designed to appeal to various consumer preferences. In addition to its flagship beverage, Coca-Cola Classic, this company also produces Diet Coke, Sprite, Fanta, and others in carbonated form. Minute Maid offers juices, energy drinks, iced teas sports drinks, and bottled water through various brands and product offerings.
Coca-Cola has become immensely popular worldwide due to its incredible consumption rates; with estimates suggesting over 1.9 billion; servings daily are enjoyed around the globe.
Coca-Cola Company has continued to achieve outstanding financial outcomes over time. Even during its difficulties during the COVID-19 pandemic in 2020; net operating sales reached $33 billion despite all obstacles presented by COVID. Efforts like its successful distribution network; brand loyalty; and marketing initiatives demonstrate Coca-Cola's impressive financial results.
Coca-Cola provides employment to a substantial number of individuals; around the globe. By 2020; they had employed over 86,200 workers; contributing significantly to both local and global economies.
Coca-Cola has long been revered for its memorable advertising and marketing initiatives, creating catchphrases like "Open Happiness" and "Taste the Feeling" that resonate with people worldwide. These marketing tactics have fostered emotional connections between Coca-Cola customers and themselves – as well as helped maintain its status as one of the world's premier beverage brands.
Coca-Cola recognizes the significance of environmental responsibility, dedicating significant resources to sustainable practices. Their aim for 2040 is a net-zero carbon impact, so they have invested in environmentally friendly packaging options while actively participating in water conservation initiatives to replace all water used by their beverages and activities.
Coca-Cola exemplifies social responsibility through its charitable endeavors. Globally, the Coca-Cola Foundation funds initiatives for community development, health, and education while the company partners with groups to address environmental concerns and advance sustainable practices.
Coca-Cola remains one of the world's most valuable brands, earning the sixth spot on Interbrand's Best Global Brands study with an estimated brand value estimated to be nearly $69 billion in 2022.
Coca-Cola has left an indelible mark on pop culture. From its iconic red and white emblem to unforgettable advertising campaigns, its impact extends well beyond beverage sales. Coca-Cola stands as a symbol of joy and unity that transcends beverage sales alone.
(Reference: Statista)
Statistics by Consumer
Coca-Cola has established itself as one of the leading beverage companies globally; boasting a strong customer following that spans all demographics.
Coca-Cola enjoys immense global recognition; in fact; an estimated 94% of people can identify its iconic logo.
Coca-Cola remains connected with customers around the globe through an expansive social media presence, with over 100 million Facebook fans; almost 3.7 million Twitter followers, and over 2.8 million Instagram followers as of 2022.
Coca-Cola engages with customers; through various marketing initiatives to increase engagement and strengthen relationships between themselves and the brand. They do this through promotional programs, competitions, and collaborations which keep customers connected with them.
Coca-Cola customers display strong brand loyalty. People often have an affinity for its goods and consistently choose them over those from rival companies.
Coca-Cola customers span all demographics and age ranges; young toddlers right through to senior citizens appreciate it and its global success is due largely to this ability.
Coca-Cola has achieved considerable success in expanding its international reach by building a strong regional presence around the world. Their beverages appeal to customers wherever they may be by catering specifically to local tastes and preferences, which has allowed Coca-Cola to enter different cultural marketplaces and prosper worldwide.
Coca-Cola beverages are enjoyed everywhere from homes; dining establishments; convenience stores and entertainment venues to social gatherings, festivals, and regular occasions. Products from the company are often consumed during social gatherings as part of events or festivities hosted by them.
Coca-Cola has responded to the advent of mobile technologies by offering various portable packaging options – cans and smaller bottles – for customers on the go.
Coca-Cola Revenue Statistics
Coca-Cola offers an impressive range of beverages to meet every thirst, such as carbonated soft drinks, juices, and sports beverages as well as ready-to-drink coffee and tea products.
Coca-Cola, as one of its flagship brands, is globally recognized and has come to symbolize its business success.
Coca-Cola employs a franchise system, providing syrups and concentrates to bottlers who then manufacture, package and market finished products under a franchise license.
Though this was a decrease from 2021, the corporation still reported an impressive net income of $7.6 billion for 2022.
Coca-Cola has explored various strategic alliances and acquisitions to expand its product offering and enter new markets, most recently purchasing Costa Limited in 2022.
Coca-Cola seeks to expand the selection of low and no-sugar beverages it offers customers in order to meet changing customer tastes and capitalize on emerging trends, while at the same time maintaining consistent profitability while investing in marketing; sustainability; and innovation to spur further growth.
Coca-Cola remains flexible and resilient despite the challenges presented by the COVID-19 pandemic; working hard to lessen the crisis's impacts and enhance digital capabilities.
Coca-Cola's income shows its success on a global scale and its ability to meet diverse cultural and customer preferences. In order to maintain their market leadership and foster future growth; they put emphasis on marketing, sustainability, and innovation strategies.
Coca-Cola Statistics by Demographic
AGE
Coca-Cola remains popular with children and teenagers due to its iconic image and effective advertising campaigns.
Coca-Cola provides various beverages, such as Coca-Cola Classic and Zero Sugar varieties as well as flavored alternatives targeted specifically towards younger audiences.
Coca-Cola's marketing initiatives frequently target this group through collaborations with famous figures, sporting events, and youth-targeted ads.
Young adults from their late teens to early twenties remain enthusiastic fans of Coca-Cola.
Coca-Cola products are often consumed during social gatherings, parties, and events, catering to this age group's sociability.
Young adult customers looking for moments of leisure and connection will respond well to the brand's marketing, which often highlights its products' fun, refreshing features.
Coca-Cola continues to draw substantial adult consumer support among people in their 30s, 40s, and beyond. For decades now, people have enjoyed drinking Coca-Cola Classic; many even consider it a nostalgic beverage choice!
Coca-Cola offers an extensive range of products, such as Diet Coke and Coca-Cola Zero Sugar, to meet various dietary restrictions and taste preferences. Older individuals make up only a minority of its consumer base; nevertheless, Coca-Cola remains present within this group.
Softer Coca-Cola options such as caffeine-free varieties or flavored water products may be preferred by older folks; thanks to Coca-Cola's extensive distribution network that makes its beverages accessible across various locations such as nursing homes and retirement villages.
GENDER
Coca-Cola's marketing campaigns often highlight universal themes of joy, community; and enjoyment to form emotional ties with customers of both genders.
Coca-Cola regularly tailors its marketing tactics to target specific demographic groupings, including gender. For instance; certain advertising campaigns or joint ventures might be tailored more toward male audiences or female ones.
Note that gender preferences for specific beverages can be strongly impacted by social and cultural elements. Individual choices can differ greatly among people and may not represent generalized patterns.
People of all genders enjoy drinking Coca-Cola products in homes, restaurants, social gatherings, and athletic events – from homes to restaurants, social gatherings, and athletic events. Coca-Cola products frequently enhance shared experiences by providing refreshing moments and moments of amusement.
(Source: numerator.com)
Coca-Cola Statistics by Region
Coca-Cola enjoys a global reach, but variations between regions, cultures, and geographies can impact customer preferences.
Coca-Cola holds the greatest market share for sales and consumption in North America.
The United States is home to most of this brand's sales.
Coca-Cola products can be found both in Canada and Mexico.
Coca-Cola Europe represents an incredibly large customer base for Coca-Cola.
Coca-Cola products enjoy strong demand in countries like Germany; France and the UK.
Coca-Cola has tailored its products across Europe to reflect regional tastes and variations, as well as adapt to local preferences.
Coca-Cola recognizes that the Asia-Pacific region is an area experiencing rapid expansion.
China represents an essential market for Coca-Cola due to increasing customer demand.
Coca-Cola sales and consumption are highly influenced by Southeast Asian nations, Japan, and India.
Latin American countries boast a significant Coca-Cola presence.
Mexican, Brazilian, and Argentine markets are among the biggest in this region.
Coca-Cola beverages are widely associated with Latin American culture and traditions for festivities and social gatherings.
Coca-Cola has expanded its operations throughout Africa in response to a growing consumer market, which continues to emerge and thrive.
Coca-Cola currently dominates major African markets such as Egypt, Nigeria, and South Africa.
In order to meet African consumers' demands, the corporation has invested in regional manufacturing facilities and distribution systems.
Coca-Cola sees the Middle East market as an integral one.
Coca-Cola beverages are immensely popular across Saudi Arabia; the United Arab Emirates and Egypt.
This business offers products tailored to local tastes; such as non-alcoholic malt beverages and fruit-based drinks.
Australia and New Zealand represent key markets for Coca-Cola in Oceania.
Coca-Cola products are widely consumed by the general public, from popular fruit juices and carbonated soft beverages to its iconic fruit drinks.
(Source: statista.com)
Coca-Cola Success Rate Statistics
Coca-Cola's achievement can be evaluated through various metrics; including but not limited to financial performance; market share; brand value; and customer satisfaction.
Throughout its history; Coca-Cola has consistently demonstrated strong financial performance. In the year 2022; the company generated a net operating income exceeding $33 billion.
Coca-Cola's enduring triumph through the COVID-19 pandemic can be attributed to its financial strength and adaptability in response to changes in consumer preferences
Coca-Cola dominates the beverage market as the leading company. With a presence in over 200 countries; it offers a diverse range of drinks that cater to the diverse preferences of its consumers
Thanks to its well-built distribution network; the brand has managed to establish a vast geographical presence; thereby allowing it to secure a significant market share
Coca-Cola continues to rank among the most valuable brands globally, ranking sixth on Interbrand's Best Global Brands study for 2022 with an estimated brand value estimated at nearly $69 billion.
Coca-Cola remains popular and profitable due to its unique logo and association with pleasure and refreshment.
Coca-Cola has built up an enormous following of loyal consumers who prefer their goods over those offered by competitors. Consumer satisfaction plays an instrumental role in Coca-Cola's success as a brand.
Coca-Cola has distinguished itself by providing high-quality beverages, adapting to shifting consumer tastes, and engaging customers through marketing activities and community programs – qualities which have all contributed to building customer loyalty.
Coca-Cola is widely revered for its creative and effective marketing initiatives. Over time, they have produced memorable commercials that have profoundly altered consumer perception and pop culture.
Coca-Cola's success can be attributed to its ability to connect emotionally with consumers and foster an atmosphere of unity and joy through its marketing initiatives. Sustainability has become a core focus for Coca-Cola as they address both societal and environmental concerns simultaneously.
The business has made significant investments to conserve water and achieve sustainable packaging by 2040, creating a positive company image while satisfying customers' wants and expectations.
Coca-Cola Statistics by Distributing Channels
Coca-Cola, one of the world's leading beverage corporations, boasts an expansive global distribution network to reach consumers quickly and conveniently. Their network is integral to making sure their products reach customers without delay or hassle.
Coca-Cola products play a central role in retail distribution across retail establishments worldwide. Supermarkets, convenience stores, and small-town grocers are just some of the many businesses with which Coca-Cola partners. Coca-Cola products can now be found in over 200 countries globally in an estimated 10 million retail locations!
Coca-Cola vending machines can be found across malls, airports, and sporting venues to provide customers with a quick and convenient way to purchase Coca-Cola products on the go. There are currently approximately 2.8 million Coca-Cola vending machines worldwide.
Coca-Cola holds an extensive presence in the fast food and restaurant sectors of food service. Coca-Cola beverages are provided through agreements with these locations in various formats – fountain drinks, canned or bottled beverages, and customized offers are among those provided to clients – with over 1.4 million restaurants and catering organizations worldwide receiving Coca-Cola deliveries.
Coca-Cola has taken advantage of the increasing popularity of e-commerce to expand its distribution channels, opening online storefronts in various areas and developing relationships with major e-commerce platforms to drive increased sales of its products – currently up approximately 20% year over year.
Coca-Cola collaborates with an expansive global network of distributors and wholesalers to ensure effective product availability in every location imaginable, such as shops, restaurants, and vending machines. Working alongside these distributors helps reach every corner of every market around the globe – totaling thousands across each continent!
Coca-Cola also relies on well-established foreign bottling partners to enhance its distribution systems. These bottlers produce, package, and distribute Coca-Cola goods regionally to meet individual market tastes and preferences.
Coca-Cola utilizes direct retail delivery (DSD), giving the business control of the distribution process. Coca-Cola trucks transport goods directly to retail establishments using DSD, guaranteeing product freshness and replenishment efficiently.
(Source: grandviewresearch.com)
Coca-Cola Cases Distribution Statistics
Coca-Cola, one of the largest beverage corporations worldwide, distributes its goods using various channels – cases being one such method. These drinks are frequently shipped and delivered by case to stores, dining venues, and other businesses across the globe.
Coca-Cola's distribution system handles an impressive annual case count. While exact figures may fluctuate over time, they have consistently delivered billions of cases worldwide containing all their Coca-Cola brands such as Classic Coke, Diet Coke, Sprite, and Fanta products as well.
Coca-Cola uses various cases for its products depending on the market and consumer demands, with cardboard boxes or crates commonly being employed for smaller goods such as 12-ounce cans or 500ml bottles, while larger products like 2-liter bottles or 1-gallon containers tend to utilize crates as packaging solutions.
Coca-Cola provides its products in various case sizes to meet the diverse needs of consumers and markets, such as 24-pack cases, 12-pack cases, 6-pack cases, and single-unit cases. Their choice depends on factors like customer demand, storage space requirements, and product acceptance within certain geographic areas.
Coca-Cola's distribution network encompasses retailers, wholesalers, distributors, and bottling partners as its various channels of distribution. Distribution centers act as hubs that receive cases from manufacturing plants or bottling operations before transporting them outward to retail stores, dining establishments, or any other place where sales may occur to ensure wide availability.
Coca-Cola distributes cases in over 200 nations around the globe, reaching billions of customers. To facilitate efficient transportation of cases across several areas and ensure prompt replenishment, its worldwide presence requires an effective distribution infrastructure.
Coca-Cola places great emphasis on supply chain management to optimize operations and shorten delivery times, using cutting-edge logistics technology like tracking systems and route optimization software. This attention to efficiency helps keep Coca-Cola products fresh and high quality throughout their distribution chains.
Coca-Cola Employees Statistics
Coca-Cola jobs can be found across a wide array of departments, such as manufacturing, marketing, sales, finance; research & development, supply chain management, and human resources.
This company provides career options to people of varying skill sets; such as corporate leaders or production line workers.
Coca-Cola employed approximately 80,000 employees as of 2022; however, employee numbers may fluctuate depending on a variety of factors such as market conditions or organizational shifts.
Coca-Cola places great emphasis on inclusion and diversity within its workforce. The business strives to foster an environment that respects and appreciates people of diverse backgrounds.
Coca-Cola is dedicated to diversity. Their initiatives and programs, which aim to advance gender equality, racial and ethnic diversity, and inclusion of people demonstrate this commitment.
Coca-Cola recognizes and prioritizes employee development. To enhance staff skills and expertise, the corporation funds training and development initiatives.
Coca-Cola provides employees with various employee perks and programs designed to promote safety, health, and work-life balance initiatives.
Coca-Cola supports employees' engagement in their local communities with volunteer programs and social impact projects that allow employees to volunteer their time. Through these endeavors, employees may connect more broadly with society while contributing to progress along the way.
Impact on Health
Coca-Cola's impact on health has long been the subject of much discussion and criticism due to the amount of sugar present in its products and potential adverse reactions on human health.
One 12-ounce can of regular Coca-Cola contains approximately 39 grams of sugar, an alarmingly large amount that has been linked to obesity, type 2 diabetes, and other serious health concerns.
Regular consumption of sugary drinks such as Coca-Cola can contribute to weight gain and increase your risk for chronic obesity-related diseases.
Coca-Cola and other sugary drinks may contribute to dental cavities and tooth decay by reacting with oral bacteria in your mouth to produce acid, which erodes tooth enamel over time.
Soft beverages like Coca-Cola do not provide any essential nutrition. Overconsuming them may lead to an imbalanced diet as they provide calories without essential nourishment.
Coca-Cola marketing campaigns often associate its products with enjoyment, joy, and socializing; however, overconsumption of sugary drinks like Coca-Cola is linked to poor eating and lifestyle decisions.
Coca-Cola has taken steps to respond to health concerns by expanding its product lineup with low and no-sugar options, including diet sodas, sugar-free drinks, and flavored water products.
Coca-Cola has established programs to support healthy eating and physical exercise to encourage customers to make better choices.
(Source: analyticsvidhya.com)
Impact on the Economy
Coca-Cola's global reach and business practices make a substantial impactful statement about its contribution to world economic growth.
Coca-Cola provides job opportunities across its global supply chain – production, distribution, marketing, and retail sales are just a few areas where employees could potentially work.
Large numbers of employees are directly employed by this business, while indirectly related industries such as packaging, shipping, and advertising also benefit.
Coca-Cola maintains an intricate supply chain that includes purchasing ingredients, packaging, and equipment from multiple vendors around the globe. Suppliers, farmers, and manufacturers who contribute to the production and distribution of its beverages all stand to benefit economically from this partnership.
Coca-Cola generates substantial revenues that support economic development across its markets of operation, paying taxes on earnings that contribute towards funding public services and government budgets.
Coca-Cola makes investments in infrastructure such as bottling facilities, distribution centers, and transportation systems in areas where they work to enhance logistical capabilities, stimulate company growth, and spur economic development.
Coca-Cola's global presence fosters world trade through the import/export activity of its goods and raw resources, as well as through increasing trade activity by entering new markets to promote economic integration and revitalize regional economies.
Coca-Cola creates money and business opportunities across local economies, creating an economic multiplier effect.
Coca-Cola's CSR activities support local economies by funding initiatives that foster entrepreneurship, education, and community development – which may benefit nearby companies and towns.
At least in underprivileged neighborhoods, these programs help foster economic opportunities.
Trends and Predictions
As is true for any firm, Coca-Cola's trends and projections may change over time due to a number of variables and can vary according to circumstances.
Coca-Cola may continue to feel the effects of shifting lifestyles and increased awareness about sugary drinks' negative health impacts on its business.
Coca-Cola plans on broadening its product offering in response to customer demand for more low- or no-sugar beverages as they look for healthier alternatives while increasing selections of water, flavored water, and functional beverages.
Coca-Cola and other beverage firms could increase efforts to reduce plastic waste and develop more eco-friendly packaging strategies in response to an increasing emphasis on environmental sustainability.
Coca-Cola has pledged to meet certain targets, such as using 100% recyclable packaging and increasing the use of recycled materials in its products and packaging.
Coca-Cola is expected to adopt digital technology and e-commerce to keep up with customers' changing buying behaviors, adapting its approach accordingly.
Coca-Cola plans on increasing its customer interaction and distribution reliance through online retail platforms, direct-to-consumer channels, and digital marketing methods.
Coca-Cola may focus on expanding its market share in emerging economies with rising disposable income and population growth, including Asia, African, and Latin American markets. There may also be opportunities to reach new customer bases by increasing global outreach.
Coca-Cola's goal of increasing customer engagement and loyalty will likely lead to personalized marketing initiatives and tailored beverage experiences becoming more prevalent over time.
Mobile applications, interactive vending machines, and targeted advertisements are among the many innovations that could help personalize consumer experiences and strengthen brand associations.
Final Words
Coca-Cola is a beloved beverage company with a significant impact across multiple areas of society, but without precise statistics on some issues, it remains prominent in many people's minds. Coca-Cola stands out for its impressive financial performance, global market presence, and high brand value which attest to its financial success. Furthermore, their business has managed to remain sustainable due to adapting quickly to shifting consumer needs while expanding product lines as well as participating in sustainable projects.
While some may worry about its effects on health due to high sugar content beverages being offered, the corporation has taken measures including offering low or no-sugar options in addition to supporting healthier alternatives being made available as part of sustainable projects allowing continued success of their business operations.
Coca-Cola makes an enormous impactful economic statement with its dedication to community involvement, diversity, and inclusion; creating jobs while helping local suppliers and businesses, raising tax revenues, and giving back to society through charitable endeavors. The impactful company's presence makes an economic statement of its own!
What Makes Coca-Cola Special?
Few businesses can rival The Coca-Cola Company's remarkable growth; and success over 135 years, which may be attributable to innovative goods, industry-leading advertising, or strong brand messaging - we explore what has made Coca-Cola such an astounding success!
How does the Coca-Cola logo translate?
At first, its black-and-white colours embodied professionalism, seriousness, class, power; purity and purity; later red and white hues came to represent passion, youth vitality love purity class
Why does Coca-Cola remain such an iconic brand?
Coca-Cola strives to innovate across their business model and brand; from packaging design and content creation; to surprising and captivating the general public in order to convert viewers into fans and loyal customers.
Who or What Drives Coca-Cola?
Enhancing customer delight is at the core of the company. Coca-Cola sets desired work rates for employees and will compensate them if they reach it, while simultaneously increasing profits and assuring customer happiness through having highly driven workers produce high-quality goods.
Ketaki Joshi
By conducting scientific research, I write about illness, health and healthcare. As a professional medical writer, my experience includes creating feature articles for newsletters and websites as well as research news stories for doctors and researchers. Reading has been an integral part of me since childhood - I'm fan of "Friends" and the "Harry Potter series". Before this career, I was employed by a French multinational company. However, my passion for reading led me to pursue writing professionally; my first Amazon-published short story entitled "The envelope that changed our lives" has recently been released. In my free moments, I enjoy long bike rides around town.
More Posts By Ketaki Joshi