Review: Base CRM Is Useful Mobile Sales App
By
Matt Sarrel
Feedback
Reviewer Matt Sarrel finds the Base CRM app exceptionally easy to use, especially the intuitive process for setting up access privileges.
Mobile sales apps are becoming more popular all the time, probably because sales people are so often on the go. Base touts its new Base CRM app as "post-PC CRM" and the first CRM solution to be designed from the ground up to be used as a Web application and on mobile platforms such as Android, Windows Phone, iPad and iPhone. It promises to have even enterprise users up and running in hours with a simple yet powerful solution.
In my testing, I did find the app remarkably easy to set up and use. Some mobile features are very cool, such as the ability to make and receive phone calls directly within Base CRM to facilitate tracking, recording and logging all calls. Instead of looking like a CRM solution that was ported to mobile platforms, Base CRM displays all information in an easy to read and easy to work with format on both small and large screens.
Sign-up took a few minutes. Shortly after signing up, I received an email listing nine startup tasks with links to help me accomplish them. Minutes later I imported contacts and started installing the app on my mobile devices. I installed an Outlook plugin that synchs my contacts on the fly. While the plugin required a reboot in order to work properly, I imported leads from a few .csv files without issue. I also easily added fields while importing and created tags to customize the contact database.
Working with Base CRM
Base CRM beautifully covers two different ways of working. If I wanted to, before I even allowed anyone else to log in, I could customize every aspect of the service, integrate it with other systems, import contacts, set up sales pipelines, and basically tweak every imaginable setting. Or I could sit back and simply allow Base to adjust to how I wanted to work. As an example, I could add a lead and drag and drop it to build a sales pipeline, or I could go to settings and customize the deal flow, pipeline stages and build custom fields and tags.
I was also contacted via email by someone from Base to see if I needed help with anything, but this CRM app is so easy to use that I couldn't think of any questions.
As someone who has reviewed hundreds, if not thousands, of enterprise products over the past 15 years, I found the User Hierarchies and Access Permissions screen of the app's Web interface to be one of the coolest and most intuitive ways of setting up access privileges I have ever experienced. I could simply click on the "+" icon at the end of each chain of command to add a new user or group. I could drag and drop users between chains of command, and I could configure each user's privileges to see contacts or deals with a single click. All enterprise software should be this easy to configure.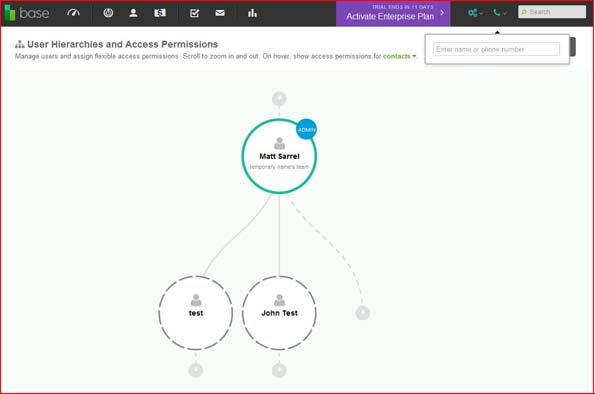 Once my contacts were imported, I picked up my Android smartphone and got to work. Within minutes I set up my first deal, assigned a prospect from my contact list, and created tasks to go along with the deal. I marked the deal as "hot," and it rose to the top of my deal list. Within the Base app I called the prospect, and my call was automatically recorded. I could email the prospect and have the email logged and saved within Base. I was surprised at how easy it was to set up a Client Space where I could share files with prospects; as if it weren't already easy enough, Base presented me with a short how-to video.
I was disappointed that I could not access the call log on my smartphone in order to obtain a phone number to associate with a new Base contact. Instead I had to copy the phone number from my call log, create the contact, and paste the phone number into the proper field of the contact entry. However, once this was accomplished the extremely helpful call overlay feature of Base picked up the CallerID and showed me open deals specific to that contact when a call came in.
A Few Mobile Minuses
Not surprisingly, I found that administrative tasks were easier to accomplish via the Web browser on my 24-inch monitor than they were on the four-inch screen of my smartphone. In fact, while Base CRM is easy to use on any platform, the real estate of a larger screen made a difference in many cases. For example, in Dashboard mode on my desktop I could see my whole CRM world at once: deals pipeline, activity, tasks, top deals. On my smartphone the Dashboard split this view into three separate screens.
While highly informative, reports cover just the basics on the smartphone. On the other hand, reports via the Web interface cover everything imaginable. There are only five reports available from the smartphone, vs. over 20 reports available through the Web interface. I was disappointed that I didn't see how to create custom reports.
All in all, Base CRM is a helpful and easy to use mobile CRM solution. I haven't touched on every feature in this review, plus capabilities are being enhanced on an almost constant basis due to the nature of the application. With a 14-day free trial, Base CRM is definitely worth checking out.
The company offers three pricing models for Base CRM:
A starter package, priced at $15 per user, per month includes: unlimited deals, no Base branding, premium integrations and 2GB of document storage for each user.
A professional package, priced at $45 per user, per month includes all the starter plan features, plus: sales forecasting, advanced sales insights, task automation, document repository, sales goals and 5GB of storage for each user.
An enterprise package, priced at $125 per user, per month includes all of the professional plan features, plus: make and receive calls, call recording and logging, advanced call analytics, document repository, dedicated account manager, teams and user-based permissions, advanced reporting and 10GB of storage for each user.
Matthew David Sarrel is executive director of Sarrel Group, an editorial services, product test lab and information technology consulting company. He is a contributing editor for PC Magazine, a contributing analyst for GigaOM and a frequent contributor to the Internet.com family of sites. Previously, he was a technical director for PC Magazine Labs, where he led all testing conducted by the Applications, Enterprise and Development Software, OS and Utilities, Network Infrastructure and Wireless LAN teams. His career also includes stints as an executive at two Internet startups and as director of IT for the New Jersey Medical School National Tuberculosis Center.
This article was originally published on August 27, 2013