Review: KXEN InfiniteInsight Genius and Predictive Offers
By
Matt Sarrel
Feedback
Reviewer Matt Sarrel finds that KXEN's InfiniteInsight and Predictive Offers apps enable business people to build predictive analytics models for Big Data with no assistance from IT.
A key aspect of the Big Data revolution is making analytics easier for business people. In the past, business users could not always get the results they wanted within their desired timeframe because most analytics and reporting solutions required IT assistance to get up and running and to develop custom reports. As such, businesses harvested and stored huge volumes of data that was seldom analyzed. Making such analysis easier and faster is a cornerstone of successful Big Data programs.
KXEN is an analytics service that runs in the cloud, and a fairly popular one too, judging from the company's more than 500 customers worldwide. Customers don't need Big Iron to run statistics, nor do they need data scientists with doctorates. Infinite Insight is a predictive analytics engine that can be used directly by business staff with neither programming nor statistics knowledge. Model building involves nothing more than uploading data and selecting models from a knowledge-based list. It is literally that simple.
InfiniteInsight automates model building and predictive analysis. The company estimates that 80 percent of its customers run CRM-related models while 20 percent run models related to fraud prevention. KXEN customers use InfiniteInsight for activities such as optimizing the customer lifecycle, reducing risk and preventing fraud, product recommendations, keyword bidding optimization, viral marketing using social network analysis, and designing better product features based on customer usage.
The value of offering this kinds of analytic capability in the cloud was recognized by SAP, which last month purchased KXEN.
Marketing Models
To use InfiniteInsight Genius, all a marketer needs to know is a sales target (based on a product and a demographic). A wizard walks you through the creation of your first predictive model. Essentially the solution looks at past results and finds the patterns that led to success, then carries them forward to help shape and predict a successful campaign.
You'll need to have a decent amount of data to begin. Then either use all of the data or filter it down to a segment, such as women between 18 and 34, and click a button. InfiniteInsight Genius then builds the model, processing up to millions of records in a few minutes. The solution emails you upon completion, rates the potential accuracy of the model, and rates the "influence" of particular variables to the model. At this point you can do basic profit modeling to compare the cost of a campaign to the predicted outcome.
The user never sees the actual model and yet he can change it through a straightforward Web interface.
Predictive Analytics Apps
One of KXEN's strengths is offering a suite of cloud-based predictive applications that are available via Salesforce AppExchange: Predictive Lead Scoring, Predictive Offers, Predictive Retention and Predictive Case Routing. I took a look at Predictive Offers, a cloud-based solution that helps call center personnel make the best offer to each individual who calls in.
This is the sort of stuff like, "OK, I'll help you terminate your broadband DSL service, and would you like to add 4G data service to your mobile phone?" Or my favorite, "I see that you're calling in for a replacement smartphone. Would you like to purchase a protective case with it?" This is an application that helps you cross-sell and up-sell within your Salesforce call center application, so the average daily user of this application doesn't need to have any understanding of predictive analytics, just the ability to follow a call script.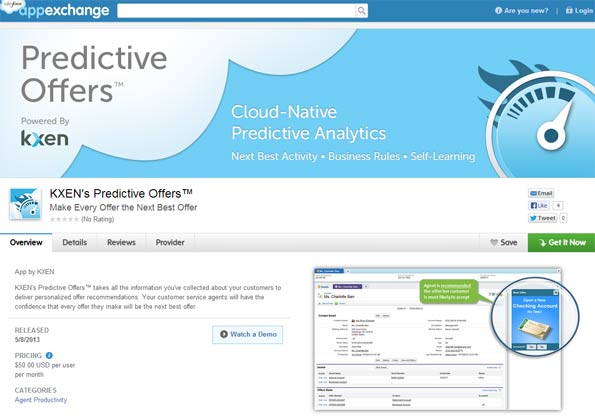 At the right time during the call script, the agent gets a pop-up on her screen with the best offer for this customer at this time. To determine the offer, the app previously analyzed a dataset, determined significant variables and modeled them. The model is then refined on the fly by including information from those who accept the offer, such as gender, income bracket, home ownership or home location.
It was very easy to set up Predictive Offers, pretty much like navigating through any Web-based wizard. The hardest decision I faced was naming the new offer and typing in the script to be read. The app then enters "learning" mode where offers are selected at random to test them. The result of the offer is a better decision on future offers.
There is also an "improvement" mode. In this mode the app continues to randomly change offers, record results and tweak the model. The system also performs a real-time personalization; once a customer says no to an offer, that customer will never receive that offer again.
KXEN is like having a team of data scientists on staff, and you can reap the benefits of real-time predictive analytics without building (or even understanding) complex models yourself.
Matthew David Sarrel is executive director of Sarrel Group, an editorial services, product test lab and information technology consulting company. He is a contributing editor for PC Magazine, a contributing analyst for GigaOM and a frequent contributor to the Internet.com family of sites. Previously, Mr. Sarrel was a technical director for PC Magazine Labs, where he led all testing conducted by the Applications, Enterprise and Development Software, OS and Utilities, Network Infrastructure and Wireless LAN teams. His career also includes stints as an executive at two Internet startups and as director of IT for the New Jersey Medical School National Tuberculosis Center.
This article was originally published on November 1, 2013