World's Top 10 Most Expensive iPhone Cases
Rohan Jambhale
Updated · Oct 30, 2023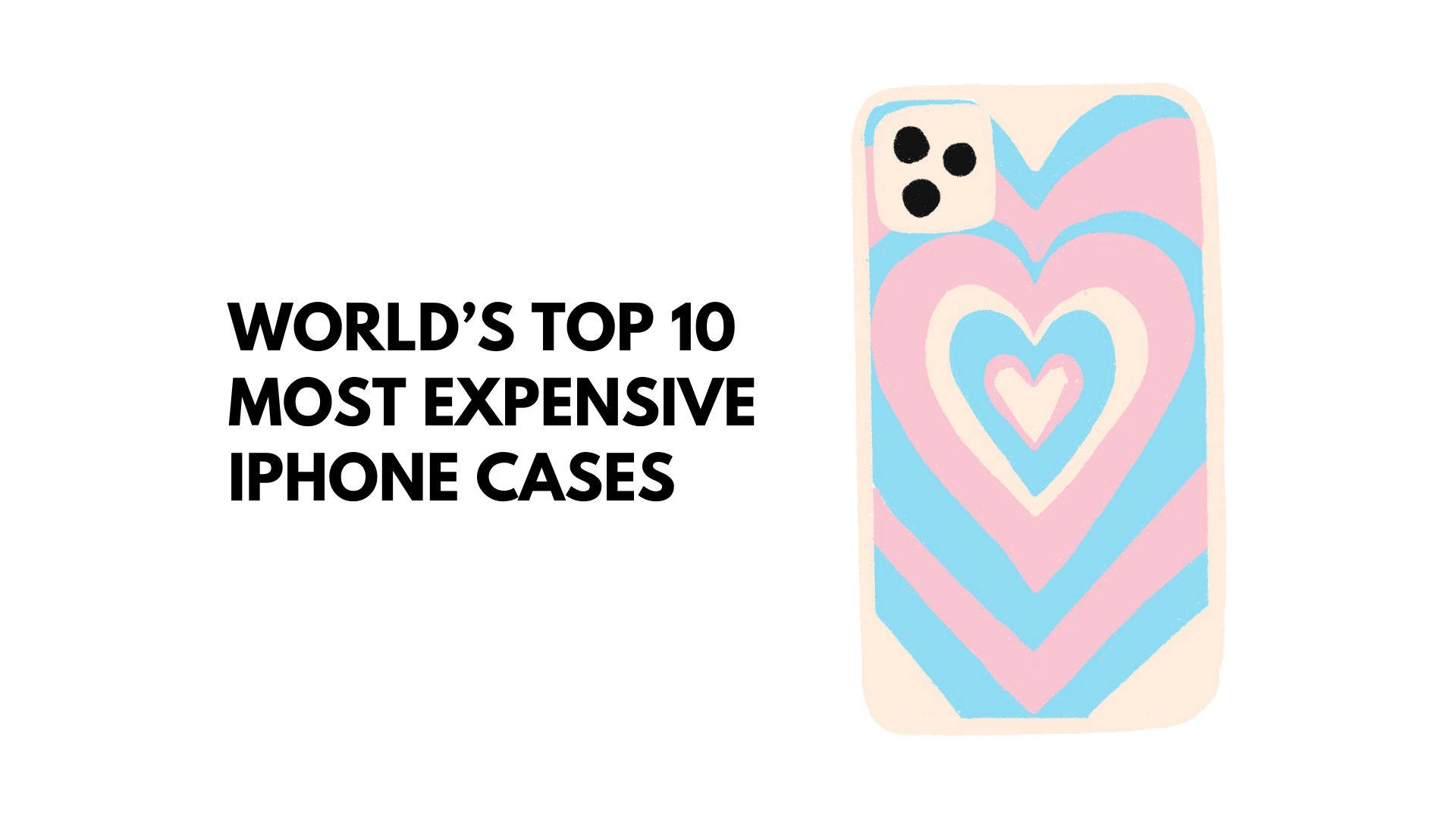 Top 10 Most Expensive iPhone Cases – Apple Inc. pioneered the iPhone family of handsets and has grown increasingly well-known since its introduction in 2007. Now renowned worldwide, this phone utilizes Apple's iOS operating system and has quickly become one of the world's most recognizable cellular phones. Notable features of the iPhone include its slim form factor, excellent camera quality, and user interface along with cutting-edge apps like App Store which enable users to download various programs. Over time it has undergone multiple revisions and redesigns adding new capabilities while improving usability.
History of iPhone:
The iPhone is a revolutionary line of mobile phones produced and marketed by Apple Inc. Former CEO; Steve Jobs; announced the initial release of this product on January 9, 2007, at the Macworld conference in San Francisco; California. The first iPhone was a game-changer as it combined an iPod, a mobile phone; and an internet communication device in one compact device. Its touch-screen interface, QWERTY keyboard, and the mobile operating system allowed users to browse the internet; access emails; and use various applications. Initially, the iPhone was only available via the AT&T network in the United States, and its popularity was evident by the millions of units sold within months of its June 2007 launch. The iPhone transformed the way people used their phones and quickly became a status symbol.
Apple introduced the iPhone 3G in 2008, boasting longer battery life and faster internet connections. Two years later, in 2009, came along the iPhone 3GS, featuring faster CPU processing power and superior camera functionality. Apple unveiled their iPhone 4, with its sleek stainless steel frame and glass back, in 2010. Additionally, this phone boasts a front-facing camera designed specifically for video chatting applications as well as its new Retina display technology. Siri, Apple's voice-activated personal assistant that could perform various activities and provide answers, first made its debut with the iPhone 4S in 2011. Two years later they unveiled an upgrade, the iPhone 5, with a faster processor and larger display. Also launched around this time was their Lightning connector instead of a 30-pin dock connector, further simplifying their use and saving on costs.
At its launch in 2013, Apple unveiled the iPhone 5S with an enhanced fingerprint sensor for increased security, as well as its cheaper plastic-bodied counterpart – iPhone 5C. Apple unveiled their larger iPhone 6 and iPhone 6 Plus phones, featuring larger displays and redesigned chassis with rounded corners in 2014. In addition, they introduced Apple Pay – a mobile payment platform allowing consumers to use their phones as means for purchasing goods and services. Later versions of the iPhone were enhanced with features like water resistance, wireless charging, and face recognition to make them even better, including iPhone 7, 8, 11, 12, and 13 models. Millions of iPhones are sold each year, making it one of the most acclaimed cell phones on the market today. It has transformed how people work, communicate, and access information while serving as a vital engine of innovation and expansion for Apple.
Economic Reference:
Apple's business and the economy alike have both been drastically influenced by the iPhone. Boasting an estimated market value of over $2 trillion as of April 2023, Apple is now one of the world's most valuable corporations – something partially attributable to this revolutionary phone.
Apple's iPhone has created a vast ecosystem of developers, producers, and other businesses that rely on it. Through the App Store, developers now have a place where they can host and sell their programs bringing billions of dollars for both Apple and the developers themselves. Apple works closely with a network of suppliers and manufacturers who collaborate in making its product and furthering global economic activity through employment creation and economic activity around the globe.
The iPhone has revolutionized fields like communication, photography, and music. With its high-quality camera enables amateur photographers to produce professional-quality shots without hiring professional photographers, and its music player revolutionizes how people listen to and buy music. Furthermore, FaceTime and iMessage services provided through iPhone have transformed how people engage with one another.
All in all, the iPhone has had a significant effect on the economy by creating employment, stimulating innovation, and altering entire sectors. Apple now ranks amongst the world's most valuable corporations and its success has spurred global economic expansion.
The Popularity of iPhone:
Apple's iPhone remains one of the world's favorite cell phones; garnering immense admiration and support from consumers worldwide who love its features, functionality, and design. Since 2007, when it first hit store shelves worldwide; iPhone has consistently been among the best-selling smartphones globally.
Apple products such as the iPhone have seen immense success due to their user-friendly design and interface, especially their intuitive design and user-friendly software. Many consumers choose it when looking for a gadget that integrates well with other Apple goods – contributing immensely to its enormous success.
iPhone's success can also be credited to its outstanding photography capabilities, particularly its superior camera, which often receives accolades for producing stunning pictures and movies. Many individuals rely heavily on their phone's camera as an essential component for taking and posting pictures on social media channels like Instagram.
The iPhone's App Store has also played an essential part in its success. Here, a wide range of applications from productivity tools to games can be downloaded and utilized on an iPhone through this store – making it a versatile tool with various uses. Part of its appeal may lie in its appearance, features, ease of use, and compatibility with other Apple devices, and its abundance of apps available through this portal.
Interesting Statistics:
Apple achieved global iPhone sales of 223 million devices worldwide in 2021; becoming the second-largest smartphone provider worldwide.
Over 1.5 billion people worldwide currently own an iPhone; they made up 56% of total Apple sales during its first quarter of 2021.
Over 200 carriers sell iPhones worldwide and it is accessible in over 100 nations. An iPhone sold on average for $799 in 2021.
As of 2021; the iPhone 12 was the most widely used iPhone model, followed by the 11 and XR models. There were over 1.96 million apps available to be downloaded through Apple's App Store for purchase or use with these models.
Google searches were among the highest for consumer technology items in 2020, and iPhone was the most frequently searched. Since its debut in 2007, the phone has generated over $2 trillion of revenue for Apple.
As of 2021; Apple iPhones account for more than 50% of global mobile internet traffic – making it one of the most widely used devices for accessing the internet on the go.
Why iPhone and its Cases Are Expensive?
Apple is well known for using premium materials and components in their devices, such as OLED screens, sophisticated camera systems, and powerful CPUs – all adding significantly to their cost.
Apple invests significant research and development funds into creating innovative technology and features for its iPhones, such as face recognition technology used in iPhone X and subsequent generations. As an example, they spent years perfecting it – the cost of each gadget includes such expenses.
Apple is well known for its successful marketing initiatives that enhance brand recognition and boost sales, the cost of which is factored into the pricing of an iPhone.
iPhone production is an intricate, multi-stage process. Apple utilizes both internal productions as well as outsourcing from outside vendors for this process, with premium materials used and strict accuracy requirements during manufacturing increasing its price relative to competing smartphones.
Apple may adjust iPhone prices depending on your location. Currency rates could have an impactful impact; therefore, Apple could change prices accordingly.
Apple, like every company, seeks to turn a profit with every sale it makes; that includes selling iPhones. As with other businesses, its profit margin is embedded into the pricing of each iPhone sold.
iPhones are part of an exclusive ecosystem comprised of goods and services from Apple that also contributes to their high price tag. Users who experience the seamless user experience provided by this ecosystem tend to purchase additional goods from this brand. One way of looking at an iPhone purchase as an investment in its greater ecosystem.
Just like iPhone is expensive due to all these reasons similarly its cases are also expensive for likewise reasons.
Types of Cases:
Silicone cases
Battery cases
Hard-plastic cases
Wallet cases
Waterproof cases
Bumper cases
Metal cases
Leather cases
Rubber cases
Clear or transparent cases
Why Cases Are Important?
iPhone cases are crucial in protecting against scratches; drops and other forms of harm to expensive high-tech gadgets like an iPhone. A case can provide extra defense from damage and extend its life.
Users can customize the look and style of their iPhone by customizing its appearance with various cases available in various colors; materials and styles. Users can find a case that best fits their tastes while complementing their unique style from our selection.
Cases can help make the iPhone more secure in its user's palm by improving grip. Furthermore, some cases include extra functions like cardholders or stand to enhance its operation. Overall, cases are an essential iPhone accessory as they give customers an effective means of prolonging their lifespan while providing protection, aesthetics, and usefulness benefits.
Mentioned below are the world's top 10 most expensive iPhone cases
ALEXANDER AMOSU- WORTH $2.7M
DRAGON AND SPIDER- WORTH $880,000
BUCCELLATI- WORTH- $206,000
GOLDGENIE DONALD TRUMP CASE- WORTH $151,000
BRIKK IPHONE TRIM CASE- WORTH $100,000
HADORO PHONE CASE- WORTH $11,445
MIANSAI 14K GOLD- WORTH $11,000
GRESSO TITANIUM CASE- WORTH $4,500
BRIKK IPHONE CASE- WORTH $4,430
ALTER EGO AURORA TITANIUM CASE- WORTH $3,300
#1. ALEXANDER AMOSU- WORTH $2.7M
Alexander Amosu phone covers with an average selling price of $2.75 million have made a name for themselves as one of the highest-priced iPhone cases. Designer, Alexander Amosu overcame several obstacles when crafting these high-end cases by using expensive metals such as gold in its construction; additionally each features over 6000 diamonds and the Amosu logo as finishing touches; these rare and pricey cases make an outstanding addition to your collection!
#2. DRAGON AND SPIDER- WORTH $880,000
Anita Mai Tan's Dragon and Spider iPhone case is considered one of the costliest covers available today. The case boasts over 18 carats of diamond and gold and took a whopping 16 months to design. The case is not only functional but doubles as a jewelry piece as well. Brown and cognac diamonds are among the many precious gems used in the design. However, due to the intricate patterns on the cover, carrying the phone is a must, as it's not pocket-friendly. The creation of this case alone cost over $880,000.
#3. BUCCELLATI- WORTH- $206,000
For those seeking to flaunt their wealth, the Buccellati iPhone cover is a must-have accessory. Adorned with diamonds, white gold accents, and yellow gold pieces, this $208,000 cover is designed to make a statement. However, while it may be visually stunning, it lacks the protective qualities of other cases on the market. This casing is fashioned exclusively for style, with the most precious metals liberally sprinkled throughout.
#4. GOLDGENIE DONALD TRUMP CASE- WORTH $151,000
Goldgenie, an extremely high-end clothing and accessories shop based out of Sharjah near Dubai, designed the Donald Trump case in 2016 specifically for their extremely wealthy clientele. At $151,000, only someone of Donald Trump's wealth would consider purchasing it; making the case comparable to those among Goldgenie's high net-worth clientele. Crafted out of 24-karat gold with his beaming visage imprinted onto its back panel and featuring diamond studded trim along its edge forming the Apple logo across his visage; created in response to client demand!
#5. BRIKK IPHONE TRIM CASE- WORTH $100,000
Brikk's Trim Cases, constructed of both titanium and gold, top this list once again. Each box containing 600 diamonds totaling 6 carats costs $100,000 each; compatible only with iPhone XS/XS+ models. If dropped accidentally, titanium will protect it while gold provides prestige and wealth status.
#6. HADORO IPHONE CASE- WORTH $11,445
Hadoro Phone Case, made of genuine leather, carbon fiber, titanium, or other high-grade materials and handcrafted to offer maximum protection for various smartphone models is the fifth most expensive iPhone case worldwide. Hadoro is an exclusive brand offering handcrafted smartphone cases at premium quality standards; their cases feature genuine leather, carbon fiber, or titanium materials for the perfect fit on the device they cover. Besides providing phone covers themselves, Hadoro also sells screen protectors, headphones, and chargers – it is well known among those seeking stylish yet robust phone covers due to their attention to workmanship and attention to detail.
#7. MIANSAI 14K GOLD- WORTH $11,000
For those seeking refined protection for their iPhones, the Miansai 14K gold case offers both luxury and practicality. Crafted from fine 14K gold, it ranks seventh among the world's most expensive phone covers. Designed to both beautify and shield your phone from dents and scratches, this sleek and slender case offers accurate cutouts for all buttons and connections. Unlike bulkier alternatives, it fits snugly and adds a touch of glamour without compromising functionality. Choose the Miansai 14K gold phone cover if you want a stylish and protective accessory for your device.
#8. GRESSO TITANIUM CASE- WORTH $4,500
Gresso has been manufacturing top-tier cell phones, along with a range of lavish accessories such as titanium-framed sunglasses, since 1999. Among its high-end models, the Azimuth dual-SIM phone made waves in 2014 for its $2,000 price tag and 18-karat white gold keys. The Titanium Edition phone cover, boasting a titanium exterior, offers both durability and elegance. For an even more luxurious feel, the Gresso Titanium Edition case back is crafted by hand from premium Italian leather and features a gold-etched emblem and a unique sequence number indicating its limited-edition status. Available in black or grey, the Gresso Titanium Edition case exudes sophistication without being too flashy.
#9. BRIKK IPHONE CASE- WORTH $4,430
For those seeking the ultimate in phone protection, the Brikk Titanium case is a luxurious option. Constructed from the same robust metal that graces some of the world's most expensive motorcycles, this phone case promises to shield your device from most falls and bumps. But it's not just about durability; the Brikk Titanium case also offers a sophisticated, understated look that exudes elegance. Available in several stunning colors, including carbon, gold, platinum, grey stealth, and black, this limited edition release boasts an "Altruistic Precision" theme that combines style and protection. However, with an eye-watering price tag of $4,430, owning this case is a luxury few can afford.
#10. ALTER EGO AURORA TITANIUM CASE- WORTH $3,300
The Alter Ego Aurora Titanium iPhone cover, priced at approximately $3300 with silicone inner, is strong. Your phone won't be damaged from falls or bumps as titanium protects it, providing an ideal option for those relying on their phone for business and cannot risk it going out of service. Not only is this phone cover strong and secure; its paint impression echoes Northern Lights' beauty! However, only around one thousand of these cases have been made available worldwide so far and therefore may be difficult to come by.
Bottom line:
Overall, iPhone's cutting-edge technology, sophisticated design, and premium brand image have revolutionized the smartphone business. Not only can its users take advantage of its useful advantages and functionality features but its status symbolism serves to establish their financial standing and mark them out among their peers.
Apple's success with the iPhone can be attributed to its dedication to R&D and ability to consistently create high-quality goods that meet consumer demands and expectations. Although its price might seem excessive, its cutting-edge features and technology, as well as the exclusivity and prestige attached to its brand make up for its exorbitant cost. It will be fascinating to observe how they adjust and innovate with future iPhone models as technology progresses – one thing's certain, the iPhone will continue to represent luxury and innovation for years to come.
More Posts By Rohan Jambhale