Top 10 Most Expensive Cowboy Boots in the World
Aditi Kandhari
Updated · Sep 27, 2023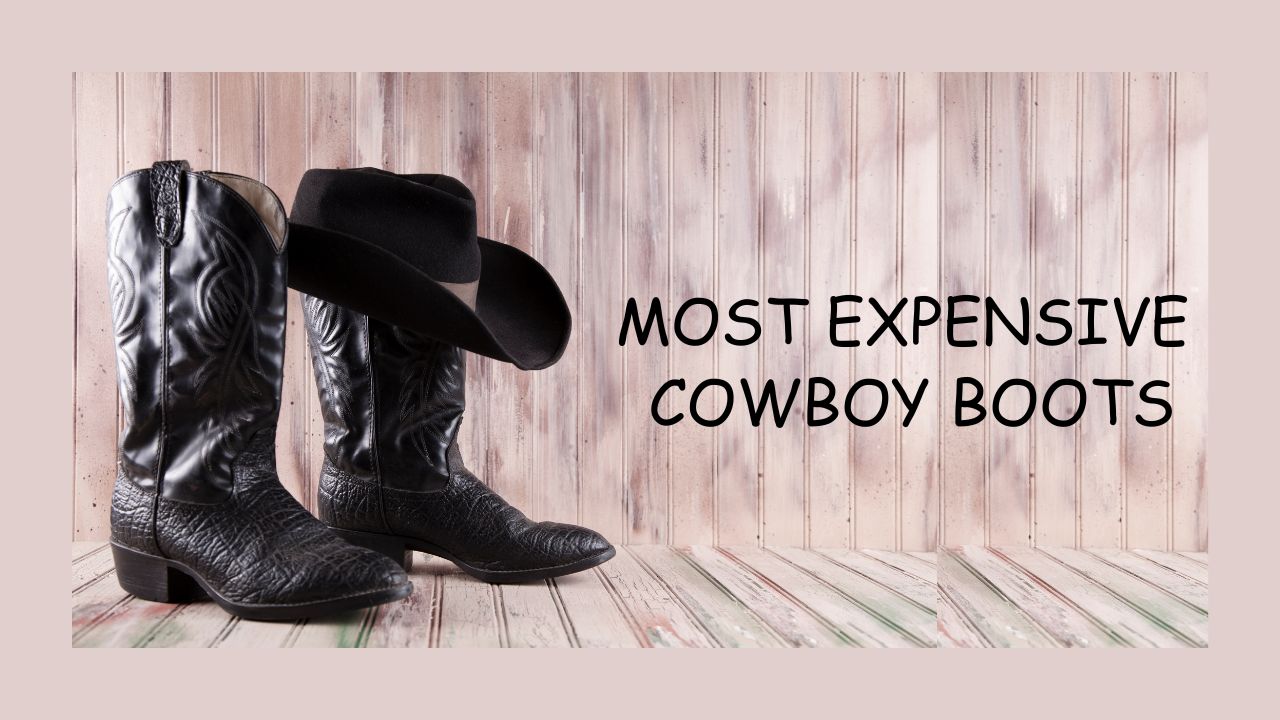 Cowboy boots first made their debut in the American West. Crafted from top-shelf leather and featuring distinctive pointy toes, tall shafts, and Cuban heels. Although originally worn only by ranchers due to their strength and usefulness, today they can be seen around the globe in various hues, styles, and patterns with dexterous stitching or metallic accents adding flair. Cowboy boots remain an icon of cowboy culture and the American West today.
History of Cowboy Boots:
Cowboy boots have a rich and longstanding history that dates back to the middle of the 19th century when ranchers and cowboys of the American West required footwear that could withstand their demanding jobs on rugged terrain without inflicting injuries to feet and legs while providing enough traction on uneven ground.
Cowboy boots were likely first created by local shoemakers using tough leather and embellishing them with stitching and cuts for visual appeal. As they gained in popularity, producers began mass producing them using machinery to speed production.
Charles Hyer was one of the pioneering and renowned cowboy bootmakers during the 1870s in Olathe, Kansas. His boots became known for their superior quality and innovative designs: high heels with pointed toes to make mounting easy; Hyer was widely revered due to their superior design which included higher heels with wide tread patterns for improved traction; their pointed toe made mounting easier – this made them famous among riders!
Due to Wild West exhibitions and rodeos traveling throughout the US in the late 1800s, cowboy boots became widely recognized outside of American West culture. Both their distinct style and culture gained popularity through these shows.
Cowboy boots have evolved over time to represent American culture and American Western heritage, serving as an icon of Western lifestyle and heritage. Today they remain widely used both by working cowboys and ranchers who depend on them as reliable functional tools and as fashion accessories by people around the globe.
Cowboy boots have become more than functional shoes; they now play an important part in Western fashion and culture. From intricate stitching, vibrant leather, metal accents like studs and buckles, and custom options provided by boot manufacturers; wearers can create one-of-a-kind pairs.
Cowboy culture and American Western history share a long and intertwined history, and cowboy boots have always been part of that tale. Representing Western tradition from their humble origins as work boots to becoming fashion icons today.
Types of Cowboy Boots:
Roper boots
Western-style boots
Work boots
Exoctic boots
Buckaroo boots
Fashion boots
Stockman boots
Uses of Cowboy Boots:
Cowboy boots have become a fashion statement in their own right. Wearing them can add an edge to clothing with Western influences such as dresses, skirts, and jeans while creating an unforgettable and fashionable style statement.
Horseback riders still sport cowboy boots today, especially those competing in Western riding events like rodeo or cutting. Their pointed toe and tall shaft make it easier for riders to quickly place and remove their feet from stirrups.
Cowboy boots remain popular choices among ranchers and cowboys due to their durable construction and ample protection for feet and legs. Work boots may feature reinforced toes and heels for additional support as well as more robust materials than fashion ones.
Cowboy boots are often preferred among country and Western dancers for fast moves and turns as they provide excellent support and stability.
Cowboy boots have long been considered an alternative to the more common riding boots due to their ability to provide adequate protection while often appearing more stylish.
Cultural significance:
Cowboy boots; an iconic symbol of American West culture, symbolize hard work; individualism; and the rugged lifestyle associated with ranching life.
Cowboy boots are an iconic fashion staple worn around the world and often associated with Western attire. As an eye-catching footwear choice; these Western boots often boast intricate stitching details, vibrant leather construction, and metal accents to complete their distinctive aesthetic.
Original Cowboy boots were created to protect cowboys' and ranchers' legs and feet in harsh working environments, and have since become an invaluable choice among ranchers and working cowboys alike. Due to their durability and protection features, cowboy boots remain a go-to choice among both.
Cowboy boots have long been associated with American West history and culture, and many bootmakers continue to produce high-quality models that pay homage to it by employing conventional methods and materials in their production.
Wearing cowboy boots is an increasingly popular way to express cultural identity and admiration of the American West. They have become an iconic component of Western culture and identity and often symbolize independence; self-sufficiency; and hard work.
The Popularity of Cowboy Boots:
Cowboy boots pair perfectly with everything from dresses and skirts to jeans and t-shirts; making them an easy way to elevate or downplay an ensemble.
Since the 1970s, designers have come up with inventive ways to incorporate cowboy boots into their designs, making them a fashionable part of today's fashion trends.
Cowboy boots tend to be comfortable for many individuals, especially ones made with high-quality materials and craftsmanship. Their sturdy construction helps reduce foot pain while their hooked toe and high shaft provide additional support.
Cowboy boots have long been part of Western heritage and culture, playing an essential part in defining who people are in America's West.
Cowboy boots made using traditional methods and premium materials may feel more special and unique than mass-produced footwear.
Why Cowboy Boots Are Expensive?
Cowboy boots often use high-grade materials, like leather and exotic skins like alligator or ostrich, that are more costly than others found elsewhere in footwear production.
Cowboy boots are predominantly handmade using centuries-old methods passed down from generation to generation of boot manufacturers, which can be an extremely time-consuming and demanding process.
Cowboy boots often include intricate patterns and accents, such as ornamental stitching or metal embellishments. Manufacturing these features may increase their total cost.
Certain manufacturers only produce a set number of cowboy boot pairs each year, making them hard to come by and potentially increasing the price due to limited production.
Some cowboy boot brands are better-known and thus command higher prices; these factors may help explain why these products cost more money.
Many manufacturers offer made-to-order cowboy boots, which may cost more than ready-made footwear. Custom boots take more time and resources to produce as they're tailored to each buyer.
Some cowboy boots manufactured in nations with higher labor expenses, such as the United States, may lead to higher costs overall for these boots.
JACK ARMSTRONG COSMIC – WORTH $6M
HOWARD KNIGHT'S PHANTOM – WORTH $106,000
TRES OUTLAWS- WORTH $75,000
WHEELER BOOT COMPANY FOOTBALL-THEMED – WORTH $17,000
LUCCHESE BARON – WORTH $13,000
LUCCHESE COLTON – WORTH $6000
LUCCHESE ROMIA – WORTH $6,000
PHILIPP PLEIN EMBELLISHED WOMEN'S COWBOY BOOTS – WORTH $5,000
LUCCHESE FORDE BLACK ALLIGATOR – WORTH $5,000
STALLION BLACK AMERICAN ALLIGATOR – WORTH $3000
#1. JACK ARMSTRONG COSMIC – WORTH $6M
Jack Armstrong Cosmic Cowboy Boots are extremely costly cowboy boots – listed at an astounding $6 Million! Of course, buying such an extravagant item might not be for the faint of heart, but these boots serve more as works of art than items worn. Artist Jack Armstrong created these masterpieces.
Armstrong employed his signature painting style, Cosmic Extensionalism or Cosmic X, to decorate these boots with vibrant color and texture splashes that showcase his own hair, fingerprints, and DNA signature. To add his personal touches he acquired two 1968 Tony Lama boots in excellent condition for these cosmic cowboy boots that may set new price records!
#2. HOWARD KNIGHT'S PHANTOM – WORTH $106,000
Howard H. Knight has created some of the finest cowboy boots ever produced, setting an outstanding standard in premium boot design. Each boot boasts stunning floral patterns all over and incorporates expensive materials in its construction; Howard Knight was determined and resourceful when creating them; spending over 800 hours carefully crafting and planning out how they would appear; earning an estimated hourly wage of about $132 while crafting boots that represented himself and his style. As early as childhood he showed an interest in boots; during his teenage years, he even designed incredible pairs featuring 18k white gold flowers as centerpieces to further increase costs further!
#3.  TRES OUTLAWS – WORTH $75,000
Tres Outlaws is known for crafting handcrafted premium boots with a classic Western aesthetic. Established by two friends who shared a passion for cowboy boots and the Western way of life – Mark Allen and Brian Thomas in 2006, their custom-made boots cost $75,000 and featured designs with Aztec influences and other extravagant details, created to commemorate Mexico's rich and colorful past. Tres Outlaws boots have become iconic because of their distinctive styles often featuring embroidery work, hand-tooling leather, or ornamental embellishments; talented artisans in Mexico make each boot by hand using traditional techniques combined with high-quality materials crafted in Mexico by talented artisans using traditional methods and premium materials to handcraft each boot by hand using traditional methods and premium materials – making every pair unique each time! The "El Dorado" boot from Tres Outlaws stands out with its faded leather finish, an embroidered shaft, and a stacked leather heel – an appealing combination that has proven popular among customers. Additionally, "Cherokee Rose" with its rose and vine pattern on its shaft, and "Vaquero", with its classic yet understated style are two popular models.
#4. WHEELER BOOT COMPANY FOOTBALL-THEMED – WORTH $17,000
Though his designs are based around traditional cowboy boots, they frequently go beyond this standard by including painted boots designed specifically for wine enthusiasts, NASA fans, and Texans.
Wheeler Boot Company's football-themed cowboy boots, as their name suggests, are designed to celebrate baseball. Constructed using 16 ticket stubs and featuring the Houston Texans emblem on one side.
Paul Wheeler recently sold one of the most expensive pairs of cowboy boots ever produced, fetching an incredible $17,000 price. These truly one-of-a-kind boots were custom crafted and featured an extravagant, rich leather design unique to them – something no other pair ever achieved before this.
#5. LUCCHESE BARON – WORTH $13,000
For decades, the Lucchese Baron boots have been an indispensable style. It is easy to see why; their versatile cherry alligator skin leather allows them to complement a variety of outfits while remaining neutral enough for daily wear.
These boots are not only Western but stylish and ageless as well. Each one is meticulously handmade by skilled bootmakers in Italy with great care taken over every aspect. From their hanging vamp for inside, lemonwood pegs, hand-sewn seams, and stacked heels – to other premium features – these amazing cowboy boots make a statement in style and craftsmanship that cannot be denied.
#6. LUCCHESE COLTON – WORTH $6000
Another alternative under the Lucchese label is this type of boot made in Texas by skilled bootmakers using premium materials and craftsmanship, to evoke that authentic Western appearance. Crafted of real American alligator leather – beautiful to look at while strong and flexible; its rich chocolate brown hue makes an eye-catching statement of authenticity in style! These boots were manufactured using an antique method with a hanging vamp interior for improved comfort; additionally, there's decorative stitching styled in scroll patterns on their shaft.
Lemonwood pegs used to fasten a steel shank to the sole of boots are another measure of comfort in their construction, and should be looked out for as not all boot brands do this!
#7. LUCCHESE ROMIA – WORTH $6,000
Romia cowboy boots by renowned shoemaker Lucchese are sleek black boots featuring a simplistic form. Inspired by vintage U.S. cavalry boots from the late 1800s, all but their leather soles – which develop patina brown hues over time – remain originals.
These high-end handcrafted cowboy boots from Texas feature Nile crocodile skin for an eye-catching aesthetic, hand stitching, three-quarter welt construction, and genuine lemonwood pegs to hold down their steel shank to their sole for an excellent fit. At $6,000 they reflect Lucchese's reputation as one of the top boot makers available while remaining an affordable investment due to their exquisite hand stitching and three-quarter welt construction techniques.
#8. PHILIPP PLEIN EMBELLISHED WOMEN'S COWBOY BOOTS – WORTH $5,000
Philipp Plein first became well-known for his luxurious dog beds before branching out into vintage-inspired apparel and accessories. One of Switzerland's wealthiest individuals, Plein has created high-end cowboy boots – including Embellished Women's cowboy boots – as part of his legacy.
These boots make an unforgettable impression with their bold and brazen appearance, costing $5,000 and retailing as high-end wines. It boasts black-and-white designs with intricate stitching and tassels draping down the back for an extravagant appearance. Their stiletto heels make these Philipp Plein Embellished Women's Cowboy Boots stand out; another special design feature includes their pull-on pull style featuring a clean pointed toe and fringe accents on the back for rock 'n' roll flair!
#9. LUCCHESE FORDE BLACK ALLIGATOR – WORTH $5,000
Forde boots are one of the more luxurious Lucchese options, featuring a contemporary black color scheme and sleek and stylish designs. Additionally, since black goes with everything, you may pair these with practically every outfit in your closet – even formal events!
American alligator leather is used to craft boots handcrafted in Texas by skilled bootmakers Lucchese bootmakers using traditional methods and hand stitching; one of their unique selling points is their distinctive leather texture which adds just enough flair without taking away from their elegant and classic design. Each pair of boots is handcrafted using traditional methods by master bootmakers Lucchese Bootmakers using exquisite, meticulous craftsmanship combined with exact stitching in every pair – justifying their high price! Furthermore, Forde boot shafts boast exquisite and meticulous craftsmanship as well as delicate stitching details – rather than being storage pieces, these soft yet flexible boots make long-term usage comfortable pieces to show off or store in your wardrobe Lucchese Forde boot shafts offer extended use due to their soft yet flexible nature!
#10. STALLION BLACK AMERICAN ALLIGATOR – WORTH $3000
Bob Dillon himself admired Stallion footwear. Since 1980, Stallion has produced high-quality cowboy boots at a more attractive and cost-effective price point than its competitors.
Black American Alligator boots boast an elegant style with their simple lines and flawless craftsmanship, appearing like all-black leather while remaining current in terms of fashion trends.
These boots feature calfskin shafts tapering to stacked leather heels. Alligator pulls add the perfect final touch of sparkle while their 1-1/2″ heel completes conventional toe designs beautifully. Amazing and fashionable describes perfectly what the Stallion Black American Alligator Boot can offer you!
Bottom line:
Cowboy boots have long been associated with Western culture and heritage, making them a highly preferred footwear choice over many decades. While initially made for practicality, modern cowboy boots now serve as fashion statements and cultural icons in their own right. Individuals searching for versatile yet elegant footwear that can be worn both up or down often find these versatile, high-quality shoes an appealing choice, due to their distinct structure, premium materials, and intricate designs. Even though cowboy boots can be expensive, many buyers are willing to make an investment for the quality, dependability, and cultural relevance they represent. A classic and iconic item of footwear that will likely remain popular for years, whether worn functionally or as fashion statement footwear.
Can cowboy boots be worn daily?
Cowboy boots add style and sophistication to most clothing for different levels of formality, making them suitable for wear every day from casual dates to dressy occasions and outdoor job sites - it is easy to style these versatile boots for practically any daily outfit!
Are cowboy boots waterproof?
Cowboy boots are usually made of leather, making some models waterproof while others may not be fully watertight. Regardless, leather boots may keep feet dry enough, yet potentially risk staining if exposed to moisture.
What season do cowboy boots belong in?
Wearing well-made cowboy boots at any time of year can only add character. They make ideal footwear choices whether the temperature rises in summer, or drops to its lowest in winter.
Do Cowboy Boots Require Special Care?
Conditioning boots before wearing them is key in treating leather, keeping it soft and supple and preventing drying out or cracking; conditioning helps preserve this quality in its entirety.
Aditi Kandhari
Aditi is an Industry Analyst at Enterprise Apps Today and specializes in statistical analysis, survey research and content writing services. She currently writes articles related to the "most expensive" category.
More Posts By Aditi Kandhari