Top 10 Most Expensive Luxury Cars Brands In The World
Aditi Kandhari
Updated · Oct 02, 2023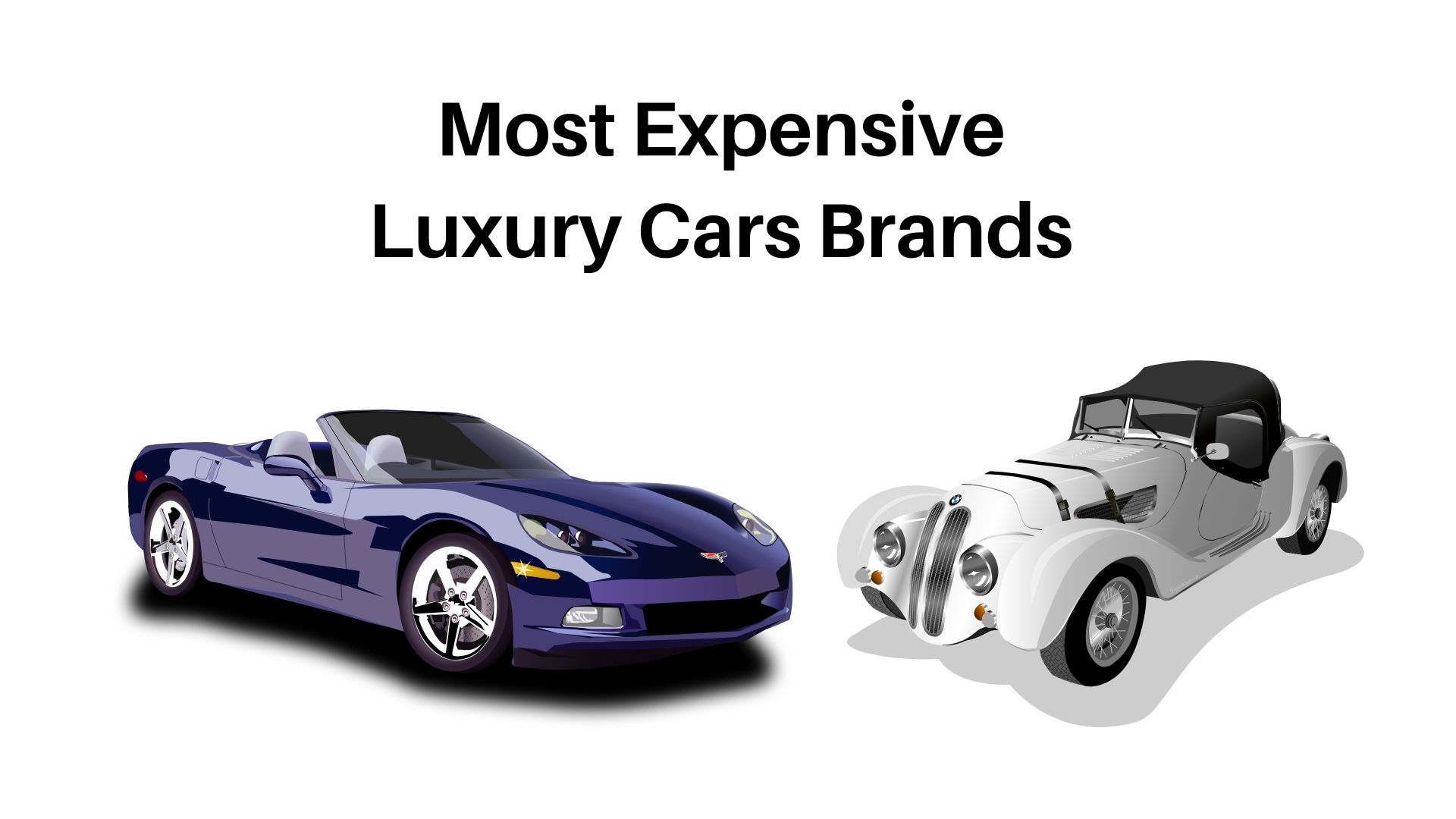 Most Expensive Luxury Cars Brands: A car is a vehicle that can move by itself, using an engine that burns fuel or runs on electricity. Cars are very common all over the world, and they come in many different sizes, shapes, and styles.
They have changed the way people get around, giving them more freedom to go where they want. Cars are a big part of modern life, and they affect things like business, travel, and fun activities.
But cars also have some bad effects on society and the environment. They can make the air dirty, cause traffic jams on the roads, and lead to accidents. People are working on making cars safer and better for the environment by using new technology and changing the rules.
History of Luxury Cars
Since the dawn of time in the automotive industry there have been luxurious cars and their stories are fascinating stories of technological innovation, extravagant and awe. As the wealthy began to seek more than basic transport The first luxurious cars were introduced in the latter part of the 19th century and early 20th century. Equipped with features such as hand-stitched leather seats, top-of-the-line audio systems, and advanced electronic systems. These cars were often custom-built by skilled craftsmen and were quite costly. Rolls-Royce, Bentley, and Cadillac are just a few of the names that have become symbols of luxury and awe.
Luxury car manufacturers began to experiment with the latest technology and styles in the 1920s and 1930s. These included sleek bodies, powerful engines, and advanced suspension systems. For instance, the Mercedes-Benz 540K was one of the most famous of these.
The luxury vehicle industry faced other issues following World War II, including increased competition and changing consumer expectations. As a result, they began to focus on products that provided the highest level of safety, comfort, and convenience including air conditioning, power steering, and automated gearboxes. Brands such as BMW, Jaguar, and Mercedes-Benz gained a reputation for their blend of class and performance.
Luxury car manufacturers began to embrace the latest technologies like turbocharging, fuel injection, and computerized control systems in the 1990s and 1980s. In addition, they began to enter new markets such as Asia as well as those in the Middle East; where affluent individuals were eager to display their wealth and status.
Luxury cars are more advanced and sophisticated than they have ever been. Feature cutting-edge technology such as internet connectivity as well as hybrid and electric engines, and intelligent assist systems for drivers. To appeal to younger buyers who may not be able to afford the pricey prices of luxury cars luxury car brands are currently exploring new business models, including subscription-based services and car-sharing programs. Luxury cars are popular symbols of power; wealth, and status; despite their costly cost and high exclusivity. They continue to be awe-inspiring for fans and collectors around the world and are often considered to be the top of car design and engineering.
Features of Luxury Cars
Luxury automobiles are renowned for their superior comfort, high performance, and state-of-the-art technology. Let's explore some of the key features that set these vehicles apart:
Luxury automobiles are often characterized by their use of top-notch materials, including leather, wood, and metal accents. Skilled craftsmen meticulously fabricate and install these premium materials to ensure the utmost quality and refinement.
High-end vehicles boast advanced features such as touchscreens, wireless charging, and adaptive cruise control; along with state-of-the-art safety technologies such as automated emergency braking, blind spot monitoring, and lane departure warning.
In luxury automobiles, the emphasis is on comfort and convenience. Automated temperature control; heated and cooled seats; and massage functions are some of the basic amenities available. Additionally, other features such as keyless entry; power trunk lids, and remote starters add to the overall convenience of a luxury vehicle.
Luxury cars are often equipped with robust engines, state-of-the-art suspension systems, and sport-tuned gearboxes. In addition, they may incorporate features such as all-wheel drive, dynamic handling, and high-performance brakes.
Individuals have the ability to tailor their vehicle to their liking, with options ranging from an array of colors, materials, and features. Luxury cars, in particular, are known for their exceptional degree of customization.
Luxury car brands such as Rolls-Royce; Bentley, and Mercedes-Benz have a reputation for producing high-end; opulent vehicles. The association between luxury automobiles and exclusivity or prestige is common knowledge.
Luxury vehicles come with a steep price tag, costing from tens to hundreds of thousands of dollars. This is due to the use of advanced technology, premium materials, and meticulous craftsmanship.
Significance of Luxury Cars
Important cultural, social, and economic significance is attributed to luxurious automobiles. Here are a few of the reasons that luxury cars are significant:
Luxury cars are often utilized as status and success indicators. Some people may choose to use their luxurious automobiles as a means to show off their wealth and status.
Luxury car manufacturers often are the leaders in technological advancements in the automotive industry, providing the latest features and technology which eventually make their way into cheaper automobiles.
The most expensive cars typically feature sleek exteriors, stylish interiors, and an eye for every little particular. In the years to come; they will influence the fashions in automobile design.
Luxury car brands typically are distinctive and are linked to specific values or lifestyles. For example, BMW is frequently linked to sporty and performance, whereas Mercedes-Benz is usually associated with sophistication and elegance.
The manufacturing of luxury vehicles creates thousands of jobs worldwide and has a major economic impact. They often have a positive impact on regional economies; too because they can boost employment as well as an increase in tax revenue.
The luxury automobile has long been a fixture in the popular media, appearing in numerous movies; television shows, and music videos. They are often seen as a symbol of aspiration and symbolize success and achievement.
Innovations in technology and innovative engineering are regular in luxury cars; which push the limits of possibilities; in the field of automobile design. Innovative research and technological advancements in the field of automobile engineering; could result from this technological innovation
Luxury car makers are placing more focus on sustainability, and a lot of them; are creating electric and hybrid cars; which are more beneficial; to the environment than cars powered by; gasoline
The Popularity of Luxury Cars
With more and more customers looking for the most luxurious quality, comfort, and the latest technology, the demand for cars that are luxurious has been increasing over the past few decades. These are just a few reasons that make these cars so sought-after
The luxury car could be a means for people to show off their status as these vehicles are typically associated with success and wealth.
Alongside features like heated and massage seats, cooled and heated seats as well as automated temperature control, premium cars are also awash with comfort and ease. When traveling long distances or when there is a lot of traffic, these features are extremely useful.
Luxury cars usually come with powerful engines, modern suspension systems, as well as sport-tuned gearboxes because they were designed with speed in mind. They offer an experience of driving that is thrilling and unmatched by the more traditional automobiles.
Modern technology like the touchscreen, wireless charging, as well as adaptive cruise controls, are common in high-end vehicles. In addition, they may include features such as remote starting as well as power trunk lids as well as keyless entry. These options enhance the convenience and enjoyment of luxury car driving.
Advanced safety systems such as lane departure warnings blind spot monitoring and automated emergency brakes are often found in luxurious automobiles. These safety features help ensure that passengers and drivers are safe on the road and avoid accidents.
Customers are able to select from a range of colors and materials as well as extras to build a car that is unique to their preferences in luxury cars, which often offer the most individualization. Basic vehicles do not typically provide this kind of flexibility.
Car owners who own luxury vehicles often display strong brand loyalty, with some models attracting an incredibly loyal following. This loyalty could endure for a long time with family members, who will stick to one particular luxury vehicle manufacturer for a long time.
Certain luxury models retain their value over time, which makes them popular investments. This is why they can be a great choice for those looking to purchase a vehicle with the potential to be worth it over time.
Why Luxury Cars Are Expensive?
In a variety of ways such as the following; the cost of luxury cars is high:
Premium materials, such as wood, leather; or carbon fiber which cost more than components used in less expensive automobiles are often used in the design of luxury automobiles.
Innovative features like touchscreens; as well as adaptive cruise control and active suspension; are often found in luxurious cars that can increase the prices of the vehicle.
Customers are able to choose from a wide range of colors materials; colors; and additional features when purchasing a high-end car that usually comes with an extensive level of personalization. The price of the vehicle could increase because of this customization.
Automobile manufacturers that are renowned for their luxury make substantial investments in R&D and this could lead to revolutionary innovative technology and cutting-edge engineering. These investments could increase the cost of vehicles.
Premium automakers can command higher prices due to their cachet and repute. This usually comes from the company's history and popularity, in addition to the level of prestige that comes from owning an expensive automobile.
Because of their limited availability certain luxury cars that are manufactured in limited quantities could be more expensive.
The production of luxury automobiles often involves higher-skilled personnel and this increases the price of the vehicle.
Luxury carmakers typically invest a large sum in marketing and advertising to ensure the esteem and exclusivity that comes to their brands. The price of cars usually includes these costs.
Due to their modern technology and top-quality materials, luxury cars often require higher-priced maintenance and repairs. The cost of ownership could increase due to this.
Taxes and tariffs for luxury cars are usually higher than for non-luxury vehicles which can affect the prices of cars.
Top 10 Most Expensive Luxury Cars Brands In The World
Bentley
Bugatti
Ferrari
Rolls-Royce
Porsche
Lamborghini
Jaguar
Mercedes-Benz
Cadillac
BMW
#1. Bentley
Bentley and Rolls-Royce are two car companies that have been owned by the same people for a long time. But they have different ideas about what kind of cars they want to make.
Bentley has always focused on making cars that are both fancy and fast, like Rolls-Royce. Bentley actually started out in the world of racing, especially at a famous race called Le Mans. Rolls-Royce, on the other hand, was always meant to be a really fancy and luxurious car.
As time went on, Bentley became the favorite choice of car lovers who want luxury and powerful performance. In the early 2000s, Bentley started making new cars with strong engines and fancy technology. Today, Bentley is known for its amazing design, great driving performance, and the cool image of a stylish gentleman racer. And Bentley is worth a lot of money, around $10.8 billion.
#2. Bugatti
In 1909; the Bugatti brand launched the Type 30 Grand Prix and Type 41 Royale models; which didn't offer much room for innovation.
Following Ettore Bugatti's sudden death in 1947; the company struggled to avoid financial ruin. However; the Volkswagen Group's ownership of the brand; and production of top-notch vehicles played a crucial role in its recovery.
Even today; the Veyron and Chiron feature Bugatti's quad-turbo 8.0L W16 engine and their success cannot be ignored. While loyal Bugatti customers may see the brand's upcoming products within the next year or two; the rest of the world may have to wait up to three years or more.
For a glimpse of true refinement and elegance; one need only look at the Bugatti Veyron.
#3. Ferrari
In 1947, Ferrari designed the Ferrari 125, which won the Rome Grand Prix and revolutionized the race's pace.
Despite their reputation for producing high-displacement vehicles, Ferrari is actively pursuing a range of ambitious environmental targets, including carbon-neutral production by 2030 and a battery electric vehicle by 2025. Three plug-in hybrid vehicles are also in development.
Ferrari recently unveiled its first luxury SUV; the Ferrari Purosangue, which adheres to the company's traditional approach of equipping a powerful V12 engine under the hood. The brand plans to release fifteen new models by 2026 to meet the demands of its loyal customer base.
The Italian sports car company, Ferrari, is poised to benefit from its commitment to innovation, coupled with a steadfast focus on environmental sustainability.
#4. Rolls-Royce
Rolls-Royce is renowned for producing the finest automobiles; available worldwide, and consistently improving upon them with each new model.
The brand is synonymous with luxury and refinement, often boasting the most opulent license plates. The Phantom, their top-of-the-line product, is the "undisputed monarch of luxury sedans," according to the company. Rolls-Royce is unrivaled in the luxury car industry, maintaining its reputation for excellence even as it expands into new markets.
The Rolls-Royce Cullinan SUV, equipped with a twin-turbocharged V12 engine, is a prime example. Looking towards the future, the Rolls-Royce 103EX concept unveiled in 2016, has generated significant interest as it foresees a time when electric cars can autonomously navigate to specific destinations.
With this, passengers can relax and enjoy themselves without the concerns of driving. Should you desire a bespoke service, we offer customization options. Our customers can attest to the allure of this feature.
#5. Porsche
Porsche is renowned for its top-notch luxury cars; including the affordable Porsche 911. It leads the pack in luxury car brands thanks to its exceptional personalization options that cater to the preferences of any driver. What's their secret? Perhaps it's their latest release of the Porsche 911 GT3 in 2022; where the focus was on maximizing driving pleasure. Or maybe it's the 2022 Cayman GT4 RS; fitted with the same flat-six engine, that can go from 0 to 60 mph in a mere 3.2 seconds.
Porsche; like other luxury car manufacturers; has evolved with the times by embracing new technology and electric vehicles. The Taycan EV is now available in a powerful GTS version with 590 horsepower and enhanced handling for those who crave explosive performance. In addition; purchasing one of their cars grants access to upgraded Porsche Connect technology, which is voice-controlled and equipped with several features aimed at simplifying your life.
#6. Lamborghini
Lamborghini is undoubtedly one of the world's top ten luxury automakers. Though it made its name as a high-performance sports car producer; Volkswagen's acquisition of the company in 1998 marked a new era of expansion into the luxury market. The days of massive car engines; once the norm; are quickly fading into the past.
While Lamborghini's V10 and V12 engines power some of the most breathtaking vehicles today; every luxury automaker's logo will soon be proudly displayed on an electric vehicle.
It's important to note that this isn't just about electric toys; Lamborghini stopped producing cars with only internal combustion engines in 2022. A plug-in hybrid version of the Aventador is on the way, with more features expected in future models.
The future of luxurious cars can be seen in the Lamborghini Terzo Millennio concept car, which combines electric power, aggressive style, and the reputable Lamborghini name. This vehicle is poised to cause a sensation in the supercar industry, surpassing even the most advanced electric motorcycles in performance and design.
#7. Jaguar
Jaguar's management has earned a reputation for astute investment decisions and careful resource management; which has resulted in remarkable success for the company. The brand's iconic slogans Grace; speed; and space are synonymous with all modern Jaguars.
While they announced in 2021 that no new models will be released until 2025 or later, the company is taking the opportunity to evaluate how they can improve their offerings. Rather than competing with top brands like BMW and Mercedes-Benz; Jaguar management has set their sights on more high-end competition such as Maserati and Bentley; believing it will be more advantageous in the long run.
Over the past year; the company has been making waves in the digital sphere; culminating in a highly anticipated unveiling. With Jaguar's I-Pace electric SUV soaring to the top of the market; the company has disclosed that the 2023 F-Type will have a top speed of 275 kph.
#8. Mercedes-Benz
Mercedes-Benz has been synonymous with athletic performance and luxurious comfort since the conclusion of World War II.
The year 2022 marks a significant new chapter for the company as it expands its electric portfolio and secures its top spot in the electrified luxury market. With a track record of creating high-end vehicles, it would be unwise to doubt the success of their latest models.
Mercedes-Benz has a rich history dating back to the very beginning of the car industry, with the founders creating the first automobile with an internal combustion engine. Their extensive expertise is evident in their meticulous attention to opulent detail, with ICEs being the only remaining component. Boasting a remarkable 516 horsepower and an impressive 631 lb-ft of torque.
Mercedes-Benz EQS stands out as a paragon of electric cars; offering unparalleled potency and grandeur. The S-Class lineage of Mercedes-Benz vehicles has consistently been at the forefront of innovation, augmenting the brand's renowned status for tranquil, seamless, and rapid acceleration. The Mercedes-Benz EQS was always tipped as the finest electric car on the market, and its exceptional features now leave us with no doubt as to why.
#9. Cadillac
Cadillac, established in 1999; has earned its place among the top manufacturers in the automotive industry. Recently; the brand made history with the introduction of its first luxury SUV; the Escalade.
The brand's commitment to progress is further evidenced by the Cadillac Lyriq; a five-seat all-electric SUV utilizing GM's Ultium electric drive technology. This is the first of several planned advancements as the brand moves away from traditional combustion engines and toward a cleaner; more sustainable future through battery-operated electric cars.
While the CT5-V Blackwing's 6.2L supercharged V8 engine produces an impressive 668 horsepower and 659 lb-ft of torque; the automaker's future plans remain undisclosed to the general public.
#10. BMW
Maintaining dominance as a market leader among top automakers is no easy feat. BMW has set the standard for high-performance luxury cars with its opulent and powerful models. They excel in every category and particularly shine with the BMW 7-Series, which has evolved since their first vintage sports sedan in 1977.
Each year, they unveil new models that are consistently stunning and innovative. BMW offers a wide range of cars, including electric, hybrid, and internal combustion engine (ICE) cars, ensuring they stay relevant. The BMW iX, an electric SUV, is their latest offering, positioned to boost sales in the rapidly growing crossover SUV industry.
Equipped with two motors for all-wheel drive and mounted on a state-of-the-art chassis, BMW continues to uphold its reputation as a trusted luxury automaker. BMW's 2022 lineup showcases an array of new additions, including the i4 sport sedan, an updated 2 Series, and a 3 Series boasting all-wheel drive, which is a first for the brand. The M5 CS is also featured, boasting an impressive 627 horsepower.
Final Words
In the end; the history of luxury car companies is long and rich and goes all the way to the creation that was the car. They are at the forefront of automobile advancement today, with the latest in engineering; high-end materials, and revolutionary technologies that distinguish them from their less expensive competitors.
Many people view them as a mark of success; status and achievement and luxury cars are important for their impact on society and culture. In addition, luxury car firms can have a significant impact on the economy as they generate jobs and contribute to the global economy.
They are often expensive however they are extremely sought-after; due to the fact that they offer an exclusiveness and distinction that is unmatched; by other luxury brands. Companies that specialize in luxury cars are expected to keep developing and pushing the boundaries of what's possible in automobile design and engineering as the auto industry continues to evolve and adjust to changing consumer preferences and environmental concerns.
What are the steps involved in creating a high-end car brand?
Luxury vehicles are often equipped with superior engines; gearboxes, sound systems, telematics, and safety features; as well as high-end interior materials. These vehicles also come with additional luxurious features.
What sets it apart as a high-end brand?
Luxury brands have carved a niche for themselves in various industries by offering superior quality; exclusivity, and premium pricing. These brands are particularly prominent in the retail; hotel, and automobile sectors.
For which demographic is the luxury automobile market targeted?
The appetite for luxurious purchases among the current generation has caused a sharp increase in their earning potential. This audience is well-informed about the widespread trend, and the segment aged between 18 to 34 is; by far; the most significant audience for high-end brands.
What sets premium brands apart from others?
The qualities of durability; advanced materials; and enhanced functionality are undoubtedly authentic. However; incorporating these features into a luxury item entails a higher cost which is reflected in the price. The product's aesthetic is tailored to highlight these unique characteristics.
Aditi Kandhari
Aditi is an Industry Analyst at Enterprise Apps Today and specializes in statistical analysis, survey research and content writing services. She currently writes articles related to the "most expensive" category.
More Posts By Aditi Kandhari