The Enterprise Resource Planning (ERP) Software Market
William Elcock
Updated · Feb 17, 2023
WHAT WE HAVE ON THIS PAGE
These days, companies need to make use of several different software products to remain competitive. They help businesses manage supply chain logistics, human resources and customer relationships. This can be done with a disjointed system made up of separate components but that only makes things complicated. Enterprise resource planning (ERP) software ties the functionality of several different software products, such as those used for HR, sales, manufacturing and marketing, into one coherent software system that can be accessed by all relevant parties across an organization. These components also share a common database that ensures all departments are on the same page.
By 2032, the Enterprise Data Management Market is anticipated to reach USD 531 Billion in revenue – According to Market.us
Enterprise resource planning software
ERP software bundles different software modules that are critical to business activities, such as operations and finance, using a universal interface. Typical modules included in ERP software are supply chain management, customer relationship management (CRM), accounting tools and HR tools. ERP software gathers all of the software tools needed to run a business into one package. In addition, ERP systems store business-related data in a central database, allowing it to be shared across an organization.
In the past, ERPs were usually only used by larger businesses. However, these days, ERPs can even be useful for small-to-medium enterprises (SMEs). Before ERP software came into being, another solution was created known as material requirements planning (MRP) software. This software was used in the manufacturing sector to plan the amount of material needed to maintain production levels and schedule deliveries. ERP systems evolved from this but expanded to include aspects of business outside of manufacturing.
ERP features
A good ERP system should be automated to reduce errors. It should allow for customizations, so companies can add modifications as their business grows or changes, and it should provide analytics for organizations to know how they're performing. Here are some of the core features that you will find in most ERP software:
Financial management

Customer relationship management

Sales and marketing

Human resources

Supply chain management

Manufacturing

Business intelligence (BI)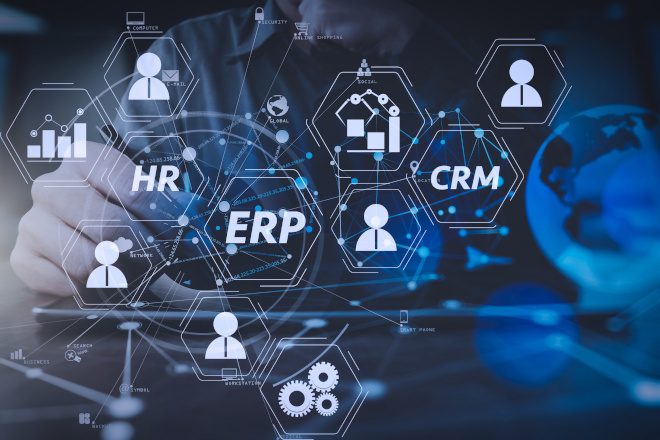 An abstract image of enterprise resource planning (ERP) software with HR and CRM modules over a tablet. Courtesy Adobe.
Financial management
ERP financial management modules store financial information from all relevant modules in one location to give companies a complete picture of their financial situation. This makes it easy to generate reports, such as profit-and-loss reports, and to build accurate forecasts.
Customer relationship management
CRM tools allow salespeople to address customer needs in an efficient manner. The CRM module that comes with an ERP system allows users to keep track of all the customer and sales data recorded by a company. This data helps sales and marketing to strategically plan their outreach to customers.
Sales and marketing 
Sales and marketing help businesses organize activities such as sales inquiries, quotations and invoicing. These modules also feature tools for calculating taxes and shipping costs. The metrics derived from this sales and marketing data can also be used by businesses to make critical changes when necessary.
Human resources
The human resources components can help streamline processes such as onboarding and timekeeping. They can also play a role in payroll and sync up with the financial module to show how HR practices are affecting the overall health of a company.
Supply chain management
Supply chain management tools let businesses manage logistics, manufacturing statuses, supply and demand data and distribution information in real-time. This ensures that adjustments to issues with any one of the supply chain links can be quickly made.
Manufacturing
ERP software evolved from material requirements planning software and this shows. Many ERP systems come with manufacturing modules that help companies keep track of product forecasting, materials sourcing and production. This module is usually closely integrated with the supply chain management module. It can also help companies to keep track of inventory.
Business intelligence
BI tools allow businesses to monitor important metrics that help them see how well they're doing in critical areas, such as revenue. These tools allow for the generation of reports and graphs that show information to help a company make changes to their processes as necessary.
ERP benefits
Let's look at some specific benefits that come with using ERP software.
Scale up
Managing all relevant business activities can be difficult for any businesses, and the issue is only worse as a company grows. However, ERP systems automate processes to improve productivity. Departments also all have access to the same information, ensuring that everyone is on the same page and redundancies are kept to a minimum.
Advanced reporting
ERP systems help businesses stay on top of their key metrics by providing access to real-time data. This lets them quickly react to changes in their business environment and marketplace.
Easy access to information
Since information is stored in a central database, departments can easily access the information they need. For example, financial team members need to have access to all the financial information that will help them chart the course for a business. They have this with an ERP system.
Collaboration
Collaboration between departments is critical, especially when working on big projects and with the increase in remote work. Since an ERP provides a central database, permission can be granted to all necessary members to view the data they need to work on projects together.
Modularity
ERPs are made up of several apps or modules that a company can pick from depending on their needs. This allows them to focus only on what they need, avoiding being distracted by unnecessary components. Even though the ERP system is made up of separate modules, each module is connected to a central database that can be accessed by all relevant departments.
Data security
ERP solutions allow for tight control over who has access to data. In addition, due to the central nature of ERP systems, the likelihood of breaches due to having multiple independent systems running is reduced.
ERP systems can either be cloud-based or on-premises. Both options keep your data safe and ensure it is backed up. With cloud-based options, your data is monitored by an extra pair of eyes as well by the company in charge of running the cloud server.
Process standardization
ERPs facilitate industry best practices easily. This lends itself to processes being standardized and the reduction of errors.
Regulatory compliance easier to manage
Depending on the industry that your business operates in, different regulations need to be followed, and these are regularly updated. This can be hard to keep track of manually. ERP systems can take the regulations that are relevant to your industry into consideration, ensuring your system is set up in a way that complies with them.
ERP use cases
When deciding whether or not an ERP system is for you, it's helpful to consider a few ERP use cases:
Walmart
The retailer Walmart brings in sales that come in at around $500 billion annually. It's a business that operates globally and has also increased its focus on e-commerce.
To fully take advantage of the digital era, Walmart started a project with Microsoft Azure, which is Microsoft's cloud platform. Two major goals of this collaboration are:
To implement the capability to integrate their existing ERP applications to the Microsoft Azure framework
To integrate with the SAP Hana database and other legacy systems used for inventory management
Western Digital
Western Digital offers data storage solutions such as hard drives and flash memory. After it merged with SanDisk and HGST in 2019, the company decided to go with Oracle ERP cloud across the board. This was the best choice for Western Digital, because it as able to integrate the following across the three businesses:
Workforce planning

Payroll processing

Business analytics and forecasting systems
ERP market
The ERP market had a $35.81 billion valuation in 2018, and it is projected to grow even larger. It's projected to reach $78.40 billion by 2026.
Companies are increasingly adopting ERP to increase their operational efficiency. They are recognizing the need for data-driven decision making, which is easily facilitated by ERP software. These factors are helping to drive the market's growth. However, mitigating factors include maintenance costs, which can be a detractor for some businesses and access to open source applications.
While North America dominates the overall market share, the Asia-Pacific market is expected to continue to grow. In particular, SMEs in this region are turning to ERPs to efficiently manage their businesses.
When it comes to industries, finance dominates the market share, but HR is growing rapidly and comes in second. Other prevalent segments include supply chain management, customer management, inventory management and manufacturing.
In addition, the market is seeing a shift toward cloud implementations and the use of mobile applications. Cloud technology facilitates fast scaling and reliability, while mobile applications allow companies to operate more flexibly, including field employees.
Looking ahead
ERPs help companies tie all of their important business processes together. One system manages important activities such as accounting, HR, inventory management and customer relationships.
The market is growing as enterprises benefit from increased inter-departmental communication and efficiency as well as overall organizational productivity.
A point to note is the growth in the market due to increased use by SMEs. However, the cost of implementing an ERP can be a deterrent for many SMEs. ERP makers are realizing this and increasingly making their systems and pricing plans more modular. This allows businesses to easily choose the modules they need.
If the time is spent by software providers to understand how SMEs can fully benefit from ERPs, the market could even exceed market projections.
Related articles
• Buying considerations when choosing an ERP vendor
• MRP vs. ERP: Which is best for your business?
More Posts By William Elcock