Little Improvements to Make Your Business More Likely to Succeed
Barry Elad
Updated · Jun 07, 2023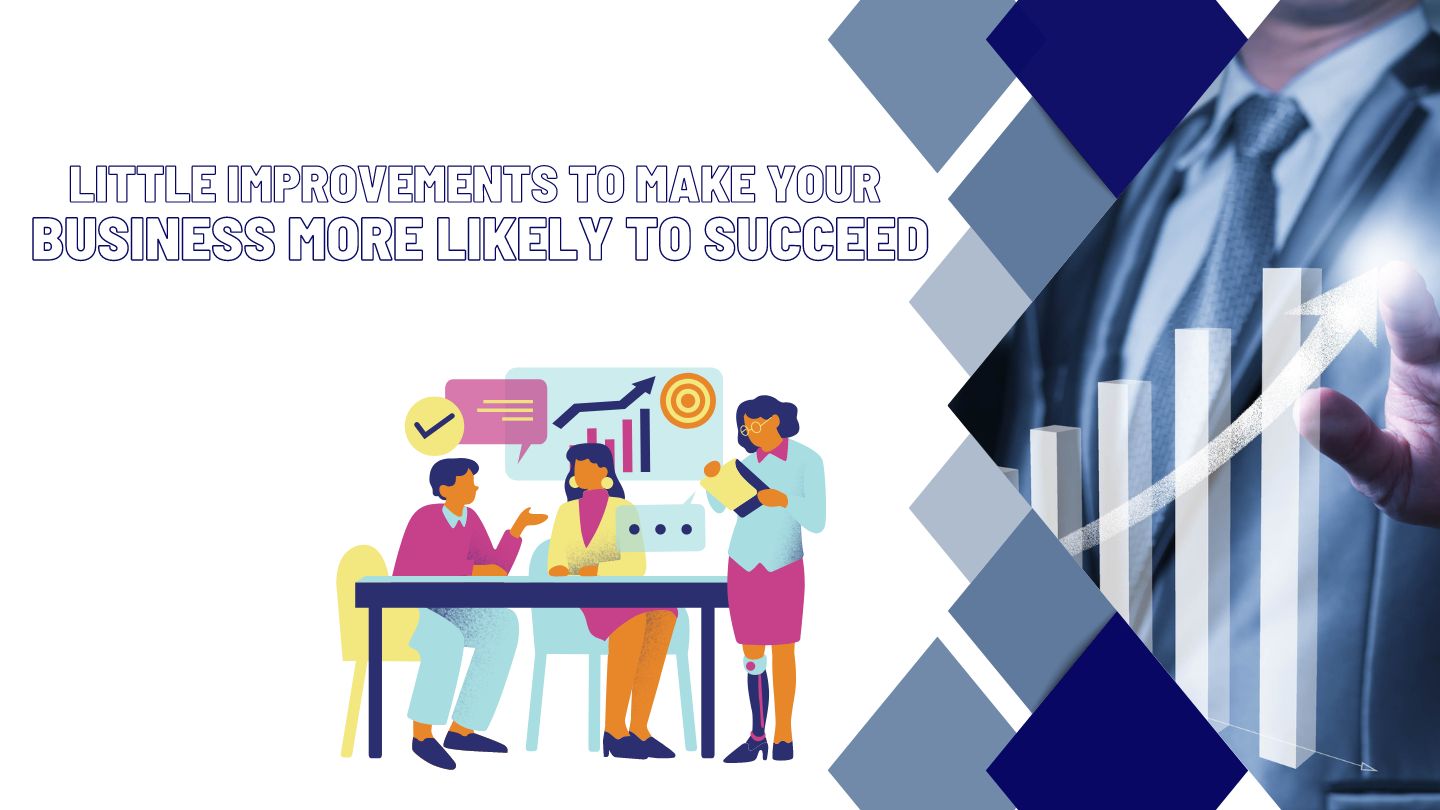 Sometimes business empires arise from ground-breaking ideas. More often than not, though, companies will grow by becoming better versions of themselves. It's amazing how a nudge in the right direction can lead to so much good.
See which small changes we find are the most effective and change your company's course one degree at a time.
Stay In the Know
It's easy to get caught up in the daily tasks of running a business, especially if you're doing well. However, other growth opportunities may pass by if you don't keep paying attention to the market. Set aside some time each week to catch up with industry trends and see what the competition is up to. You may discover and capitalize on an emerging trend just by having the right info at the right time.
Make People Want to Stick Around
Potential customers may know about your company, but does visiting your website want to make them try you out? It's easy to put together a website these days without paying attention to the user interface and general experience.
Is your company's identity and message clear? Are the site's most important functions clearly laid out and easy to get to? Is the checkout process a hassle? Put yourself in a prospect's shoes and reevaluate your website design. Something as simple as a bolder font on a CTA button or fewer annoying popups can visibly impact customer acquisition.
Listen to Your Customers More
While you should put effort into attracting new business, rewarding loyal customers is an effective way to promote growth. Take a two-pronged approach. On the one hand, you can create loyalty programs, gift cards, contests, etc., that celebrate the customers that keep your business running at a little logistical and financial cost.
On the other, it's crucial to reach out! Customers may like your products already yet likely have ideas on improving them. Engage with your customer base either through surveys or Q&A sessions. Most importantly, consider their concerns and ideas. Addressing concerns can prevent them from ballooning into more serious issues. Conversely, implementing changes the crowd is clambering for will boost your reputation as a caring company.
Don't Neglect Your Employees Either
Productive employees lead to tidy profits. The best way to keep productivity up is to make yours happy. Find out what pain points they face on a daily or monthly basis & try to smooth things out.
Do their workflows contain unnecessary redundancies or extra steps? Could you boost morale by adopting a more casual dress code or organizing events? Could you offer more advancement opportunities and higher pay based on merit?
Consider the positive impact improving working conditions now will have in the long run. Satisfied employees will be happy to grow as the company does. Additionally, competent new ones will be eager to join the ranks.
Ramp up Your Cybersecurity
Another metric of success is being able to handle a crisis and come out unharmed. Companies large and small suffer crippling losses due to data breaches, and criminals are only getting craftier. Protecting yours from internal and external security threats will help you avoid becoming part of this statistic.
Raising employees' cybersecurity literacy is a top priority. A single training session can already help them recognize threats like phishing or social engineering attempts.
Other than that, keeping security software and operating systems up to date is a must. You should examine what sensitive data your company produces & stores. Then, you can create rules and roles to make employees accountable and data access more trackable.
Passwords can become a major security risk. Some people will set short ones or passwords anyone could guess. Others will reuse them for multiple accounts or share them with coworkers. A password manager will get rid of duplicates and replace 1234 with passwords no one can breach. They can do this for as many employees & accounts per employee as needed.
Elevate Your Tech Game
We're living in a digital productivity revolution. Countless apps are promising higher sales figures, better communication, and less downtime, so why not capitalize on them?
For example, your company may benefit from CRM software that tracks and helps nurture customer relationships. Communication apps let you keep in touch with coworkers or organize face-to-face meetings with clients wherever they are. You can even invest in apps that identify how much time everyone is wasting on pointless or low-priority tasks instead of focusing on moving the company forward.
Many such services offer free versions or tailor their offers based on company size.
Conclusion
Your company may seem like a well-oiled machine on the surface. There's always room for tweaking, however. We hope you'll use our suggestions to help you improve your company's winning formula.
Barry Elad
Barry is a lover of everything technology. Figuring out how the software works and creating content to shed more light on the value it offers users is his favorite pastime. When not evaluating apps or programs, he's busy trying out new healthy recipes, doing yoga, meditating, or taking nature walks with his little one.
More Posts By Barry Elad