Human Resources Statistics 2023 – Know About Recruiting and Retention Facts
Barry Elad
Updated · Sep 18, 2023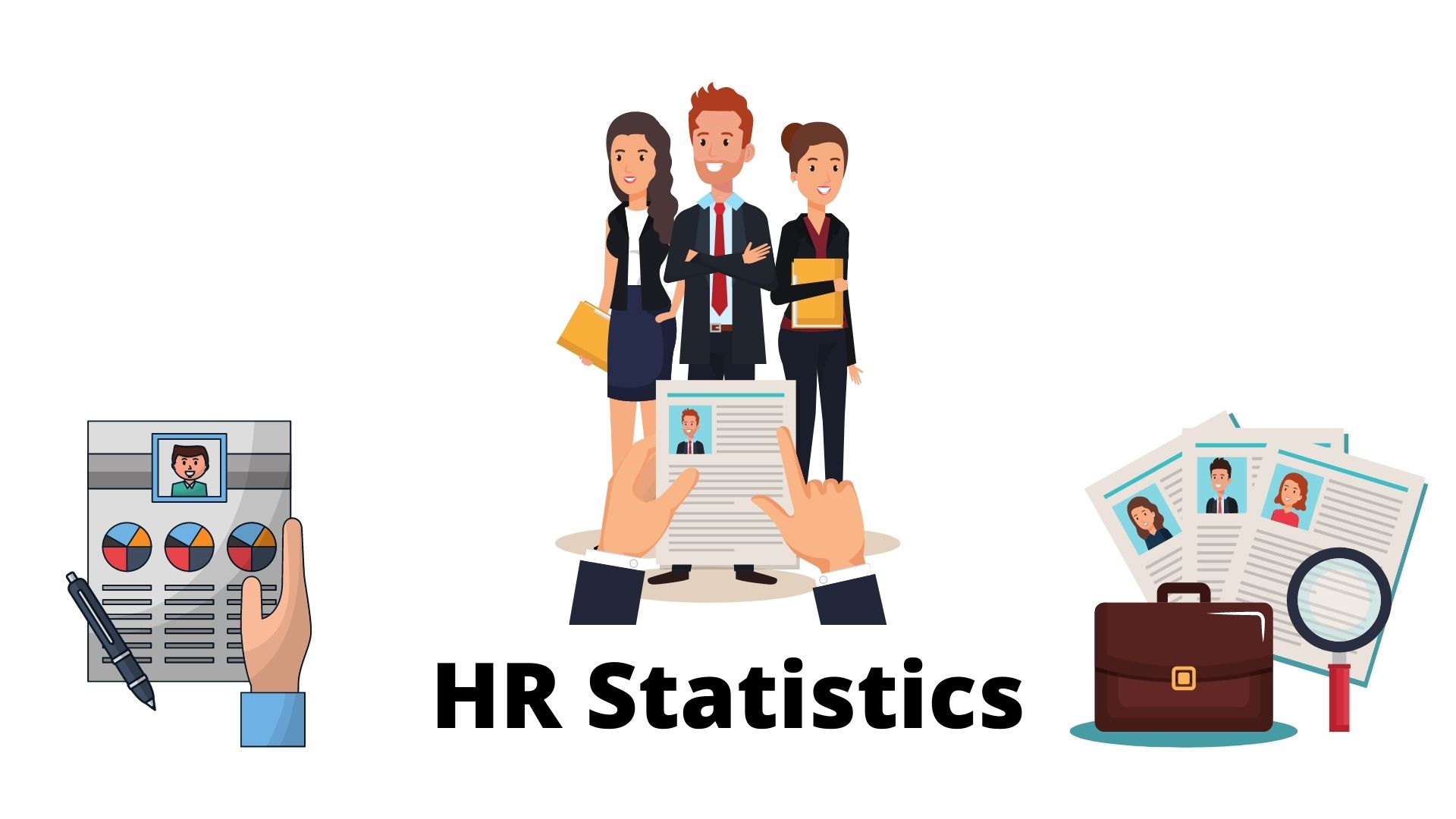 Human Resources Statistics: Human resources is a vital component of the organization. This article will throw some light on the importance and growth of any organization due to the reliability of this vital resource.
Key Human Resources Statistics
As of 2023, developing team management effectiveness is part of the Human Resource Strategy which was accepted by 60% of HR leaders for enhancing future performance.
In 2023, because of organizational changes burned out employees turned up by 45%.
Employee experience is termed as one of the top priorities, believed by 47% of employees.
Here's a quick overview of some of the most fascinating HR facts that we found.
By 2023, more than 90% of companies rely on HR technologies to ensure operations.
30% of all new hires leave the company within three months of being hired.
Without visiting physically the office approximately 77% of workers have accepted their jobs.
13% of younger employees leave because of a lack of career opportunities.
More than a third of HR professionals say they don't have the right onboarding technology and 88% of employees accepted that they didn't receive a good onboarding program.
75% of employees will leave a company if they address their concerns.
More than 50% of businesses actively invest in HR Management.
The global market for HR software hosting is valued at over $20.4 billion.
General Human Resources Statistics
We'll start off with some fun Human resources facts that look at the industry's scope. We've covered some of the current trends and more.
1.36% lack the necessary technology for their jobs.
(Source: Northeastern University)
Around a third blame technology for their employee onboarding issues. They say there isn't enough tech to support them in developing more effective onboarding programs.
Only 49% was spent on improving HR management.
(Source: Kenjo Blog)
The study of over 1000 human resources professionals revealed that only about half of them invest in improving HR Management.
One of the most striking facts about HR is the lack of investment in it in recent years. The times are changing.
We hope more companies will make an effort to address this issue.
 The market for HR Software is worth more than $13.8 billion.
(Source: Finances Online)
This is the market forecast for Hosted HRIS software. Forecasts also predict a compound annual growth rate in the market of 10.4%.
The market for human resource software is expected to reach $30 billion in 2025.
(Source: Finances Online)
The next few years are expected to be huge in the world of HR. All existing data about human resources indicates that there is huge potential for rapid growth in hosted HR software.
It could increase to as high as $ 30 billion by 2025. This suggests that technology is definitely one of the top HR trends.
Only 18% of employees think they get the same purpose out of their work as others.
(Source: Mckinsey)
This is critical as high-performing employees will be more productive than companies without them. This is the key aspect.
It emphasizes how important it provide excellent onboarding and management.
Recruiting Statistics
(Source: ismartrecruit.com)
Recruitment is a crucial element of Human Resources. We have therefore dedicated a section solely to information about human resources and recruitment processes.
In 2023, almost 86% Of HR professionals believe that recruitment is more similar to marketing and also termed as one of the top most priority for involving talented workers.
An overwhelming number of HR professionals were interviewed and asked their opinions on different trends in recruitment. This revealed that almost 90% of HR professionals think recruitment is more about marketing the business than anything else.
In the case of recruiting top talents almost 50% of organizations are not having an effective technological resource, which was believed by 36% of HR leaders.
It was observed in 2023, that 50% of employees don't want to work for companies with bad a reputation which is segmented into 86% women and 67% men.
This further shows how important it is for companies to invest in marketing and branding to attract talent.
20% of HR executives see well-being as a priority for workplace transformation. (Source: Deloitte)
This was in comparison to 15% of non-HR executives who took part in the same survey. It's one of those interesting statistics in HR that shows a key industry trend.
As a way of motivating job seekers to join their company, recruiters are now focusing more on showing them the benefits of working for it.
According to Glassdoor Reports 2023, approximately 86% of job seekers research ratings and reviews before applying for a job.
Current HR trends point out that it is essential to have positive reviews from former and current employees as a part of any recruiting strategy. Without this, 86% of talent could be lost by businesses!
70% of employees rely on businesses to give them a sense of purpose. (Source: McKinsey)
Nearly three-quarters of employees will return to work because they feel fulfilled. To convince job seekers, HR managers and executives need to adjust their management and recruitment policies.
90% believe that workplace atmosphere is crucial in deciding whether to join a job. (Source: Career Plug)
This factor was the most important for most job-seekers, with the experience of interviewing second. This shows how important it is to create a pleasant experience for candidates who visit the company before deciding whether they want to join.
Human resource professionals are often faced with competition from their competitors when it comes to hiring the right employees. (Source: SHRM)
Research shows that businesses have difficulty recruiting the right talent. 49% say that competition from other employers is their biggest problem.
Potential applicants may stop filling out forms that are too complicated. (Source: SHRM)
This aspect speaks volumes about the struggles HR professionals have when recruiting. 92% will stop filling out applications if they are too lengthy and contain too many complicated questions.
Employers might miss out on the best talents if they have too many complicated questions. (Source: HR Drive)
Only 36% feel job descriptions are clearly written.
These HR facts are great, but this one is more interesting because it has a second part that shows the disconnect between candidates and HR professionals.
While only 36% of potential candidates felt job descriptions were well-written, 72% believed they wrote clear descriptions.
There's a large difference between what applicants and recruiters believe to be "clear."
Hiring and Retention Statistics
(Source: zippia.com)
88% think they aren't being given an onboarding program. (Source: Gallup)
This shocking figure is indicative of a problem many companies have with new employees.
Top-quality hires are generated from employee referrals which is accepted by 48% of business.
Companies with effective hiring process allow for building employer brand and company culture which allow in new-hire job fitness by 55%, increases diverse candidates (32%), Increase employee referrals (41%), and hire the right people (55%).
The majority of new workers don't think that the onboarding process works well enough.
This could make it difficult for them to get along with the team and increase retention rates.
71% say they feel more prepared to work after receiving onboarding training. (Source: Sapling HR)
Talent LMS's survey revealed interesting details about how many companies employ the process of hiring.
It revealed that 71% of employees feel competent to do their jobs after a lengthy onboarding process that helps them master the basics.
30% of all new hires leave within three years. (Source: Jobvite)
While there are many unbelievable statistics in the field of human resources, this is one of my favorites. Surprisingly almost one-third (or more) of new hires will leave within the first 90 days.
43% leave because their job was not as they expected. (Source: Jobvite)
This is in perfect agreement with one of the previously mentioned stats about job descriptions not being clear.
Out of 30% of those who left within three months of their signing on, 43% said that they were unhappy with the way their day was described.
13% leave jobs as a result of not seeing growth in their careers. (Source: People Managing People)
For younger generations, career growth is key in retaining and hiring. Younger workers are more likely than older workers to quit if they can't anticipate growth
75% are happy to work for a company that listens to employees. (Source: Ultimate Software)
It is believed that employees will feel more valued at their jobs, which leads to a happier employee experience. Employee satisfaction is higher, and so the retention rate of companies also increases.
58% of companies use HR software in order to hire and retain employees.
There are two lessons to be learned.
First, there is a clear shift in human resource statistics to support the use of software to onboard and hire employees.
The software could also be the key to improving employee retention.
What Employers Should Be Aware Of?
Employers are always looking for the right people to hire. How can they keep their employees motivated? How do you retain the best employees?
You're in business and required to learn how to deal with the challenges of the unforeseen widespread epidemic.
43% say competition from other companies is the main reason that they have trouble recruiting the appropriate staff.
Only 36% claim hiring managers have clear descriptions of their jobs. 72%, however, say they.
Pandemic lockdowns force many businesses online. Statistics are required to assess the impact of digitalizing human resource management and its effects on recruitment, staff productivity, mental well-being, and other areas. H.R. will benefit from new analytics. a policy with greater accuracy.
To develop adaptive H.R. systems, it is necessary to gather statistics about employee mental health as well as the effects on productivity of workplace hybridizations and practical worker involvement. You can improve your strategies.
The effectiveness of new HR analytics tools or adaptive strategies, such as Gamefulness, must also be measured.
Digitalization in Recruitment
In 2023, Artificial Intelligence helped in enhancing productivity and performance in the Department of Human Resources and was accepted by 80% of executives.
Another digital recruitment way is Chatbots which allow job seekers to become leads by 95%, for completing an application (40%) and applying on a job requisition (13%).
Social media is mostly used by young job seekers 86% in the first few years of their careers.
Employer testing provides implements and job applicants' behavior data that allow recruiters to evaluate candidates for specific jobs. It also helps them avoid costly placement mistakes.
A better chance of placement is if you are able to learn more about the candidate before they start remote work.
Jobvite Inc. in Indianapolis, Indiana has collected information from a study and analysis of the recent Human resource recruitment concerns.
Below are the top 5 most important hiring trends in 2023.
(Source: Gartner & Linkedin)
In 2023, leaders are now implementing 'Quiet hiring' for approaching new capabilities and skills.
The hiring process includes new-age technologies for enhancing the hiring process more efficiently.
Tapping the non-traditional candidate market in 2023 has become more comfortable in assessing candidates along with identifying their performance abilities.
A company's culture and demographics of workplace is an effective factor which is suggested by 75% of job seekers. Thus 'Peoplefirst' employer branding is an essential and active approach for hiring potential candidates.
Whereas, personal onboarding provides employee development plans in the hiring process and share more reason to stay for a longer time within organizations.
It is necessary to trace the five top priorities mentioned above, within the context of digitalization of work & recruitment, and the opportunities and challenges presented below.
Job Satisfaction Statistics
In the United States, 20% of people are passionate about their job in 2023.
The biggest reason for job satisfaction is the company's culture which was accepted by 74% of the U.S. employees.
For creating positive work relationships and effective job satisfaction, 64% of employees believed in celebrating employee milestones and life events.
HR Technology and Software Trends
(Source: zippia.com)
As of 2023, Human Resource software is mostly used by 80% of top businesses in retaining, finding effective talents, and tracking employee performances.
In the United States, the market size of HR software is expected to be $14.8 billion with a growth of 4.1% CAGR by the end of 2023.
Adequate technology is not used by 36% of HR professionals as of now.
Seeking new HR technology 57% of organizations helped in generating analytics with their old system.
The top challenge of HR technology is concerns over the security of critical HR data stored on the cloud, which is accepted by 21% of HR leaders.
Applicant tracking software is used by 75% of recruiters and social media was used by 79% of recruiters.
98% of Fortune 500 companies used applicant tracking systems in 2023 and 50% of businesses used HR technology for finding, attracting, and keeping talented employees.
44% of talent managers have increased productivity and efficiency by using cloud solutions.
In January 2023, the global demand for HR software resulted in more than $10 billion.
Global Online Employment
Below are statistics that outline the opportunities available to U.S. companies in the global labor market. These can be accessed via online recruitment and work platforms.
As of 2023, in the first 3 months of employment around 30% of new hires resign.
In the same year, the number of unemployed people turned to 5.7 million with a growth of 3.4%.
Reasons Employees Leave Their Jobs
The topmost reason why employees leave their jobs is 22% lack of career development.
Furthermore, other reasons are followed by lack of support in work-life balance (12%), manager's behavior (11%), unsatisfactory compensation or benefits (9%), and poor well-being (9%).
HR Statistics by Job Search
As of 2023, across the world, 30% are active job seekers and 70% of global passive talents aren't actively searching for jobs.
In the case of finding new job opportunities, there are 87% of active and passive candidates.
For searching for new jobs top channel statistics used by people are followed by 60% online job boards, 56% professional networks, and 50% word of mouth.
HR Statistics by Diversity
In 2023, the initiative of hiring employees diversely was done by 78% of companies.
For enhancing better financial returns nearly 15-35% of companies are most likely to acquire a diverse workforce.
Important factors of the workplace are diversity, inclusion, and equity are accepted by 86% of employees across the world.
Hiring Difficulties
Here are some facts and figures that highlight the main hiring challenges for U.S. recruiters:
Thirty-six working days – The average time it takes for a company, to hire talent. (Source: SHRM, 2017)
Candidates stopped applying for the job due to problems or bugs at the web portal (ICIMS 2017,) and 75% of job seekers who are experienced think differently.
77% of hirers hire job seekers who, at first glance, didn't look like they were suitable.
If a company gives feedback (LinkedIn), the chance to get noticed is more than before.
52% of job-seekers stated that lack of reply from employers is the biggest frustration.
55% of Companies, who continue to recruit, say that it reduces the time they spend hiring. (Source: Accurate)
Recruiting Challenges
(Source: thrivemyway.com)
Recruitment Channels
LinkedIn says that employee referrals are the best source of quality hires.
Businesses can increase their talent pool by ten times. by hiring through the sites and accessing employee details
According to Infinity Social Media, however, only 29% of recruiters used social sites to get referrals
This suggests that H.R. could be used more efficiently. Analytics could help to make employee networks on social media like LinkedIn more effective.
Demographics and Diversity
77% of talent managers reported diversity as a critical factor in the future. (Source: LinkedIn, 2020)
38% of finding diverse candidates to hire is the biggest barrier to promoting diversity. (Source: HireVue. 2019)
Researchers believe that more remote work options will result in a 20% increase in geographical diversity. (Source: LinkedIn, 2020)
In the United States, the unemployment rate is followed by Black American (11.5%), and Hispanic (10.6%) in 2023.
Millennials today make up the largest age group in the U.S. labor force ( Pew Research, 2018 ) and will make up 75% of the workforce by 2025. (Source: MRI, 2017)
40% of hiring decisions have subconscious bias.
41% of Companies have experienced an increase of minorities and women in new hires. (Source: HireVue 2019)
70% are seeing an increased likelihood of hiring African-American candidates. (Source: HireVue.com)
Conclusion
Today's top human resources problem is finding, hiring, and maintaining talent. 50% of job givers don't take the help of any app to track the applications (Accurate), and 79% of job-takers have an opinion say they may opt for social media and online to search for work (Career Builder 2018).
People analytics, also known as HR analytics, is the analysis of talent data in order to improve business and talent outcomes. Leaders in HR analytics enable HR leaders to create data-driven insights that inform talent decisions, improve workforce processes, and promote positive employee experiences.
What are the types of HR analytics?
There are three types of HR analytics: descriptive, predictive, or prescriptive.
What is the ratio of HR to employees?
According to Bloomberg BNA's HR Department Benchmarks and Analysis report, the rule-of-thumb ratio is 1.4 full-time HR staff per 100 employees.
Is HR a promising career?
Human Resources (HR), as a profession, has always ranked high in the top 10 best career choices. U.S. News & World Report places the HR specialist as #17 on its list of Best Business Jobs for 2020 and among the 100 Best Jobs in the World.
Barry Elad
Barry is a lover of everything technology. Figuring out how the software works and creating content to shed more light on the value it offers users is his favorite pastime. When not evaluating apps or programs, he's busy trying out new healthy recipes, doing yoga, meditating, or taking nature walks with his little one.
More Posts By Barry Elad