Online Interview Statistics – By Education, Gender, Age
Barry Elad
Updated · Aug 04, 2023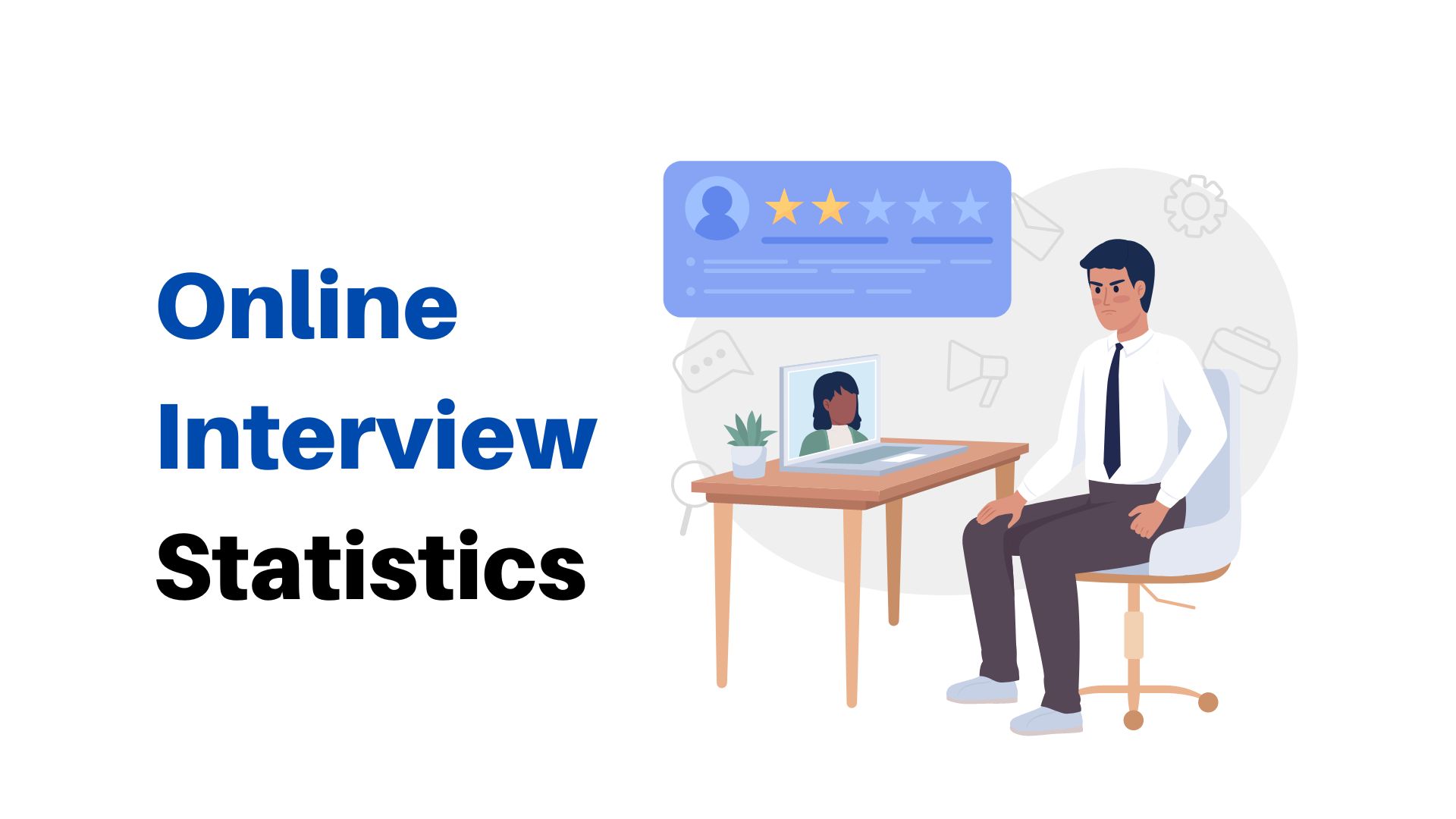 Introduction:
Online Interview Statistics: Online interviews are also termed virtual interviews, which allow for remote job interviews by using internet-based platforms such as video conferencing through mobile devices or computers. Online interviews these days are the new normal employing style since the Coronavirus pandemic due to social distancing and lockdown. This is beneficial for enabling a faster hiring process, making the organization's interview scheduling process easier, and also eliminating geographical restrictions. Thus, organizations are now easily connected with long-distance professionals. According to reports in 2022, there were 10.1 million job openings in the U.S., and 90% of American recruiters will hire through online interviews (video). These online interview statistics include several informative points that will provide a better concept of the topic.
Editor's Choice
The unemployment rate in the United States has decreased by 3.6% since June 2022.
In 2022, because of post-COVID-19 pandemic restrictions, most employers of U.S. organizations will have started the online interviewing process.
In U.S. the video interviews had made the hiring process way easier accepted by 74% of recruiters in 2022.
The video-calling interview process is expected to increase by 57% by 2023.
As of 2023, American organizations had recruited 90% of remote employers based on video interviews, even without following a face-to-face interaction round.
This process has almost increased by 10% since last year.
In the online hiring process, 63% of U.S. organizations will have incorporated video calling by 2023.
As of 2022, job satisfaction after being hired through an online interview process was 60%.
Positive Impacts Of Online Hiring
When companies post added to social media, it becomes easier to make good connections with eligible candidates through online interviews, which turns into a cost-effective process.
This is an immediate process by which recruiters can get professionals as per their organization's requirements.
The online interview process is much more flexible than the on-site interview because of the advanced technological facilities.
It can be accessible by anyone across the world by the use of the internet for those who are interested in the particular job role provided by the company.
Firstly, this process is conducted remotely based on technology in three different patterns, chat, audio, or visual. By the end of 2022, the video interviewing process has expanded drastically.
The online interview that takes place on a video call over different platforms is way similar to a face-to-face interview process, which makes the overall process easier for remote candidates.
Facts About The Online Interview
The average period of the online interview is 20-25 minutes maximum.
In the hiring process of U.S. organizations, almost 90% of recruiter has preferred the online (video) interviewing process in 2022.
In online interviews, it has been observed that 85% of candidates had given the wrong information on their resumes.
The online hiring process has become more popular in 2022 almost in 92% of American business organizations.
In this process, the selection process is mostly based on 55% of communication that includes reactions and facial gestures.
According to a survey in 2022, it has been observed that the hiring candidate process has become faster due to virtual interviews as 84% of applicants had scheduled their job interviews within 24 hours immediately after getting the text from organizations.
Skype, Zoom, Amazon Chime, and Google Duo were the most used platforms for the virtual recruiting process.
During the virtual interview process, 30% of the interviewers make their decision within the first 5 minutes of conversation.
In U.S. the video interviews had made the hiring process way easier accepted by 74% of recruiters in 2022.
The unemployment rate in the United States has reduced by 3.6% in June 2022.
Challenges In The Online Interview Process
According to studies it has been observed that out of 10 interview candidates, 7 people miss out on their job opportunities because of several technological issues in 2022.
25% of American people preferred on-site interviews over online ones because they feel difficult in connecting with recruiters only by worrying about home conditions or internet issues.
In 2022, 15% of American candidates faced interruption during the online interview process because of their housemates.
During the online hiring process, 78% of candidates remained unclear about their salary package.
Steps Towards Online Interview
The foremost step is sourcing and attracting effective and eligible candidates for the required post by using social media. Social media platforms like LinkedIn, Facebook, and Instagram play an effective role because on these platforms recruiters post their job role and track online candidates' resumes.
A software known as an applicant tracking system helps in identifying qualified resumes so that the hiring team of the organization can continue to the next step called online interviewing.
In this case, an advanced internet facility plays an effective role that allows using Skype, Zoom, Google Meet, etc for understanding candidates' eligibility for the required position.
General Online Interview Statistics
In 2022, almost 92% of organizations took the help of social media platforms for hiring online candidates.
While going through the process of video interviews, 67% of recruiters agreed that eye contact is an important part of the hiring process.
Recruiters have also claimed that 39% of eligible candidates left a bad impression because of the worst voice quality, lack of confidence, and smile.
In 2022, 63% of interviewing team observed lack of talented candidates has increased by 3 times from past years.
The video interview has become more popular in 2022 phone interviews.
During the interview, candidates who had less knowledge about the particular company got rejected which is accepted by 47% of recruiters.
According to LinkedIn, 81% of hiring teams are now currently choosing a virtual recruitment process by using an online platform.
As of 2022, in the United States, 4.7 million people were remote workers and this was possible only because of online interviews.
The market size of video interviewing is expected to cross more than $3.3 billion by 2025.
As of 2023, 40% of the organizations are expecting to increase the use for improving the hiring process.
After the online interview, 94% of candidates preferred to get feedback from their recruiters.
Within the first 90 seconds of the interview process, 33% of managers decide whether the candidates are eligible or not.
(source: standout-cv.com)
The above image portrays the statistics of video interviews in the United States.
47% of increments have been observed in 2022 from last year.
The above pie chart represents the United States 2022, online recruitment technology market share by type of job.
(Source: journals.plos.org)
The above graph is an honest statistic of interviewees that what percentage of people had supported different modes of online interview pattern in 2022.
(Source: verifiedmarketresearch.com)
The above image describes the market attractiveness of the video interviewing process.
North America plays an effective role across the globe with 14.3% of CAGR by 2030.
The market size of the video interviewing software market has grown by $105.80 million in 2022 and is expected to be $216.46 million in 2028.
(Source: vervoe.com)
The above diagram describes the time spent on task evaluation in choosing effective candidates.
The red line depicts the traditional way of interviewing that takes more time on candidate evaluation.
Whereas, the yellow line shows the online or virtual interviewing process as a new way that can hire employees easily.
The above graph represents the North American online recruitment technology market size.
The market size was valued at $4.05 billion in 2022 and expecting to reach a CAGR of 15.2% by the end of 2030.
(Source: journals.plos.org)
The above graph represents the types of online interviewing frequency.
The online interview process is divided into 5 different modes email, chat, non-anon chat, audio, and video.
Video interviews got more preference than other modes in 2022.
(Source: thebusinessblocks.com)
The above image describes the job video interview statistics of the United States in 2022.
This process has undoubtedly increased the performance of hiring candidates.
Important software used for video interviewing in the U.S. is MyInterview, HireVue, VidCruiter, Harver, RecRight, etc.
As of 2022, almost 49% of online interview has increased over the last decade, and around 60% of hiring managers benefited through video interviews.
Online Interviews Frequency Statistics
After having a telephonic interview, recruiters mostly take 1 week to make their decision.
The initial telephonic interview takes around 15 minutes.
In 2022, 74% of U.S. recruiters agreed that the online interview process made their life easier.
50% of the time has been saved by using the video intervening process for hiring employees in 2023.
The hiring cost was reduced by 20%
Around 40 minutes on average time was saved per interview.
The candidate's satisfaction level increased by 30%.
40% of organizations have selected professional candidates from different diversities.
Statistics by Education
Bachelor's degree = 35%
Associates degree = 30%
Statistics by Gender
33% of the U.S. men performed well in the interview process than women.
In 2022, women without children were preferred more whereas the changes of interview reduced for women with children by 23.5%.
If women compared t men with children have been preferred less by 35.9% in the United States.
Online Interview Statistics by Age
In America, younger job applicant was 3 times more preferred than 55 years aged people in 2022.
According to research, during online interviews around 95% of people pretended to be younger just to increase their hiring chances.
During the interview, almost 75% of U.S. older people felt discriminated against in 2022.
Failed Out Candidate Statistics
Candidates got mainly rejected because they couldn't attend the interview on time which is accepted by 10% of recruiters.
Because of less enthusiasm during the interview rounds out of 10 candidates, 4 got rejected.
In 2022, 85% of recruiters considered bad behavior and rudeness to be another reason for rejection.
Some applicants got rejected because of qualifications.
Conclusion
After completing the article on Online Interview statistics it can be concluded video interview process has grown extensively and in this case, the chances of getting hired by the particular organization are much higher than other modes. As of 2023, American organizations have recruited 90% of remote employers based on video interviews even without following face-to-face interaction round. As discussed above the virtual interview has become the modern trend of this generation as it includes a bundle of advantages both for applicants and recruiters. The article consists of several important statistics that will help in understanding why video interview is better than other modes.
What is one-way video interview?
In this interview process, the recruiter sends an invitation link to all selected candidates in which they receive some pre-recorded questions that needed to be answered within a given time limit. Thus the one-way video interview allows in recording the flexibility and efficiency of the candidate for the further step.
What does an online interview require?
The basic and foremost requirements for attending an online interview are a working laptop or mobile phone with better audio-visual quality, proper internet connectivity, working headphones and a fully noise proof environment.
How to appear for an online interview?
First of all, you need to fill up the given form for the selected post and then select an interview slot with the proper date and time. Next, have to download the application and need to complete the registration process, where the meeting is mentioned to help it may be Zoom or Google meet, etc. Lastly, on the particular day and time of the interview simply click on the link that is provided by your recruiter via WhatsApp
Barry Elad
Barry is a lover of everything technology. Figuring out how the software works and creating content to shed more light on the value it offers users is his favorite pastime. When not evaluating apps or programs, he's busy trying out new healthy recipes, doing yoga, meditating, or taking nature walks with his little one.
More Posts By Barry Elad