Digital Marketing Statistics – By SEO Marketing, E-commerce Marketing, Email Marketing, Lead Generation, Social Media Marketing, Website Statistics, PPC Marketing
Barry Elad
Updated · Sep 06, 2023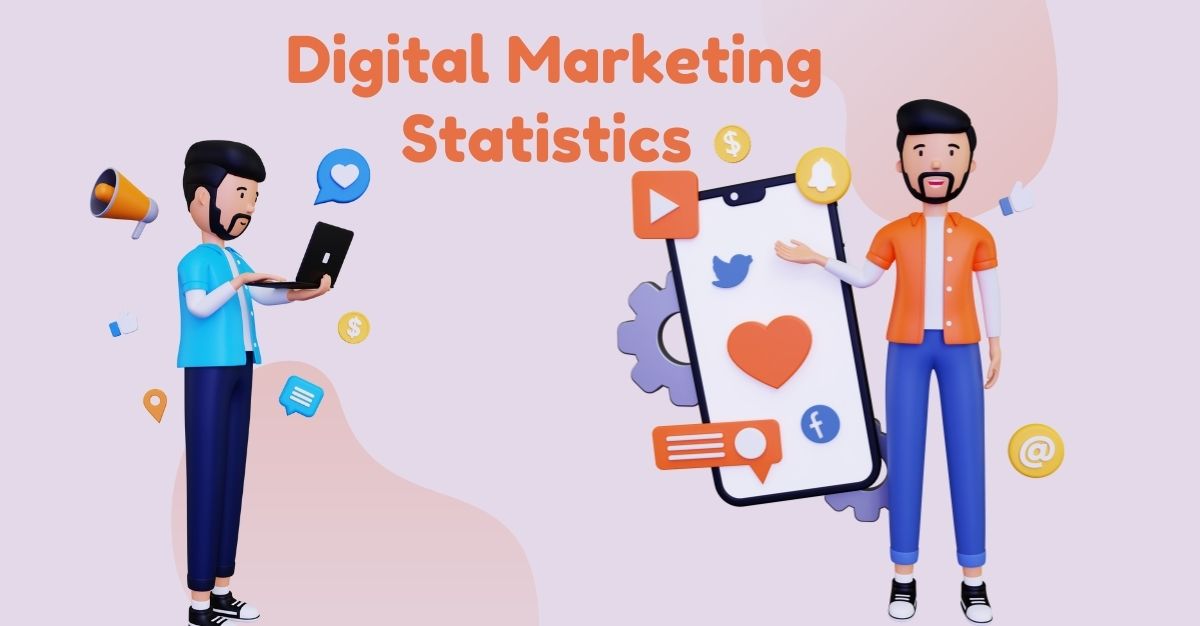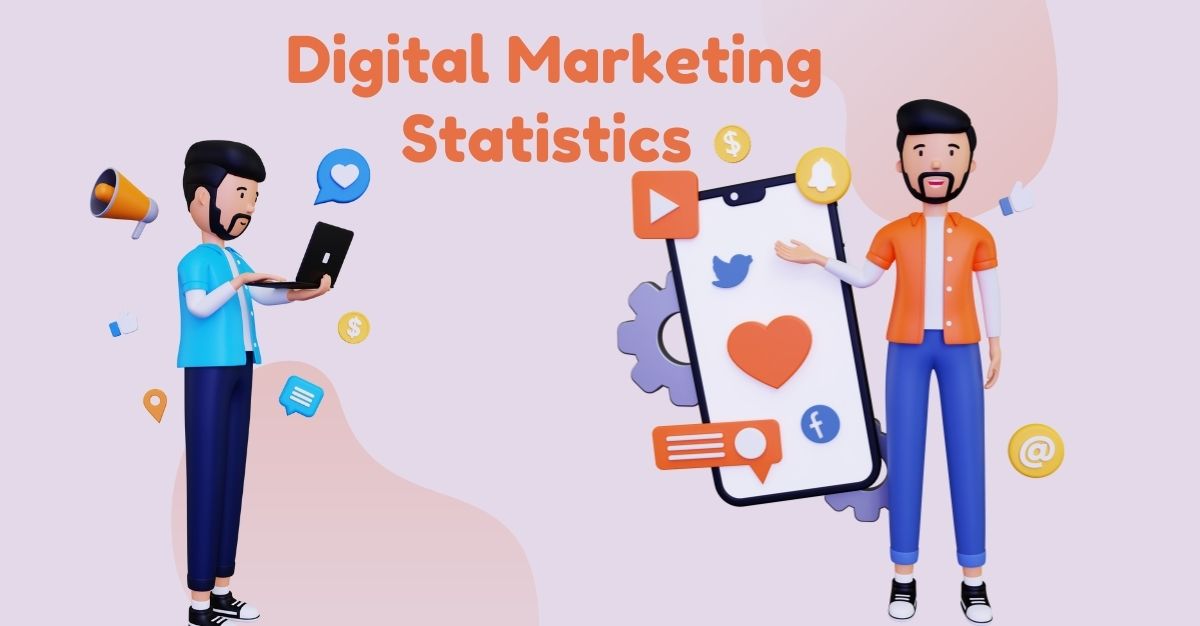 Introduction
Digital Marketing Statistics:  According to a study it was observed that digital marketing helps businesses stay competitive among others. As of reports it is expected that by the end of 2026, the digital marketing industry is expected to be $807 billion with a 10% CAGR from 2022. This is also termed as one of the best online marketing strategies that allow for identifying, targeting, and building a specific audience base by turning them into effective paying customers within businesses along with improving the brand's reputation. In 2023 most popular forms of digital marketing include email marketing, e-commerce, mobile commerce, search engine optimization (SEO), pay-per-click (PPC), websites, social media, and many others.
These Key Digital Marketing Statistics include insights from various aspects that provide light on why digital marketing is termed an effective marketing strategy across worldwide businesses.
Editor's Choice
The global digital advertising market spending by the end of 2023 is supposed to be $602.25 billion
The biggest segment of digital advertising was search advertising which is expected to be $202.40 billion in 2023.
In the United States, in digital marketing, the mobile ad spending in 2023 is expected to be $156.38 billion.
On the other hand, in the social media segment per user average spending on advertisement is around $45.11.
The highest ROI rate in digital paid advertising was experienced by Facebook and Google Ads.
In 2023, the world's largest catering search engine Google with global searches by 92%.
Recently, 68% of small-scale businesses do not include a CRO strategy.
Smartphones help gain 55% of the world's internet traffic and by the end of 2026, Smartphones will generate 69% of the overall advertisement spending and 87% via programmatic advertising.
By 2026, the industry of digital marketing is supposed to cross 17.6% of CAGR.
As of 2023, revenue generated by Email marketing is almost $8.49 billion.
The worth of the SEO industry by 2023 is going to be $50 billion.
In the 1st quarter of 2023, the social media marketing sector has resulted bovver $223 billion.
Facts on Digital Marketing Statistics
(Source: wordstream.com)
The best marketing ROI is achieved by an organic search that was accepted by 49% of businesses.
For enhancing the success rate of marketing channels the effective factor is lead generation said by 20% of worldwide companies.
Three times more leads are being generated by content marketing along with reducing cost by 62% than traditional marketing.
Content marketing helped 70% of internet users understand more details about products.
Around the world as of January 2023, for digital surfing, 58.57% of people used mobile which is comparatively more than desktop or laptop users by 39.41%.
Digital marketing goals are successfully achieved by most companies said to 58% of marketers.
According to HubSpot, for learning product details and features 36% of customers search on the internet which is followed by other preferences of customers in retail stores (27%), television ads (25%), through word of mouth (23%), through online review (20%), through social media (17%), through YouTube ads (13%), and video un-boxing products (9%)
By the end of 2023, influencer marketing is expected to reach $21.1 billion.
According to digital marketing statistics, daily users of Facebook are nearly 1.98 billion 67% of monthly users and 3 million businesses use Facebook for marketing.
7.51% of web traffic referrals from social media were achieved by Instagram accounts.
By the end of 2022, Twitter's ad spending was reduced by 70% for targeting digital marketing efforts and is also termed as the most engaging platform.
General Statistics
(Source: cloudfront.net)
The above figure explains that digital ad spending in 2022 has resulted in a $441.12 billion increase of 58.7%, in 2023 it is expected to be $485.26 billion (60.8%), and by 2024 it will be $526.17 billion (62.6%).
By 2026, the market share of the Digital Marketing industry is expected to reach $807 billion.
On the other hand, the ad spending share of mobile phones is around 69%, and desktop share by 31% by the end of 2026.
As of 2023, programmatic spending has increased by 84% and non-programmatic spending by 16%.
According to Garter's survey reports, almost 72% of the budget of marketing comes from digital marketing.
In 2023, on a regular basis, Google processes 8.5 billion searches, and the world's largest catering search engine is Google with global searches by 92%.
According to the reports of the Bureau of Labor, by 2026 marketing job demands are expected to increase by 10%.
Online reviews are preferred by 90% of people before making any kind of purchase.
Implementing digital marketing strategies such as digital advertisements helped in enhancing 80% effective brand awareness of businesses.
In the platform of digital marketing for maintaining customer relationship management around 62% of marketers have used software in 2022.
In the year 2023, business owners and marketing professionals almost 80% of them have implemented clickable social icons in their email signature.
SEO has experienced 68% of online experiences
Statistics by SEO Marketing
(Source: wordstream.com)
In 2023, the SEO industry is going to cross more than $50 billion.
In Digital marketing strategy SEO is termed as the backbone.
In the worldwide search engine market share 92% of Google, is followed by Bing (3%), Yandex (1%), Yahoo (1%), and Baidu (less than 1%)
Responsible organic traffic of SEO results in 53% of all website traffic.
The traffic rate increased by 55% those brands have dedicated blogs within their businesses.
SEO has a 15% closing rate that promotes lead generation.
Across the world, the two popular SEO tools are Semrush and Ahrefs.
Whereas, Smartphone generates more than 55% of the internet traffic.
According to SEO statistics, 1 page on Google's search results has an average 32% click rate with a 1500 word on average.
SEO is also termed as the best ROI generator which was accepted by 50% of businesses.
The H1 tag is not currently available in 255 businesses.
Paid advertisements were ignored by 86% of worldwide people.
As of records, in each month, 92% of keywords were having less than 10 searches
Statistics by E-commerce Marketing
(Source: oberlo.com)
As of 2023, e-commerce allowed 2.14 million people to complete their shopping.
Across the world, the sales rate of e-commerce is expected to reach $5,542-$6.542 billion by 2023.
Online purchasing via e-commerce was made by 93% of worldwide users
In 2022, the sales of mobile commerce have turned out to be $4.31 trillion and are expected to be $5.11 trillion by the end of 2023.
Digital and mobile wallets helped in making around 455 web store payments.
Due to digital marketing strategies within e-commerce, in coming years almost 70% of b2b businesses are expected to stop.
As of 2023, the growth of sales has increased by e-commerce statistics by region in the United States (50%), Europe (47%), China (15%), and the Rest of the World (52%)
18% of overall retail sales were responsible for E-commerce in 2022, while it is expected to be 20.8% in 2023 and 24% by the end of 2026.
By 2040, e-commerce purchasing is expected to be 95% of all other purchases.
Digital and mobile wallets are going to make 45% of web store payments in 2023.
In e-commerce websites, the average rate of conversion is between 1.81% to 3.71%.
Almost 68% of small-scale businesses do not have a CRO strategy.
Before making online purchases, 60% of millennials have visited Amazon.com.
Statistics by Email Marketing
(Source: ddiy.co)
In digital marketing, email marketing plays an important role, and every $1 spent in email marketing results ROI of around $36.
According to email marketing statistics, in 2023 email is used by 4.14 million people regularly.
As of 2023, revenue generated by email marketing turned out $8.49 billion approximately.
Whereas, across the world every day 319.6 emails are been exchanged.
Mobile phones do not optimize 20% of marketing email content and in a day around 36.6% of emails are opened by smartphones which is more than ¼ of emails.
For increasing ROI the second most popular strategy implemented by email marketers is mobile mobile-friendly emails.
Revenue generated by Email marketing is almost $8.49 billion.
On average, 10 seconds are spent by customers on each brand image.
Globally, the rate of email marketing un-subscription has resulted in 0.1%.
The preference of 46% of customers to remain connected with different brands through email.
By reading the subject line almost 70% of email recipients can identify whether the email is spam or not.
Statistics by Lead Generation
(Source: mymarketing.io)
In the United States in 2023, the market size of digital led generation has increased and resulted in $3.2 billion approximately.
Almost more than half of the business budget is spent on lead generation by 53% of marketers.
Leads with automation allow marketers to drive out more leads by 451%.
This is also known to be the greatest challenge in almost every business, agreed by 61% of marketers.
In the coming years, the budget for lead generation is going to increase which was said by 58% of marketers.
Statistics by Social Media Marketing
(Source: activecampaign.com)
With each passing day, the usage of social media is increasing and as of now in digital marketing social media is termed as a popular branch.
In 2022, the worth of the social media marketing sector has resulted in $160 billion, and in the 1st quarter of 2023, it turned more than $223 billion.
Globally, social media users are around 4.26 billion and almost 90% of business brands are using social media marketing.
Around the world the most popular social media ad program is Facebook and 86% of businesses use Facebook as its advertising platform.
Whereas, the fastest-growing social media platform is TikTok globally.
In the case of fixing a budget for social media marketing, businesses allocate 15% of the overall marketing budget.
As of 2023, monthly active users of social media platforms are followed by Facebook (2,910 million), YouTube (2,562), WhatsApp (2,000 million), Instagram (1,478 million), WeChat (1,263 million), TikTok (1,000 million), FB messenger (988 million), Douyin (600 million), Tencent QQ (574 million), Sina Weibo (573 million).
 Facebook Statistics
Daily active users of Facebook across the world in 2023 resulted in 1.9 billion and more than 2.9 billion. As of the total world population, 37% are using Facebook.
More than 330 million Indian people are using this social media platform and the South Asian region has more than 456.8 million.
As of 2023, the market share of Facebook advertisements has reached more than $2.14 billion.
Facebook ads are experienced by 27% of the world's population.
Facebook's login was observed by 98% of the audience through mobile phones.
YouTube Statistics
Monthly active users of YouTube in 2023 are above 2.5 million people and on each YouTube's Website and App is having more than 122 million visits.
Monthly access to YouTube is almost 52% of internet users.
YouTube is termed as the 2nd biggest platform of social media and the world's highest platform of video sharing.
The most users of YouTube were observed in India with more than 467 million users in which male users are 53.9% and females are almost 46.1% who were mostly aged between 25 years 34 years.
Each day watching YouTube resulted in more than 1 billion hours
Instagram Statistics
Monthly active users of Instagram in 2023 are around 2.35 billion and daily active users turned out to be above 500 million.
Across all social media platforms, Instagram is termed as the 3rd most used platform.
The audience of Instagram was highest in males at 50.7% and females at 49.3% in 2023.
On a monthly basis, the interaction of Instagram's story turned out 2 billion people.
The average time spent on Instagram is almost 30 minutes.
Statistics by Website Statistics
(Source: demandsage.com)
In the industry of digital marketing, websites are used for improving the authority and users form an opinion within just 0.05 seconds.
Due to the slow loading time of websites, 88.5% of people have left websites and slow-loading websites retailer cost turned out $2.6 billion.
In 2023, global web traffic originating from Google is 93%.
In the U.S. on per daily basis internet users view almost 138.1 web pages.
Websites require less than 3 seconds of time to load while surfing via mobile websites.
Websites with videos helped in increasing the average time spending rate by 88% on each page.
The top factors influencing a website's cost are functionality and features.
Due to the unattractive layout of websites, 40% of users didn't engage with a specific website in 2023.
For formulating customers' opinions over a business, 50% of website users consider website design as an effective factor.
The average speed focused on the main navigation by website visitors is around 6.44 seconds.
Statistics by PPC Marketing
(Source: webfx.com)
PPC stands for pay-per-click and this helps in driving out qualified leads and most of the companies are using it as an effective digital marketing strategy.
As compared to SEO in 2023 PPC has generated 2 times more visitors.
On mobile devices, ad clicks happen more than 50%.
As of 2023, small-scale businesses around 65% are having a PPC campaign.
According to Statista, ad clicks result in 65% of all high-intent searches.
On a monthly basis, medium-sized businesses have invested on PPC almost $10,000.
The leading PPC provider is known as 'The Google Display Network' and its program has around 2 million sites.
Challenges in Digital Marketing
As of 2023, the highest challenge in the industry of digital marketing is generating traffic leads by 61%.
The other challenges are followed by proving 'Return On Investment '(39%), Securing a budget (27%), and Managing websites (25%).
Whereas, 24% of getting the right tech, Training process (23%), Hiring (22%), Intellectual audiences (20%), and Finding out executive sponsors (8%).
Conclusion
As of today, looking at the Digital Marketing Statistics it is clear that around the world maximum businesses in recent days have implemented digital marketing strategies for enhancing their business effectively. A huge great deal has been achieved by involving new technologies in digital marketing. All its strategies include many advancements and improvements that helped customers as well as marketers. This article includes many informative statistics hope those will help you in understanding the trends and benefits of the topic.
What are 7 C's of digital marketing?
The 7 C's of digital marketing are customer, content, context, community, convenience, cohesion, and conversion.
What are skills of digital marketing?
Digital marketers required some basic skills for becoming a successful marketer are writing, data analysis, SEO, Technology, Social Media.
Why digital marketing is important?
The four effective reasons that resemble the importance of digital marketing are targeted and measurable, cost effective, improve customer engagement, and raises brand awareness.
Barry Elad
Barry is a lover of everything technology. Figuring out how the software works and creating content to shed more light on the value it offers users is his favorite pastime. When not evaluating apps or programs, he's busy trying out new healthy recipes, doing yoga, meditating, or taking nature walks with his little one.
More Posts By Barry Elad