E-learning Statistics – By Corporate, Business, online platforms, Course Creators
Barry Elad
Updated · Sep 11, 2023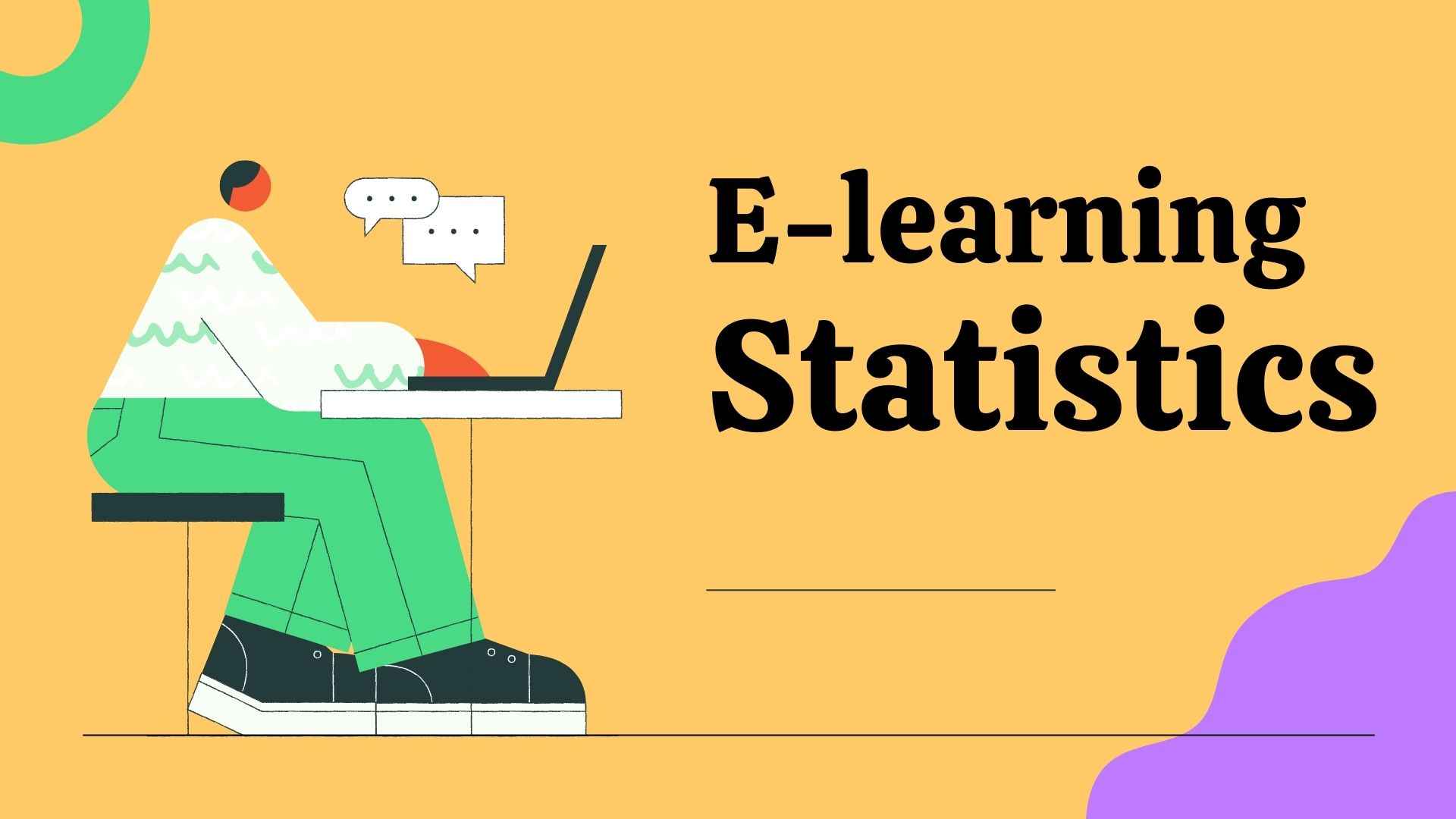 Introduction
E-learning Statistics: Since the pandemic, E-learning statistics have grown tremendously. According to recent studies, 70% of students in the US wish to learn online. But the necessary stats with E-Learning in 2023. Technology has enhanced many facts about our lives and education among them. As the world spends more time online and have embraced the conveniences that Wi-Fi connection provides. Education has also followed and entered into the E-learning space. E-learning has gained important traction in recent years. The exciting figures reveal the future of global education.
Due to technological advancements also, education has been pushed to the cutting edge. This can be seen as the use of virtual reality innovations. Like the use of whiteboards, virtual classrooms, etc. schools at all levels have taken the benefit of e-learning. This is to keep up with the demand for easy access and quality education. Over the years, online learning has developed vastly and created in diverse forms. The online learning modules are also created that encourage self-paced learning.
What exactly is E-Learning?
Online learning is the most fundamental form of online learning. It is a method in which learning occurs through visuals. Educational modules are utilized to teach students. Additionally, there is self-paced learning. The freedom is given to learn the classes whenever you like. Whatever you like and whenever you'd like. It's like having recorded lessons and being able to access them via your mobile. With online learning, every difficult section is reduced to simple understanding components. The ease of use is for the typical student. The internet has become a popular technique. It is important to understand the advantages and drawbacks prior to deciding whether it is the right choice for you.
E-learning can also be a formalized method of teaching which makes use of electronic resources such as webinar tools. Internet use and computers are key elements of the e-learning process. It's also described as a network-based transfer of knowledge and skills. It has not been fully accepted. The reason for this is an absence of human factors. Many people are embracing the technology.
E-learning Statistics 2023
The market for e-learning will be 325 billion dollars by 2023. It is forecast to grow at a rate of 20 percent CAGR from 2022 until 2028.
The US market for e-learning is anticipated to expand dramatically in the coming years. According to the forecast it is expected to grow by 12.81 billion by 2024.
The number of users on e-learning platforms will grow to 57 million by 2027.
When e-learning is used, US firms have seen an increase of 42% in revenue.
Through the use of the internet, retention rates for businesses rise from 25 percent to 60 percent.
For US IT companies the implementation of e-learning has yielded a savings of around 200 million dollars.
90% of companies offer E-learning opportunities for their employees.
The market for corporate e-learning is predicted to grow by 142% by 2026.
E-learning is the fastest-growing industry within the education industry.
73 percent of students in the US are still taking online classes after the pandemic.
41.7 percent of all global Fortune 500 companies have used an E-learning technology in some way to help employees learn.
The E-learning companies in India like Byjus have grown to become the largest and 13th largest unicorns, with a value in the range of 22.6 billion.
(Source: gminsights.com)
Online Learning Statistics for Business
93% of global corporations have shifted towards online education. It is a practical and simple process.
Organizations have utilized e-learning for soft-skills training and have generated more than 50% of their revenue.
Some companies also provide training completion incentives. Thus, the rate of completion has been increasing from 35 percent to 85%, on average.
Employees who have received online training are 36 percent more likely to remain at the firm for three years.
Corporates have saved on average 200-300 dollars per employee when replacing instructor-led courses with online training courses.
77% of these firms have integrated e-learning in the workplace and have learned in-demand skills in the field.
The rates of retention have increased by 25-60 percent for the company's extensive online learning courses.
Companies that offer incentive programs for training completion show that courses completed, increased the rate from 35 to 85 percent, on average.
Employees who receive e-learning education are 36 percent more likely to stay in their jobs for three years or less.
The companies also saved between 200-300 dollars per employee if they replaced them with instructor-led online classes.
77% of businesses have incorporated e-learning into their activities to take advantage of it and acquire abilities for the job they want to do. This results in faster workflow.
The preferences of employees have also benefited from self-paced online learning courses up to 58 percent.
This indicates that employees prefer to be able to learn online learning courses during their free time.
Corporate sectors that use e-learning take about 45 percent less time. It also affects the process and creates a mess caused by the scheduling.
Revenue generation was averaging 42% of the companies that use e-learning programs. For a variety of reasons, learning can be utilized effectively. The value of the company also increases and it is able to reach the top.
Global Statistics
Global statistics on e-learning are as follows:
According to data from the finance online website, more than 93% of organizations around the world are looking to implement e-learning.
A staggering 33 billion dollars has been devoted to reducing the self-paced learning system in 2021. The report shows that the majority of people prefer learning online by taking live classes.
The SHIFT study indicates the fact that IBM has saved about 200 million dollars by moving to online learning.
38 billion dollars of growth observed in the latest market report for mobile e-learning is recorded. It is evident that learners prefer to learn from their smartphones.
70 percent of online learning traffic comes from Europe and the US. However, the classes offered by e-learning are being used across the globe.
It is believed that the market for E-learning in Asia Pacific will grow by 11% between 2026 and 2026.
According to a study conducted recently, the market share of online services in India is expected to increase by 8.6 million dollars through 2026.
The Technavio further suggests that the European market for online learning is projected to reach 28 billion dollars over the next five years.
(Source: prosperityforamerica.org)
E-learning Statistics for Academics
About 50% of learner follows the academic curriculum shifted to e-learning in 2021. Most of the schools have also started the e-learning implementation into their schedule.
In the earlier 12 months, 49% of students around the world globally adopted one online course.
e-learning classes also promise a 72% success rate as compared to the standard teaching modules.
According to the source, 81% of college students in the US believe that using e-learning technology has improved their academic performance.
40% of college-going students prefer e-learning more efficiently than in-person training. The modules are simplified for better understanding.
The E-Learning Industry Statistics to be used on online platforms
According to the study, the study found that there are 220 million taking at least one online course
There are also 40 million people signed up.
The revenue will increase by around 2.85 dollars billion by 2023.
The global market for learning management systems market is predicted to expand by more than 15% by 2026. It is expected to reach around 34 billion dollars.
The number of users on online learning platforms rose by around 11.6 percent in 2023. These numbers are expected to increase by 16.6 percent by 2027.
The growth of online learning could be 25.55 billion and may pave possible a brand new age of online learning community.
Udemy is ranked first among the top platforms for online education. Udemy also provides quality content that is of the highest standard in a variety of subjects and categories.
Some other platforms also have emerged similar to Teachable. With 18 million users, it is the second-most visited online learning platform worldwide scale.
Skillshare is a platform for learning. Skillshare platform also grown the number of users it has to 12 million and will offer 35,000+ classes by 2023.
Masterclasses have been offered in 150 classes across different categories in 2023.
The total revenues generated are in the region of 47 billion bucks. This is the total amount that was recorded through online platforms for learning. It is a sign that the majority of users choose online learning.
(Source: prosperityforamerica.org)
E-learning Courses and Enrollment Statistics
The statistics show the same number 29. It has got diverse results and believes that people should be aware of both sides of the coin. The results are showcased in the survey-
A particular field of study is one of the reasons for online college selection among students in the US.
Below is the table that showcases the leading reasons and voter percentage.
(Source: prosperityforamerica.org)
Future of E-Learning
The significant growth of e-learning in recent years has doubled with projected market value. It has reached billions of dollars. This shows the promising features of online learning platforms and sets the stage for changing trends in the upcoming years.
The interesting e-learning statistics are listed below for the future of e-learning-
By 2025, 50% of corporate training is expected to take place through e-learning platforms.
Mobile learning continues to grow strongly. With market projections of up to 27% annually through 2028.
The global e-learning market is forecasted to grow by over 400 billion dollars by 2026.
Virtual reality-based training is also provided. It has risen over 900% in the next 4 years.
Adaptive learning using AI has also become widespread. Personalized e-learning experiences have a potential market size of 12.5 billion by 2027.
Learning experience platforms will also grow at 25% by 2026.
Few E-Learning Trends
#1. Artificial intelligence
AI has made its way into e-learning. As it is now able to guide the users in the learning process. It also just gives freedom of personalization. The power of AI has also gained a significant edge over the competitors.
#2. Mobile learning
Through mobiles also, learning can be done. The course can be optimized according to the mobile users. You can also unlock a wide range of audiences. It's also necessary to note that smartphone use has seen growth after the pandemic.
#3. Augmented reality
It can boost the student's engagement. Augmented reality also allows us to interact more actively with learning materials. One of the major advantages of this technique is that it has improved knowledge retention which adds more value to the teachings.
#4. Gamification
It also improves the e-learning plan to enhance the learner's engagement. For example, the leaderboard introduces the pleasant competitive aspect of online courses. It also encourages students to outperform one another to work towards the learning aims.
Statistics for Course Creators
Behind every top-rated e-learning course is a highly skilled instructor. The course creator is also driving the industry of 8 billion dollars which is experiencing an increase in the demand for new and exciting information. Also in the below statistics below are the following statistics –
Over 110,000 new courses that have been uploaded to Udemy the largest marketplace for course creators.
The typical Udemy course author earns between 1,000-2,000 dollars per year on their classes. The highest-paid creators also earn more than 1 million dollars.
LinkedIn Learning also includes $100 million for over 11,000 experienced instructors since its launch in 2015.
A majority of users seek out high-quality e-learning courses.
Course creators could expect to work for 8-10 hours on one hour of interaction with online learning content on a typical basis.
80 percent of corporate e-learning programs are created. With the help of fast authoring tools such as articulate and Adobe draws attention, rather than just pure programming.
Social learning and gaming are important trends that creators need to incorporate more to boost engagement.
The typical development team for e-learning is comprised of 3 to 5 individuals. It is typically comprised of one instructional designer a a subject graphic artist who is an expert in the field, and a producer.
Over 60% of businesses expand their network of content creators in order to meet the growing demands for e-learning.
Corporate E-Learning Statistics
Corporate companies have supported the online learning of employees. With the advancement in e-learning technologies, companies have adopted completely online training for their employees. Below are some statistics provided-
It is estimated that corporate e-learning will rise by 250% by 2026. The global corporate e-learning market will account for 14.23 dollars billion.
Corporate learning is at a CAGR of 15% slowly.
Around 40% of the Fortune 500 companies use e-learning for training.
In large companies, 73.6% of technology delivers training shared online and also through a network of sorts.
98% of corporate companies will pan on e-learning. They would implement video as a part of digital learning strategies.
About 90% of companies provide employees with a form of digital learning. 68% of the learners want to learn while working and 58% prefer to learn at their own pace.
67% of the companies provide e-learning through mobiles. It does not happen on desktops. So 99% of mobile users believe that mobile learning improves the education experience. The mobile e-learning market was expected to reach 37.6 billion.
Companies with training programs have almost high revenue. This small-time investment empowers the employees to stay updated with the best practices, upskill themselves, and learn about the recent developments in the industry.
The IBM saves around 200 million dollars. Through the switch to e-learning. The productivity also increased and newly learned skills were applied immediately.
Benefits of E-Learning
Nowadays, e-learning has become a widespread program throughout the world. As e-learning has a billion-dollar market value. More players will come in. With the increase in competition between e-learning providers, the benefits of e-learning have the expense cutting and have gone beyond convenience.
E-learning has become the tool of choice for many people. The aim is to pursue the studies in a less traditional way.
Today, e-learning has become a widespread program throughout the world. As eLearning hits a billion-dollar market value, more players have started getting into the fray. With the increasing competition between learning providers, the benefits of eLearning have also gone beyond convenience and expense-cutting.
E-learning is good for the environment. As it emits about 85% of carbon dioxide emissions.
Studies also suggest that e-learning can decrease energy consumption by 90%
Elearning can reduce the required time for students to learn the material by 25%-60% as compared to traditional learning methods.
7in 10 teachers agree that eLearning tools are helpful to students for self-studying.
Satisfaction is provided to students with e-learning courses for over 95%.
E-learning tools seem to be useful and helpful.
77% of the students who enroll in programs claim that it helps in meeting their career goals and employment.
E-learning has helped students with five times more material for every hour of session.
35% of teachers believe that the e-learning system enables to provision of more personalized instructions that are more suited for the students at skill level.
The digital learning tools are considered to be best to search for info during the research.
27% of the teachers claim that a lot of info is available that proves the effectiveness of the digital learning tools they use.
(Source: research.com)
Conclusion
The look at the e-learning statistics has proved that online learning is the future. There is no denial in it. From businesses to academics to corporations, e-learning has captured all sectors. With high-quality education with structured modules. Every average online learning platform has risen up to produce the best content along with the beneficial learning resources to get the most out of it. Various new e-learning platforms have also emerged like Masterclass, Skillshare, Linkedin Learning, and much more.
What is the future of e-learning?
The future of e-learning includes the rise in edtech startups and industry projected to rise to 20% from 2022 to 2028.
What are the trends in e-learning?
The top key trends are the use of artificial intelligence, the implementation of AR and VR technology, the increase in use of mobile phones in e-learning and the gamification of the learning process.
What are the types of e-learning?
The types of e-learning are collaborative learning, fixed e-learning, asynchronous e-learning etc.
Barry Elad
Barry is a lover of everything technology. Figuring out how the software works and creating content to shed more light on the value it offers users is his favorite pastime. When not evaluating apps or programs, he's busy trying out new healthy recipes, doing yoga, meditating, or taking nature walks with his little one.
More Posts By Barry Elad