Employee Engagement Statistics By Team Performance, Region, Countries, Career Development, Workplace, Productivity, Expectation, Working Attitudes, Employee Care and Support
Barry Elad
Updated · Sep 07, 2023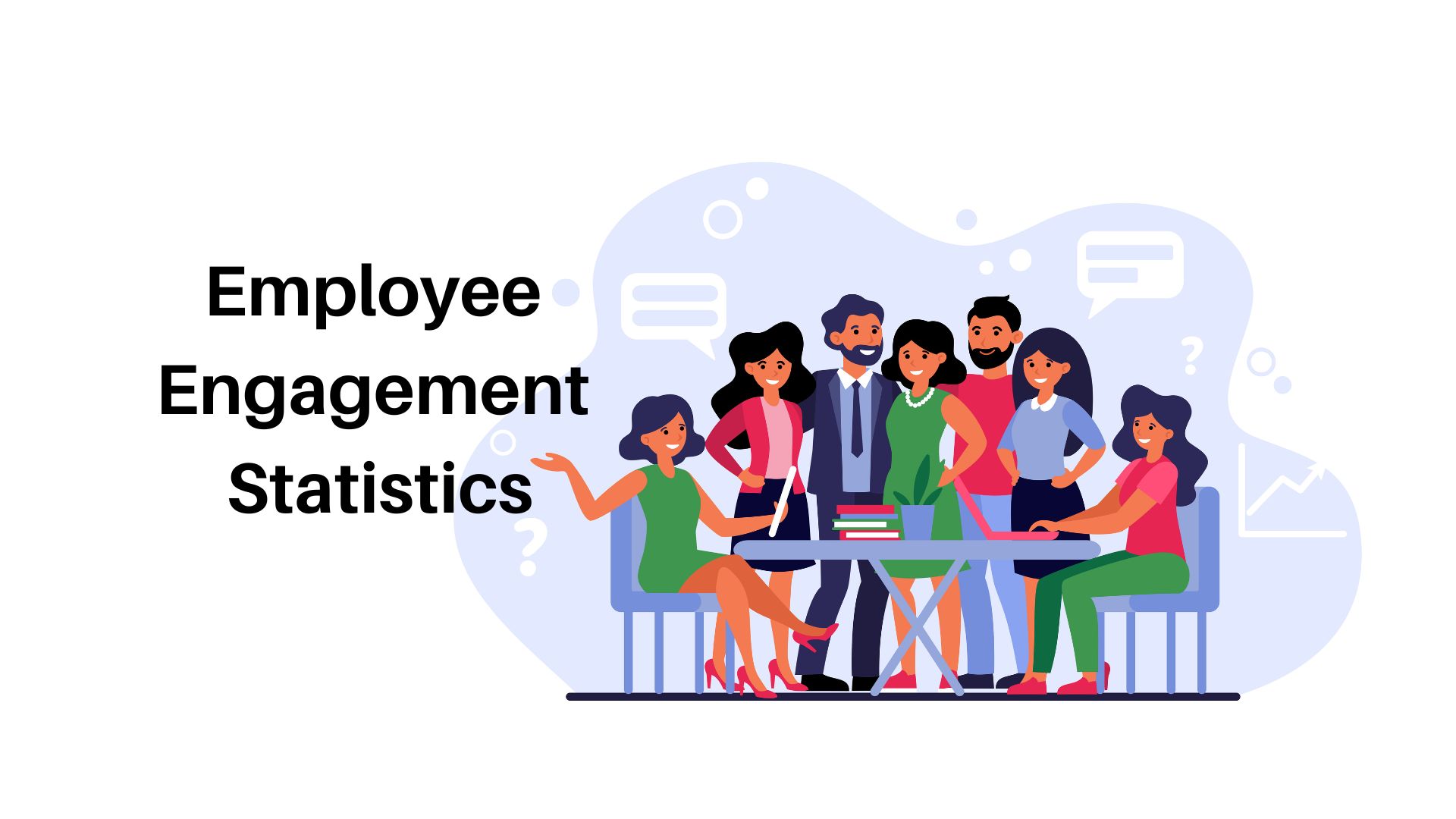 Introduction
Employee Engagement Statistics: As to reports employee engagement is a factor that allows an understanding of how engagement impacts organizations' outcomes. It is also commonly known as the workplace approach enables increasing productivity, improved customer satisfaction, and reduced overall turnover along with creating a positive workplace environment that helps in attracting top talents. As of 2022, in the United States, full-time and part-time actively engaged employees were 32% and actively disengaged employees by 18%. These Employee Engagement Statistics include insights from various aspects that provide light on why engagement is an effective factor for organizations these days.
Editor's Choice
In the 1st quarter of 2022, globally 62% of employees were engaged actively and that rate was slightly reduced from last year.
In the United States, active employee engagement has reduced in 2022 by 33%, and in 2023 as of now, it is 31% of engaged employees.
Globally in 2022, the level of activated disengaged employees has decreased slightly from 19% to 18%.
The highest level of employee engagement was observed in Southeast Asia has experienced a reach of 33% in 2023 from last year with 26%.
Whereas, the lowest rate of employee engagement out of all regions was in Europe resulting in only 13%.
Lack of engagement resulted in disengaged employees which resulted in a $8.8 trillion loss in productivity in overall global companies.
By the end of December 2022, according to the reports of State of the Workplace around 85% of employees were found actively disengaged or unengaged.
As of 2023, in the United States around 1/3rd of the people have planned to quit their job due to lack of job satisfaction.
Whereas, 87% of highly engaged employees are less likely to leave because the U.S. Company's integral purpose was engagement.
Employee Engagement Strategies
Almost 90% of leaders, 71% of global executives, and 25% of HRs have accepted that employee engagement is an effective factor for gaining a company's success.
Across the world, 35% of the best companies in 2022 have implemented onboarding to achieve high scores of employee engagement.
The important strategies are clear, inspiring, and transparent communication that allows employees to understand their responsibilities and contributions.
Emphasizing employee well-being and offering wellness programs that help in gaining flexible work arrangements and promote work-life balance.
For enhancing the professional growth and development of employees companies have implemented special training programs, career advancement paths, and mentorship initiatives.
Employee achievement programs are done to promote encouragement and appreciation for their hard work which helps employees to stay motivated.
Leveraging user-friendly technology, creating a positive work culture, and offering employees autonomy and decision-making abilities.
Facts About Employee Engagement
(Source: postbeyond.com)
For enhancing employee engagement within companies, the regular feedback system is the essential key by which 68% of employees felt more motivated to hard work.
As of reports, when management teams of companies maintain regular updates of employees 85% of employees are more motivated towards their work.
Almost 48% of global companies are now focusing more on employee engagement to increase productivity and performance.
As per McKinsey reports, 67% of companies have started adopting automation for engaging employees.
As of Udemy, companies are focusing on learning and development opportunities to ensure higher employee engagement at workplaces, accepted by 80% of professionals.
69% of employees accepted that appreciation by leaders and managers keeps them more motivated to work harder and enriches employee engagement.
Employee engagement can also be increased by providing ongoing feedback and clear responses when required claimed by 89% of Human Resources Professionals.
Career advancement opportunity is another factor that allows for enhancing employees' overall job satisfaction level and in the U.S. only 29% of employees remained 'very satisfied' and 41% were only 'satisfied'.
The engagement rate of office workers, salespeople, and construction workers remains lowest by 12%.
Businesses that kept their employees engaged in 2022, there the staff turnover of businesses decreased by 18%.
Employee engagement levels were checked by using technology to track their performance level accepted by 16% of employees.
General Employee Engagement Statistics
(Source: wellable.co)
As of the employee engagement survey 2023 across the world, the productivity rate has increased by 14% which is followed by enhanced customer ratings (10%), increased sales rate (18%), increased profitability (23%), and increased organizational participation (13%).
Every year, almost 100,000-120,000 people across the world leave their jobs each day with roughly 20% of their salary to replace lost workers.
Developing a strong organizational culture helps in creating a working environment supporting as well as challenges for employees that help in achieving greater profitability, increased employee engagement, and employee retention.
In companies in the U.S. that were having wellness programs, around 89% of employees remained more engaged and motivated with their jobs.
In 2022 only 17% of employees claimed to improve the workplace by implementing a holistic wellness program.
by Team Performance
As per the latest research on employee engagement, it has been observed that engaged teams enabled better performance in businesses.
The rate of employee absenteeism has decreased by 81%, whereas customer engagement has increased (10%), higher sales productivity (23%), and higher profitability (18%).
Furthermore, the benefits of employee engagement are followed by fewer turnovers in high-turnover organizations (18%) and less turnover in low-turnover organizations (43%).
Other positives fewer theft reports (28%), decreased incident rates (64%), and fewer product defects (41%).
by Effects of Employee Disengagement
(Source: wellable. co)
The three important effects of employee disengagement were a higher rate of absenteeism by 37% which is followed by a reduced productivity rate (18%), and a lower profitability rate (15%).
A disengaged employee costs a company 34% of annual salary on average which is an extra $3,400 for every $10,000.
by Numbers
As of 2023, in the United States, 80% of employees are not engaged within the workplace.
The cost of disengaged employees each year was near about $500-$550 billion. The main reason for disengaged employees was a lack of responsibility and motivation.
Almost 73% of employees were thinking of leaving their jobs as of today.
Companies with highly engaged workforces are 21% more profitable.
Companies with high-performing employee engagement generate 4 times more revenue growth.
Employees preferred getting recognition from their managers by 37%.
Companies those are having current advancement opportunities of which 29% of employees said they were happy.
by Top Drivers of Employee Engagement
(Source: 99firms.com)
For recognizing employees' efforts and performances, recognition from employers and managers is an important factor by 37%.
The other top drivers of employee engagement were 12% more autonomy and more inspiration (12%).
Furthermore followed by 7% of employees wanted higher pay, 6% wanted a better training process, and 4% desired promotion.
43% of employees wanted to receive private recognition and 10% preferred receiving public recognition.
by Region
The highest level of employee engagement was observed in Southeast Asia has experienced a reach of 33% in 2023 from last year with 26%.
The rate of employee engagement in Europe resulted in only 13% and in Western Europe around 14% of employees remained engaged.
Whereas, the lowest rate of employee engagement out of all regions in Eastern Asia, only 6% of people were actively engaged.
In the Western hemisphere, only 10% of employees remained actively engaged.
In the U.S. and Canada, strategies of employee engagement kept 29% of employees remained 'very satisfied' and 41% were only 'satisfied'.
by Countries
(Source: 5minutesseo.com)
In 2022 the country was having highest employee engagement rate was India with 79%.
Other countries are followed by Thailand (72%), Hong Kong (63%), the USA and France (55% each), Canada and Malaysia (54% each), Australia, New Zeeland, and the Middle East (53% each), and United Kingdom (50%)
The fewer employees engaged countries are Singapore (47%), Germany (41%), South Korea (40%), and Japan (35%). 
by Career Development
41% of employees accepted that a career development opportunity is an important aspect of job satisfaction.
30% of employees claimed career development is an important measure of employee engagement in the current situation.
For progressing employees' performance level, career development allows them to enhance their careers which was accepted by 29% of employees.
As per employee development statistics, 87% of millennials and 69% of non-millennials benefitted from career development opportunities along with gaining effective work retention.
Lack of career development plans and poor training processes enabled 40% of employees are likely to leave their jobs in the first year.
As of 2022, companies that have invested more in career development plans were allowed to engage more employees which was accepted by 94% of them.
by Workplace
In the United States, replacement of employees spending costs around $2.9 million per day and $1.1 billion per year in 2022, thus companies are now investing in employee engagement for increasing employee retention and by saving expenses.
According to Work statistics, the cost of hiring and training new employees was around $1,286 per year.
Daily virtual meetings have exhausted the minds of 38% of remote workers and 30% of employees remained stressed which results in lower employee engagement.
As per reports of workplace statistics, due to a lack of employee engagement, 61% of employees felt burnout at work time and 31% of employees remained under extreme pressure.
by Productivity
(Source: 5minutesseo.com)
Organizations and companies are now improving their HR management teams by utilizing employee engagement software and analytics.
If employee engagement increases by 0.1% that allows for generating an annual income of $100,00 per year.
It can also be said that high employee engagement is directly proportional to productivity rate which enables 20% greater effectiveness.
Companies that had highly engaged employees achieved higher profit rates of 22%.
The productivity of employees was reduced when leaders lacked communication skills accepted by 91% of employees.
Productivity error occurred more than 60% when employees remained disengaged at work.
According to cyber security statistics, 65% of data breaches are direct results of employee negligence and 22% of data breaches involve malicious employee activities.
by Working Attitudes
Frontline employees 70% suffered from burnout or felt the risk of burning out, while 71% of executives believed that organizations take proper care of their mental health, and 60% of employees remained actively disengaged because of emotional breakdowns.
According to Gallup data, 95% of employees claimed that they were treated with respect all day when their performance level enhanced.
49% of disengaged and 30% of engaged employees experienced stress within their workplace.
24% of disengaged and 11% of engaged people reported that they remained angry.
16% disengaged and 8% engaged employees reported health issues or problems within the organization.
by Employee Care and Support
(Source: joinblink.com)
As of reports it has been observed that 87% of employees wanted their managers to take more initiative in understanding their needs in the workforce.
In the case of mental and professional care support, out of 10 employees 4 have claimed that their feedback was not fulfilled.
Worldwide, 35% of healthcare employees claimed that their organization didn't respond to their feedback positively.
22% of minority ethnic frontline employees said that organizations didn't treat everyone equally.
by High-Level Employee Engagement
(Source: 5minutesseo.com)
Reasons for Enhancing Employee Engagement
(Source: founderjar.com)
As of 2023, almost 87% of large organizations and 70% of small organizations are currently focusing on employee engagement.
The reason why organizations are implementing employee engagement is it encourages employees to perform at their best by 59%.
The other reasons are followed by retaining talented employees (45%), increasing employee morale (38%), and attracting top talents (33%).
Employee engagement also allows for boosting top and bottom-line performance by 26% of companies.
The programs of employee engagement impacted the performance level of employees which was accepted by 57% of organizations.
Whereas, 27% of organizations that have implemented engagement programs resulted negatively.
by Expectation
(Source: founderjar.com)
Employees mostly expect some basic requirements they are concerned about are public health emergencies (45%), workplace violence (34%), Technology failure (29%), Crime (26%), Severe weather (25%), mental health or accidents (22%), Major transportation disruption (18%), Natural disaster (14%), and protests (13%).
As of current data, in the U.S. physical safety is the top priority said by 81% of employees, which 58% of employers have expected.
71% of employees claimed that American organizations have taken effective steps to make employees feel safe.
36% of employees also claimed that their organizations must provide direct line communication during emergencies.
Conclusion
As of now after completing the article on employee engagement statistics it can be clearly stated that this factor emphasizes its importance in driving business outcomes.  Employee engagement varies across organizations within different countries and regions. Basically, this factor allows for motivating and inspiring employees along with creating positive connections within the workplace. These articles include statistics on several trends that will help you understand the important and basic knowledge on the topic.
How to engage employees in the workplace?
From different data's report, employee engagement allow in staying more connected within companies, leaders and management teams provide employees with proper tools for working purpose, creating fear free workplace environment, encouraging team, supporting personal development plans, listening employees feedback regularly, and allowing employees to grow effectively.
What is the value of employee engagement?
Depending on researches, employee engagement within organizations results in achieving productive outcomes. Suitable work culture includes more engaged peoples that improve the rate of productivity by 12% – 22%.
What is a good employee engagement rate?
As per employee engagement statistics it has been observed that for companies a good and average employee engagement rate for any company is above 50% and as of 2023, in the United States more than 36% of employees are actively engaged and globally 20% employees are actively engaged.
Barry Elad
Barry is a lover of everything technology. Figuring out how the software works and creating content to shed more light on the value it offers users is his favorite pastime. When not evaluating apps or programs, he's busy trying out new healthy recipes, doing yoga, meditating, or taking nature walks with his little one.
More Posts By Barry Elad