Hiring Statistics By Remote Hiring, Jobs and Career, Communication, Diversity, Equity and Inclusion
Barry Elad
Updated · Sep 08, 2023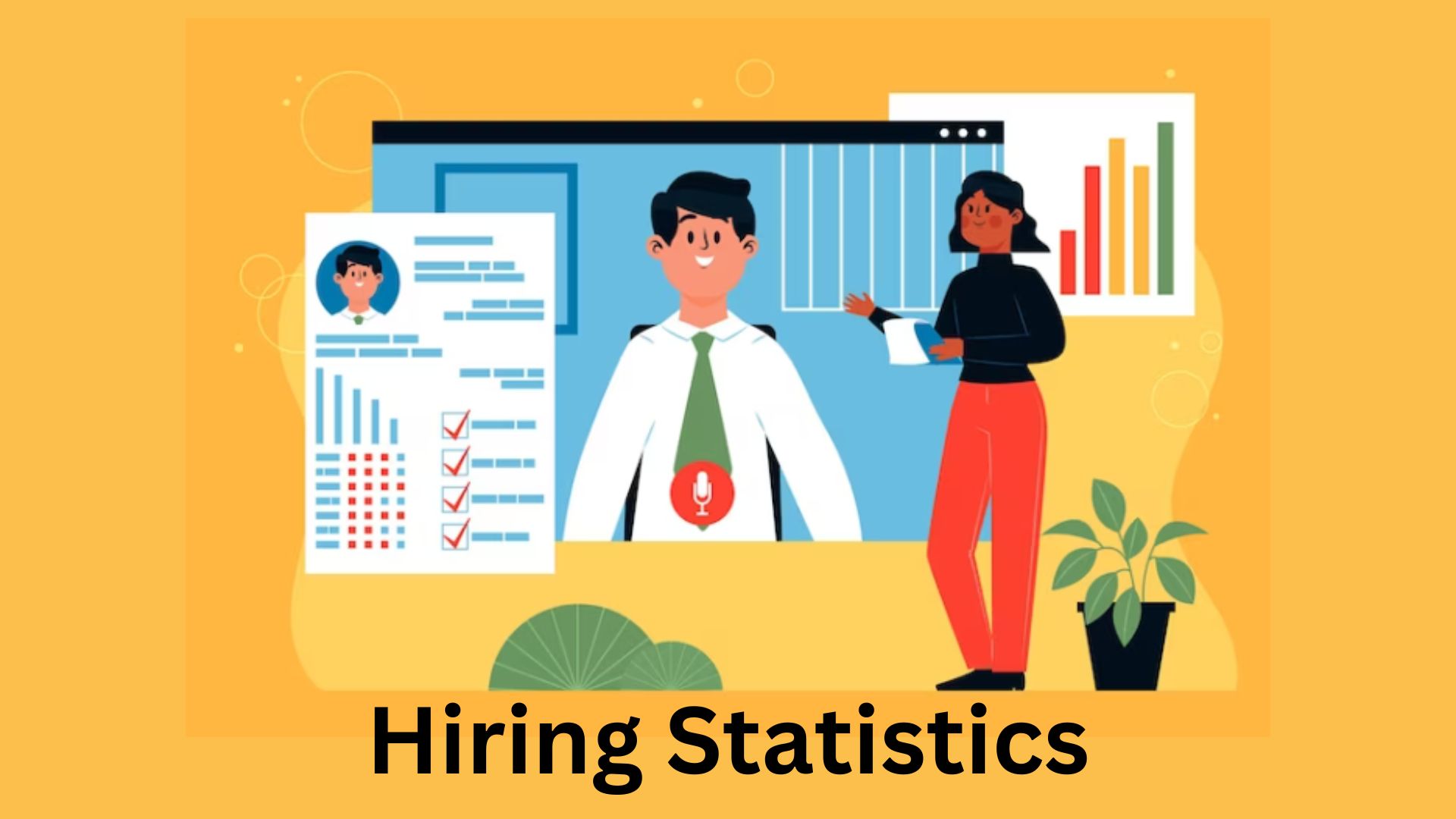 Introduction
Hiring Statistics: Hiring is a process of selecting appropriate candidates for employment within organizations. The overall hiring process includes a few important steps such as identifying the needs of hiring, planning, creating job descriptions, meetings between hiring managers and recruiters, promoting and posting job openings, screening applicants, interviewing, talent assessments of candidates, checking background and references, pre-employment testing, decision, offering job, hiring, and onboarding. These Hiring Statistics include various insights that will shed light on why the hiring process is essential for every company.
Editor's Choice
In the U.S. economy, the hiring cost turned out to be $30.5 billion/year approximately.
In 2022, only 2% of the applicant who sent their resumes was interviewed.
To evaluate a candidate's resume it required only 7.4 seconds by the hiring team.
During hiring applicants, soft skills play an important role that has been agreed by 92% of employers.
In the United States, the average length of the hiring process required 23-24 days in 2022.
The best way to improve the overall hiring performance is by investing in tech recruitment tech which is accepted by 68% of recruiters.
Only 0.2% of the applicants were hired by Google.
Recruiters depend on LinkedIn by 77% in 2022.
The artificial intelligence specialist hiring rate has grown by 74% by the end of 2022.
According to hiring stats for 2022, younger employees have left jobs by 12% because of money.
Hiring managers disqualified 75% of unqualified applicants' resumes.
67% of American adults always preferred job postings with salary details.
The screening process was termed as the most challenging part as it takes near about 23 hours, which is believed by 52% of acquisition leaders.
Facts About Hiring
In the United States in 2022, the health services and education industries have hired 35.4 million people.
In the case of new hiring the top source was employee referrals hires was 30% and internal hires was 45%.
Social media have been used by 70% of employers for screening their candidates.
As the application process was too long 60% of applicants have withdrawn their application.
A video interview was preferred by 20% of hiring managers in the United States, in 2022.
In the process of hiring 80% of respondents have agreed that inclusivity is essential.
Hiring for racial diversity and gender diversity 30% of recruiter has made some specific policies and goals.
For hiring an applicant's average costs turned out to be $4000.
As the power of remote work is increasing hiring managers expect 90% forms of remote work.
Companies with bad processes of hiring resulted in poor recruitment experience thus 49% of candidates rejected job offers.
Out of 10 hiring employers 9 are using social media as part of the hiring process in 2023.
As per LinkedIn hiring stats, candidates received feedback even after getting rejected by 94%.
Due to bad experiences of onboarding, 52% of new hires searched for new jobs within 6 months on the job.
The hiring team has received 250 resumes on average per job posting and only 11% of candidates were hired.
As of 2022, 'hiring diversity' was considered by 80% of talent professionals.
As of 2023 increase in master's degree applicants has been observed by 50% of U.S. companies.
General Hiring Statistics
In the process of hiring candidates, the use of email turned out to be highest at 51% and another channel at 39%.
Sourcing automation helps in increasing the hiring productivity agreed upon by 70% of candidates
As of 2022, high-quality candidates were mostly available by sourcing applications over inbound which has been agreed by 62% of talent teams.
In the United States, the average length of the hiring process required 23-24 days in 2022.
41% of organizations in 2022 agreed that hiring for the entry-level job was much more difficult.
In 2022, small businesses by 10% expected to have hiring freezes.
The best way to improve the overall hiring performance is by investing in tech recruitment tech which is accepted by 68% of recruiters.
Some sorts of hiring have been done by 93% of employers by the end of 2022.
Bad hiring in the requirement process can cost around $240,000 expenses.
Before applying for a job almost 39% of women and 33% of men checked out about the reputation of the company.
According to research employees' review plays an important role in a career move because 70% of applicants go through this process.
On average, a resume includes 489 words.
In 2022, resumes were ignored by 76% of employers as they were from unprofessional email IDs.
The applicant tracking systems of companies have rejected almost 75% of resumes and human rejection with 25%.
(Source: lh4.googleusercontent.com)
(Source: standout-cv.com)
Reasons Job Candidates Rejected Offers
(Source: zippia.com)
Less Compensation (39%): Nearly 4 out of 10 candidates turned down job offers because the salary offered was not satisfactory.
Accepted Better Offer (29%): Almost 3 in 10 candidates chose to decline offers because they received a more appealing job offer from another employer.
Accepted Counteroffer from Current Employer (11%): About 1 in 10 candidates decided to stay with their current employer after receiving a counteroffer in response to their job resignation.
Slow Process of Interview (10%): 1 in 10 candidates rejected job offers due to a slow and lengthy interview and hiring process.
Job Responsibility (4%): Some candidates, accounting for 4%, declined offers because they were not satisfied with the job responsibilities.
Didn't Want to Relocate (4%): Another 4% of candidates rejected offers because they did not want to relocate to a new location for the job.
These statistics shed light on the various factors that led job candidates to decline employment offers during the year 2022.
Job Seeker's Reasons
(Source: careerplug.com)
Monthly Change in Jobs
(Source: nytimes.com)
February 2022: During this month, the United States experienced a significant increase in job numbers, with more than 750,000 jobs added.
January 2023: By January 2023, the rate of job growth had decreased, but the country still added a substantial number of jobs, totaling an increase of +517,000 jobs.
These statistics illustrate the fluctuations in job growth in the United States, with February 2022 witnessing a particularly high surge in job additions, while January 2023 saw a slightly reduced but still positive job growth.
(Source: wthitv.com)
The graph shows that the pace of U.S. hiring was higher in April 2022 but slowed down in August but the overall job market remained strong.
August 2022 = 315,000 jobs
(Source:  Salesforce.com)
The graph represents the statistics of hiring managers who cite the above points as an inhibitor of employee skill development in 2022.
(Source: zippia.com)
(Source: bryq.com)
The above graph describes the statistics of people of different age groups who wanted the type of roles in 2022.
Among all age groups people, the most preferred job type was fully remote.
Challenges Faced by Hiring Managers
Hardest to Fill Entry-Level Positions (41%): Hiring managers find it challenging to fill entry-level positions, with 41% facing difficulties in this area.
Talent Shortage (63%): A significant challenge for hiring managers is the shortage of qualified talent, with 63% struggling to find suitable candidates.
Salary Negotiation (75%): Many hiring managers encounter challenges when negotiating salaries with candidates, with 75% facing this issue during the hiring process.
Candidates Changing Their Minds After Offer Letters (75%): A common challenge is candidates changing their minds after initially accepting the job offer, affecting 75% of hiring managers.
Finding Appropriate or Qualified Candidates (76%): The majority of hiring managers, 76%, find it difficult to locate candidates who are both appropriate for the position and adequately qualified.
Lengthy and Complex Application Processes Leading to Employee Quitting (60%): Complex and lengthy application processes result in 60% of hiring managers facing the problem of applicants quitting their job applications before completion.
These statistics highlight the various challenges that hiring managers encounter in the recruitment and selection of candidates.
Hiring Statistics by Remote Hiring
Candidates asked for work-from-home facilities said 53% of hiring managers.
Remote job flexibility has been offered by 67% of employers.
As of 2023, both hybrid and remote policies will be provided by 70% of companies.
Hiring Statistics by Jobs and Career
In the global workforce, millennials have covered 1/3 portion by the end of 2022.
Interested to work overseas were 80% of millennials.
As of 2022, in the 'gig economy,' there was an estimated 7.6 million regular workers from the U.S.
Flexible work arrangements were provided by 67% of small and medium businesses.
Remote works were provided by 96% of IT and software sectors.
By the end of 2022, the number of remote workers increased by 50%.
Hiring Statistics by Communication Methods
Phone Calls (74%): The most commonly used communication method in the hiring process, with 74% of employers utilizing phone calls for interviews and discussions.
Email (73%): Email is also a widely used communication method, with 73% of employers incorporating it into their hiring process.
SMS (24%): Some employers use text messaging (SMS) as a communication method during the hiring process, accounting for 24%.
Social Media (16%): A smaller percentage of employers, approximately 16%, utilize social media platforms for hiring-related communication.
Fastest Hiring Statistics by U.S. Cities
Rochester (18.6 days): Rochester is one of the U.S. cities with the fastest hiring processes, taking an average of 18.6 days from start to finish.
Columbia (18.3 days): Columbia follows closely, with an average hiring duration of 18.3 days.
Akron (18 days): Akron's hiring process is also swift, with an average duration of 18 days.
Oklahoma City (17.9 days): Oklahoma City ranks among the cities with fast hiring, taking approximately 17.9 days on average.
Kansas City (16.9 days): Kansas City boasts one of the quickest hiring processes, with an average duration of 16.9 days.
Longest Hiring Statistics by U.S. Cities
Washington (33.2 days): Washington, along with Albany, has one of the longest hiring processes, taking an average of 33.2 days from start to finish.
Albany (33.2 days): Albany shares the same lengthy hiring duration of 33.2 days.
Richmond (27 days): Richmond's hiring process is relatively long, with an average duration of 27 days.
Hartford (26.5 days): Hartford also falls into the category of cities with longer hiring timelines, with an average duration of 26.5 days.
San Jose (26.5 days): San Jose has a similar hiring timeline to Hartford, with an average duration of 26.5 days.
These statistics provide insights into the preferred communication methods in hiring and the variations in the speed of hiring processes across different U.S. cities.
Hiring Statistics by Diversity, Equity, and Inclusion
76% of job seekers in the hiring process believed in the diversity of the company.
As of 2022, in the hiring process, almost 70% of the companies had a policy of inclusion and diversity.
For reducing blind hiring or biases in the process anonymous screening was used by 18% of companies.
The integration of diversity, equity, and inclusion was used by 57% of companies.
In 2022 the hiring workforce remained more diverse than in past years agreed by 69% of organizations.
Hiring Statistics by Candidate Trends
Active Job Seekers (30%): About 30% of job candidates are actively seeking new employment opportunities.
Active and Passive Candidates Open for New Job Opportunities (87%): A significant portion, 87%, of candidates are open to new job opportunities, whether actively job seeking or passively considering offers.
Online Job Boards (60%): 60% of job seekers use online job boards to search for new employment.
Social Professional Network (56%): 56% of candidates utilize social professional networks as part of their job search.
Word of Mouth (50%): Half of the candidates rely on word of mouth or referrals to discover new job opportunities.
Accepting a New Job (49%): Nearly half of candidates consider accepting a new job based on compensation.
Professional Development (33%): Professional growth and development are important factors for 33% of candidates when considering a new job.
Better Work/Life Balance (29%): Approximately 29% of candidates prioritize a better work/life balance when accepting a new job.
Hiring Statistics by Candidate Experience
Talent Branding Tools (Company Website – 68%): 68% of candidates use company websites and talent branding tools to learn more about potential employers.
Talent Branding Tools (Social Networking Platform – 38%): 38% of candidates explore social networking platforms for insights into companies and their culture.
Recruiter Contact for Faster Job Offers (89%): 89% of candidates believe that contact with recruiters can expedite the job offer process.
Hiring Manager Contact for Faster Job Offers (94%): An even higher percentage, 94%, of candidates believe that contact with hiring managers can speed up job offers.
Hiring Statistics by Referrals
Hiring Through Employees' Networks (Expanding Talent Pool – 10x): Hiring through employee networks can expand the talent pool by up to 10 times.
Employees Referring Friends (35%): 35% of employees refer their friends for job opportunities.
Employees Referring to Help Their Company (32%): 32% of employees refer candidates to assist their company's recruitment efforts.
Employees Referring to Be Known as a Valuable Colleague (26%): About 26% of employees refer candidates to enhance their reputation as valuable colleagues.
Employees Referring for Recognition and Monetary Rewards (6%): A smaller percentage, 6%, of employees refer candidates with the goal of earning recognition and monetary rewards.
These statistics offer insights into various aspects of candidate behavior, experience, and the impact of referrals in the hiring process.
Hiring Statistics by LinkedIn In-Mails
In 2022, LinkedIn In-Mails were three times faster in response compared to regular emails.
On weekends, emails sent between 9 am to 10 am received better responsiveness, although Saturday had a 16% lower response rate.
Sending In-Mails within groups increased the chances of receiving a response to 21%.
Candidates who followed a company's profile on LinkedIn when receiving In-Mails had a 95% higher chance of responding.
Fastest Hiring Processes in the U.S.
Hair Stylist: The fastest hiring process in the U.S., taking an average of 9 days.
Brand Ambassador: Hiring for this role typically took 8.6 days.
Retail Representative and Delivery Driver: Both roles had an average hiring process duration of 8.5 days.
Waiter: The hiring process for waiters averaged 8 days.
Longest Hiring Processes in the U.S
Professor: The longest hiring process, with an average duration of 60.3 days.
Business Analyst: Hiring for this role took an average of 44.8 days.
Research Scientist: The hiring process for research scientists averaged 44.6 days.
Flight Attendant: Hiring flight attendants had an average duration of 43.6 days.
Communication Specialist: This role had an average hiring process duration of 42.5 days.
The Hiring Process Begins with Data Usage
56% of companies use data to increase employee retention.
50% use data to evaluate skill gaps.
50% use data to build better job offers.
46% use data to understand candidates' needs.
41% use data to plan their workforce.
31% use data to compare talent with competitors.
29% use data to forecast hiring demands.
Candidate's Evaluation of New Opportunities
Job Title: 14.85% of candidates consider job titles when evaluating new opportunities.
Remote Work: 22.7% prioritize the option of remote work.
Compensation: 19.80% consider compensation packages.
Work/Life Balance: 18.81% value a good work/life balance.
New Experiences: 18.81% seek opportunities for new experiences.
Paid Time Off (PTO): 4.95% look for PTO benefits.
Statistics by Hiring Industry:
Medical and Healthcare Industry: The largest hiring industry, comprising 18% of hiring activity.
Information Technology: IT accounted for 12% of hiring.
Sales: The sales industry also represented 12% of hiring.
Accounting and Auditing: This sector contributed to 10% of hiring.
Architecture and Engineering: 8% of hiring activity was in these fields.
Recruiting and Staffing: Another 8% of hiring occurred in this industry.
These statistics provide insights into various aspects of hiring trends, including communication, job processes, data usage, candidate preferences, and hiring industries.
Statistics by Employment Data
In August 2022, the unemployment rate in the U.S. rose by 0.2% and unemployed people increased by 3.7%.
According to Statista, in August 2022 employed U.S. people turned out to be 132.34 million.
The yearly salary per employee was $54,132 in 2022 and it increased by 5.2% in 2023.
As of May 2022 in the U.S. there were more than 10 million self-employed people.
16% of American companies have hired only remote workers 44% are never allowed in 2022 and currently in 2023 there are 4.7 remote workers in the United States.
Tech industry wages were 125% higher than other sectors.
Conclusion
As of today, looking at the Hiring Statistics above it is clear that there is so much more about the hiring process that we don't know about but this article has covered the important sections of the topic. Hiring is a tough process starting from planning, candidate screening, and filtering out the qualified one involve lots of time along with several challenges. Hiring top-tier talents is the basic factor that helps recruiters to select the best candidate for their industry.
When do most company hire?
Companies mostly hire during January and February of every year. In these 2 months companies create recruiting budget and clear previous backlog.
What are the steps of hiring process?
There are 5 important steps are opening requisition, screening applicants, interviewing candidates, selecting top talents, and making the offer.
Who will make the hiring decision?
The first decision is always taken by the 'Hiring Manager' as they are foremost workers who hire candidates for open position.
What is the average cost of per hire?
The average cost range from $3000 - $5000 for per hire.
Barry Elad
Barry is a lover of everything technology. Figuring out how the software works and creating content to shed more light on the value it offers users is his favorite pastime. When not evaluating apps or programs, he's busy trying out new healthy recipes, doing yoga, meditating, or taking nature walks with his little one.
More Posts By Barry Elad