PayPal Statistics By Trends, Market Share, Demographics, Annual Revenue, Transaction and Business
Barry Elad
Updated · Sep 20, 2023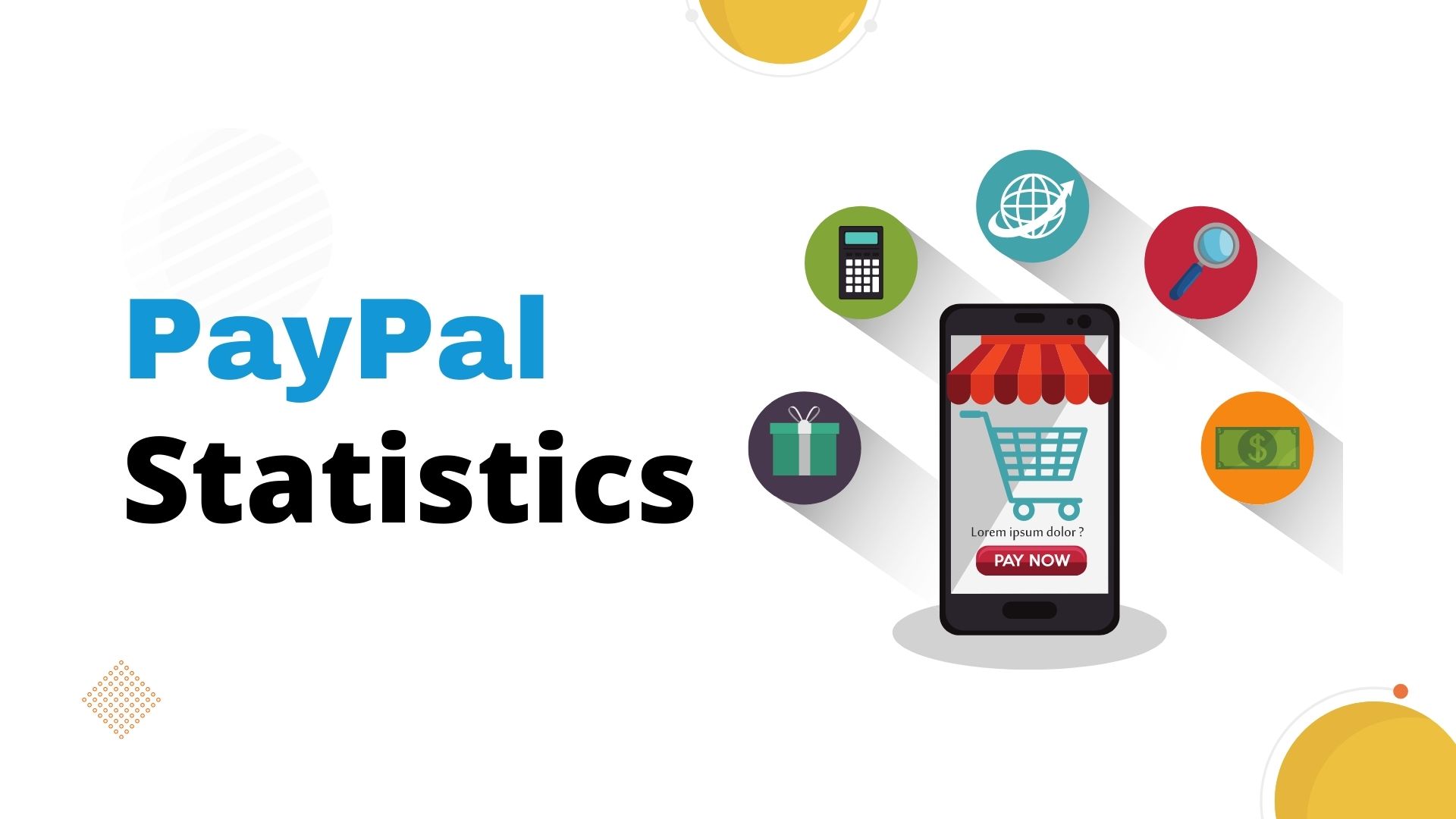 Introduction
PayPal Statistics: Paypal is a multinational fintech company that operates on an online payment system. In all the countries, it helps to transfer money online. Paypal also uses payment processors for several auction websites, online vendors, commercial users, etc. fee is also charged for it. This digital payment system is an alternative to traditional paper methods like money orders and checks.
So, if you are thinking of opening a PayPal account or already have it. This guide is useful for you to learn about PayPal statistics. It is an informative as well as eye-opening. The most famous payment app. With a large market share of 42% globally. The practice of making purchases online was frowned upon in the late 90s. there is no guarantee that the ordered items will arrive or the incorrect payment will get refunded.
In 2023, PayPal reported a staggering revenue of about 7.04 billion dollars for the first quarter with an increase of 8.59% from last year. This growth is due to an expanding user base that has reached a remarkable milestone of 223.3 million active accounts around the world. These statistics on PayPal provide useful information about the PayPal online payment system
PayPal Statistics
PayPal is home to 433-435 million active users or accounts by March
The total earnings of PayPal are projected to increase by 7.5%.
A majority of 42% world's market share in the payments service industry is controlled by PayPal.
The Total Volume of Payments for PayPal was estimated at $1.49 trillion in 2023.
A total of 53.1 transactions per account on average were reported by PayPal in the 1st quarter of 2023 with a growth of 13% from last year.
Whereas, a majority of the revenue generated by transactions with 90.4% and values added services resulted in 9.6% revenue
The PayPal transaction volume increased by 13% resulting in 5.8 billion transactions by the end of 31st March 2023.
There will be nearly 29 million Merchant accounts registered on PayPal in 2023.
Over 200 nations and territories around the world make use of PayPal.
There are 30817 employees at PayPal at the time of 2023.
The customers found that if a merchant accepts PayPal, they are 54% more likely to buy from them.
PayPal Annual Revenue Statistics
(Source: macrotrends.net)
The PayPal holdings annual or quarterly revenue history and growth rate to 2023. Revenue has been defined as the amount of money a company has received from its customers in return for sales of goods and services. Revenue is the top line item on an income statement from which all the costs and expenses are misused to get the net income.
In the 1st quarter of 2023, the earnings of PayPal reached %0.795 billion with an increment of 56.19% from the Past year.
The total payment volume in the 1st quarter of 2023 of PayPal accounted for $54.5 billion.
The net worth of PayPal resulted in $70.32 billion by May 2023.
In the United States, the market share of PayPal is going to account for 59.63% by the end of 2023.
Paypal holdings revenue for the June quarter ending in June 2023 was 7.28 billion dollars and will increase by 7.07% in upcoming years.
The 12-month revenue is 28.556 dollars and has increased at the rate of 8.21% over the years.
(Source: helplama.com)
How Many People Are Using PayPal?
Paypal active users monthly are predicted to hit 223.3 million in 2022 with a growth of 6.7% and digital buyers growth increased by 8.5%. These figures could refer to users of the internet who are years old or older. They have access to a PayPal account and can make at minimum one every month a purchase with the service. This is also an increase of 6.7 percentage increase annually over the year 2022's 209.3 million customers. In 2022, the PayPal user base reached 200 million for the first time, it was a historic milestone.
(Source: helplama.com)
PayPal is home to 392 million customers that are verified and has more than 433 million accounts in total. At the time that PayPal is turning 25, it is now known around the globe for online financial transactions. In Europe alone, over 300,000 people use PayPal daily. The most active countries in the daily use of PayPal are Germany as well as the UK. The second highest use in European countries is in France with 96,124 users. Italy with 71,811 customers, Russia with 69,306 users as well and Spain has 55,000 members.
The fastest-growing age group in PayPal users is the ones older than 50. The reason for this growth in this group appears to be due to the fact that there are more tech-savvy individuals in this age group than they were a decade ago.
Whereas, in 2024 the number of users of PayPal is expected to be 236.7 million with an increased growth rate of 6%.
By the end of 2025 across the world, PayPal core users it is expected to be 249.9 users with an increase of 5.6% and digital buyers enhanced by 9.1%.
Additionally, technology is more accessible than ever before and the consumer's habits have changed throughout the years. More than 70 percent of American adults utilize PayPal across all different age groups.
There is no doubt that the number has risen. Children are also using PayPal to pay for or purchase items. It's a good method to ensure that you are financially accountable. It's a secure payment application that provides parents with peace of mind as well as allows children to be taught about the benefits of online payment and how to save money.
Demographics
Around 56 percent of Americans have an account on PayPal. PayPal account.
Two million users in the UK also make use of PayPal.'
The number of users has increased dramatically during the two first quarters of 2020.
9 percent of children utilize PayPal within the US.
As of 2023, around 97% of PayPal users are Millennial, which is followed by 25 -34 years (25%), 35-44 years (19%), and less than 24 years (14%).
20% of People aged between 45-54 years PayPal users remained more frequent and 22% of PayPal users are above 55 years.75% of Europeans are adamant about PayPal in preference to other payment applications.
Gen X are also online users across the US and have also reported that they've previously utilized PayPal before
PayPal is Used All Over The World.
Since its inception since the year 1998, PayPal has let users use their accounts to purchase products and services. Secure transactions between accounts are also possible. Paypal is available to merchants as well as consumers in more than 200 countries across the globe. This includes regions in America, Europe, and Asia Pacific. Paypal also accepts 25 currencies. In fact, the US is currently the nation in which PayPal application users use the most being followed by Europe.
In actual fact, 90 percent of German citizens rely on PayPal for their everyday and general transactions with money online. In Germany, 57% of shoppers say that PayPal is the most preferred payment method online over other payment methods. Paypal is also a reliable option and its customers are 54 percent more likely to purchase items online that support PayPal. Therefore 59 percent of PayPal customers have abandoned transactions in cases where PayPal was not a viable option for online transactions.
In Germany, 51% of the population makes payments at restaurants, shops, and other places. Additionally, it's being utilized in 92% of those for online transactions. In contrast 37% of users in the UK utilize PayPal to make payments in stores and 88% make use of it for online transactions.
(Source: oberlo.com)
How many Websites use PayPal in 2023?
In 2023, 16.8 million websites use PayPal. However, approximately 17,317,147 websites have access to PayPal worldwide. In the US, more than 1,039,766 websites use PayPal. In the UK, 308,166 websites report that they use PayPal for online transactions.
By the end of 2024 and 2025 number of PayPal worldwide users is expected to be 236.7 million and 249.9 million.
The following table shows the number of websites in different countries that use PayPal on their website.
(Source: demandsage.com)
Merchant Accounts Statistics
There are 29 million merchant accounts stats in PayPal. The exact numbers of merchant accounts can be documented. But it is easy to create an account which is not noticeable. So, the number of active merchants' PayPal accounts is just an estimation. The rise is there from 2015 when there were just 13 million. But now the number has grown to 2 to 3 million each year. The pandemic also saw an increase of 5 million over the three years. but there has been a slow growth rate also in recent years. due to a decline in merchant accounts as a result of businesses failing.
Countries with a number of websites that use PayPal are followed by the United States (10.3 million), United Kingdom (3.06 million), Germany (2.91 million), Australia (2.29 million), Canada (1.28 million), Brazil (1.18 million), Italy (1.07 million), France (9.7 million), Netherlands (7.7 million), and Russia (7.5 million).
PayPal's Stakeholder Statistics
As of May 2023, the largest Stakeholder of PayPal is The Vanguard Group Inc. with an 8.05% stake share resulting in 91.04 billion shares owned.
Furthermore, other stakeholders market share of PayPal are followed by BlackRock Fund Advisors (4.28%), SSgA Funds Management, Inc. (3.91%), Comprehensive Financial Management (2.63%), Geode Capital Management LLC (1.83%), Alliance Bernstein LP (1.51%), Norges Bank Investment Management (1.27%), Fisher Asset Management LLC (1.24%), Polen Capital Management LLC (1.11%), and Fidelity Management and Research (0.96%).
PayPal's Competitors
Stripe is considered PayPal's major rival in the online payment processing industry.
Other notable payment processors in the market include Cash App, Wise (formerly Transferwise), Skrill, and Western Union.
PayPal acquired Venmo in 2012, and Venmo has experienced significant growth, going from 3 million customers in 2015 to 52 million in 2020.
Venmo is primarily used for splitting bills and subscriptions among friends and family.
PayPal's subsidiaries include Xoom, Braintree, Zettle, and Honey, offering a range of financial services.
Xoom enables electronic fund transfers and remittance of funds.
Braintree serves as a payment gateway for processing online transactions.
Zettle provides payment solutions tailored for small businesses.
Honey is a browser extension that helps customers save money by applying coupons and discounts.
Paypal Transaction Statistics
The PayPal transaction stats have grown each year. Its affiliated services like Venmo have processed about 22.3 billion transactions in 2022. Further, in quarter 1 of 2023, PayPal transaction volume stood at 5.8 billion transactions which is a 13% increase every year.
(Source: helplama.com)
Paypal Transactions Per Day
Paypal processes over 41 million transactions per day. This shows that 20.58% increase from 2019. Back then the estimate was 34 million transactions every day. This increase can be partially attributed to the increase in remote working during the pandemic. With more people working independently from home. It has grown in popularity as the means of payment in companies.
Paypal Transactions Per Account
On March 31, 2023, PayPal reported about 53.1 transactions per active account. There is an increase of over 13% than last year. Below is the table showcasing the same.
(Source: helplama.com)
Paypal Trends
In the Q1 of 2023, the net revenue have grown.
It is expected to grow in the year 2023.
Due to the recession in the US, PayPal's growth is going to be affected.
According to the analysts, there is an increase in total payment volume by 9.5%, and can reach 1.49 trillion in the year 2023.
PayPal is the leader in the market, across the world PayPal's online payment processing industry resulted in 43.85% in 2023.
On the other side, Stripe is second with a 19.45% market share which is nearly 50% of PayPal's.
Furthermore, other market shares of PayPal are followed by Shopify Pay Installment (12.47%), Amazon Pay (4.76%), Afterpay (2.13%), and others (19.32%). The bellow pie chart summarizes the market share figures.
(Source: helplama.com)
How Does PayPal Work?
PayPal provides payment services for consumers and merchants who accept PayPal. Merchants use a PayPal card reader in general stores or enable PayPal as a payment option on their websites. Consumers can pay invoices and transfer money with relative ease. Cash can be transferred to any email address or phone number, whether or not the recipient has a PayPal account.
Users need an email address to sign up for an account and must provide a credit card, or bank account to complete the setup. PayPal verifies the information to make sure the person setting up the account is the rightful owner before the service can be used. Shoppers can choose the PayPal option to complete purchases online if the retailer has the service. Transactions are completed within minutes and the company promises that transfers are available for payment or withdrawal to a bank account immediately.
Paypal For Business
Paypal provides businesses with wide solutions for day-to-day operations. It also consists of payment portals for online and person-to-person transactions, business management services, and credit, and financing options. Business owners can offer an email address for account creation. It also helps to make the online purchases more safe. It also provides a form of payment that does not need the payee to disclose their bank account number or credit card number. Therefore, the money is safe, privacy is protected and the customer base is big. Transactions are faster than the traditional way.
Paypal Fees
The PayPal fees make up much of the revenue. It also charges merchants in spite of customers. However, there is no fee to use PayPal to pay for transactions. If you use a PayPal balance. There are no fees if you make a payment to a friend or relative and transfer money to PayPal from a bank account. There are other transactions that incur fees. Like 4% of the currency conversion fee for most of the transactions that involve conversion.
Paypal's transactions that use a linked credit card incur a fee of 2.9% plus the fixed fees that vary from country to country. It is also 0.30 cents in the US. The trick is to make sure that your PayPal account is defaulted to the checking account, not your credit card. The PayPal-branded credit and debit cards have their own fee structures. It seems to be fair and typical for the industry. Other fees also apply to less routine transactions like buying and selling cryptocurrencies and sending charitable donations.
Latest Facts About PayPal
PayPal is working on accepting payments in cryptocurrency.
It recently incorporated the PayPal credit option with a zero-interest-rate, buy-now-pay-later button.
The PayPal was founded in 1998. There are low-cost digital payment services provided to customers.
Vanguard Group owns the big share in PayPal followed by Blackrock fund advisors
The PayPal employees are about 25000 located across 24 countries.
Subsidiary of venom have reached 3 million. The 10 million and 40 million by 2019.
About 80 million people use PayPal's one-touch feature to enhance the customer experience. It came out to be a useful feature. It allows customers to log information in a provided device and allows them to shop faster to avoid the hassle of signing in for each transaction.
80 million people use this one-touch feature and 7 million merchants also support the feature.
Conclusion
The PayPal is continuously producing amazing results. Its consumer base has increased along with revenue. It is shown through PayPal statistics. In spite of many competitors, PayPal has managed to stay on top and keep offering first-class services to its customers. With many remote and independent workers, experts rely on the online payment app on a regular basis. Paypal will be here to serve for upcoming years too.
Is PayPal a good choice for small businesses?
Yes, it is a good choice for small businesses. As it is easier to use by merchants. The access to the range of additional functionalities is there to help run small businesses.
Yes, as it uses end-to-end encryption. Users have the option to activate the two-factor authentication to increase the transaction's safety. It is safe to use as electronic transactions these days.
What are the fees charged for using PayPal?
Yes, paypal charges fees for specific transactions. Like receiving payments for goods and services, to withdrawing money from a PayPal account. The fees can vary depending upon the transaction kind, currency, and country.
Can PayPal be used for business transactions?
Yes, PayPal provides various solutions. It includes PayPal business, checkout, etc. These solutions offers various payment options and functionalities. It helps businesses for transactions management effectively.
Barry Elad
Barry is a lover of everything technology. Figuring out how the software works and creating content to shed more light on the value it offers users is his favorite pastime. When not evaluating apps or programs, he's busy trying out new healthy recipes, doing yoga, meditating, or taking nature walks with his little one.
More Posts By Barry Elad