Shopify Statistics By Financial Shopify, Market Share, Region, Country, Stores, Websites, Geography, Demographic and Traffic Source
Barry Elad
Updated · Sep 13, 2023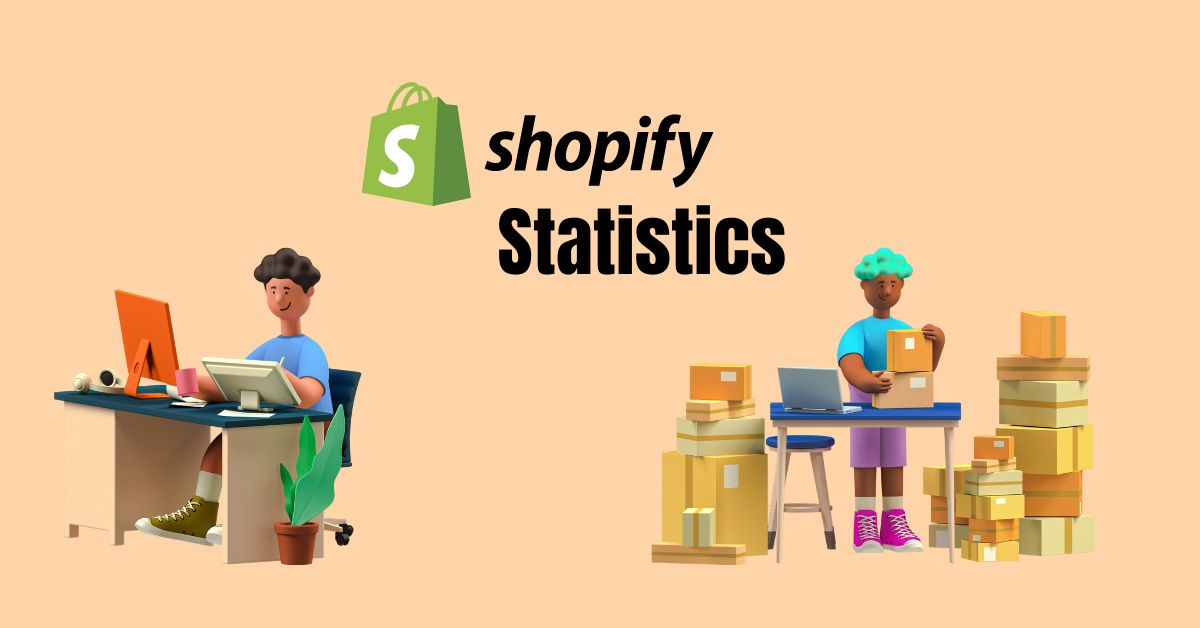 Introduction
Shopify Statistics: The reports say that the merchants of Shopify by 2023 are expecting to have more than 700 million buyers. Shopify is an E-commerce platform that was launched in 2006 and is currently being used by 175+ countries globally with more than 32,181 Shopify Plus stores as of now. The overall business is based on online sales and as we all know the world is enhancing technologically and thus customers in recent days have preferred online purchasing. These Shopify Statistics include insights from various aspects that provide light on why Shopify is one of the best e-commerce platforms today.
Editor's Choice
In the 1st quarter of 2023, Shopify revenue turned out nearly $1.5 billion.
Whereas in the 2nd quarter, the total revenue earned by the Shopify platform was $3.20 billion in the e-commerce market share is around 25%.
As of 2023 according to expert's predictions, Shopify merchants are expecting to have around 700 million global buyers.
In the United States around 62% of stores are based on Shopify in 2023 and 18,767 Shopify Plus stores.
Shopify is currently using almost 4.36 million websites.
Since its inception day to date, Shopify has generated above $700 billion in sales.
For assisting online businesses in customizing Shopify stores.
The most used Shopify theme is Shopify's Custom Theme currently used by 12,752 stores.
For customizing stores and assisting businesses more than 8000 applications are used in the Shopify app stores.
The most popular Shopify subscription plan is a Basic plan which costs $39 per month.
In 2022, the order value of Shopify will result in $79.5 billion.
More than 100 premium and free themes are available in the Shopify Theme Store.
Facts About Shopify
In 2023, more than 2 billion people are actively doing online shopping across the world mostly done by Smartphones.
In Shopify using 3D product images helps in increasing conversion rates by 250 times.
By the end of 2022, the volume of Shopify's gross merchandise turned out $197.2 billion.
According to Statista, Shopify possesses around 10% of the global e-commerce platform market and the average order value is $85.
According to Shopify statistics, in May 2023 around 11,600 working staff of the Shopify platform before lying off around 20% of its workforce.
In 2022, Shopify's gross profit turned out $2.8 billion which has increased by 11% from last year.
The share prices of Shopify have fallen by 80% sharply in 2022 from last year.
According to Yahoo Finance, the current value of Shopify turned out $62.43 per share in 2023.
The average order value of Shopify's online purchases of the top 20% of Shopify stores resulted in $192 and the top 10% of Shopify stores tend to be $311.
General Shopify Statistics
Since its inception day to till 2023, Shopify has generated above $700 billion in sales.
Whereas, it is expected that Shopify merchants are going to include 700 million customers in 2023, and by the end of 2022 it will be 649 million people.
As of 2023, around 2.14 billion people made online shopping from Shopify.
The Gross Merchandise Volume of Shopify in the 1st two quarters of 2023 was $104.6 billion whereas; in 2022 it turned out $197.3 billion.
On the other hand, revenue in the 1st two quarters of 2023 is going to be $3.2 billion which has increased by 21%, and by the end of 2022, it will be $5.6 billion.
In 2022, Shopify's subscription solution revenue resulted in $1.5 billion with an 11% share.
Shopify market capitalization in 2022 resulted in $44.15 billion which has decreased by 74.26% in 2022 and by the end of 2023 it is expected to be $75.42 billion with an increment of 70.82%.
The most popular Shopify app is 'marketing and conversion' 2,376, which is followed by 'store management' apps (2,064), 'store design' apps (1,886), and 'orders and shipping' apps (1,745).
According to the source of Shopify statistics, for every $1 of revenue, Shopify's merchants are using the platform to earn $40.82 in 2023.
By the end of 2025, the global sales of Shopify e-commerce are expected to be $7 trillion.
by Financial Shopify
For the 1st quarter of 2023, revenue achieved by Shopify was $1.5 billion with an increase of 25%
Whereas, in the subsequent year Shopify's monthly recurring revenue turned out $116 million with an increase of 10% by the end of March and $139 million by the end of June in the year 2023.
As of 31st March 2023, Shopify has recorded $4.9 billion in marketable securities, cash, and other cash equivalents while on 31st June 2023, it recorded $4.8 billion.
The operating loss in the 1st quarter of 2023 resulted in $193 million and in the 2nd quarter it resulted in $1.6 billion.
Shopify's gross profit resulted in $717 billion with an increment of 12% in the 1st quarter, and $835 billion (+27%) in the 2nd quarter of 2023.
In the 1st quarter of 2023, the revenue rate of Shopify subscription solutions was $382 million with an increment of 11% from last year, and in the 2nd quarter it resulted in $444 million
Revenue Statistics by Region
In 2022, the share of top Shopify's revenue was highest in the North American region with 73.3% which resulted in $2.15 billion.
The 2nd highest Shopify revenue achieved by Europe, Middle East, and Africa was $454.27 million with 15.5% share.
Furthermore, other regions' revenue is followed by Asia Pacific and China with $292.24 million (10%), and Latin America with $36.16 million (1.2%).
(Source: stylefactoryproductions.com)
By the end of 2022, Shopify's net revenue has increased by 23% from last year resulting in $5.6 billion.
Across the globe, the largest e-commerce platform provider is Shopify with one million sites.
The share of the top million e-commerce sites of Shopify and Shopify Plus with 25% share which is segmented into two sections Shopify Plus stores (4%), and regular Shopify stores (21%).
Shopify e-commerce ranked 4th position among the market share of all e-commerce sites over the world with a share of 10.32%.
According to Statista in the United States, Shopify has 28% of e-commerce sites.
The rival platform shares of Shopify are followed by WoCommerce (24%), Magento (7%), Wix stores (3%), and others (41%).
by Shopify Pricing
(Source: demandsage.com)
Shopify includes three different plans of subscriptions that help in selling products effectively those are available at both monthly and annual rates.
The most popular plan is a Basic plan that costs $39 per month.
, the monthly cost of the normal Shopify plan is $105 and the advanced plan is $399.
Furthermore, other subscription plans are Shopify special pricing at just $1 per month in which users can feature any plan for 90 days, Shopify Starter plan ($5/month), Shopify Lite ($9/month), and Shopify Plus plan ($2000/month).
Different subscription plan includes different shipping discounts Basic enable above 77%, on the other hand, Shopify and Advanced allow above 88%
Shopify Merchant Statistics by Region
In 2023, Shopify merchants are currently available in more than 175 countries.
The highest share of Shopify Merchants in the region of the United States of America with 50% resulting in 8.75 million Shopify merchants.
Furthermore, region share and number of Shopify merchants are followed by Europe, Middle East & Africa (25% and 4.37 million); Asia Pacific and China (15% and 2.62 million), Canada (6% and 1.05 million), and Latin America (4% and 70K).
Shopify Store Statistics by Country
(Source: demandsage.com)
As of 2023, the maximum number of Shopify stores are available in the United States of America with above 2.68 billion online businesses.
Other top countries with the highest online businesses of Shopify are followed by the United Kingdom (1.91 million), Australia (1.38 million), Brazil (1.27 million), Germany (1.11 million), and Canada (1.03 million).
Whereas, other countries with the least online business or Shopify stores are France (59K), India (47K), Netherlands (43K), Italy (40K), and Japan (25K).
Shopify Plus Store Statistics by Country
The share of Shopify Plus stores is 59% in the United States of America; others are followed by the United Kingdom (6.13%), Australia (5.88%), and Canada (5.69%).
As of 2023, the highest numbers of Shopify Plus stores are available in the United States (18,767), United Kingdom (2,161), Australia (1,972), and Canada (1,847).
Countries with the least number of Shopify Plus Stores are followed by Germany (738), France (721), Japan (322), Denmark (314), Netherlands (307), and India (295).
by Shopify Stores
Across the world by the end of 2023, it is expected that total Shopify ecommerce sales will climb to $543 billion.
As of today, the growth of Shopify e-commerce stores has increased by 4 billion since 2006 across the world.
By the end of 2022, more than 2 million merchants have used Shopify and its websites.
Per Shopify, customer revenue has increased up to $90 in the spring of 2022 as per the survey reports of 2,608 Shopify stores.
More than 100 premium and free themes are available in the Shopify Theme Store.
In 2022, the average cost of a shipping container has increased 4 times resulting in $10,000
by Popular Categories
As of 2023, Shopify's most popular category is the Fashion sector and almost 1.02 million shops are selling online items.
Whereas, next popular categories statistics by number of shops selling are followed by Apparel (83,873), Jewellery (73,130), Bags (44,352), Shoes (36,444), Makeup (38,321), Women clothing (35,373), Home Décor (30,872), Coffee (27,209), Fitness (26,974), Groceries and Food (26,897), and Furniture (23,124).
by Shopify Websites
(Source: truelist.co)
A higher number of Shopify-powered websites is experienced by the United States in 2023.
According to Shopify website statistics, number of websites used by the U.S. is around 2,607,869.
Other most popular e-commerce platforms are followed by California (72,786), New York (30,874), Florida (27,489), Texas (24,203), and Georgia (12,809).
Shopify Website Traffic Statistics by Geography
(Source: similarweb.com)
In the last month, the United States had .89% of total traffic on shopify.com, which has increased in total website visitors by 10.34%.
Other countries that recorded contribution in total traffic are followed by the United Kingdom (7.66%) increased 13.71%, Canada (4.68%) increased 11.98%, India (4.53%) increased 7.71%, Australia (4.5%) increased 9.88% and other countries collectively made around 44.74%.
by Demographic
As of 2023, there are 50.33% female users and 49.67% are male users of Shopify.
The average age of users is 30 years.
(Source: similarweb.com)
As of January 2023, the Shopify Statistics by the demographic state that, the highest number of users observed is between the age group of 25 to 34 years resulting in 34.48%.
There are 21.52% Shopify users aged between 35 to 44 years.
81% and 14.72% belong respectively to 45 to 54 years and 18 to 24 years.
09% of users are aged between 55 years to 64 years.
And there are 5.38% Shopify users contributing from the age group of 65 years+.
by Traffic Source
(Source: similarweb.com)
As per the Shopify statistics, the highest rate of traffic towards shopify.com is by direct source resulting in 80%
53% by organic search while 4.32% is from referrals.
Furthermore, other traffic sources towards shopify.com are paid search (2.76%), Social (1.45%), Mail (1.31%), and Display (0.64%).
by Social Media Referral Rate
(Source: similarweb.com)
YouTube has the highest rate of social media referral rate on shopify.com resulting in 44.06% than other social networks.
Facebook and WhatsApp contribute by 20.01% and 6.66% respectively.
Traffic sent by Pinterest is 6% and LinkedIn by 5.64%.
Other social media networks of shopify.com with nominal contribution resulted in 17.63%.
by Store Traffic and Performance
On mobile devices, around 79% of Shopify's traffic is generated in recent years.
People who have shopped for the first time via Shopify have generated more than 300% revenue.
On the other hand, repeat shoppers make up 21% of most brands resulting in 44% of overall revenue in 2023.
In Shopify stores, the highest conversion rate has been boosted through Emails by 4.29%.
According to the reports of Baymard Institute, people before checking out orders 70% of shopping carts get abandoned and never turn into orders.
For most online sellers paid advertising is now less effective by 15% to 20% due to paid advertising performances.
by Shopify Apps
(Source: pandectes.io)
As of 2023, Shopify merchants used around Shopify houses 8639 apps.
Shopify developers have developed 80% of third-party apps.
In Shopify App stores, near about 25 million apps were installed with 21% of installation rates.
Shopify apps statistics by number of Shopify stores that are installed are followed by Product Reviews (383,591), Shopify Inbox (243,241), Klaviyo: Email Marketing and SMS (240,461), Geolocation (188,237), Customer Privacy (182,277), Mailchimp: Email Marketing (161,243), Judge. me Product Reviews (137,975), Loox Product Reviews and Photos (127,935), Instafeed – Instagram Feed (127,425), and Printful: Print on Demand (122,287).
Conclusion
As of today after completing the Shopify statistics it can be stated that this is a powerful e-commerce platform that enables game-changing strategies among worldwide businesses. Shopify promotes a user-friendly interface, comprehensive support, and powerful analytics tools for enhancing the digital world that allows users to track Shopify's store performance.
This digital marketing network allows people to achieve independence by making businesses easier to start, run, and grow effectively. Thus, this article includes many important statistics that will help in understanding the importance of the Shofiy market, revenue, user shares, etc. around the globe.
What are benefits of Shopify?
This allow easy usage of eCommerce platform, support for wide range of businesses, enable low startup costs, provide beautiful and customizable themes, great for dropshipping, provide safety and reliability, and support for multichannel with Shopify POS.
Can Shofify have multiple users?
Yes users can add staff accounts to different Shopify store for letting staffs to log in as separate users. In a single account Shopify allow to create maximum 10 stores on a single account.
Which market is best for Shopify?
Global best marketplace apps for Shopify are eBay, Wanelo, Multi Vendor MarketPlace, Walmart Integration, eBay LINK, SiBi-See It Buy It, Multi seller Marketplace, Wish Marketplace Integration, etc.
Who uses Shopify the most?
The top three companies using Shopify is Tesla, Sephora, and Nestle.
Barry Elad
Barry is a lover of everything technology. Figuring out how the software works and creating content to shed more light on the value it offers users is his favorite pastime. When not evaluating apps or programs, he's busy trying out new healthy recipes, doing yoga, meditating, or taking nature walks with his little one.
More Posts By Barry Elad