Smart City Statistics 2023 By Companies, Market Share, Prioritized Areas and Country Rank
Barry Elad
Updated · Nov 15, 2023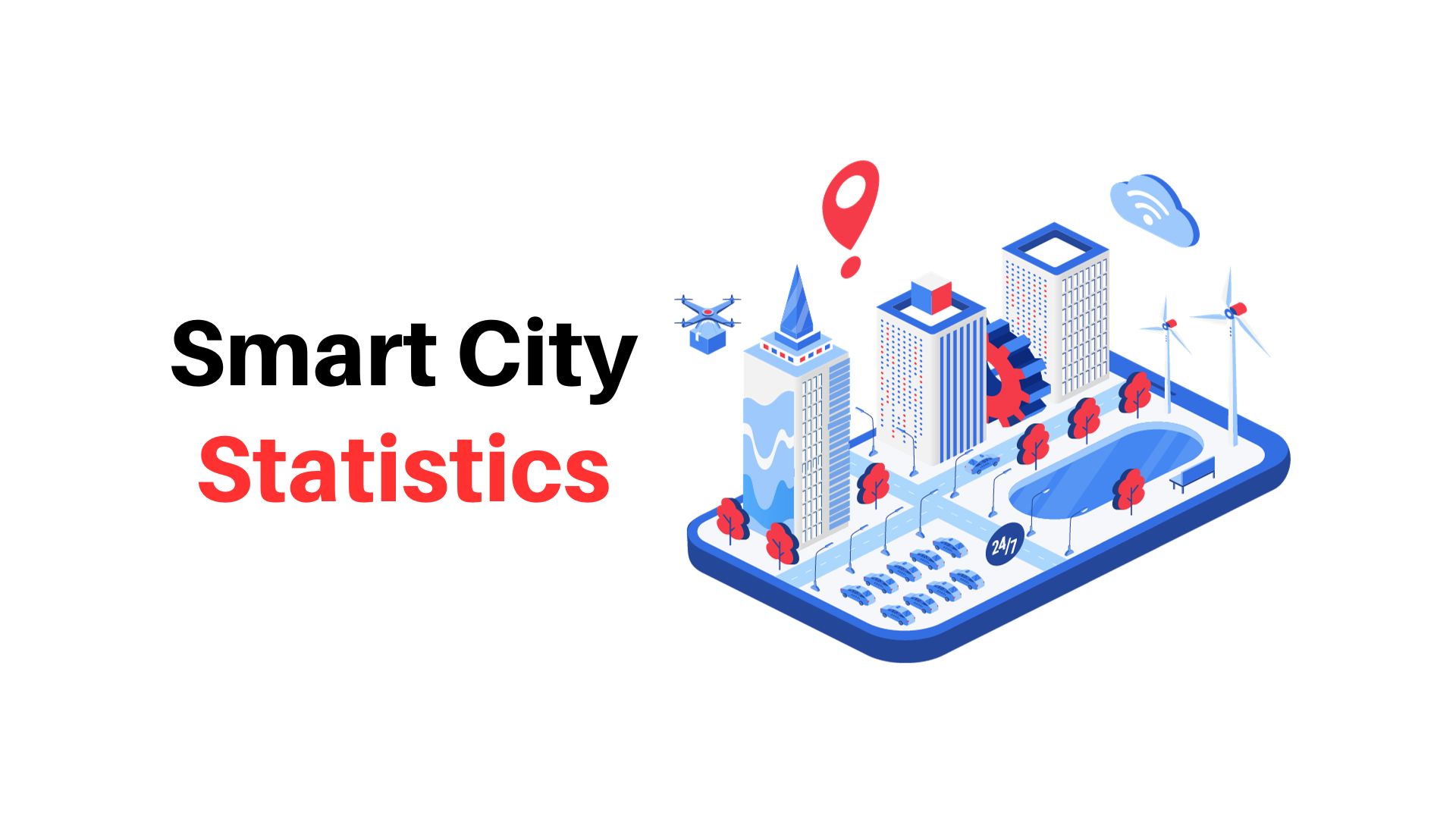 Introduction
Smart City Statistics: The reports say that the market size of the Smart City industry is expected to reach $10.27 trillion by the year 2032. Since technological developments, not only electronic gadgets cities have started innovation with smart technologies.
Smart City consists of smart home systems, smart energy systems, smart waste management solutions, smart monitor and managed traffic systems, effective water supply networks, power plants, a proper system of criminal investigation, smart healthcare facilities, schools, digital libraries, and tech-oriented community services with IoT technologies connected through smart devices.
The market size of Smart Cities is expected to experience huge growth in coming years as every nation has already started investing in a "Smart Cities Development Plan". These Smart City Statistics include several insights from different aspects that are going to shed light on the worldwide popularity of Smart City in recent years.
Editor's Choice
As of 2023, in the United States revenue generated by Smart Cities is expected to be $0.27 billion.
According to Precedence Research, the global revenue share of the market is expected to reach $1.48 trillion by the end of 2023, and by 2032 it is going to be $10.27 trillion
The compound annual growth rate (CAGR) is 25.9% between the years 2023 to 2028.
In the year 2023, the expected spending on the global Internet of Things is around $1.1 trillion.
On the other hand, global consumer spending on smart home systems is predicted to be $123 billion and expected technology spending on Smart city initiatives is around $124 billion.
In the United States, around 54.4% of houses are going to be included under smart home technology by the end of 2023.
The largest market share of the Smart Home industry is carried out by the United States of America with a 35% global share.
In 2023, the smart home industry is going to ship more than 68 million smart speakers.
As of reports it has been observed that around the world almost 70% of consumers are expecting to implement smart home appliances by the end of 2023.
The main reason for implementing smart home as it provides effective energy management claimed by 45% of smart home users.
By the end of 2026, within the global Smart City, there will be more than 300 million smart homes.
Pros and Cons of Smart Cities Statistics
Every feature includes some positive and negative impacts within its implementation thus, in the case of smart cities.
The pros are reduced pollution, less traffic congestion, greater public safety, improved energy efficiency, better service delivery, and efficient resource usage.
The cons are greater dependency on technology, higher values of properties, greater impersonality, increased citizen privacy concerns, and huge investments.
Facts of Smart City Statistics
By 2050, around 60% of the global population is supposed to be under the initiative of Smart Cities. Cities are going to be reshaped by advanced technology, modern connectivity with urban essence, and enhanced infrastructure.
According to Smart City Statistics, investing in smart city technology is an effective use of taxpayer money said 55% of American investors.
By the end of 2026, the fastest-growing application of smart cities is "Lighting" with a CAGR of 24.4%. Automated and responsive lighting systems are an effective part of intelligent solutions in transforming cities smarter.
As of 2023 Amsterdam, Europe is the leading country with 170 smart city initiative projects.
In the United States, 66% of cities are currently investing in different technologies for smart city projects.
In the era of high-technology urban living, China is also planning to build more than 500 smart cities by the end of 2023.
Automotive vehicles are a part of smart cities and by the end of 2030, almost 2/3rd of the traffic is going to be formed by these vehicles.
By the year 2025, the main objective of a 50% smart city is supposed to be strategies for climate change mitigation.
According to the reports of Gitnux, around the world, 93% of smart cities are in the early stage of development.
(Source: Market.us)
According to report published by Market.us, Smart City Market is projected to reach 6782 Billion by 2032
Global Market Size: The Smart City Market is expected to be valued at approximately USD 880 Billion in 2023.
Projected Market Size: By 2032, the market size is anticipated to reach around USD 6782 Billion.
Growth Rate: The market is predicted to grow at a Compound Annual Growth Rate (CAGR) of 23.3% from 2022 to 2032.
Smart Utilities Share: In the smart city market, the smart utilities segment holds a 30% market share.
Governance Segment Growth: The smart governance segment is expected to grow rapidly during the forecast period.
City Surveillance Share: In the governance category, city surveillance leads with a 31% market share.
Energy Management Share: The energy management segment in utilities dominates with a 48% market share.
Intelligent Transportation System (ITS) Share: ITS holds a 45% market share in the smart transportation sector.
North American Share: North America is projected to hold 45% of the global smart city market share.
Smart Building, Environmental Solution, and Smart Healthcare: These are also key application areas within the smart city market, contributing significantly to its growth.
Smart Infrastructure Growth: A notable increase is expected in smart infrastructure applications within smart cities.
Waste Management Services Market Growth: The market for waste management services in smart cities is expanding rapidly.
Parking Management Market Growth: This segment is an integral part of the smart city market, showing significant growth.
Economic Impact of COVID-19: The pandemic has affected the market dynamics, causing both challenges and opportunities.
Emerging Trends: Technologies like IoT, AR, VR, and autonomous vehicles are becoming more prevalent in smart cities.
Smart City Statistics of India
According to reports from Magicbricks, Indian Prime Minister Narendra Modi launched the "Smart City Mission" in the year 2015.
In Indore in Indore, In Indore, National Smart Cities Mission Convention was held on 26th and 27th September, 2023.
The total budget of the government to support the mission amounts to around the amount of Rs. 7, 20,000 crore.
In accordance with Wikipedia, it was noticed that, by the end of September 2023, 7960 smart city projects had been awarded for around $171,432 crore i.e. about $21 billion.
Cities that will become smart cities include Port Blair, Vishakapatnam, Tirupati, Kakinada, Amravati, Pasighat, Guwahati, Muzaffarpur, Bhagalpur, Biharsharif, Patna, Chandigarh, Raipur, Bilaspur, Naya Raipur, Diu Dadra & Nagar Haveli, Silvassa, New Delhi Municipal Council, Panaji, Gandhinagar, Ahmedabad, Surat, Vadodara, Rajkot, Dahod, Karnal, Faridabad, Dharamshala, Shimla, Srinagar, Jammu, Ranchi, Mangaluru, Belagavi, Shivamogga, Hubballi Dharwad, Tumakuru, Davangere, Bengaluru, Kochi, Trivandrum, Kavaratti, Bhopal, Indore, Jabalpur, Gwalior, Sagar, Satna Ujjain, Nashik, Thane, Greater Mumbai, Amravati, Solapur, Nagpur, Kalyan-Dombivali Aurangabad, Pune, Pimpri Chinchwad, Imphal, Shillong and many more.
The Top Smart Cities Statistics by Companies
According to recent research by Coinsights at the year 2025's end, the global smart cities market is predicted to reach $2.57 trillion, with an estimated CAGR of 22.9 percent.
In 2023, global expenditure on IoT for Smart Cities is going to be $1.1 trillion.
The CAGR for the use of AI in smart city applications is predicted to be 30.6 percent by 2025.
The top 10 best smart city solutions companies include Clarity, Enevo, Inscape Data, Intron, OpiAid, ParkWhiz, Premise Data, Quantela, Sensus, and Smart Rain.
Smart Cities Statistics by Prioritized Areas
(Reference: imd.org)
The above graph describes the 15 indicators by different survey respondents around the world that are required for developing a smart city.
72% of respondents preferred affordable housing, others priority areas by respondents share are followed by fulfilling employment (52%), unemployment (50%), health services (34.4%), road congestion (29.7%), air population (26.8%), green spaces (26.5%), public transport (26.4%), school education (23.5%), Basic amenities (21.6%), citizen engagement (20.8%), recycling (20.5%), social mobility (18.7%), security (16.4%), and corruption (12.4%).
Smart City Statistics by Country Rank
(Reference: imd.cld.bz)
According to the reports of IMD Smart City Index 2023, the above chart describes the smart city ranks of different cities across the world.
As of now, the top 10 ranked cities in the smart city initiative are followed by Zurich (1st), Oslo (2nd), Canberra (3rd), Copenhagen (4th), Lausanne (5th), London (6th), Singapore (7th), Helsinki (8th), Geneva (9th), and Stockholm (10th).
Around the world, the top spot that hosts many 5G towers, green infrastructure, and EV charging stations along with heavy investments into 6G, IoT, and AI in London, UK for establishing a more advanced smart city.
According to McKinsey research, New York is another advanced city with tech-implemented well-established infrastructure including water quality meters and sensors, and deployment of LPWAN (Low-Power Wide Area Network) technologies.
As of 2023, France has four important smart cities Paris, Lille, Lyon, and Marseille.
Tokyo, Japan includes a wide range of smart cities including many advanced tech. systems such as energy-efficient buildings and advanced traffic management with cameras and sensors. By the end of 2050, Tokyo is planning to reduce the emission of greenhouse gases by 80%.
Berlin, Germany is termed as the home of energy-saving smart streetlights which allow for the promotion of sustainability and real-time traffic along with an effective transportation system. By 2050 this smart city is going to achieve carbon neutrality.
In 2023, Washington's smart city strategy is to establish a viable and equitable urban environment along with driving economic development.
By the end of 2050, approximately 47% of the population is expected to be 65 years and above people. Thus, the smart city has digitalized the healthcare system effectively so that people can purchase everything from a one-stop shop.
Components of Smart City
(Source: ttgtmedia.com)
The smart city market segments are followed by governance and education (24.6%), smart security (13.5%), smart energy (15.8%), smart infrastructure (13.1%), smart mobility (8.7%), smart healthcare (14.6%), and smart building (9.7%).
Smart buildings include advanced sensors and high-quality systems that allow for optimization, intelligent controlling, and monitoring of various functions. It also includes Indoor Environmental Quality monitoring mainly for detecting weather, temperature, noise level, airflow, and energy efficiency.
Public safety and security include predictive surveillance systems, advanced cameras, IoT sensors, and other devices.
Waste management is the effective trend for implementing smart cities that utilize MetTel's IoT connectivity and single SIM for multi-area coverage from different locations.
Low-power sensors and networks are mostly installed in traffic streetlights and CCTVs. Buildings, etc.
Smart Home Networks for securely sharing home sensor data with neighbors, along with promoting and improving security services.
Smart supply chain and logistics management are mostly used by several companies and warehouses for tracking the shipment of products in real time to reduce thefts.
Intelligent farming helps farmers understand environmental factors by using sensors such as nutrient levels, temperature, soil moisture, light intensity, and humidity.
Future Statistics of Smart City
The overall AI market share in smart cities is going to reach $326 billion by 2028.
By 2025, the cost of implementing smart city technologies in the top 50 cities is expected to be more than $330 billion.
The smart city market size of the Asian Pacific region is going to dominate by the end of 2025 with expected revenue worth $320 billion.
According to the reports of Zipdo, the sub-market of smart cities that is the infrastructure and construction sector is supposed to reach $57.05 billion by 2027.
On the other hand, the communication segment of smart cities is predicted to gain a market size of $377 billion by 2025.
By 2024, the expected Canadian smart city growth rate at a CAGR of 19.2%.
It is predicted that by the end of the year 2023, the Chinese smart city tech market is going to cross $38 billion.
The market size of the developing nation by 2025 is supposed to account for 20% of the global market share of smart cities.
Global Smart Home Statistics
(Source: Market.us)
Market Size: The Smart Homes Market was valued at USD 113.5 Billion.
Projected Market Size: It is expected to reach USD 503.1 Billion by 2032.
Growth Rate: The market is estimated to register a Compound Annual Growth Rate (CAGR) of 16.8%.
Wireless Technology Dominance: Wireless technology, including Bluetooth, Zigbee, Wi-Fi, and Z-Wave, is leading in the market due to its seamless communication and long battery life.
Security and Access Control Segment: This segment is the leading category in the market, focusing on home safety with products like security cameras, smart locks, and video door phones.
Smart Security Options Trend: There is an increasing trend in adopting smart security options, such as modern burglar alarms and facial recognition systems.
Asia Pacific Market Share: The Asia Pacific region holds a significant revenue share, driven by the rapid adoption of smart home appliances, especially in China and India.
Key Players' Strategies: Companies like Samsung Electronics Co., Ltd. and LG Electronics Inc. are focusing on mergers and partnerships for business growth.
Opportunities in Light Control Industry: The lighting control sector presents significant opportunities, integrating IoT and AI for enhanced energy efficiency.
Data Security Challenges: The industry faces challenges regarding data security, emphasizing the need for robust measures against hacking and data leaks.
Technology Preference: Wireless technology is the preferred choice for smart homes.
Product Analysis: The security and access control segment holds the largest market share in the product category.
Application Analysis: New construction sites are increasingly adopting smart home appliances.
Regional Analysis: The Asia Pacific region dominates the market, accounting for a major share.
Growth Opportunities: The light control industry within smart homes is seeing many opportunities, driven by advancements in IoT and AI.
Global Smart Manufacturing Statistics
(Reference: statista.com)
According to Statista, in 2023 the market size of the smart manufacturing market is expected to reach $480 billion with a CAGR of 12.3% from 2023 to 2027.
Global Smart Government Statistics
(Source: researchandmarkets.com)
According to the reports of Research and Markets, the global smart government market in 2023 is expected to be $33.69 billion and by the end of 2027, the market size is going to reach $66.99 billion with a CAGR of 18.7%.
Global Smart Transportation Statistics
(Source: researchandmarkets.com)
As of 2023, the global smart transportation market is expected to be $143.54 billion and by the end of 2027, it is going to be $261.1 billion with a CAGR of 16.1%.
Global Smart Agriculture Statistics
(Source: researchandmarkets.com)
In 2023, the global smart agriculture market is predicted to be $14.69 billion and by 2027 it is going to be $22.83 billion with a CAGR of 11.7%.
Conclusion
As of today after completing the article on Smart City Statistics it can be stated that this concept has improved the infrastructure along with the integration of advanced technology that allows better connectivity, manufacturing, efficient transportation, waste management system, modern governance, and surveillance system. This article includes many effective statistics that will allow you to understand the topic better.
Who discovered the smart city?
In 2007, the smart city was first coined by IBM and Cisco to emphasize the roles of technology in making cost-effective, efficient, and sustainable cities.
When was the first smart city made?
In the year 1994, it is said that Amsterdam is termed as the first virtual digital city to be created.
What are the pillars of smart cities?
Important pillars of smart cities are telecommunications, technology and innovation, transportation and mobility, finance, investment and economic development, government leadership and public policy, energy, etc.
Which is the no.1 smart city in India?
As of 25th August 2023 reports, Indore has secured the record of top smart city in India and has received the National Smart City Award.
When can a city be called a smart city?
A city that includes advanced implementation of new technologies and urban development's such as reduced CO2 emission, improved energy efficiency, and increased citizens' well-being.
Barry Elad
Barry is a lover of everything technology. Figuring out how the software works and creating content to shed more light on the value it offers users is his favorite pastime. When not evaluating apps or programs, he's busy trying out new healthy recipes, doing yoga, meditating, or taking nature walks with his little one.
More Posts By Barry Elad