Video Gaming Statistics – By Countries, Market Growth, Region, Company, Demographics, Addiction, Type, Subscriptions
Barry Elad
Updated · Sep 11, 2023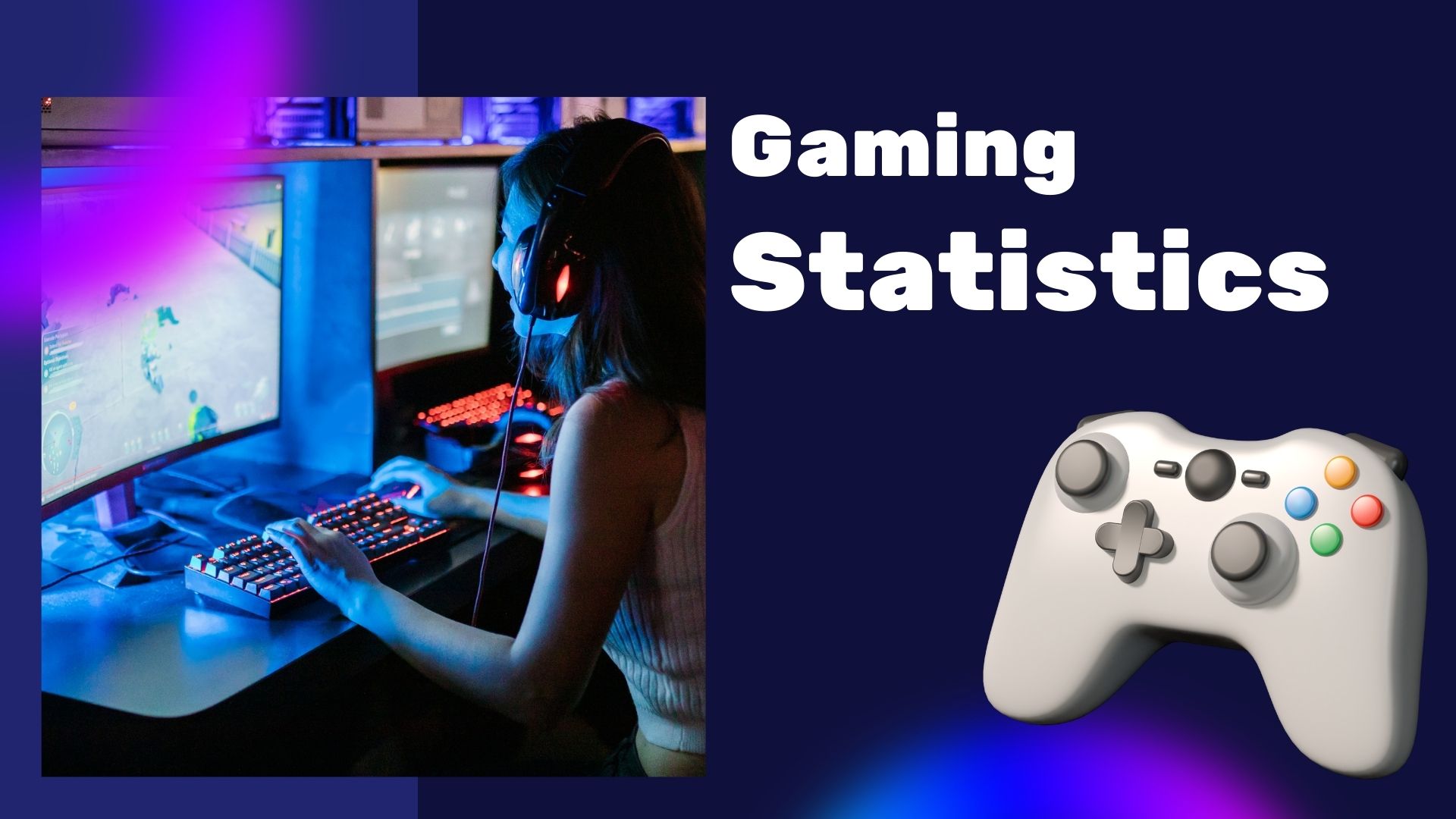 Introduction
Video Gaming Statistics: The reports say that the video gaming industry is expected to reach $522 billion by the end of 2027. Since technological developments, not only there are laptops and desktops that are video gaming-oriented but mobile devices have become compatible with many advanced video games in recent days. Video games are available in various types video games such as Action games, adventure games, and casual games some popular games are Elden Ring, Stray, MARVEL SNAP, Teenage Mutant Ninja Turtles, Horizon Forbidden West, GOD of War Ragnarok, Neon White, etc. It was observed that by the end of 2022, approximately 3 billion people across the world were playing video games. These Video Gaming Statistics include insights from various aspects that shed light on why video gaming is one of the best-trending platforms.
Editor's Choice
According to the reports of Marketer, video games will be played by approximately 3 billion people across the world by the end of 2022.
According to Statista, PC video gaming alone is expected to earn revenue of around $467.7 billion by the end of 2025.
Free-to-play games helped in generating revenue of almost 85% of the overall gaming platform.
In the digital world, the sales of video games increased to 83% in 2022.
As of 2023, the largest market share of the video gaming industry is expected to be $67.53 billion in North America.
By the end of 2025, the North American video gaming sector is going to generate $80.9 billion in revenue.
To date, the average revenue per user is expected to be $88 in the video gaming segment.
Market revenue of video gaming earned by top regions was North America ($67.5 billion), Far East ($64.7 billion), and Western Europe ($53.78 billion). 
By the end of 2022, the bestselling video game was Mario Kart 8 Deluxe whose sales rate had accounted for $45.33 million.
Advantages/Disadvantages of  Video Games
Advantages:
Video games include several advantages as playing such games makes users feel excited and great along with improving focus and concentration.
According to a study, video games also help in reducing anxiety and stress.
This also allows for increasing your hand-eye coordination and reflexes.
Helps in improving social skills, encourages teamwork, enables the ability to think critically, and ensures problem-solving capabilities.
Video game helps people to be more competitive along with increasing the ability of visual contrast sensitivity.
Disadvantages:
Video games lead to a lack of social interaction and isolate players from families and friends.
Playing video games for hours also increases the risk of obesity due to a lack of physical activity.
Video game reduces the concentration rate of students as this diverts study times and lack of focus and concentration which results in poor educational performance.
The cost of purchasing new console systems and installing some games can be expensive.
Some video gaming contents are not suitable for children as include improper language and themes which can increase aggression within players.
Facts on Video Gaming Statistics
As of 2023, around the world, the number of video gamers has increased to 3.26 billion, and by 2024 it is supposed to be 3.45 billion which is followed by 2025 (3.57 billion), 2026 (3.69 billion), and 2027 (3.8 billion).
By the end of 2025, the leading countries of online video gaming platforms is supposed to be China, Japan, and South Korea.
In the United States, approximately 74% of households include at least one video game player.
According to video gaming statistics, video game players under 18 years were almost 76% of Americans.
As of 2023, the ad revenue of mobile video games is expected to enhance by 10% resulting in $6.28 million.
Around the world, digital downloads have sold almost 90% of video games in 2023.
In 2022, the video gaming industry in the United States has more than 270,000 employees.
On the other hand, the spending on video games has decreased in 2022 as compared with last year resulting in $55.5 billion by U.S. customers.
In the U.S. the highest number of male video game players was male by 59% and females by 41% in 2023.
By 2023, the video gaming industry is going to be worth almost $221.4 billion and revenue earned by the United States is going to result in $56.84 billion alone.
General Statistics
To date, the top companies in video gaming are Sony Corporation, Tencent Holdings, Microsoft Corporation, Apple Inc., and NetEase which are generating the maximum revenue share.
By 2030, the worldwide video gaming industry is expecting to earn above $583.69 billion.
Across the overall video gaming industry, games were played by different types of devices in revenue earned by mobile devices ($103.5 billion), console devices ($53 billion), and PC devices ($40.4 billion) by the end of 2022.
In mobile video game downloads, Google Play Store with 12.1 billion downloads was dominating the Apple Play Store with only 2.3 billion downloads by the end of 1st quarter of 2022.
According to the Entertainment Software Association, 55% of children have played video games with their parents in the United States.
In 2022, almost 215.5 million people have played video games which is around 66% of Americans.
87% of users believe that there are special types of video games available for every person across the world.
As of 2023, a video game subscription is expected to have a $700 million market share.
Video games allow in building community statistics are enabling new friendships and relationships by 83% which is followed by meeting good friends, spouses, and others (46%), allowing to meeting new people and helping in staying connected with friends (61%), helped in developing a deeper relationship with others (55%), Promoted social interaction (78%), and Stabilizing existing relationship (72%).
Video Gaming Statistics by Countries
As of 2023, the United States had the biggest market share which resulted in $56.84 billion and the country had maximum video gaming players with 197.16 million.
Whereas, other countries' video gaming revenue statistics are followed by $56.84 billion in China, Japan ($42.1 billion), South Korea ($13.37 billion), United Kingdom ($6.41 billion), Germany ($5.14 billion), France ($3.58 billion), Canada ($5.53 billion), Italy (42.04 billion), and Brazil ($1.63 billion).
On the other hand, across the video gaming market, the highest number of players observed in the United States was 197.16 million by the end of 2022 to 1st quarter of 2023.
Whereas, other countries video gaming players are followed by China (742.19 million), Brazil (100.74 million), Japan (78.1 million), South Korea (33.8 million), United Kingdom (39.1 million), Germany (49.76 million), France (39.34 million), Canada (21.91 million), and Italy (7.64 million).
Video Gaming Statistics by Market Growth
(Source: bankmycell.com)
As of 2023, the market growth experienced by the video gaming sector is expected to be $249.32 billion which has increased from 2022 resulting in $220.79 billion.
Furthermore, the video game is expected to generate revenue in coming years followed by 2024 ($281.53 billion), 2025 ($317.91 billion), 2026 ($358.99 billion), 2027 ($405.37 billion), 2028 (457.75 billion), 2029 ($516.90 billion), and by the end of 2030 it is expecting to be $583.69 billion with 12.9% of CAGR.
Video Gaming Statistics by Region
The highest revenue earned by the top video gaming platform in 2023 is the Asia-Pacific region which is expecting to generate 49% of the global market share. Countries contributing the most in this region are China, India, Japan, and South Korea.
2nd highest is the Americas with a 30% revenue share with the United States and Canada contributing the largest share.
Furthermore, other regions are followed by Europe (17%), and the Middle East and Africa (4%).
Video Gaming Revenue Statistics by Company
(Source: bankmycell.com)
In the 3rd quarter of 2022, the highest video gaming company was Tencent Holdings which earned the most revenue that resulted in $8,294 million.
Furthermore, revenue earned by countries across the world is followed by Sony ($4,241 million), Apple ($3,646 million), Microsoft ($2,909 million), NetEase ($2,510 million), Google ($2,413 million), Electronic Arts ($1,904 million), Nintendo ($1,809 million), Activision Blizzard ($1,631 million), and Take-Two Interactive ($1,219 million).
The other companies are Bandai Namco Entertainment ($906 million), Sea Group ($893 million), Nexon ($847 million), Playtika ($629 million), Netmarble ($584 million), 37 Interactive ($564 million), Square Enix ($552 million), Embracer Group ($533 million), Roblox ($518 million), Ubisoft ($498 million), CyberAgent ($476 million), NCSoft ( $472 million), Konami ($451 million), Warner Bros. Entertainment ($396 million), and Century Huatong Group ($390 million).
U.S. Video Game Player's Statistics by Demographics
(Source: truelist.co)
According to video gaming statistics by the end of 2022, male and female users were followed by 55% and 45% respectively.
The highest age group those who played 38% of video games is between 18 years to 34 years. Whereas, other age groups video games players share are followed by under 18 years (20%), 35 years to 44 years (14%), 45 years to 54 years (12%), 55 years to 64 years (9%), and 65 years and above (7%).
Video game player's statistics by ethnicity in 2022 are followed by White American (73%), Hispanic (9%), Black or African American (8%), Asian (6%), and others (2%).
Video Game Statistics by Addiction
As of 2023, across the world, more than 3 billion people were playing video games in which 3-4% of gamers are recently addicted to video games.
Globally, almost 60 million people are suffering from severe gaming disorders.
After playing video games, almost 0.3% to 1% population was facing gaming disorder symptoms in 2023.
In which 8.5% of youths were patients of video gaming disorder those who were aged between 8 years to 18 years.
Video games were played by 49% of Americans in 10% of them considered themselves addicted gamers.
Statistics by Video Game Sales and Console
According to Statista, it is expected that revenue generated by Video game consoles around $21.21 billion globally in 2023 and it is estimated to reach 2.5% by 2024.
According to recent updates from Microsoft, worldwide Xbox Live users are almost 120 million and Game Pass has claimed approximately 25 million subscribers.
As of March 2023, the numbers of PlayStation Plus users have declined from last year which will be 47 million subscribers, and in 2022 it was 48 million.
On Steam, there are almost 50,000 video games as of now.
In March 2023, the Kart racing video game sold above 62 million copies.
In February 2023, the top streamed video game is League of Legends which has more than 110 million watch hours.
In the 3rd quarter of 2022, the most popular genre was shooter video games which accounted for 57% of gamers.
According to New Zoo, the world's biggest video game publisher is Tencent whose revenue worth turned $8.3 million.
Video Game Statistics by Subscriptions
(Source: statista.com)
In 2022, globally the annual growth of consumer spending on video game subscription share has decreased from last year resulting in 4.5%.
In 2023 the subscription rate of video games is expected to be 9.4% share.
Whereas, in coming years consumer spending on video game subscription share is expected to be 13.7% by the end of 2024, and 14.3% by 2025.
The maximum video game subscription services include Xbox Game Pass, PlayStation, and Apple Arcade which has experienced a $7.5 billion revenue share.
Statistics by Bestselling Video Games
Sales generated by the bestselling video game on 31st March 2022 was Mario Kart 8 Deluxe which resulted in 45.33 million
The other top bestselling video games sales are followed by Animal Crossing: New Horizons (38.64 million), Super Smash Bros. Ultimate (28.17 million), The Legend of Zelda: Breath of the Wild (26.55 million), Pokémon Sword and Shield (24.27 million), Super Mario Odyssey (23.5 million)
On the other hand, statistics followed by least bestselling sales of video games are Super Mario Party (17.78 million), Pokémon Brilliant Diamond & Shining Pearl (14.65 million), Pokémon: Let's Go, Pikachu! & Let's Go, Eevee! (14.53 million), Ring Fit Adventure (14.09 million)
Most Played Video Game Statistics by Type
(Source: airserverapp.com)
As of June 2022, the most played video games across the world casual single-player by first-person shooter games resulted in a 74.2% share.
According to Statista, 73.6% share was covered by casual multiplayer games.
Candy Crush, PUBG, Fortnite, and Clash of Clans are the most played casual single-player games.
In India, China, and Vietnam around 93% were most played video games.
On 18 January 2022, the purchase of Activision Blizzard was the biggest video gaming acquisition.
Conclusion
As of today, after completing the Video Gaming Statistics it can be easily stated that the video gaming industry has earned higher revenue rates than other entertainment industries globally. According to recent years reports it has been concluded that there are variations types of video games available that are engaging and attracting lots of people around the globe. In 2023, millions of players have seen many positive and negative impacts after playing video games. Despite many criticisms, after evolving technology the popularity of video games is still rising continuously and it will enhance more in the future too. This article includes many stunning statistics with proper explanations about different video gaming features that will provide you an effective knowledge about the worldwide market.
What do you need to play video games?
For playing video games it doesn't always requires laptops and desktops, as the quality of games can be improved after implementing technology the games quality has improved a lot thus now can be played via Smartphone's, tablets, laptops, etc.
Does video game help your brain?
According to studies, it has observed that regular video games may cause addiction, but from some reports it has observed that playing regular video games has increased a gray matter in human brain and also boosts brain connectivity.
How to stop video gaming addiction?
As of 4th January 2023 reports, for quitting video gaming addiction setting a strict time limit must be set for daily play, removing gaming devices from bedroom, asking friends and family for help, trying other stress-relieving activities, and seek gaming addiction treatment.
Barry Elad
Barry is a lover of everything technology. Figuring out how the software works and creating content to shed more light on the value it offers users is his favorite pastime. When not evaluating apps or programs, he's busy trying out new healthy recipes, doing yoga, meditating, or taking nature walks with his little one.
More Posts By Barry Elad