Vitamin and Supplement Industry Statistics By Consumer, Type, Demographic, Country, Distributing Channels, Companies
Ketaki Joshi
Updated · Aug 21, 2023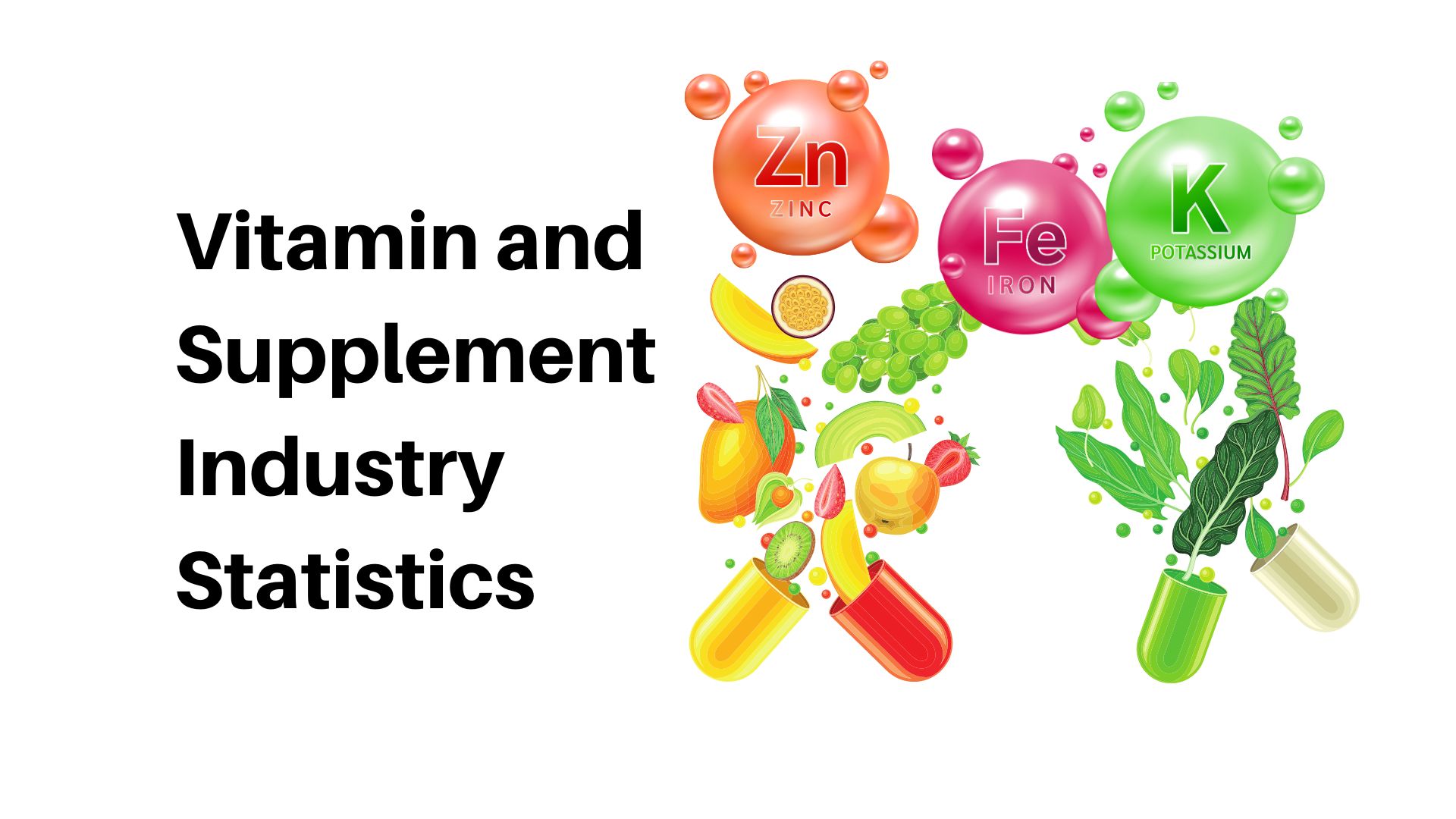 Introduction
Vitamin and Supplement Industry Statistics: Demand and expansion in the vitamin and supplement sector have seen substantial growth recently; due to people seeking ways to enhance their health and well-being through supplements. Industry figures reveal that by 2022, global market sales for dietary supplements had exceeded $140 billion; factors that have contributed to its expansion include an increased awareness of health issues among an aging population; an understanding of preventative healthcare procedures; as well as awareness of immunity-support products thanks to COVID-19 pandemic.
Customers are becoming more intrigued with certain vitamins and supplements, including vitamin D, probiotics, omega-3 fatty acids, multivitamins, and weight loss/sport nutrition supplements. Unfortunately, however, the sector faces various hurdles that must be navigated in order to remain profitable such as regulatory concerns, product quality issues, and lack of standardization – customers should use caution and consult medical specialists prior to adding vitamins to their daily lives; nevertheless, the desire for improved health and well-being drives its continued success in the vitamin and supplement sector. The article contains a wealth of information that provides informative data related to Vitamin and Supplement Industry Statistics. This can give you a clearer idea.
(Source: grandviewresearch.com)
Editor's Choice
By 2024, the US market for dietary supplements may reach $56.7 billion.
36 percent of the market consists of vitamins.
Growth is anticipated to accelerate, reaching $354.21 billion by 2030.
American spend approximately $25 percent more on "natural products" in-pocket than they do on prescription pharmaceuticals.
Protein supplement market growth is predicted to rise at up to 13.4% compound annually.
Immune support should experience the highest expected increase, 8.8%. This increase may be linked to COVID.
Weight management/loss is the primary justification for supplement use, accounting for 30.6 percent of sales overall.
Liquid supplements have the highest projected compound annual growth rate (12.1%).
General Vitamin and Supplement Industry Statistics
Vitamin and supplement sales have experienced explosive growth over recent years and now represent a considerable share of global healthcare spending.
Dietary supplement market growth is forecasted to expand at an impressive compound annual growth rate between 2022-2028, reaching over $140 billion.
North America and Europe account for the greatest shares in the global market; however, due to growing consumer awareness and disposable income levels in Asia-Pacific, Latin America, and the Middle East emerging markets are experiencing rapid expansion.
Vitamins, minerals, herbal supplements, amino acids, and enzymes as well as other speciality supplements are just some of the many products covered by this business. Multivitamins are among the most popular offerings with many more following closely behind including mineral supplements and herbal remedies.
The supplement industry has been greatly influenced by an aging population and rising health awareness. Consumer demographics have changed, though; younger generations now embrace supplements as part of a proactive approach to their own well-being and are adopting them into their lifestyle routine.
The growth of the sector can be attributed to multiple factors: an increasing prevalence of chronic illnesses, changing lifestyles and growing interest in preventative healthcare are driving its expansion, as wellness and self-care become ever-more important. Furthermore, the COVID-19 epidemic has only compounded the demand for supplements that support immune function further.
Protein supplement market growth is predicted to rise at up to 13.4% compound annually.
Immune support should experience the highest expected increase, 8.8%. This increase may be linked to COVID.
Weight management/loss is the primary justification for supplement use, accounting for 30.6 percent of sales overall.
Customers tend to like certain vitamins and supplements, such as probiotics, vitamin D, calcium, iron, and omega-3 fatty acids. Supplements designed for weight loss or sports nutrition also make up a substantial share of the industry.
Pharmacies, health food shops, supermarkets, e-commerce sites, and direct selling are just some of the distribution channels used by this sector. Convenience, greater product availability, and more affordable pricing have all contributed to its rapid rise.
Nations have their own laws and standards regarding vitamin and supplement businesses. Organizations such as the European Food Safety Authority (EFSA) and U.S. Food and Drug Administration (FDA) provide regulatory oversight of labeling, safety, and claims associated with these goods.
Product quality issues, safety concerns, regulatory compliance issues, and lack of standardization are challenges facing this sector. Furthermore, to verify the effectiveness and safety of certain supplements further in-depth analysis and clinical trials may be necessary.
Customers today are better informed than ever before about the advantages and dangers associated with dietary supplements. When making their purchases, customers require openness, quality assurance, and factual information before they commit.
Vitamin and Supplement Industry Statistics by Consumer
Vitamin and supplement markets cater to an expansive market that serves customers with diverse requirements and preferences.
Demand for vitamins and supplements varies among consumers of all ages, but younger consumers in particular are increasingly turning to supplements as part of a proactive approach to well-being, while older folks often turn to these remedies to maintain overall health or combat age-related ailments.
Men and women both engage in supplement purchasing; women in particular often make more frequent use of supplements during certain life periods such as pregnancy or menopause due to specific nutrient requirements for these events.
People suffering from certain illnesses or ailments frequently turn to vitamins and supplements for assistance. People living with osteoporosis would take calcium and vitamin D pills; those suffering from heart health issues might choose omega-3 fatty acids instead.
Nutrition for Sport global sales have now exceeded $42.9 billion!
Post-workout is when 35% of supplements are consumed.
77% of Americans take supplements of some sort.
Members of the Greatest Generation spend the highest average transactional amounts on supplements at $129.58 each.
Consumer confidence in herbal supplements stands at 72%.
Supplements for sports nutrition have become extremely popular among athletes and fitness fans. Athletes frequently seek supplements to boost performance, meet general fitness objectives, and expedite muscle recovery.
Customers following a vegetarian or vegan diet often face certain dietary constraints and nutritional gaps, leading them to turn more frequently to supplements for filling these voids – often including vitamin B12, iron, and omega-3 fatty acids. This segment often seeks out B12 injections.
Customers searching for healthier and more environmentally sustainable options are increasingly opting for natural and organic supplements, as evidenced by increased sales of such goods without synthetic preservatives, additives, or components that have undergone genetic modification.
Since the advent of e-commerce, people's methods for purchasing vitamins and supplements have transformed drastically. Online platforms provide ease of purchase as well as greater product selection plus access to customer feedback data – leading to significant sales increases over the years.
Consumer and brand trust in the supplement market is of utmost importance. Customers often heed the advice given by medical personnel or companies with an excellent track record for quality and safety.
Consumers vary greatly in their price sensitivity; some may spend more money on high-end supplements while others opt for less costly options. When selecting supplements, buyers must take price competition and value into consideration.
Customers today are seeking personalized vitamin and supplement solutions tailored specifically to them, and customized supplement subscriptions or DNA-based nutrition services have become commonplace as a result.
Vitamin and Supplement Industry Statistics by Type
The vitamin and supplement market contains an expansive variety of products designed to meet different dietary requirements and wellness goals.
Multivitamins are one of the most frequently consumed supplements worldwide. As they provide essential vitamins and minerals in one package, multivitamins held a substantial market share by 2022 due to their convenient nature and comprehensive nutritional coverage.
Numerous body processes rely on minerals like calcium, iron, magnesium, and zinc. Women and those suffering from specific health concerns like osteoporosis or iron deficiency anemia often supplement with these essential elements of wellness; calcium and iron supplements are commonly taken.
Herbal supplements made from plants have become increasingly popular due to their natural and holistic attributes, drawing more consumers into natural solutions like Echinacea, Ginseng, Turmeric, or Garlic Extract products. Market growth for herbal supplements has steadily expanded as more consumers look toward natural solutions.
Average American annual spending on weight reduction pills totals $2.1 billion.
American adults who have tried weight-loss pills represent 15%.
Sales of CBD supplements saw an unprecedented 422% surge between 2017 and 2022.
7% of college athletes utilize protein supplements compared to only 5.7% who take caffeinated multivitamins.
25% of American people combine prescription medicines and nutritional supplements.
Omega-3 fatty acids found in fish oil supplements have long been recognized for their potential benefits to both heart and brain health, making these all-natural solutions to promote greater cardiac well-being incredibly popular among people seeking natural ways to strengthen their hearts.
Live bacteria and yeasts known as probiotics are beneficial to digestion. Probiotic supplements are often taken either alone or mixed into certain meals like yogurt. As more is learned about the gut microbiome's impact on general health and digestion, demand has skyrocketed for probiotic supplements.
Due to an increasing understanding of vitamin D's importance in supporting bone health and immunological functions, its popularity as a supplement has skyrocketed over recent years. Furthermore, the COVID-19 pandemic highlighted its necessity and thus spurred consumer demand for supplements containing this important nutrient.
Antioxidant supplements like vitamins A, C, and E as well as substances such as resveratrol and coenzyme Q10 can help the body fight harmful free radicals and slow down ageing processes. Their popularity is frequently touted for fighting the disease while slowing the aging process.
Specialty supplements address specific health requirements or needs of specific populations. Examples include prenatal vitamins, menopausal support products, joint health supplements, cognitive function boosters, and eye health aids – each tailored specifically towards markets or customer groups with dietary restrictions or special requests.
Supplements designed to promote weight control and boost metabolism have seen exponential growth, including thermogenic fat burners, appetite suppressants, and meal replacement shakes. Customers seeking support in meeting their fitness or weight loss objectives drive this market for weight management supplements.
Sports nutrition supplements provide athletes and fitness enthusiasts with essential nutrients to enhance performance, muscle repair, energy levels, and endurance. Protein powders, branched-chain amino acids (BCAAs), creatine, and pre-workout supplements are often utilized.
(Source: grandviewresearch.com)
Vitamin and Supplement Industry Statistics by Demographic
Age
Young adults are increasingly turning to vitamins and supplements as part of a proactive approach to their health and wellness. They look for goods that meet their lifestyle needs, such as vitamins for mental acuity, stress reduction, vitality, or athletic performance – the latter interest can even extend into this age range.
Middle-aged individuals juggling work, family, and aging tend to consume dietary supplements at higher rates than others. Their priorities tend towards supplements that address age-related health concerns such as bone health, joint support, heart health, and hormone balance.
Elderly individuals represent a key segment in the vitamin and supplement market. Older adults may have specific dietary needs and experience vitamin shortages; therefore, anti-immune function, bone health, cognitive function support, eye health enhancement, and cardiovascular support supplements tend to be very popular among this age group.
Over 59 million Americans purchase vitamins, herbs, and supplements annually.
About 4.1 million of these sales come from young buyers.
On average, millennials spend over $62 on vitamins and supplements each year.
Prenatal vitamins are often recommended to ensure both mother's and fetus's health during gestation since pregnant women have specific dietary needs. Prenatal vitamins commonly contain essential folic acid, iron, calcium, and other minerals essential for both fetal growth and maternal wellness – thus contributing to both motherhood and baby wellbeing.
Children and adolescents experience rapid physical growth and development, necessitating specific nutritional requirements. If a youngster has food restrictions or fussy eating habits, parents may choose to supplement his or her diet with multivitamins or supplements to ensure the youngster receives enough essential vitamins.
Sports and fitness activity participants typically require higher dietary needs than those participating in recreational activities, with these requirements often increasing at all ages from young athletes to elders still active in physical activities. Athletes of all ages often seek sports nutrition supplements such as protein powders, amino acids, and performance boosters.
As society ages, the demand for supplements that target age-related issues has become ever more urgent. Elderly people in particular often turn to supplements for joint health, cognitive function, eye health, and cardiovascular support – these areas being of particular importance to healthy aging.
(Source: cdc.gov)
Gender
Women make up the bulk of buyers of vitamins and supplements in the market. Due to pregnancy, menstruation, menopause, and hormonal changes, they frequently have specific dietary needs that differ from those of other genders. Here are several notable facts about them.
Women are at greater risk for osteoporosis, so they often supplement with calcium and vitamin D during menopause and postmenopausal periods to ensure bone strength.
Women often seek beauty supplements containing collagen, biotin, or antioxidants to promote healthier hair, skin, and nails.
Over half (57.6% of people overall) reported taking supplements in the last month; this figure includes both women (63%) and men (50%).
Supplement use showed the highest success rate among people over 60 (80.2%).
Males play an outsized role in shaping the market for supplements due to their individual dietary and health needs. Men-specific statistics include the following.
Men often take supplements containing zinc, lycopene, or saw palmetto to support prostate health.
Men regularly use supplements to increase performance, enhance energy levels and facilitate muscle recovery during physical activities like sports and fitness training. Many men enjoy using protein powders, creatine supplements, and pre-workout products.
As males are more prone to cardiac issues than women, supplements like omega-3 fatty acids, coenzyme Q10, and antioxidants may be taken to promote cardiovascular well-being.
(Source: zippia.com)
Vitamin and Supplement Industry Statistics by Country
Due to cultural influences, diet habits, healthcare systems, and regulatory structures in each nation, vitamin and supplement consumption and market dynamics could differ dramatically between nations.
The United States is one of the world's biggest markets for vitamins and supplements, with industry projections projecting that sales of dietary supplements will surpass $40 billion by 2022. A health-conscious population, increasing interest in preventive healthcare, and strong retail infrastructure are some of the factors driving this industry forward.
China has quickly established itself as an influential player in the international supplement business, its rapid expansion aided by high population density and improving the standard of living. By 2022, Chinese consumers had purchased over $26 billion worth of nutritional supplements due to urbanization, shifting lifestyles, and an expanding middle class.
Japan boasts a thriving industry for dietary supplements. Natural health products and traditional herbal medicines have long been utilized here, with quality and safety being highly prioritized in Japan's over $10 billion supplement business.
Germany represents one of Europe's largest markets for dietary supplements. German citizens are known to prioritize their health, with natural cures having long been practiced there. By 2022, German supplement sales had reached over $4 billion due to factors including an aging population, rising interest in preventative healthcare solutions, and strong retail infrastructure.
Due to an aging population, increased health awareness, and an increasing desire for natural health products, the UK supplement market experienced rapid growth between 2014-2022 – reaching over $3 billion!
Australia is known for being health conscious, and the supplement business there is highly regulated. Australia has strong laws in place to ensure safety and quality in dietary supplement production; by 2022 the Australian dietary supplement market had estimated sales worth more than $1.5 billion, with emphasis placed on organic products.
Dietary supplement sales in India have seen explosive growth due to factors including urbanization, rising disposable incomes, and an expanding middle class. By 2022, India's estimated supplement industry had reached $4 billion; further growth can be anticipated over time.
Brazil stands out among Latin American countries as an expansive market for dietary supplements. With a large population and expanding middle class, dietary supplement sales were substantial by 2022 – surpassing $2 billion!
Vitamin and Supplement Industry Statistics by Distributing Channels
Distribution routes are utilized to bring vitamins and supplements from manufacturers directly to customers.
Traditional retail outlets have traditionally been important distribution routes for vitamins and supplements, including pharmacies, health food stores, supermarkets, and specialist supplement shops. Customers can easily make direct product purchases while connecting directly with trained employees at these physical storefronts; most supplement sales were completed this way in 2022; however, internet shopping has had an influence on this channel as well.
The vitamin and supplement market has undergone a dramatic transformation due to e-commerce's advent. Customers can compare items and read user reviews on online platforms while taking advantage of the convenience, variety, and reasonable prices offered. The COVID-19 epidemic drove customers' online purchasing trend; industry statistics claim online sales increased dramatically in 2022, comprising an increasing portion of total sales figures.
Multi-level marketing (MLM) organizations that engage in direct selling often employ independent distributors to market and sell their products directly to customers. Customers of this channel appreciate receiving advice and communication directly with distributors about health and wellness goods they typically sell directly such as vitamins.
The distribution of vitamins and supplements requires health professionals such as physicians, naturopaths, nutritionists, and chiropractors. Based on each patient's demands and objectives for their own well-being, these specialists may suggest specific items to them; some medical practitioners even sell supplements directly out of their offices or clinics.
Hospitals, clinics, and other healthcare institutions often serve as distribution locations for vitamins and supplements. As part of patient care regimens or wellness initiatives, these institutions might store or supply supplements as part of patient treatment or prevention strategies.
Subscription-based business models have seen significant success in the supplement market. Companies offer customized subscription packages that ship specialized vitamins and supplements directly to customers' doorsteps – offering continuous supply without frequent repurchasing needs.
Distribution channels may include direct-to-consumer businesses, network marketing firms, and channels specializing in specific demographic groups or medical conditions.
Vitamin and Supplement Industry Statistics by Companies
Vitamin and supplement companies specialize in manufacturing and distributing an assortment of goods within their sector.
Nature's Bounty Co. (formerly NBTY Inc) is one of the premier companies for selling dietary supplements sales globally. They sell brands like Nature's Bounty, Solgar Osteo Bi-Flex, and Pure Protein products among many others, operating across 100 nations globally with innovation and consumer education as their core focuses. Their retail footprint spans hundreds of stores globally making them industry leaders.
Amway is a global direct-selling business specializing in vitamins and nutritional supplements that has expanded to more than 100 countries, particularly in Asia. Their flagship brands Nutrilite and XS may help meet the health and wellness needs of customers across multiple regions of Asia.
Pfizer Inc. is well-established in the dietary supplement industry. Their consumer healthcare section sells vitamins and supplements under Centrum and Caltrate brands; while their extensive R&D capabilities ensure market leadership and product innovation.
Bayer AG's global pharmaceutical and life sciences business manufactures and sells consumer healthcare products such as vitamins and supplements to meet a variety of consumer healthcare needs, including Phillips Colon Health, Flintstones, and One A Day supplements – with its wide distribution network and well-recognized brand enabling Bayer to remain a market leader.
Herbalife Nutrition, an international multi-level marketing company; sells nutritional goods such as vitamins and supplements in over 90 nations worldwide. Their primary mission is promoting healthier lives through weight control. Independent distributors sell Herbalife's diet supplement products.
NOW Health Group is an internationally acclaimed producer of nutritional supplements; such as vitamins; minerals and botanical extracts. Their business specializes in cost, purity, and quality products that can be purchased via retail establishments, online shopping sites, and medical professionals.
Nutramax Laboratories' specialty lies in creating and manufacturing nutritional supplements for both people and animals alike, known for its research-driven methods and a special focus on joint, skin, and overall well-being. Nutramax's most well-known dietary supplement brands are Cosamin and Cosequin.
Swisse Wellness, an Australian firm, is widely known for its selection of natural health goods including vitamins and supplements. Their popular brand in Australia and rapidly growing presence overseas have amassed them a substantial customer following. Their focus lies on natural ingredients as well as sustainability when creating its offerings.
Impact on the Economy and Health
Vitamin and supplement companies play an essential role in both economic growth and public health, having an immense effect on both.
Economy Impact
In 2022, the market for dietary supplements was estimated to be worth over $140 billion and is projected to continue expanding. This growth spurs commercial activity within its production, distribution, retailing, and marketing sectors.
The sector generates employment across many fields, including manufacturing facilities, R&D labs, sales/marketing/retailing operations, and retail employees. Furthermore, it supports job creation for scientists/healthcare workers/marketers/retail employees alike.
Governments receive tax money from the vitamin and supplement industry, helping with infrastructure spending and public finances.
To develop innovative goods, the industry invests heavily in research and development. This promotes academic-industry collaboration, advances scientific research, and fosters the growth of associated industries like biochemistry, nutrition, and medicines.
Health Impact
Supplements and vitamins can provide a solution for nutritional deficits in society. When people fail to consume sufficient essential nutrients, deficiencies, and health problems arise as a result. Supplements containing essential vitamins, minerals, and other elements are available that can boost overall health and well-being.
Multiple health conditions are effectively managed with various vitamins and supplements. Calcium and vitamin D supplementation enhance bone health while decreasing osteoporosis risks; during gestation, taking folic acid helps prevent neural tube anomalies.
People's nutritional requirements change as they age, so taking supplements designed to address age-related issues like immune support, joint health, and cognitive loss can promote healthier aging and increase the quality of life.
Knowledge about nutrition, preventative health measures; and the advantages of supplementing is central to health education and awareness campaigns; helping individuals make well-informed decisions for their well-being and overall health. The vitamin and supplement industry offers education on these matters that empower individuals to make well-informed decisions regarding their personal well-being and overall well-being.
Supplement manufacturers collaborate closely with healthcare experts to develop safe, effective products and provide useful guidance based on scientific evidence. This partnership promotes sensible supplement use while contributing to comprehensive healthcare plans that include supplements.
Regulated organizations monitor the efficacy and security of vitamins and supplements to protect public health. Ensure items meet safety standards and are labeled correctly, adhering to all relevant rules and quality specifications.
Trends and Predictions
Since customer needs and interests constantly evolve, so too must the vitamin and supplement market adapt.
As customers seek tailored solutions to improve their health and well-being, personalized nutrition has grown increasingly popular. Technology such as genetic testing and wearable gadgets allow personalized vitamin and supplement recommendations based on an individual's genetic profile, lifestyle choices, and health objectives. It is anticipated that artificial intelligence and data analytics would further advance tailored nutrition services.
Consumers increasingly prioritize natural, clean-label formulations when purchasing supplements, prioritizing those without artificial preservatives, additives, or allergies as purchasing decisions are heavily influenced by transparency in ingredient sourcing procedures and environmental efforts.
The COVID-19 pandemic has highlighted the significance of immune function. Customers are becoming more interested in products designed to support this area such as probiotics, zinc, and vitamin C/D supplements as a part of their wellness routines. As this trend becomes mainstream among consumers this trend should continue.
Consumers increasingly factor in sustainability and ethical considerations when selecting their purchases, seeking items that support fair trade principles, utilize materials sourced sustainably, and are eco-friendly. Consumers tend to support businesses that emphasize sustainability programs while publicly demonstrating their environmental and social stewardship commitment.
The digital environment continues to have an enormous influence on the vitamin and supplement market. E-commerce platforms provide convenience, wide product offerings, and personalized recommendations, while marketplaces and direct-to-consumer businesses continue to expand offering customers access to goods and data. Furthermore, mobile apps and digital health platforms have also become more prevalent to provide advice regarding supplement use and health monitoring.
Increased focus is being placed on mental and overall well-being, with customers seeking supplements that support cognitive performance, mood enhancement, and stress relief. Due to their potential benefits for mental well-being, ingredients like adaptogens, omega-3 fatty acids, and herbal extracts have become more widely popular over time.
Dietary supplement regulations are constantly shifting and evolving. Quality controls, labeling requirements, and safety standards are being strengthened by regulatory organizations; businesses must keep abreast of new regulatory changes to maintain customer confidence and guarantee compliance.
Due to rising disposable incomes, urbanization, and greater health awareness among consumers in emerging nations, vitamin and supplement industries are experiencing tremendous growth prospects in Asia, Latin America, and Africa. Customers becoming more informed is expected to lead to substantial market expansion across these regions.
Final Thoughts
Vitamin and supplement businesses play a major role in fostering global health and well-being by providing vital products and services that support individual nutrition as well as preventative healthcare. Market forces constantly adapt to meet customer requirements, with more emphasis placed on personalized nutrition than preventative healthcare. Its influence extends far beyond individual well-being as the industry also generates jobs, tax money, and innovative ideas; major actors in this market compete to offer top-quality goods that satisfy customer wants while adhering to safety criteria, such as producers, retailers, or direct selling businesses.
Even though the market offers an abundance of goods, it's essential that customers use dietary supplements properly. Accurate use of vitamins and supplements is ensured through consultation with healthcare specialists, understanding individual nutritional requirements, and selecting trusted brands. Companies must remain flexible and adaptable as trends such as tailored nutrition, natural ingredients, and digital health continue to shape the sector. The long-term performance will depend on an organization's ability to adapt to regulatory changes, prioritize sustainability and meet customer demands for openness and effectiveness. Businesses can play an essential role in supporting healthier populations and better public health outcomes by cultivating knowledge, quality supplementation, and responsible supplementing.
What are my concerns with supplements?
Your risk of negative side effects from dietary supplements increases if taken in large doses or as an alternative to prescription medication; taking multiple supplements at the same time also increases this risk; some might affect how anaesthesia reacts or increase bleeding risks during surgery if taken prior.
Who regulates dietary supplements and vitamins?
All components and final dietary supplement products fall under FDA regulation; these dietary supplements adhere to their own set of rules as opposed to conventional food or medication products.
How can you tell whether a supplement is of high quality?
Look for products bearing either the NSF International, US Pharmacopeia, Underwriters Laboratory, or Consumer Lab seal. These labels verify that it includes only what's listed on its label and do not contain potentially hazardous ingredients.
Are Dietary Supplements Regulated in India?
Food and health supplements sold in India must abide by Nutra rules, which have different requirements for athletes than for other users. Any unsafe supplements should never be consumed. According to health experts worldwide, dietetic supplements have recently experienced exponential growth worldwide and in India.
Ketaki Joshi
By conducting scientific research, I write about illness, health and healthcare. As a professional medical writer, my experience includes creating feature articles for newsletters and websites as well as research news stories for doctors and researchers. Reading has been an integral part of me since childhood - I'm fan of "Friends" and the "Harry Potter series". Before this career, I was employed by a French multinational company. However, my passion for reading led me to pursue writing professionally; my first Amazon-published short story entitled "The envelope that changed our lives" has recently been released. In my free moments, I enjoy long bike rides around town.
More Posts By Ketaki Joshi