Volunteering Statistics – By Demographics, Country, Region, State, Top Companies, Nonprofit, Causes, Satisfaction, Volunteer's Leaders
Barry Elad
Updated · Sep 11, 2023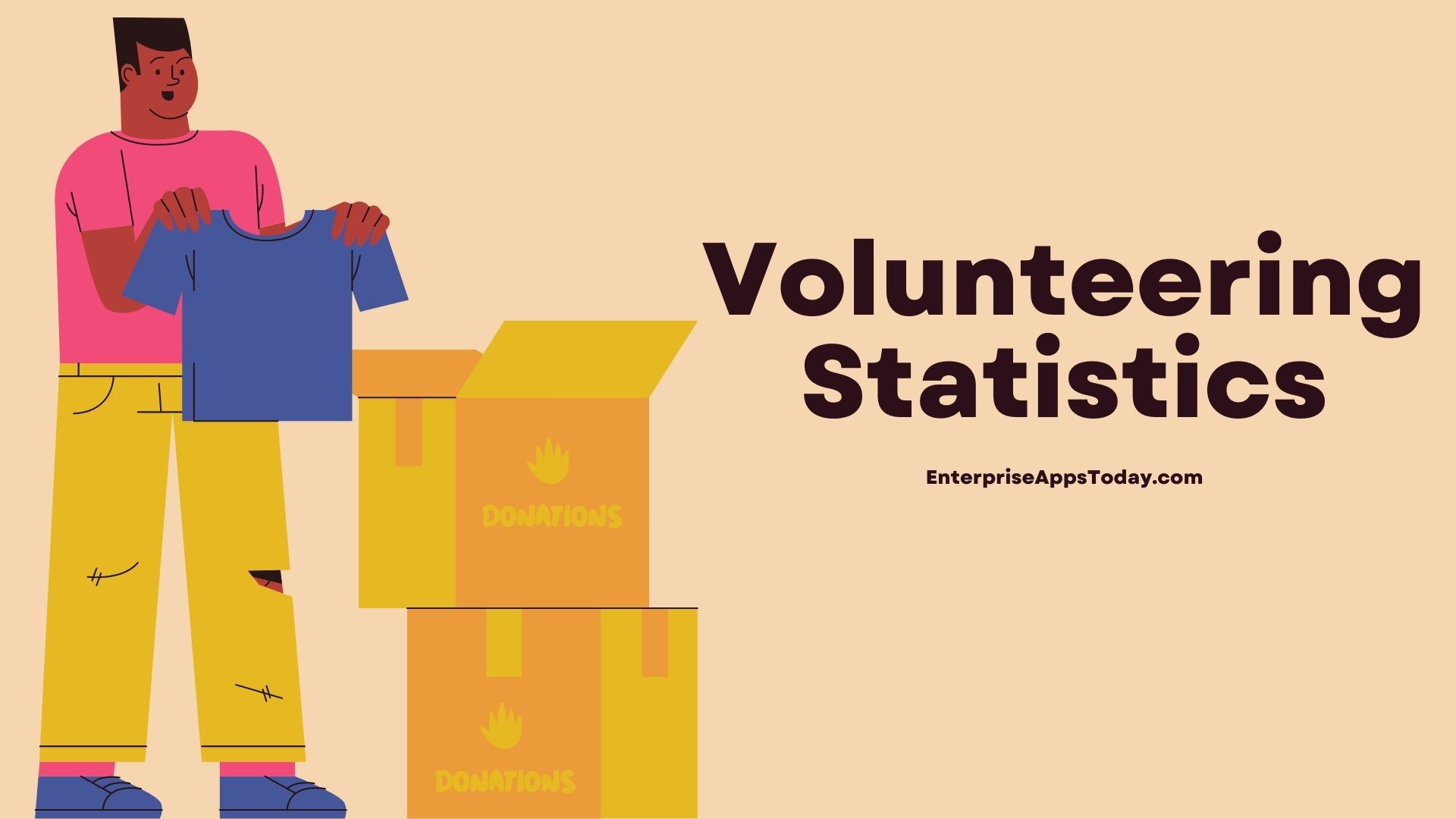 Introduction
Volunteering Statistics: The reports say that globally the average volunteer rate is expected to turn out to 21.7% by the end of 2023. As of many surveys, it has been observed that volunteering has impacted positively such as enhancing professional and personal growth along with increasing mental and physical wellbeing across the world. The highest rise of formal and informal volunteers within organizations was experienced during the COVID-19 pandemic those have helped many people. There are so many benefits of volunteering activities which allow for fostering new connections, broaden social circles, and strengthen current relationships.
These Volunteering Statistics include insights from various aspects that provide light on the importance of volunteers around the globe in recent days.
Editor's choice
(Source: gettingattention.org)
In 2022, within each organization, there are approximately 72% of volunteers and 18.3% are involved with two organizations.
As of 2023, worldwide volunteers have turned out more than 1 billion people.
According to Deloitte survey reports, 81% of volunteers believed that their companies must sponsor better volunteer activities to enhance the working environment.
In the United States, it is estimated that each hour volunteer costs around $29.95.
Around the world, for volunteering activities, almost 60% of companies have offered paid time off in 2022.
Whereas, 80% of companies with volunteer grant programs give between $8 to $15 per volunteer hour.
Volunteer grant programs were offered by 40% of Fortune 500 companies.
25% of American adults have volunteered their energy, time, and talent to make a difference which is approximately 63 million people.
By the end of 2022, women volunteers were having higher rates than men.
Four important non-profit organizational areas of volunteers are 34.1% religious, 26% educational, 14.9% social service, and 7.3% health.
Benefits of Volunteering
For enhancing leadership skills practicing volunteering is an effective factor which was agreed by 92% of respondents as of Deloitte survey reports.
People who have practiced more volunteering increase their chances of gaining effective employment by 27%.
It has been believed by 77% of volunteers that regular activities have improved mental health conditions.
Whereas, work relationship has improved which was claimed by 64% of employees across the world.
In 2022, the economic value of volunteers has resulted in almost $123 billion.
As of 2023 according to the survey reports of the United Health Group, almost 78% of volunteer has accepted that volunteering has reduced their stress level.
Volunteering has helped in increasing new techniques of learning skills and abilities said 19% of volunteers.
It is expected that 70% of corporate volunteer's workplace morale will be boosted if companies start to implement such plans.
Facts on Volunteering Statistics
(Source: theadvocatesforhumanrights.org)
Every year across the world almost 64 million American becomes volunteers and this equates to almost $139 billion annually.
Every year, on an average volunteers donate almost 50 hours of their time.
In the United States, it is estimated that each hour volunteer costs around $29.95.
Approximately 2/3 of volunteers have received online employment opportunities.
As of 2023, women volunteers are the maximum in numbers resulting in 64% whereas males with 36%.
The average age of a volunteer is almost 42 years.
Each year, young volunteers are about 55% approximately in America those were aged between 12 years to 19 years.
School-based volunteers were around 18% of youths and organizations based were almost 12%.
As of a survey performed by the Corporation for National and Community Services, 2 out of 3 American volunteers have helped their neighbors in 2023.
General Statistics
(Source: bloomerang. co)
The most volunteers observed in the religious organizations that is about 1/3 portion across others.
The number one state in the United States for volunteers is Utah that is having almost 51% volunteer rate and the lowest state is Florida with a 22.8% volunteer rate in 2022.
In America, the most active volunteers are Baby Boomers, Gen X, and Gen Y were 30.7%, 36.4%, and 26% respectively.
25% of American adults have volunteered their energy, time, and talent to make a difference which is approximately 63 million people.
In 2022, the global population participated in informal volunteering which resulted in 14.3% whereas, formal volunteering resulted in 6.5%.
According to the Bureau of Labor Statistics, individuals who were most likely to participate in volunteering were aged between 35 years to 54 years.
According to AmeriCorps, in the U.S. the healthiest people were those volunteers who have worked more than 100 hours annually.
Volunteer Statistics by Demographics
In the year 2022, parent volunteers were 39.9% in the United States.
While 28.2% of volunteers belonged to millennial groups every year.
Furthermore, other American volunteer groups are followed by Baby Boomers (30.7%), and silent generation Americans (24.8%).
Whereas, across the world in 2022, the maximum number of volunteers was experienced by Baby Boomers by 37% which is followed by Millennials (25%), Gen Z (25%), and Gen X (2%).
In the United States, the volunteer's majority people were aged between 35 years to 44 years.
The share of American volunteers was 34% female and 26.5% male which results in 44.6 million females, and 32.7 million males.
Statistics by Country
As of 1st January 2023, the highest number of volunteers is found in the United States of America with 41.9% of those mostly participating in different conservation projects against climate change.
The second volunteer position in the list was secured by New Zeeland with 41.53% which contributed to formal volunteers (159 million hours) and informal volunteers (7.8 million hours).
The other countries volunteer's shares are followed by Norway (38.93%), Canada (38.06%), Australia (37.9%), Netherlands (7.15%), Ireland (35%), Switzerland (34.12%), Austria (30.34%), United Kingdom (28.65%), France (28.52%), Finland (27.87%), Japan (24.72%), Belgium (24.05%), Germany (22.72%), South Korea (21.33%), Italy (21.12%), Denmark (19.75%), Czech Republic (18.2%), Spain (14.81%), Slovakia (12.89%), Portugal (11.91%), Poland (10.37%), and Hungary (6.32%).
Volunteer Number Statistics by Region
By the end of 2022, the highest monthly volunteer rates remained in Africa and Asia Pacific were between 17.5% and 17.2% respectively.
Whereas, the lowest monthly volunteer rates lay between 9% to 10.6% within the Arab States, Latin America, Europe and Central Asia, and the Caribbean regions.
Furthermore, the number of monthly volunteers statistics by region is followed by Asia and the Pacific (56.3 billion), Africa (10.9 billion), Europe and Central Asia (8.1 billion), Latin America and The Caribbean (5.2 billion), Arab States (2.6 billion), and others (2.9 billion).
Volunteer Hour Statistics by State
In the United States of America, the value of an average volunteer was highest in the District of Columbia resulting in $50.48 in the year 2022.
Whereas the 2nd and 3rd ranked hourly cost of volunteering was in Massachusetts and California with $36.38 and 435.56 respectively.
Furthermore, values of volunteer hours in other states are followed by Washington ($34.87), New York ($34.59), Connecticut ($33.35), Maryland ($32.82), and New Jersey ($32.39).
Statistics by Corporate Volunteer
According to the positive impacts of corporate volunteerism, organizations' business has enhanced after hiring skilled volunteers which was accepted by 77% of nonprofits.
According to the Deloitte Impact Survey, sponsored volunteer activities have enhanced better overall working environment accepted by 89% of working Americans.
The participation rate of the average corporate volunteer will be around 33% by the end of 2022.
As of employees' professional development plan includes 25% of companies tie skills-based volunteering and 21% of companies are planning connections for the future.
The average corporate volunteer participation rate is 33%.
Volunteer Grant Program Statistics by Top Companies
Volunteer Incentive Program (VIP) is offered by "Verizon", in which time spent by each employee volunteer is about 50 hours which awards almost a $750 grant amount to the organization.
The other company is "Microsoft" More than 30,000 employees have participated in this volunteer program resulting in 7.2 million hours annually in 2022. Whereas, each employee earned around $25 per hour.
The 3rd important company is "ExxonMobil" which includes multiple types of grant programs where the grant amount turned out $500 with a minimum of 20 hours of volunteering.
Statistics by NonProfit
46% of volunteers have preferred to support nonprofit organizations across the world in 2022.
As of now, almost 2 million volunteers are actively working in nonprofit organizations in the U.S.
The most suitable communication process was email preferred by 70% of volunteers, others were followed by physical mail (7%), and social media (6%).
56% of nonprofit volunteers regularly attended fundraising events.
Whereas, in local communities, approximately 67% of donors were nonprofit volunteers.
Volunteer Statistics by Causes
(Source: teamstage.io)
In the United States, 15% of American volunteers have supported hunger and homeless people in 2022.
The next prevalent cause was health and wellness which was supported by 13% of volunteers.
Furthermore causes that were supported by American volunteers are followed by Faith and spirituality (12%), Animal and wildlife (10%), Children and Youth (9%), Environment and conservation (7%), Human and social services (7%), International Development (7%), Arts and Culture (6%), and Women and Girls (4%).
Volunteer Statistics by Hours
In the United States, 56% of adults were volunteers which resulted in 109 million American adults.
Whereas, adults per week volunteers have contributed almost 3.5 hours and by the end of the year it will be more than 20 billion hours. Thus, the average volunteer contribution is expected to be $225 billion.
On the other hand, per week 59% of teenagers volunteer which is 13.3 million working time resulting in 3.5 hours, and by the end of the year, it will be more than 2.4 billion hours. Thus, the average volunteer contribution is expected to be $7.7 billion.
Volunteer Statistics by Satisfaction
The overall volunteer satisfaction rate has declined in 2023 from the last few year's stats.
In 2023, around 50% of volunteers accepted that volunteering practices turned out very satisfying results.
Whereas, other satisfaction statistics are followed by fairly satisfied (42%), fairly dissatisfied (7%), Very dissatisfied (1%), and satisfied (92%).
Whereas, other satisfaction statistics are followed by fairly satisfied (42%), fairly dissatisfied (7%), Very dissatisfied (1%),)
Volunteer satisfaction rate has varied within the different age groups of people in which 'Very Satisfied' (30% of 18 to 24-year-olds whereas, 66% of people aged 55 years and over).
As of 2023, there are almost 94% of civil society volunteers and 87% of public sector volunteers who remained less satisfied.
On the other hand, 94% of non-disabled volunteers and 88% of disabled volunteers remained satisfied with volunteering practices.
Positive Impacts of Volunteering
(Source: actiontogether.org.uk)
In the 1st quarter of 2023, Oldham, Rochdale, and Tameside had a total number of 125,673 individual volunteers.
Whereas, current volunteer organizations turned out 3,788.
On the other side, by the end of 2022, action together with volunteers resulted in 1,182
Top Challenges Statistics Reported by Volunteer Leaders
As of 2023, volunteer leaders has suggested that recruiting volunteers is one of the top challenge by 34%
The other challenges are followed by enabling new and improved volunteer practices in organizations (16%), boosting volunteer participation (13%), expanding the roles of volunteers (11%), and improving volunteer retention and satisfaction (8%).
Conclusion
As of today, after completing the article on Volunteering statistics it can be concluded that this is a transformative and powerful practice that allows it to benefit individuals, organizations, and society. The main priority of volunteerism is donating free labor, energy, and time for conducting some greater reason. It has also been observed that volunteers are termed the lifeblood of many non-profit organizations. Thus, this article included effective statistics that will help you understand the importance of volunteers within every society around the world.
How do I apply to be a volunteer?
On different websites online applications forms are available, first need to understand the reason and then sign up for receiving the letter from the volunteer recruitment campaign.
What is the minimum age of being a volunteer?
Different program requires different age groups people but in most cases it has observed that volunteers are preferable above 18 years but in some cases it may require below 18 years.
Do volunteers require any specific uniform?
No, volunteers do not require any specific uniform to wear, but in some official cases some badges are provided by the organizations that needed to be worn during the time of performance for identification.
Barry Elad
Barry is a lover of everything technology. Figuring out how the software works and creating content to shed more light on the value it offers users is his favorite pastime. When not evaluating apps or programs, he's busy trying out new healthy recipes, doing yoga, meditating, or taking nature walks with his little one.
More Posts By Barry Elad