Apple Music Statistics By Cost, Region, Royalty Rates and Age
Barry Elad
Updated · Aug 02, 2023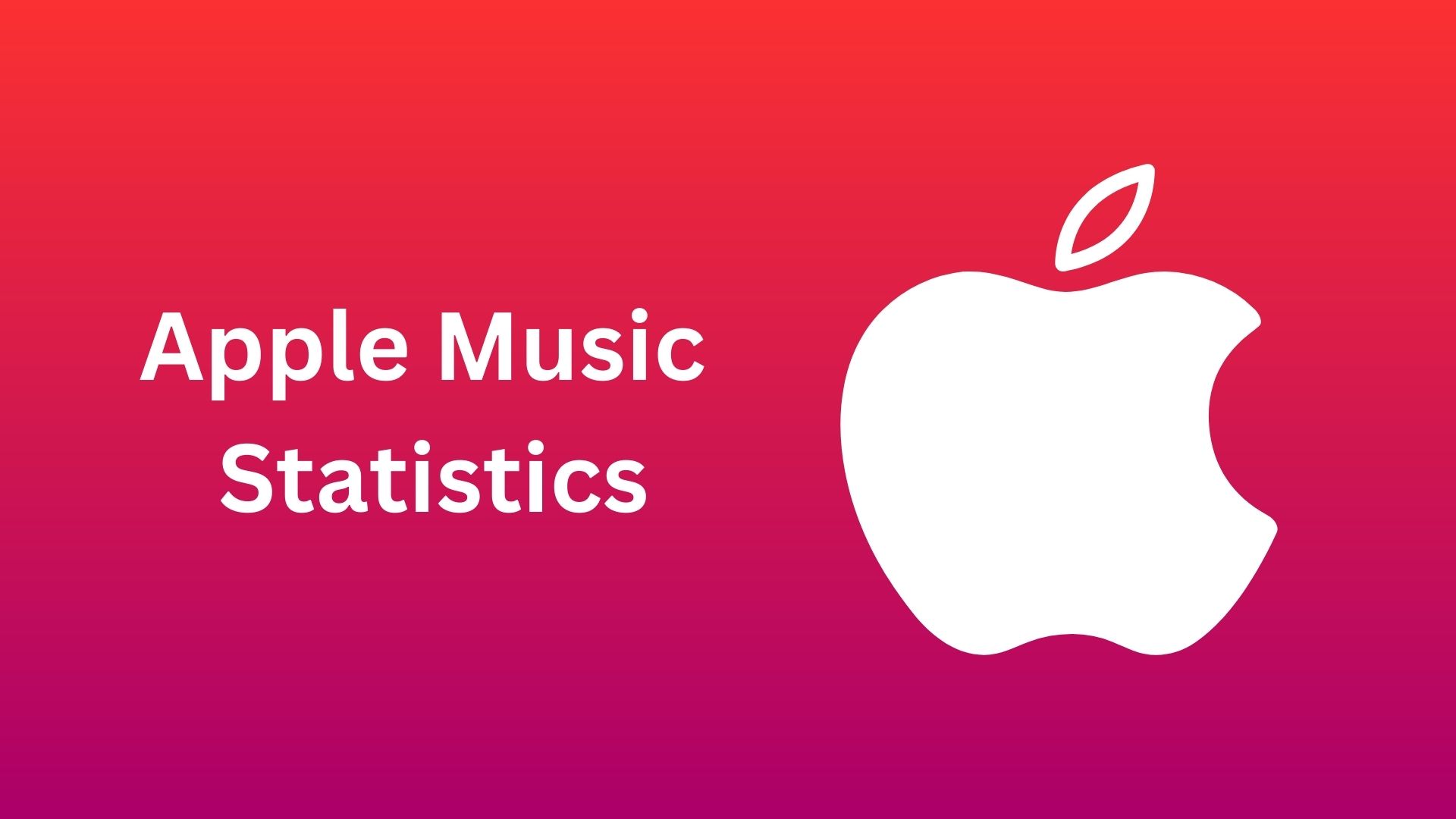 Introduction
Apple Music Statistics: The reports say that Apple Music was launched on 30th June 2015 which was supported by many artists and in the same year the platform earned above 11 million subscribers.  Recently Apple Music has grown very steadily and become a competitor of other music streaming industries such as Spotify, YouTube Music as well as Amazon Music. As of now, Apple Music is available in more than 167 countries. These Apple Music Statistics include insights from various aspects that provide light on how this music streaming industry is growing enormously across the world.
Editor's Choice
Revenue earned by Apple Music platform in 2022 was $8.3 billion which has increased by 18.57% from last year.
By the end of June 2022, the number of subscribers in Apple Music resulted out 88 million people which has increased by 8 million from last year.
As of 2022, Apple Music was having more subscribers with above 33 million than Spotify and Amazon Music in the United States.
Whereas across the world number of users of Apple Music was 84.7 million by the end of 2022.
Apple Music streaming average pay per stream was $0.0076, which is more than Spotify and YouTube Music.
In October 2022, Apple Music was available with more than 100 million songs which were announced by Apple Inc.
By the end of 2025, according to J.P. Morgan's research, it is expected that the subscriber count in Apple Music will be above 110 million and generated revenue will reach over $7 billion.
The sound quality of Apple Music was maintained by AAC-compatible and premium streaming quality broadcasts at 256 kbps.
Facts About Apple Music
In 2022, Apple Music redesigned the Replay experience for its subscribers so that they can enjoy their top artists, songs, genres, and albums.
This platform has included many new sounds in many new languages and genres more than ever and thus 2022 was termed as a thrilling year in music.
2022 Artist of the Year in Apple Music was won by Bad Bunny for the biggest album, Un Verano Sin Ti.
In Apple Music's fitness playlist, the top song played was "Head & Heart" by British DJ Joel Corry (feat. MNEK) in 2022.
2022's top-played song on Apple Music was "STAY" which was finished in collaboration with The Kid LAROI and Justin Bieber.
As of 2023, Apple Music is going to have 108 million subscribers approximately over the world which is estimated to grow by 13.68% from 2022 and 24% growth by the end of 2025.
Apple Music was more likely by 56% of females of various age groups users and 44% of male users in the United States by the end of 2022.
Almost $4.1 billion was paid for Apple users for Apple Music over the world in 2023.
Tips and Tricks of Apple Music
Firstly create an effective account and set a unique username.
Next, a user needs to have proper controlling knowledge of Apple Music, tap the control bar at the bottom of the app then some options will be available on the screen such as the ability to scrub, skip, repeat, play next, favorite, share, AirPlay then add to your music and lastly start a station
2nd step is to save the favorite music for offline playback by downloading copies of available songs in the app.
Proper use of Siri is an essential part as it helps in playing specific songs on Apple devices
General Statistics
As of 2022, the Apple music platform had made a collaboration with Tencent Music Entertainment Group for enhancing its song catalog for enabling the distribution of Chinese content via the platform Apple's own streaming.
The platform of Apple Music has started investing in 2022 for the re-launching of Beats 1 Radio, which will be next available on Apple Music Radio.
The most popular music genres of Apple Music are Pop, R&B, and Hip Hop.
Over the market of global music streaming, Apple Music ranks 2nd position holding a market share of 13.7%.
As of 2022, Apple Music was having approximately 30,000 playlists with over 90 million songs.
Whereas across the world number of users in Apple Music was 84.7 million by the end of 2022 which is still far behind Spotify's subscribers.
Out of total Apple Inc. revenue, Apple Music was representing around 2.1%.
According to Statista, in February 2022 the worldwide revenue earned by Apple Music from Android users was $599.250.
Users listened to songs on Apple Music was around 30-second play counts as one stream.
According to MIDiA, in 2022 the global market share of Apple Music is shrinking but experienced subscriber growth across the globe with 616.2 million.
The premium subscription plan of Apple Music was available in the U.S., the UK, Australia, and Canada.
(Image Source: vpnalert.com)
Annual Growth Statistics
| Year | Annual Users (in millions) |
| --- | --- |
| 2025* | 134 |
| 2024* | 121 |
| 2023* | 108 |
| 2022* | 95 |
(Source: bankmycell.com)
In 2022, around the world, Apple Music was having 95 million subscribers which is the highest since it was launched.
After 2022 the chart is representing enormous growth of subscription rate in coming years in 2023 = 108 million, 2024= 121 million, and 2025 = 134 million.
Usage Statistics in the United States
Digital music consumers of America used Apple Music with a proportion of 27% of the total nation's population.
According to digital recordings reports, nearly 21% of American Apple Music users are going to use this streaming service in the coming years.
The loyal users of this brand are around 78% of total subscribers.
80% of American people know about the brand by the end of 2022 and out of which 34% have subscribed.
Apple Music User's Statistics by Age
As of 20222, in the United States, most Apple Music users are millennials and above 55 years old.
18 – 24 years = 17%
25 – 34 years = 23%
35 – 44 years = 22%
45 – 54 years = 15%
55 years and above = 23%
Apple Song Statistics
(Source: headphonesaddict.com)
As of 2022, the largest music catalog was found on Apple Music having 90 million songs
Whereas Deezer and Amazon Music were accounting 90 million songs each, this is followed by Spotify with 82 million.
YouTube Music = 60 million songs, Yandex = 40 million, Tencent Music = 30 million, and NetEase = 10 million.
Apple Music Statistics by Cost
(Image Source: cdn.digitbin.com)
In 2020, the streaming platform is available with 3 different options for subscription
A family subscription costs $14.99 per month
Individual = $9.99/month
Students = $4.99/month
Top 10 Played Song List in the U.S., 2022
'STAY' by The Kid Laroi and Justin Bieber
'As it was by Harry Styles
'Wait for U' by Future with Drake and Terms
'Super Gremlin' by Kodak Black
'Easy on Me' by Adele
'Heat Waves' by Glass Animals
'Cold Heart (PNAU Remix) by Elton John and Dua Lipa
'First Class' by Jack Harlow
'Me Porto Bonito' by Bad Bunny and Corleone
'abcdesfu' by GAYLE
Most Expensive Subscription Statistics in the World
Denmark = $15.50 /month
Switzerland = $14.01/month
United Kingdom = $12.78/month
Austria = $11.64/month
Belgium, Finland, France, Germany, Ireland, and Italy = $11.64/month of
Least Expensive Subscription Statistics in the world
India = $1.32/month
China = $1.43/month
Turkey = $2.04/month
Nigeria = $2.32/month
Russia = $2.36/month
Vietnam = $2.55/month
Philippines = $2.62/month
Botswana, Cameroon, and Costa Rica = $2.99/ month each.
Apple Music Affordable Statistics by Region
 (Image Source: edm.com)
North America
The United States spends around $9.9/month which is 0.23% of their salary/month and is termed as the most affordable country for streaming Apple Music.
Followed by Canada spends $7.45/month which is 0.24% of salary and termed as the most affordable.
Mexico spends $4.4/month which is 0.74% of salary and is termed as neither more affordable nor less affordable.
Europe
The most affordable country was Denmark as it spends $15.50/month that 0.39% of salary followed by the United Kingdom, Germany, etc
Whereas, Russia is termed as less affordable as the country only spends $2.36/month which is 0.33% of salary.
South America
The most affordable country was Suriname as the country spends $5.99/month which is 2.88% of salary and followed by Venezuela, Bolivia, Ecuador, etc.
The least affordable country was Brazil as it spends $3.15/month which is 0.45% of the salary.
Middle East & Central Asia
Israel is termed as the most affordable country as it spends $5.83/month which is 0.20% of salary.
Whereas, Qatar is the least affordable country as it spends $4.94/month which is 0.125 of salary.
Rest of Asia & Oceania
New Zealand is the most affordable country as it spends $9.96/month which is 0.34% of the salary.
On the other side, India is the least affordable country as it spends $1.32/month which is 0.95% of salary by the end of 2022.
Africa
Morocco is the most affordable country as it spends $4.99/month which is 2.29% of its salary.
Whereas, the least affordable country was Tunisia as it spends $2.04/month which is 2.27% of the salary.
Apple Music Replay Statistics
(Source: images.popbuzz.com)
As of 2022, Apple Music Replay allows is seeing all top albums, top artists, top genres, and top songs over the highlighted reels.
In 2022, the top artists were Beyonce, Taylor Swift, Little Mix, Selena Gomez, and Sabrina Carpenter.
Total time spent on Apple Music Replay was 77,073 minutes by the end of 2022 in which top genres were Pop, R&B, and Soul.
As of 2023, top artists are Ed Sheeran, Taylor Swift, Drake, Post Malone, Billie Eilish, The Weeknd, Arina Grande, Dua Lipa, Bad Bunny, and Harry Styles.
On the other hand, top albums are SOS, RENAISSANCE, The Lost Tapes, emails I Can't Send, and Endless Summer Vacation
Music Streaming Statistics by Royalty Rates
(Source: Sessionwire)
On 7th February 2022, the royalty rates of Apple Music streaming ranked 3rd position with $0.0076/stream across other streaming channels.
The average monthly time spent on Apple Music in 2022 was 41 minutes and 3 min 27 sec/day, the average user sessions played by Apple Music by 12 times/month and the user engagement index turned out to be 19%.
Top Songs in the Global Apple Music List
| Song | Artist |
| --- | --- |
| All my life | Lil Durk featuring J.Cole |
| Last Night | Morgan Wallen |
| Idol | Yoasobi |
| Where She Goes | Bad Bunny |
| Ella baila Sola | Eslabon Armado, Peso Pluma |
| Put it On Da Floor Again | Latto featuring Cardi B |
| Flowers | Miley Cyrus |
| Bread and Butter | Gunna |
| Fast Car | Luke Combs |
| Search and Rescue | Drake |
(Source: demandsage.com)
Demand Statistics on Apple Music
(Source: the-media-leader.com)
In the 1st quarter of 2022, the global demand subscription of Apple Music was holding 4th.
The highest demand for subscriptions in Australia was 11.3%, in Germany was 6.4%, GB was 12.4%, and in the United States was 9.7%.
The market share of Apple Music over the world in 2023 is almost 15%.
Conclusion
As of today, after completing the article on Apple Music Statistics it is very clear that currently, Apple Music is now available in over 168 countries along with enabling different types of packages for premier users, family users, and individual users.
At the beginning of 2022, the statistics started changing interestingly although the world and music have become an essential part of everyone's lives and Apple Music streaming services are easy, diverse, and affordable to use in many countries. This article includes effective trends, performance, market share, and many other important statistics that will allow for a better understanding of the topic.
Apple Music is supported in which platform?
This music streaming is supported on macOS, iOS, iPadOS, Windows, Android, Chrome OS, HomePod, tvOS, watchOS, CarPlay, Amazon Echo, web browsers, and, Sonos.
There are no free options available for Apple Music but before getting subscription users can try for a free trial. The lowest subscription package amongst other plans is the Apple Music Voice plan.
In which devices Apple Music is supported?
iOS devices, Apple Watch, Apple TV, Mac, PC, HomePod, Android, Sonos, Google Home, and Amazon Echo.
Barry Elad
Barry is a lover of everything technology. Figuring out how the software works and creating content to shed more light on the value it offers users is his favorite pastime. When not evaluating apps or programs, he's busy trying out new healthy recipes, doing yoga, meditating, or taking nature walks with his little one.
More Posts By Barry Elad