Drop Shipping Statistics – By Store Niche, Generation, Country, Age Group, Market Size
Barry Elad
Updated · Jul 24, 2023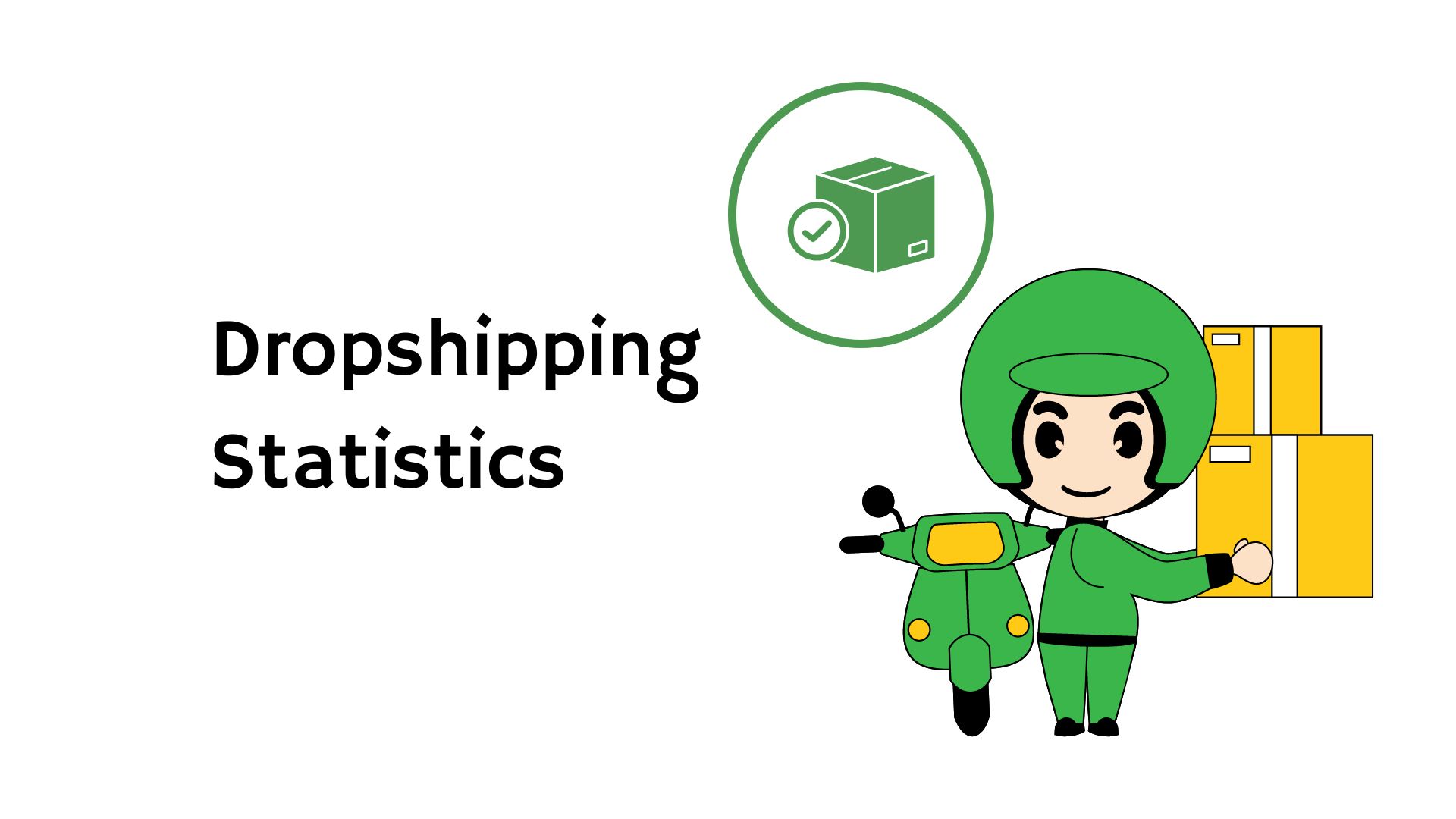 Introduction
Drop Shipping Statistics: The report says that the market share of dropshipping is expected to reach $476.10 billion by the year 2026. Currently, this model is one of the most popular online businesses as the start-up costs are low over other models and the inventory set-up costs are free.  For online retailers, dropshipping is like a blessing as their selling product stocks are kept under someone else and since the pandemic, the growth of this market has driven out more. These Dropshipping Statistics include informative insights from several aspects which will provide light on why Dropshipping is trending over the world.
Editor's Choice
In 2022 the market share of the dropshipping market has reached $196.78 billion and in 2023 is going to reach $243.42 billion.
Due to dropshipping the E-commerce market with an onsite inventory has grown by 50%.
Dropshipping is also termed a fulfillment business model which is believed by 33% of online stores.
In the United States, the market for drop shipping in 2022 was $80.5 billion.
Amazon sales have been fulfilled by 34% because of drop shippers.
According to the report of BlueCart, on each sale, drop shippers have earned almost a profit of 20-30% by the end of 2022 which stands at around $1000 – $5000 monthly income.
Dropshipping has fulfilled approximately 23% of all online sales in the world.
In North America, the electronic dropshipping market has increased by 30%.
According to dropshipping stats, the average success rate of dropshipping was 10-20%.
As per research, it has been observed that customers preferred fast shipping by 33% and preferred free shipping by 42%.
Facts on Drop Shipping
By the end of 2030, the annual growth of the dropshipping market in North America is going to reach 23.5% of CAGR.
In 2022, finding a good supplier was the biggest obstacle for starting a business with dropshipping accepted by 84% of ecommerce retailers.
The profitability rate of online stores due to dropshipping has increased by 50% by the end of 2022.
The fashion industry has the largest segment of drop shipped items in 2022 which is followed by electronic and media; toys, hobbies, and DIY; furniture and appliances; food and personal care.
The fashion segment is going to cross 24.8% of CAGR by the end of 2030 across the world.
As of 2023, dropshipping helped the e-commerce industry to reach $6.17 trillion in online retail sales. 
Dropshipping Importance
Dropshipping includes effective benefits such as the start-up costs being very lower as compared with other models of business.
When customers place an order from the retailers or online stores then simply stores forward the order to dropshipping suppliers and then after suppliers prepare the order and directly ship the order to the customer.
In this process retailers instead of buying products from suppliers or wholesalers forward the shopper's order.
From 2022-23 the market of dropshipping has started becoming automated which made the business process easier. As there are thousands of software programs and apps that go through various steps within the dropshipping process.
General Statistics
In the Asia Pacific region, the dropshipping market increased by 33.9% by the end of 2022.
As of 2023, North America is the fastest-growing market in the world.
In 2022 the monthly revenue of only 1.5% of dropshipping stores was more than $50K.
The market share was higher in the United States = 80.9%, Canada = 5.2%, and the United Kingdom = 4.1%
In Europe, the hotspot of the dropshipping market in 2022 was Germany with a growth of 16.9% of CAGR.
In 2022, around 27% of all dropshipping stores were created across the world, and in 1st quarter of 2023 = 175K stores.
The least popular dropshipping market in 2022 was Africa.
Social media influence in online stores helped in enhancing dropshipping sales by 32% more.
Profit earned by suppliers when they sell to drop shippers was 18.33%
Many companies from 2022 have started evolving themselves with AI for supporting the strategies of dropshipping in which the AliExpress brand have introduces an AI plugin named Sellika.
Dropshipping Market Size Statistics
(Reference: oberlo.com)
According to the latest data, in 2022 the global market size of dropshipping was $198.78 billion.
As of 2023 = $243.42 billion
The above image is depicting that the market share is expected to reach higher in coming years with $301.11 billion in 2024, $372 billion in 2025, and $476.10 billion by the end of 2026.
Work Process of Dropshipping
Important Practices Statistics in Dropshipping Market
Recycled packaging = 64%
Eco-friendly shipping = 41%
'Green' brands = 30%
Dropshipping Stores Statistics
United States = 62.8%
Canada = 8%
Australia = 7.4%
Online Buyer's Statistics By Age Group
According to dropshipping and e-commerce stats, in the United States less than 35 years people were more involved with online shopping in 2022 almost by 38.4%
25 – 34 years = 20.2%
35 – 44 years = 17.2%
45 – 54 years = 15.5%
55 – 64 years = 14.6%
Above 65 years = 14.4%
18 – 24 years = 13%
14 – 17 years = 5.2%
Retailer vs. Dropshipping Statistics
(Reference: appscenic.com)
As of 2023, only 27% of retailers are using the business model of dropshipping for fulfilling customers' orders.
With a major section around 73% of retailers are still not investing in dropshipping.
Retail sales of Dropshipping Statistics by Country
China = 46.3%
United Kingdom = 36.3%
South Korea = 32.2%
Denmark = 20.2%
Indonesia = 20.2%
Norway = 19.4%
United States = 16.1%
Finland = 14.6%
Sweden = 14.1%
Canada = 13.6%
Dropshipping Statistics By Generation
As of April 2022,
Small business owners = 24%
Gen Z = 38%
Millennial = 30%
Gen X = 24%
Baby Boomers = 16%
Global Dropshipping Statistics by Store Niche
| Store Niche | Percentage of Top 1% of dropshipping stores |
| --- | --- |
| Apparel | 26.0% |
| Home and Garden | 9.9% |
| Beauty and Fitness | 8.4% |
| Sports | 8.4% |
| Toys and Hobbies | 4.1% |
| Health | 3.8% |
| Pets and Animals | 3.4% |
(Source: dodropshipping.com)
Buyers' Statistics by Social Media Platform
(Reference: dodropshipping.com)
As of January 2022, the common and most used social media platform was TikTok where people used to buy products all of the time after watching videos = 20.6%, Sometimes = 48.7%, Rarely = 20.7%, and Never = 9.9%
YouTube: All of the time = 16.6%, Sometimes = 47.7%, Rarely = 24.2%, and Never = 11.6%
Instagram: All of the time = 16.4%, Sometimes = 55.8%, Rarely = 20.7%, and Never = 7.1%
Facebook : All of the time = 15.8%, Sometimes = 54.8%, Rarely = 23.6%, and Never = 5.9%
Twitter: All of the time = 15.4%, Sometimes = 37%, Rarely = 33.4%, and Never = 14.3%
Pinterest: All of the time = 11%, Sometimes = 545.1%, Rarely = 29.3%, and Never = 14.6%
Reason Statistics of Customers Abandoning Carts
Many retailers hide shipping costs = 63%
Discount codes were not working = 46%
Longer time to ship orders = 36%
Re-entering cards data = 30%
Re-entering shipment information = 25%
Popular e-Commerce Websites' Statistics for Dropshipping
As of 2022 in the United States top popularity gained by Amazon = 2.50 Billion visitors/per month
eBay = 0.94 billion
Walmart = 0.45 billion
Craigslist = 0.42 billion
Etsy = 0.35 billion
Platform Statistics Used for Dropshipping Websites
WooCommerce = 27.86%
Squarespace = 21%
Shopify = 11.80%
Magento =8%
OpenCart = 3%
Others = 28.3%
Dropshipping Statistics on AliDropship
AliDropship was used by 86% of drop shippers by the end of 2022.
The average revenue earned was $2.48 per dropshipping visitor.
Credit card users = 60% of drop shippers, and PayPal users = 40%
The United States, the United Kingdom, Malaysia, Canada, and Australia are the top used countries of AliDropship.
AliDropship Market Statistics by Product Type
Gadgets, devices, and accessories = 18.5%
Baby and children products = 13.1%
Sports and outdoors = 12.1%
Women's clothings = 10.6%
Hobbies and crafts = 6.6%
Fashion accessories = 6.2%
Home and garden = 6.2%
Pet supplies and themed accessories = 6.2%
Men's clothing = 5.1%
Cooking supplies = 4.6%
Jewelry = 3.6%
Health and beauty = 2.6%
Others = 2.3%
Gifts and special occasions = 2.3%
Dropshipping Statistics on Amazon
In 2022, drop shippers earned = $1000 – $50,000 per month.
The 3rd party sellers had sold around 50% of Amazon's units.
The number of active sellers was 5 million.
Almost 34% of sales have been fulfilled by drop shippers.
(Reference: founderjar.com)
Dropshipping Statistics on eBay
In 1st quarter of 2022, on a monthly basis, only 10% of drop shippers earned = $7,731.
25% earned = $1000
Dropshipper on each sale earned = $2.67 on each sale
Only 10% of drop shipper earned = $3.64 / sale
10% drop shipper has experienced a loss on each sale = $2.53
Monthly order of 969 earned = $2,587
Monthly orders of 4,759 earned = $12,706
Dropshipping Statistics on Oberlo
The market share of Oberlo is the leading dropshipping platform with 31.5%
Products available in the stores of Oberlo were 81.92%
Dropshipping Statistics on Shopify
The United States was having 62.8% Shopify stores by the end of 2022.
Only 7.77% of Shopify stores ship their products by third-party dropshipping.
The number of Shopify stores has increased by 12.82% holding at least one dropshipping product in 2022 from last year.
Shopify stores were having an average of 7.10% of products available with at least one dropshipping service
Dropshipping Supplier's Statistcs by Prices
As of 2023, in the United States of America, the top supplier is Spocket: Startup= $29.99/month, Pro = $49.99.month, Empire = $99.99/month
Wholesale2B: existing store import = $29.22/month, market place import =$37/month, creating a dropshipping store = $49/month
Worldwide brands = $299 lifetime
Dropified: Lifetime = $97 single time, retro = $39.17/month, Channel management = $97/month
Alidropship = $89 lifetime
Modalyst: startup = $35 – $90/ month
Sellvia: startup = $39/month and pro = $399/year
Sunrise Wholesale = $49/month
SaleHoo: Basic = $27/month and Premium = $97/month
Megagoods = $14.99/month
BrandsGateway = $437/month
Profitability Statistics of Beauty Products Dropshipping
(Reference: autods.com)
In the United States, in 2022 the dropshipping profitability rate was 11.27% with a slight decrease from last year, in 2023 = 11.14%, in 2024 = 11%, and in 2025 = 10.83%.
Conclusion
As of now after completing the article on Dropshipping Statistics it is clear that for running an online business dropshipping can make the process easier as well cheaper. This article includes lots of stats that will enable you in understanding different ways, requirements, and processes that are used in the dropshipping market. The traditional shipping process has lots of flaws within it whereas the use of Shopify, Oberlo, and other AI-based advanced technology used in dropshipping by many companies has already boosted the business effectively. It has also been expected that the dropshipping market is going to grow by 27.1% of CAGR starting from 2022 – 2031.
What are the advantages of dropshipping?
This is easy to start, required less capital, low overhead, Available on flexible location, Selling products selections have wider range, Easier test process, and easier to scale
How common is dropshipping?
Over the world's online business currently dropshipping is holding around 23% of all online sales which resulted out $85 billion sales. Approximately online retailers are now dropshipping by 27% in 2023.
What is a dropshipper and dropshipping supplier?
Dropshipper is a person who sells products to customers without physically owning those products but is the owner of the online store. On the other side dropshipping suppliers are the physicall owners of all products who mainly process all orders and shipped them to customers.
Barry Elad
Barry is a lover of everything technology. Figuring out how the software works and creating content to shed more light on the value it offers users is his favorite pastime. When not evaluating apps or programs, he's busy trying out new healthy recipes, doing yoga, meditating, or taking nature walks with his little one.
More Posts By Barry Elad