Ridesharing Industry Statistics By Market Size, Industry, Age, Country, Demographics, Education and Annual Income
Barry Elad
Updated · Aug 22, 2023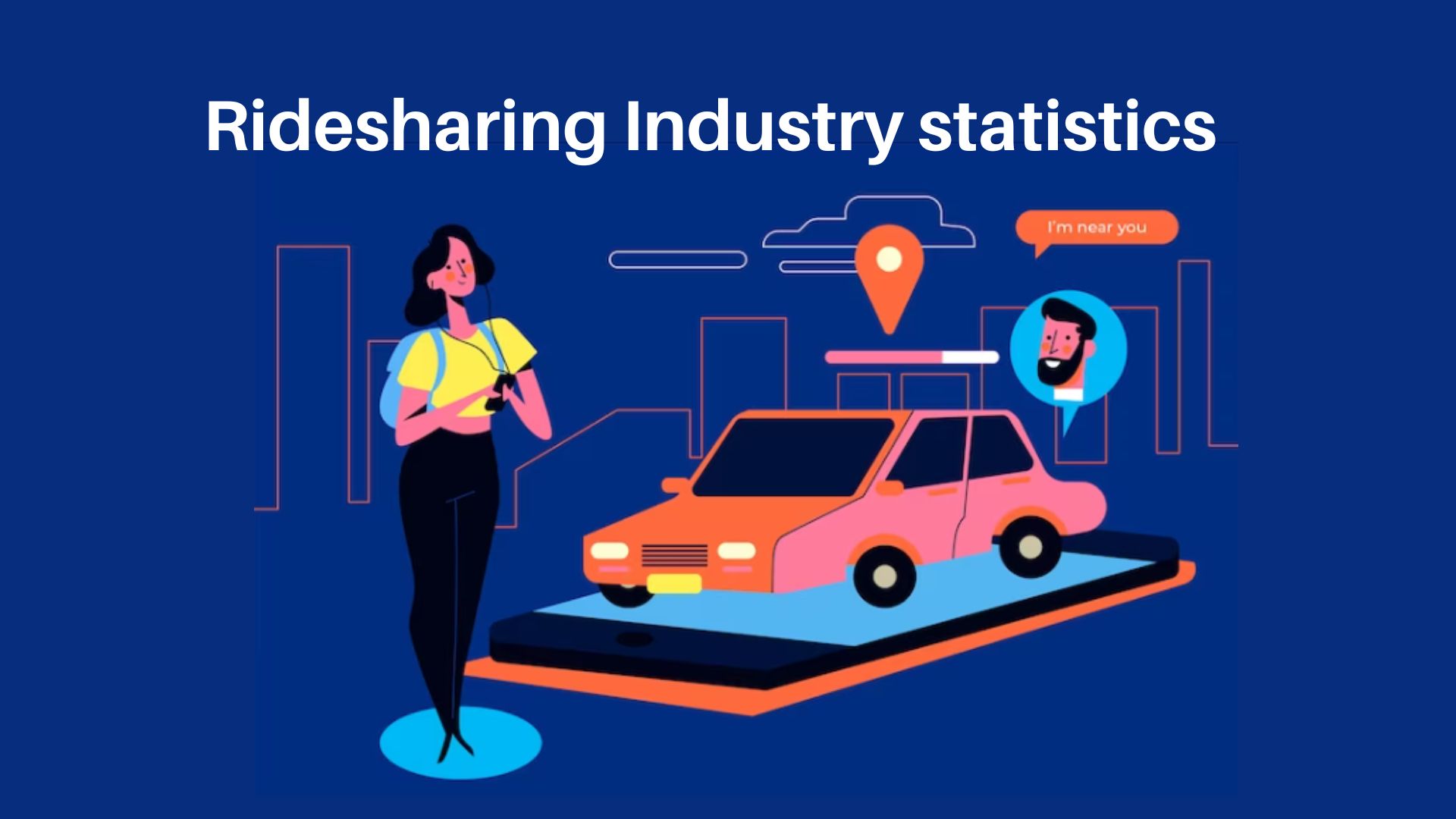 Introduction
Ridesharing Industry statistics: The ridesharing industries are different companies that include transportation networks and ride-hailing services that provide one-way transportation commonly termed as e-taxis or app-taxis. The well-known and biggest ride-sharing companies are Uber and Lyft. The overall market share of the ridesharing industry in 2022 has accounted for around $95.09 billion to $100.55 billion and is expected to reach a CAGR of 17.2% by the end of 2029 with $305 billion. Currently, ridesharing applications are mostly used across the world, especially in urban areas and almost 36% of Americans are using these apps in their daily life. The following Statistics from several aspects will provide light on why Ridesharing Industry is becoming so popular.
Editor's Choice
In the United States, almost 36% of people are the part of Ridesharing Industry in 2022.
The top two companies in this industry are Uber and Lyft in the U.S.
The Ridesharing market size of North America increased by 68% by the end of 2022 with $13.6 billion.
In the U.S. 2022, the share of sales rideshare market of Uber was 71% and Lyft's was 29%.
By the end of 2026, the global market share of ridesharing is expected to be $185.1 billion.
The monthly services of ridesharing applications were around 26%.
This industry mainly includes the Taxi segment and Ride-hailing transportation sector.
As of 2023, this U.S. industry has projected to reach $71.78 billion and expects annual growth of 1.07% by the end of 2027 with a $74.91 billion market volume.
Currently, 28.1% is the user penetration of this industry in the U.S.
As of January 2022, the average sales per customer of Uber were $72 and Lyft was $66.
Facts About Ridesharing Industry
As of 2022, the trips of Uber are providing the largest market share in ridesharing services in the United States.
On an everyday basis, there were over 14 million trips completed by Uber and crossed 10 billion trips by the end of 2022, and is expected to increase in coming years.
Uber is now operating in more than 10,000 cities across the world in countries like the United States, Australia, Bangladesh, Brazil, Belgium, Germany, Italy, Portugal, Hong Kong, Japan, France, Canada, United Kingdom, South Africa, Mexico, Spain, Sweden, and India.
In 2022, the U.S. alone has 1 million Uber drivers and California is having 209,000 in each quarter and they earn $364 average salary/per month.
In China, almost 44% of the population is part of this industry and 26% of people are using ridesharing apps for a brooking taxi.
People who prefer to bike or walk also used the services of ridesharing by 70% in 2022.
Almost 31% are not the users of ridesharing industry by the end of 2022 in the U.S.
Uber Company in the rideshare industry made a profit of 82% in the United States, in 2022.
As of 2022, the market size of ridesharing has grown faster in the United States than any other sector as well as the overall economy.
Over the last 5 years, the industry has grown by 18% in the United States, 2022.
In 2023, the profit of ride-sharing industries in the U.S. has jumped by 11.3%
General Ridesharing Industry Statistics
The market share of the North American ridesharing industry rose by $35.02 billion in 2022.
This was dominated by the United States, Canada, and Mexico in 2022 due to enormous growth in electric vehicles across the world.
By 2022 end, the market size of the ride-hailing industry has grown to $61.10 billion, and in 2023 is expected to grow by 14.8% of CAGR with $70.12 billion.
As of 2023, the car-sharing global revenue segment has been expected to be $2.89 billion, and in which the United States generates the most with $2,888 million.
$0.52K wage is currently earned per user of the car-sharing segment in 2023.
The market size of the car rental market in 2022 was $71.3 billion which is an increase of 2.6% from last year.
The global Bike sharing market size in 2022 has reached $3.5 billion and is expected to reach 4.68% from 2023-28.
The market share of e-scooter was $22.57 billion in 2022 and expecting to reach $40.26 billion by the end of 2030.
The ridesharing industry is going to reach 133% starting from 2022 to 2028.
Popular Ridesharing Service Apps
The popular and commonly used ridesharing applications are Uber, Lyft, Gett, Curb, Scoop, Bridj, Wingz, Via, Flywheel, and Arro.
Gett is an Israel-based application of ridesharing that was earlier termed as GetTaxi and this service is currently working across 100 cities in the world and mostly in Israel, USA, and UK.
As of April 2022, the active Uber users were 93 million, and include different variations are Uber X, Uber XL, Uber Lux, Uber Black, Uber Green, and Uber Comfort.
A renowned app in the United States is Lyft which is used in more than 644 cities that includes different variations such as Lux Black, Lux Black XL, and Lyft Lux.
The Curb service app hires taxis from U.S. over 65 cities and currently has over 50K taxis in total.
Uber:
In the 2nd quarter of 2022he annual revenue of 2022, in United States and Canada = $4,936 million, Latin America = $ 481 million, Europe, Middle East and Africa = $1,846 million, Asia Pacific = $810 million
As of January 2022, the average sales per customer of Uber were $72.
The overall generated revenue in 2022 increased by 82% from last year with $31.8 billion.
In 2022 Uber drivers have also increased their trip count by 0.7 billion from last year resulting in 7.6 billion.
27% gross booking has also been increased by generating $115 billion by the end of 2022.
Lyft:
The accounted annual revenue of the company was $4.1 billion in 2022 and in the same year, it made a loss of $1.6 billion.
The average earning per driver increased by $57.72 and the number of active users of Lyft was around 20.3 million.
As of March 2023, the market cap reached $3.71 billion.
Currently in Canada and the United States, there are near about 2 million active drivers.
Market share in 1st quarter = $875 mm, 2nd quarter = $990 mm, 3rd quarter = $1053 mm and $1175 mm.
Male driver = 72%, people above 40 years drivers = 75%, minority driver= 69%, bachelor and master degree driver = 55%, LGBT community driver = 7%.
(Source: helplama.com)
Benefits of Ridesharing
These have helped in reducing carbon emissions because the use of carbon footprint has reduced a lot after the introduction of ridesharing.
Also helped in reducing traffic congestion.
Enables more free time while traveling.
Helped many unemployed people in getting employed by serving them full and part-time working opportunities.
Men and women both can become the part of ridesharing industry as it promotes equality.
The above graph is describing the average monthly rideshare U.S. sales per person.
As of January 2022, the average sales per customer of Uber were $72 and Lyft was $66.
In May 2022, the average sales of Uber had increased by 14% from last year and it turned out to be $110 / person by May 2023.
Whereas, Lyft had increased by 19% in May 2022 from last year and it become $95 / person by the end of May 2023.
(Source: Maximize Market Research)
(Reference: s.yimg.com)
(Reference: statista.com)
The above image explains the worldwide ridesharing industry growth statistics in 2022 the market growth was $96.9 billion and in 2028 it is expected to grow by 133% resulting in $226.01 billion.
The key player in the ridesharing industry in 2022 was DiDi, Uber, and Lyft.
(Reference: helplama.com)

Indian Ridesharing Statistics
The taxi and ride-hailing market in India is expected to earn about $13 billion in 2023.
This market's earnings will grow slightly by 0.75% yearly, reaching about $14 billion by 2027.
By 2027, around 110.3 million people in India will be using these services.
In 2023, 7.1% of Indians will use ride-hailing, and this will slightly increase to 7.5% by 2027.
On average, each user will spend about $129.90.
By 2027, 41% of the ride-hailing revenue will come from online sales.
Globally, China is the leader in this market, set to earn a whopping $117.7 billion in 2023.
Global Ridesharing Statistics
The global earnings from shared rides will be around $437 billion in 2023.
This global market will grow by 3.71% every year, hitting about $505 billion by 2027.
The number of people using shared rides worldwide will rise to 2.365 billion by 2027.
27.1% of the global population will use shared rides in 2023, and this will go up to 29.8% by 2027.
The average amount spent by each user will be about $210.
Online sales will account for 61% of the total shared rides revenue by 2027.
Again, China tops the chart with the highest revenue, expected to earn $147 billion in 2023.
(Reference: zippia.com)
Monthly Users (26%): A little over a quarter of people use rideshares about once a month.
Daily or Weekly Users (17%): Less than one-fifth of folks are hopping into rideshares daily or weekly. These are the regular users!
Less Often (56%): Over half of the people don't use ridesharing very much – maybe just once in a while or hardly at all.
In simple terms, most Americans don't use rideshares super frequently. While some use it as a part of their daily or monthly routine, the majority prefer using it occasionally or rarely.
The above graph represents the share of sales statistics between Uber and Lyft in the United States, in 2022.
The maximum share of sales has started to increase after COVID-19, Uber accounted for 75% of rideshare spending and Lyft accounted for 25% by May 2023.
In May 2022, Uber's share of sales accounted for 77% which was increased by 2% as of this year.
(Source: mordorintelligence.com)
In February 2022, Air Asia and Avolon both companies made a strong partnership for creating an enhanced and transformational platform for ridesharing within the next 3-4 years in Southeast Asia.
In June 2022, Uber Company launched a new service ridesharing named UberX.
In-Depth Look at Ridesharing Statistics
Let's dive deep into the world of ridesharing with some interesting stats, broken down by categories:
👥 Age-Based Ridesharing Usage
18-29 years: The younger lot, representing over half at 51%, lead the way.
30-49 years: Almost half, at 43%, of the middle-aged group use rideshares.
50 years and above: A respectable 24% from the older generation are hitching rides too.
🌎 Country Wise Ridesharing Use
China: Takes the crown with 44%.
Russia: Close behind at 42%.
United States: Not far off, with 36%.
Brazil: 30% of Brazilians are opting for this mode.
United Kingdom: At 11%, the Brits are more reserved.
💵 Income and Ridesharing
High Earners ($75K+): Over half, at 53%, enjoy the convenience.
Middle Income ($30K to $74K): Representing a third at 35%.
Lower Income (Below $30K): 24% still find value in ridesharing.
🌆 Ridesharing in the U.S.: Demographics & Geography
Young adults (18-29) in cities are at 55%, but it drops to 36% in the countryside.
College graduates show a stark contrast: 70% in cities vs. 32% in rural spots.
The high earners ($75K+) similarly prefer city rides at 71%, compared to 32% in quieter locales.
Big city vibes:

New York: Leads at 18.73%.
Seattle: Follows closely with 16.54%.
San Francisco: Rides in at 15.77%.
Luis: 15.41% and Boston: 14.7% are neck and neck.
Portland: Holds its own at 14.37%.
Pittsburgh: Sits at 14.05%, while Philadelphia: Concludes with 13.82%.
🎓 Ridesharing by Education Level
College graduates rule the roost at 55%.
Active college students are at 36%.
And those with a high school diploma or below? They're at 20%.
⏰ How Often are People Ridesharing?
For those who love walking or biking:

70% use ridesharing often.
41% occasionally hop in.
31% have never tried.

Car drivers show an interesting pattern:

63% use rideshares often, yet 84% have never tried!
And 85% occasionally enjoy a break from driving.

Public transit users:

56% frequently prefer rideshares.
But only 2% have never tried.

Taxi loyalists:

55% are daily/weekly rideshare users.
A mere 2% have never switched.
💼 Big Players in U.S. Ridesharing Sales
Uber: Jumped from $27.25 billion in 2022 to $35.42 billion in 2023.
Lyft: Saw a boost from $41.02 billion to a whopping $51.42 billion in the same time frame.
To sum it up, ridesharing has woven itself into the fabric of modern commuting, showing varied preferences based on age, country, income, and even by how often one prefers to walk! From city streets of New York to the sprawling lands of China, people across the globe are choosing to share rides. With tech giants like Uber and Lyft leading the charge, the industry's future looks as promising as ever.
Conclusion
After completing the overall article it has been concluded that this ridesharing industry is increasing enormously and going to the tough sky in the near future. These industries helped several cities in advancing technologically and in urbanizing many cities across the world. These industries got success because of technological advancement and thus expectations and demands of people are also increasing for more innovation. This is also termed the most convenient, enjoyable, reliable, and safe mode of transportation. The Ridesharing market size of North America increased by 68% by the end of 2022 with $13.6 billion and $100.55 billion across the world.
This is a one way transportation service that can be arranged within a short notice. The two popular companies that provide ridesharing services are Uber and Lyft.
What are the requirements of using ridesharing program?
Firstly, need a Smartphone with proper internet connection; the application or Apps of the service provider company and lastly a credit card or online paying account.
Which is the biggest rideshare industry?
Uber is the biggest rideshare company that also includes several other mobility facilities for customers. The service of this company is available over 10K cities in 71 countries in the world and currently Uber itself is holding 68% of the overall rideshare industry.
Barry Elad
Barry is a lover of everything technology. Figuring out how the software works and creating content to shed more light on the value it offers users is his favorite pastime. When not evaluating apps or programs, he's busy trying out new healthy recipes, doing yoga, meditating, or taking nature walks with his little one.
More Posts By Barry Elad