World's Top 10 Most Exclusive Black Cards
Barry Elad
Updated · Oct 01, 2023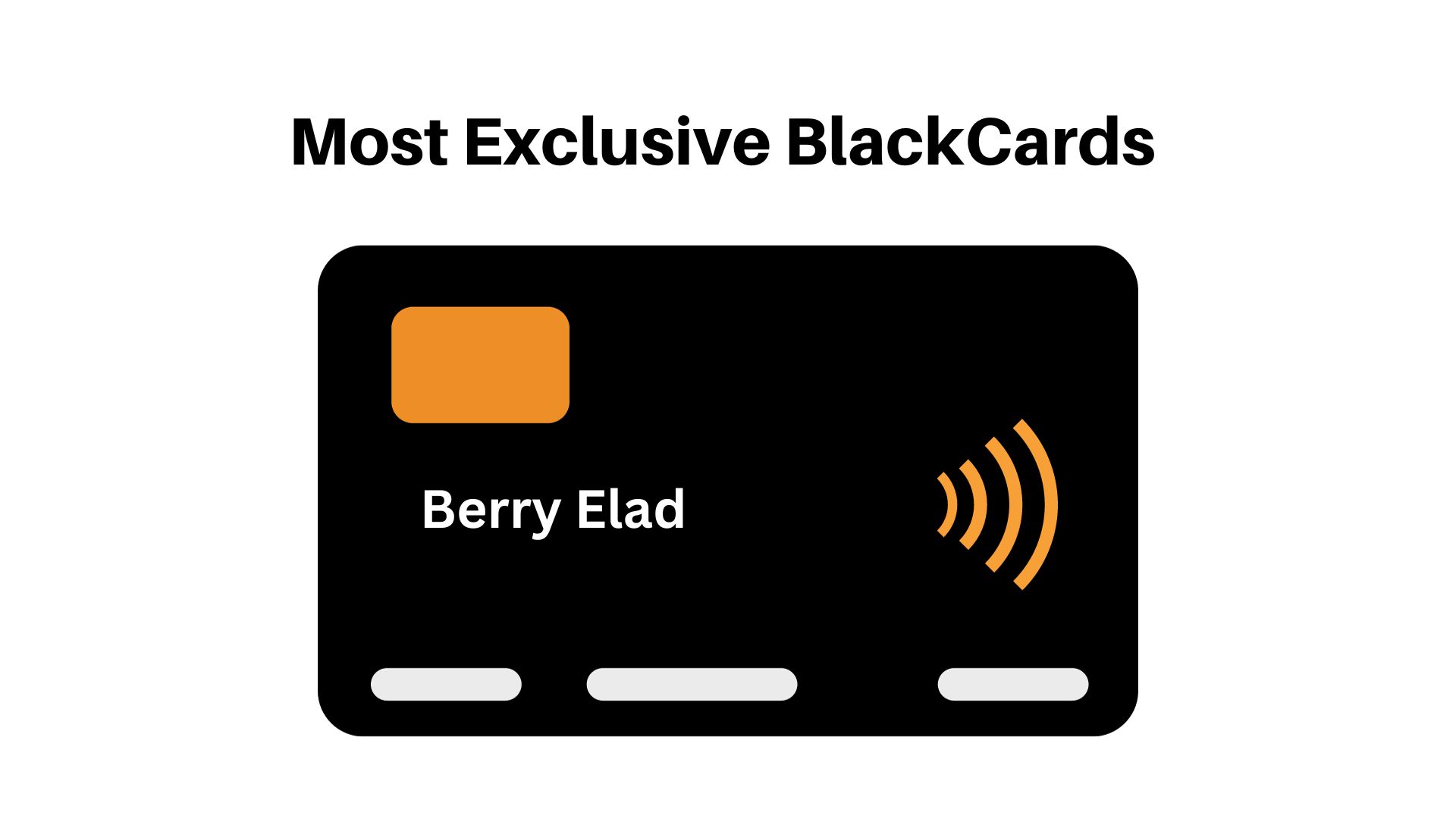 World's Top 10 Most Exclusive Black Cards: Black cards are payment cards that give customers access to funds borrowed from banks or financial institutions in order to purchase goods and settle financial obligations. Borrowers are expected to repay the loan amount, interest, and any associated costs within a predetermined timeframe – usually monthly – typically when using them online or for purchases within stores.
Black/Credit cards offer incentives like cash back points discounts which make using them an easy and secure method of making purchases online or otherwise; should not be misused they could lead to debt issues and excessive interest rates so be mindful when using them so as to avoid fees or excessive rates it's key that customers understand terms & conditions before spending so payments are on time every time!
History of Black/Credit Cards
Diners Club introduced America's first credit card in 1950 – specifically designed to be used at restaurants – that allowed customers to charge meals to it and pay the bill later.
Bank of America introduced the inaugural all-purpose credit card in 1958 under its original name Bank of America Card. At first, it was only available within California; however, over time its popularity quickly spread throughout the nation until eventually changing to Visa. Mastercard was first launched by Californian banks as Master Charge in 1966 as an answer to Bank of America's card and to provide a nationwide network.
In the 1970s and 80s, credit card use increased as more banks and financial institutions issued their own cards to attract users with incentives such as cash back, points for purchases, airline miles, and cash rewards. Online shopping fueled an even further surge in usage; then chip technology made using credit cards safer with contactless payments becoming mainstream.
Credit card usage led to credit card debt, high-interest rates, and other related issues. In order to safeguard consumers from possibly illegal corporate procedures by credit card companies, legislation like the Credit Card Accountability, Responsibility, and Disclosure (CARD) Act of 2009 was passed. Credit cards have become an indispensable component of the modern financial landscape, constantly adapting to new technology and features like rapid approvals, virtual cards, and mobile payments.
Use credit cards responsibly and you'll gain convenience and benefits, but mishandling may lead to financial hardships. To avoid fees, it's essential that you familiarize yourself with its terms and conditions, track spending carefully, and make payments promptly.
Uses of Credit Cards
Credit cards can be invaluable financial tools, serving multiple functions for users. The following are some typical uses for credit cards:
Credit cards have become an indispensable payment method for both physical and online purchases. Credit cards offer a convenient alternative to cash payments for goods and services purchased; many businesses accept them, offering customers incentives as added incentives to use them.
Credit can also be established with credit cards. By responsibly using and paying their balances on time, users may build a positive credit history that will serve them when applying for other forms of loans and credit.
Utility, rent, and subscription bills may all be paid with credit cards. Many businesses allow their customers to do so and may even reward those who choose this method of payment.
Credit cards may provide an ideal solution when cash isn't readily available; their widespread acceptance makes this especially helpful when traveling abroad.
Balance transfers allow customers to transfer high-interest balances from one card with higher rates to one with a lower interest rate and expedite debt payoff while saving money in interest fees.
Credit cards may occasionally be used for cash advances, which allow customers to withdraw funds from an ATM or bank. Cash advances should only be utilized under extreme circumstances as they often come with exorbitant costs and interest rates.
Credit cards often offer rewards and points when used to make purchases; with travel; cash back and goods among the many potential perks to be obtained through exchanging these incentives.
Credit cards have many advantages, but it is crucial that they be used responsibly and within one's means. This involves paying the entire balance each month without incurring additional debt and not using it to settle large bills owed on credit. When used responsibly and sensibly, credit cards may serve as valuable tools for managing money and establishing credit.
Features of Black Cards
Many consumers favor credit cards as a form of payment because of their wide array of features. Below are some key attributes associated with them:
Credit limits provide the maximum loanable amount via credit cards, with each provider setting the limit based on each user's creditworthiness.
On a credit card, any balance that remains outstanding by its due date is subject to interest charges. Depending on the card and user's credit score, interest rates may differ accordingly; some cards offer reduced introductory rates that might help with significant purchases.
Credit cards often offer reward programs that enable cardholders to accrue points, cash back, or other forms of rewards when making purchases with their card. These rewards can then be exchanged for various benefits like travel, shopping, or cash.
Credit cards often incur various fees, including annual, balance transfer, cash advance, and foreign transaction charges. It's essential that users fully comprehend these expenses as this could impact how much their card usage will cost them.
Grace periods, provided by credit cards, provide an interval between the purchase date and the due date during which no interest charges apply to total balance payments made before deadlines. No interest will apply if all the outstanding debt is settled prior to its deadline date.
Credit cards provide customers with security features like zero liability and fraud protection to guard them against fraudulent transactions and identity theft.
Some credit cards offer additional perks, including extended warranties on purchases made using their card, travel insurance, and rental car coverage.
The Popularity of Credit Cards
Credit cards have steadily gained in popularity over time and are increasingly used by consumers to purchase goods, settle debts, and manage their money. Some factors contributing to their growing use are:
Particularly for online purchasing, where it's necessary to submit sensitive financial data, credit cards are an easy and secure method of payment. Users simply enter their card information once to use it across numerous purchases without repeating this step each time they want to pay with it.
Many credit cards now provide bonuses and benefits in the form of cashback, points, discounts, and travel or shopping incentives that can be exchanged for cash, gift cards, or travel rewards. When making larger purchases that qualify for higher rewards programs, these may encourage users to use their cards.
Credit scores, which are essential in order to secure loans and mortgages as well as other forms of financial products, may be raised through credit card use responsibly and on-time payment of balances – this may lead to lower interest rates and improved lending terms in the future.
Credit cards can also be an emergency solution in times of cash shortage or unexpected events, particularly while traveling or unexpected circumstances arise. This feature is especially handy when traveling abroad or encountering unexpected obstacles along your travel journey.
Credit cards provide customers with flexible payment plans that enable them to reduce their balance over time rather than all at once. When making large purchases or facing unexpected costs, this could prove especially helpful.
Credit cards do have some downsides that consumers should be mindful of. If not used appropriately, credit cards can lead to debt and financial issues for users; high-interest rates can add significant amounts of debt if balances are not cleared immediately; the cost of using them might increase due to hidden fees and levies as well.
Credit cards remain an indispensable financial instrument despite their inherent disadvantages, providing consumers with easy and advantageous means to build credit. Many consumers view them as desirable due to their convenience, perks, and benefits when building credit. To avoid financial issues in the future, however, it's crucial that credit cards be used wisely with full awareness of all terms and restrictions associated with each card they use.
Why Some Black Cards Are Exclusive?
Credit cards are exclusive by design due to requiring certain levels of creditworthiness to obtain. A variety of factors, such as income and history can impact one's ability to obtain one; those with strong credit are likely to be accepted while those with bad credit could even be declined altogether. Furthermore, they often come with high fees and interest rates, making them costly if you cannot pay your balance off each month in full. For these reasons alone, credit cards do not make the cut when it comes to availability – particularly for those living on limited incomes or with poor credit histories.
Credit card marketing often targets individuals with higher incomes and standards of living. This can be seen through rewards programs offered by credit card providers that often include travel discounts, rebates, and savings at high-end stores – rather than targeting individuals struggling to make ends meet, these offers cater more towards individuals who can afford travel and significant expenditures.
Credit cards may seem exclusive when it comes to their credit limits, which are determined based on an individual's creditworthiness. People with better scores and earnings tend to receive larger limits; those without this privilege may face difficulty when making significant purchases without enough available credit to cover them. Credit cards may seem exclusive; however, if used responsibly they can still serve as valuable financial tools; Cashback, incentives, and fraud protection may make credit cards more convenient and safe than cheques as payment options.
The World's Top 10 Most Exclusive Black Cards
American Express Centurion Card
Dubai's First Royal Card
HSBC Premium World Elite Mastercard
Luxury Card – Mastercard Black
World Elite Mastercard
Stratus White Card
Mastercard Gold
J.P. Morgan Reserve Card
Citi Chairman Card
Chase Sapphire Reserve Card
#1. American Express Centurion Card
American Express Centurion Card ranks first among the most prestigious credit cards. American Express was the first credit card provider in the US to use exclusivity as a draw for customers when it introduced the Amex Black Card in 1999. American Express card's allure lies in its secrecy; approval must first come from them for this card to become available to general consumers.
Centurion Cardholder status is typically reserved for people who spend (and pay off) at least $250,000 across their American Express accounts annually, so if an invitation comes your way be prepared to pay an exorbitant membership fee to join this exclusive club.
Setup costs start at $10,000 and incur additional costs of $5,000 annually and $5,000 for every new Centurion Card added on top. Cardholders of Centurion credit cards enjoy numerous privileges for their annual fees, such as automatic hotel and aircraft upgrades, reduced cruise prices, free rental of luxury vehicles, and access to luxurious lounges in some airports – just to name a few of their benefits.
#2. Dubai's First Royal Card
Dubai First's Royale Card is widely considered one of the most elite credit cards available. An invitation-only credit card features no spending limits and features one. 235-carat diamond set into its front – gold trim on both sides completes this look. While primarily used within United Arab Emirates borders, this card remains widely accessible worldwide.
Dubai First provides each cardholder with their own dedicated relationship manager and lifestyle manager who serves as an exclusive concierge, making requests possible if desired. Furthermore, Royale cardholders may find one or both services helpful in getting what they want to be done quickly and conveniently.
#3. HSBC Premium World Elite Mastercard
Individuals who meet the credit score standards and can pay annual fees of $395 may want to consider applying for an HSBC Premier World Elite Mastercard. Spend $4,000 within three months with this credit card, and you could earn 50,000 Rewards Bonus Points which can be redeemed for airfare of up to $750! This card offers variable APRs of 14.99%-18.99%.
Holders also enjoy 3X dining points and Reward Points on any new dining purchases as well as 2X travel points and 3X points on all travel purchases. This card is particularly appealing for those who make frequent purchases and who wish to maximize the use of their cards – with 1X points earned on all transactions! To qualify for the HSBC Premier World Elite Mastercard in America, an American HSBC Premier checking account must exist.
As well as providing tap-and-go contactless payments and ID theft protection services, additional benefits include identity fraud expense reimbursement. HSBC also offers cell phone protection plans with up to $800 of coverage per claim in case your phone is broken or lost, and their World Premier Elite Mastercard credit card provides incentives with every purchase made.
#4. Luxury Card – Mastercard Black
The Luxury Card: Mastercard Black Card has an annual charge of $495 plus a $195 user fee – similar to World Elite Mastercard charges. Mastercard's premium rewards credit cards provide account users with rewards points and access to a luxury concierge service for personal requests as well as travel bookings. Mastercard doesn't need much introduction as one of the more recent card issuers on this list, making its presence known almost immediately.
At Barclaycard, their name and reputation stand the test of time – more than 25,000 financial institutions around the world offer credit cards with this brand name. Signing up for a Mastercard Black Card unlocks high spending limits, 1.5% cashback, and 2% flight redemption value.
Travelers may take advantage of its $100 airline credit as well as concierge service provided by this premium card – luxury travel expenses could even be discounted and an unlimited number of friends may enter Priority Pass lounges!
#5. World Elite Mastercard
World Elite Mastercard stands out as an exceptional luxury card, offering users the ability to accumulate reward points, gain travel benefits, and save money with everyday transactions. Up until September 30th, 2022, owners of World Elite Mastercard are eligible to receive a three-month DashPass subscription from DoorDash along with a $5 discount off their first two purchases. Additional reward points are available and HelloFresh orders qualify for discounts of up to $90 and 5% off future orders.
Credit card holders also enjoy benefits, with ShopRunner membership included free with their membership as well as receiving a $5 credit note every three months. Save more when shopping by taking advantage of free 2-day and return shipping from more than 100 merchants – saving even more money as you shop! Signing up for a World Elite Mastercard offers you cell phone insurance with an annual cap of $1,000 and two claims each year of a maximum of $600 each. Also, customer service is always available 24/7 so quickly report lost or stolen credit cards can be reported.
#6. Stratus White Card
Though most exclusive credit cards seem to favor black; the Stratus Rewards Visa card stands out by being known as the "White Card." With an annual charge of $1,500 and exclusive accessibility only through invitation or recommendation from its creators or recommenders; this card may become part of your wallet if purchases totaling more than $100,000 per year have been made with existing credit cards.
Membership benefits of membership include complimentary upgrades to luxurious hotel rooms and, of course; having your own dedicated personal concierge available for use. It has even been reported that this concierge service can arrange flights and collect dry washing.
#7. Mastercard Gold
Are You Wanting Industry-Leading Points and Benefits Without Being Invited? Look No Further. The Mastercard Gold Card; provides industry-leading points and benefits without waiting for an invitation.
Their Luxury Card Concierge services; $200 in credit for eligible airline purchases, membership to Luxury Magazine as well as potential luxury presents – all for $995 annually! Their card weighs 22 grams with 24K-gold-plated front panels and carbon back.
The Mastercard Gold Card requires both a high salary and excellent credit, similar to many premium credit cards. Many of its advantages are travel-related; cardholders receive special offers on lodging, travel bundles; airfare, and double points on airfare bookings as a perk of owning one of these premium cards.
#8. J.P. Morgan Reserve Card
Are you investing with J.P. Morgan and possessing at least $10 million? If that is the case, the J.P. Morgan Chase Reserve Card could be perfect for you – our latest ultra-exclusive card.
Designed specifically to cater to ultra-high-net-worth clients and recently replacing the Palladium Card as its main market, the Reserve Card features metal construction with palladium plating that weighs five times heavier than traditional plastic cards; only made available through Global Wealth Management customers with non-real estate assets worth over $10 million assets in total.
Visa Infinite cardholders receive several advantages in exchange for an annual fee of $595, such as $300 in travel credits and complimentary access to airport lounges, along with access to hotels and vehicle rentals that would otherwise not be accessible.
#9. Citi Chairman Card
The Citi Chairman American Express Card is only offered to people who hold significant investments with Citigroup brokerage accounts, lending itself to an air of exclusivity. Rumour has it that this card comes with an annual charge of $500 and a credit limit of up to $300,000.
Travel benefits offered with this card rival those found elsewhere: upgrades and entry to exclusive airport lounges as well as the concierge service to book dining or travel arrangements at your discretion.
For you to acquire a Black Chairman Card, an invitation from Citigroup Brokerage must first be extended; good credit alone won't do the trick. Make sure that when depositing big sums of money into your Citigroup Brokerage account.
#10. Chase Sapphire Reserve Card
One of our most iconic cards, the Chase Sapphire Reserve Card is well-known due to its exclusive nature and high application fees; annual expenses total $550. New cardholders who make $4,000 worth of purchases during their first three months after opening an account are eligible to earn 60,000 bonus points – equivalent to over $900 when used towards travel booking with Chase Ultimate Rewards(r).
Consider becoming a cardholder to experience immense advantages, particularly in travel and hotel services. Users with a Sapphire Reserve Card gain access to over 1,300 airport lounges globally when registered for Priority Pass Select, in addition to an annual $300 travel credit and 3 points earned on travel (after using all available credits) and dining expenditures. Furthermore, cardholders benefit from special assistance provided by the Chase Travel Team.
Final Thoughts
Credit cards have become an essential element of contemporary finance, providing both individuals and companies with a safe way to make payments. Credit cards provide many advantages including credit building, reward earning, and fraud protection. However, improper credit card usage can lead to high fees and interest rates that put you into debt.
To avoid financial strain, it's essential for individuals to understand their credit card's terms and conditions as well as use them responsibly. Pay your bills on time, refrain from carrying a balance, and use only what credit is necessary.
Responsible users of credit cards can utilize them without accruing debt; when used responsibly they provide convenience, rewards, and protection without adding to financial strain. In order to prevent future financial troubles it's essential that consumers understand the potential dangers related to using them responsibly and use credit cards responsibly themselves.
How much can be spent with a credit card?
Your Credit Limit or Card Limit, set by the issuing firm, determines how much of a charge may be made against it at one time.
How is credit limit determined?
To establish your credit limit, most businesses take into consideration your past history and annual income level when setting it. They look at things such as the length of your history, the number of accounts opened in your name and any history of repayment - although underwriting procedures differ depending on which business issues the card.
What type of loan does a credit card represent?
Credit cards allow users to regularly borrow up to their predefined borrowing limit; as such, credit cards can often provide the best solution for everyday transactions.
What purposes do credit cards serve?
Credit cards offer you the convenience of making purchases and then paying later; much like taking out short-term loans from banks or financial institutions. Every time you use one to transact business, you're using money owned by the card issuer in exchange for using their money as part of the deal.
Barry Elad
Barry is a lover of everything technology. Figuring out how the software works and creating content to shed more light on the value it offers users is his favorite pastime. When not evaluating apps or programs, he's busy trying out new healthy recipes, doing yoga, meditating, or taking nature walks with his little one.
More Posts By Barry Elad