Outsourcing Statistics By Country, Industry, Reasons, Benefits and Facts
Barry Elad
Updated · Jun 26, 2023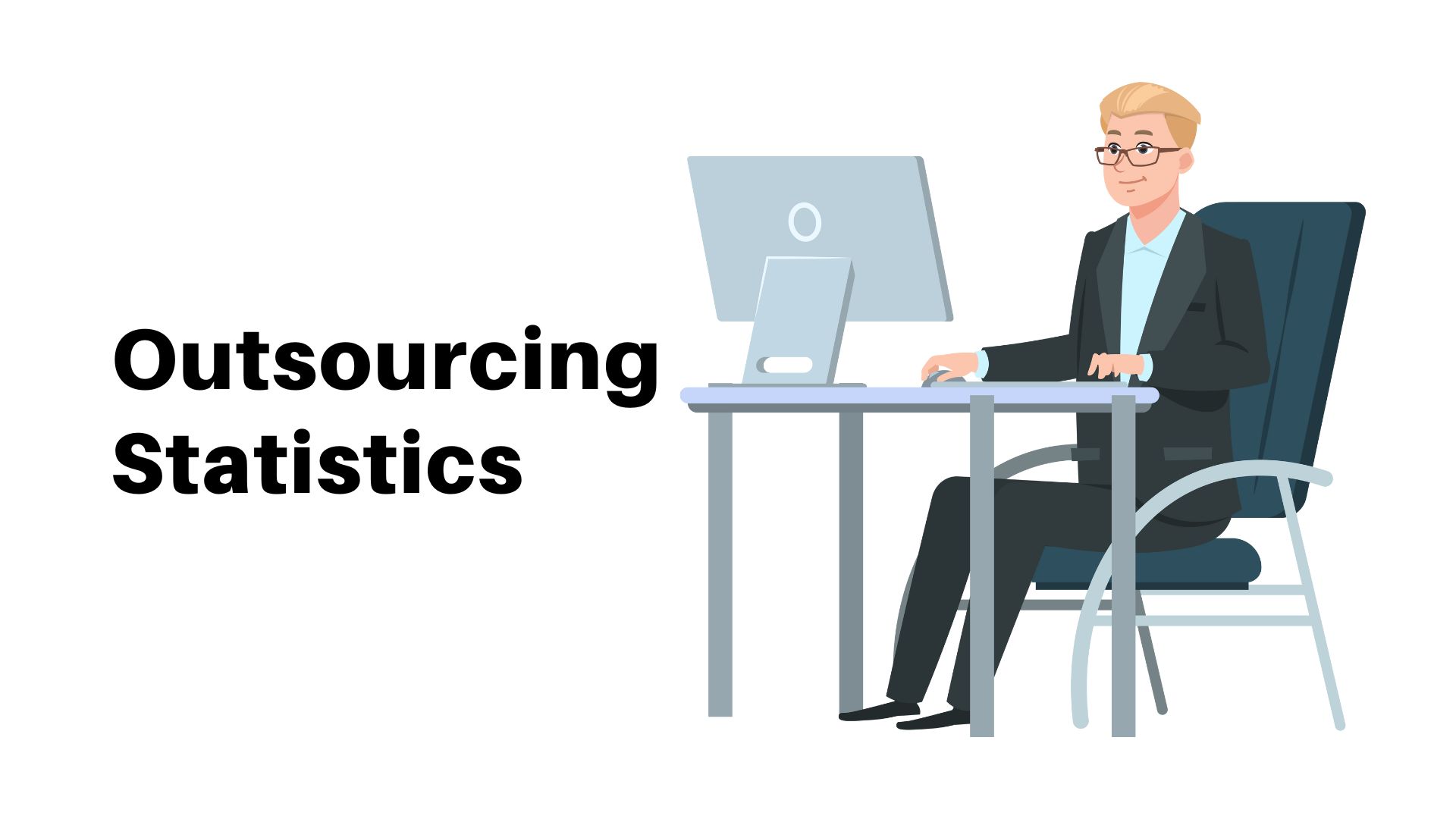 Introduction
Outsourcing Statistics: Outsourcing is generally termed a business strategy that allows for decreasing excess labor costs and focuses more on innovation. The U.S. economy has benefited from outsourcing because it gives overall U.S. businesses access to a wider skill pool and its main motivation is cost-cutting. Companies can concentrate on their core competitive business activities because of business process outsourcing processes. Out of the global outsourcing market's total revenue, the U.S. market accounts for $62 billion. This process allows for the development of new job opportunities in many developing countries, and outsourcing did not affect its process during or after the COVID-19 pandemic. These articles on outsourcing statistics include valid data and insights from different aspects that help in understanding the topic better.
Editor's Choice
The healthcare sector has been one of the outsourced industries by the end of 2022, with 68% of U.S. enterprises outsourcing at least a portion of their operations.
In 2022, the IT outsourcing sector has earned around $131 billion in BPO revenue potential.
Almost 44% of technology executives in the U.S. reported that companies are now more tend towards this trend.
As of 2023, the business Process Outsourcing's revenue in the U.S. is expected to reach $129.70 billion.
In 2022, at least some of the work will be outsourced by 80% of small and 128% of large enterprises.
90% of small businesses surveyed said they would start outsourcing their work in 2022.
According to the U.S. Bureau of Labor Statistics, employment in software development has increased by 31%.
As of 2022, the overall business of the United States spent on outsourcing was $700 billion and is expected to reach $731 billion by the end of 2023.
Cloud computing is viewed as an important tool in outsourcing efforts by 90% of IT businesses.
IT outsourcing is used by 92% of G2000 U.S. organizations in 2022.
For developing applications around 60% of businesses use outsourcing.
The U.S. healthcare sector has more than 1.2 million employment opportunities each year.
Effectiveness of Outsourcing
This generates jobs and stimulates economic growth in the United States and other nations too.
Allows for product specialization, monopolization, innovation, and development and gives US businesses access to achieve a bigger skill pool.
The outsourcing of American business to different other nations allows for enhancing international investments which improves the living standards.
Both the U.S. and the other countries benefit from a growing economy.
Thus, North America led the market in 2022 with the highest 47% revenue share.
Facts About Outsourcing
Deals for outsourcing originate in the U.S. with an average of 84%.
Regionally, 42% of foreign outsourcing purchasers come from North and South America.
About 300,000 jobs are outsourced by US companies annually.
As of 2023, 286,881 enterprises providing business process outsourcing services in the US with a 3.7% growth since last year.
Among US companies, 29% use outsourcing with below 50 employees.
Out of the total overseas revenue, $70.66 billion was generated by the U.S. market by the end of 2022.
Business process outsourcing's revenue in the U.S. is expected to reach $129.70 billion in 2023.
IT Outsourcing's revenue is predicted to reach US$156.20 billion by 2023.
By 2023, it is expected that the business process outsourcing segment's average spend per employee would reach $0.77k.
BPO includes a wide range of business operations either in the front or back office such as call centers for customer service or the back office for human resource departments.
In 2022, due to the widespread use of cloud computing in the U.S. market business process outsourcing has undergone major modifications.
Outsourcing Statistics by States
States in the US with the highest percentage of businesses providing business process outsourcing in 2022.
California = 25,393
Florida = 18,650
Texas = 12,876
Services That are Mostly Outsourced
IT and accounting services = 37% and IT is expecting to gain $397 billion by the end of 2025.
Customer services are expected to reach $81.5 billion by the end of 2023.
Back office
Human resource services = 24%
Digital marketing = 34% and is expected to reach $81.5 billion by 2023.
Payroll services
Other development related services = 29%
Healthcare services are expected to reach $229.2 billion.
Retail and financial services
Outsourcing Statistics by Industry Types Outsource
Education = 11%
Healthcare = 9%
Construction = 8%
Information services = 5%
Finance and insurance = 5%
Agriculture = 4%
Marketing and sales = 4%
Software =4%
Art and entertainment = 4%
Retail = 4%
Telecommunication = 3%
Technical services = 2%
Others = 11%
U.S. Companies That Outsource
In 2022, the number of businesses involved in outsourcing was 2,75,397
As of 2023, the involvement increased by 3.7% which turned to 2, 86,881.
The top 10 companies that outsource the most are Google, Facebook, Apple, Microsoft, IBM, Slack, Wells Fargo, LinkedIn, American Express, and WhatsApp.
General Outsourcing Statistics
The main reason for U.S. business outsourcing is to balance the expenses and the economy is 70%
64% of leading American companies are depending on digital enablers known as Robotic Processing Automation.
In 2022, at least some of the work will be outsourced by 80% of small and 128% of large enterprises.
In the US, there are 59 million freelancers.
In the US, 68% of large businesses outsource.
Around 36% of American workers are termed gig workers.
58% of companies have adopted Artificial Intelligence.
80% of American manufactured goods are outsourced.
American banks outsource almost 40% of help desk positions.
68% of the accounting and IT services of U.S. businesses are outsourced mostly to low-income countries.
To assist sustainability and business-related expansion, 19% of U.S. organizations use outsourcing in 2022.
Positive Outcomes of Outsourcing
Promotes greater flexibility along with effective adaptability = 21%
Allow in increasing efficiency = 19%
Enhance resources = 16%
Reduced employee's time for doing other projects = 11%
Received proper guidance and help from experts = 10%
Enables better risk management facilities = 9%
Cheaper than hiring office employees = 7%
Process better tax breaks = 6%
The supply chain segment has increased at the fastest rate by more than 8%.
Modes of Outsourcing Communication Statistics
Email = 25%
Video conference = 25%
Phone calls 20%
Instant messaging = 17%
Project management board = 12%
Frequency of communication
On monthly basis = 8%
Weekly = 38%
Daily =53%
Reasons of Outsource Growth in the U.S.
At the end of 2021, More than 500,000 new positions become available because of a huge proportion of retirement and due to the lowest birth rate.
The U.S. immigration rate has also been reduced.
In 2022, many U.S. startups and SMEs faced funding challenges.
The payroll expenses raised an average of 3.9%.
The number of resigned employee's number increased to 4.5 billion.
In 2022, new jobs opened = 1.6 million.
Employee hired = 6.7 million
Benefits of IT Outsourcing
Cyber security services remained in high demand; in 2022 almost 51% have hired employees.
Machine learning automation has been adopted by IT outsourcing providers, which has increased service quality.
90% of consumer interactions have been managed by chatbots (part of Artificial Intelligence) by 2022.
The system of remote work turned out to be a normal process.
Outsourcing has reduced labor costs in the United States.
The Internet of Things ensured new opportunities for outsourcing.

(Reference: ardem.b-cdn.net)
The above graph explains the benefits or reasons for outsourcing, in which cost reduction plays an effective role followed by flexibility, ensures speed to market growth, allows proper access to tools and processes, and promotes agility.
(Source: cdn.buttercms.com)
The above chart describes a few reasons the U.S. small businesses were not able to outsource as expected in 2022.
According to a survey, 23% of businesses stated that high prices remained the largest obstacle.
21% of businesses faced problems in communicating with outsources.
14% of business organizations were not able to complete their work on an appropriate timeline.
12% didn't follow proper rules and instruction of respective outsources.
9% failed due to lack of confidentiality and another 9% because of low quality and work services.
8% due to data breaches and 5% covers other reasons
(Reference: images.upcity.com)
The above graph depicts that in 2022; around 83% of U.S. small businesses have increased the process of outsourcing.
11% of small businesses had no plans for outsourcing.
6% remained unsure about the trend.
(Source: grandviewresearch.com)
The above pie chart describes the United States outsourcing market share by the end of 2022.
In 2022, the IT & telecommunications segment produced around 34.0% of the market as a whole, accounting for the highest revenue share.
As a result of the widespread use of cutting-edge technology and the existence of major players in North America, the markets of BFSI have achieved healthy development. The outsourcing process in driving growth by 36% in the BFI sector annually.
During the forecast period of 2022 to the next 5 years, the U.S. healthcare outsourcing market is expected to grow at a CAGR of 8.11%.
Out of the total overseas revenue, $70.66 billion was generated by the U.S. manufacturing market by the end of 2022, followed by retail and others.
(Reference: images.upcity.com)
The above graph shows business years of working for outsourcing in the United States.
10 years = 35%
6-9 years = 12%
3-5 years = 31%
1-2 years = 35%
Less than 1 year = 14%
(Source: factmr.com)
The overall market size of the outsourcing market in 2022 was $273.3 billion, out of which 60% is covered by North America.
Out of the total outsourcing process, 57% is IT and telecommunication.
3/5th of the market is dominated by the outsourcing process in America in 2022.
The average cost of HR outsourcing was $ 45-1500 / month.
For IT outsourcing was $110-160 / month.
Conclusion
After covering up the article on outsourcing statistics it can be stated that this is an effective strategy for minimizing operating costs within different businesses. Additionally, it is an innovative strategy for increasing efficiency because it frees up internal resources along with reducing risk factors, even though it includes many negative factors too.
It has been concluded that about 66% of American businesses have outsourced work in 2022, the nation accounts for $62 billion out of the total worldwide outsourcing market's worth. According to recent research, it can be assumed that the outsourcing sector of the United States will continue to increase in the future too.
The practice of looking for an outside party to whom you can assign parts of your business's processes is known as outsourcing.
What are the advantages of outsourcing?
This allow in increasing efficiency, increase concentration on key business operations, promotes competitive advantages, helps in reducing cost factor and allow in gaining higher reach in outsourcing process.
Which country outsources more?
The majority of jobs in the globe are outsourced to the US, where about 68% of businesses outsource their services.
Which jobs are mostly outsourced?
Information technology, customer service, human resource, finance, etc.
Barry Elad
Barry is a lover of everything technology. Figuring out how the software works and creating content to shed more light on the value it offers users is his favorite pastime. When not evaluating apps or programs, he's busy trying out new healthy recipes, doing yoga, meditating, or taking nature walks with his little one.
More Posts By Barry Elad