Roblox Statistics By Number Of Visits, Platform, Age, Country, Ethnicity and Revenue
Barry Elad
Updated · Aug 02, 2023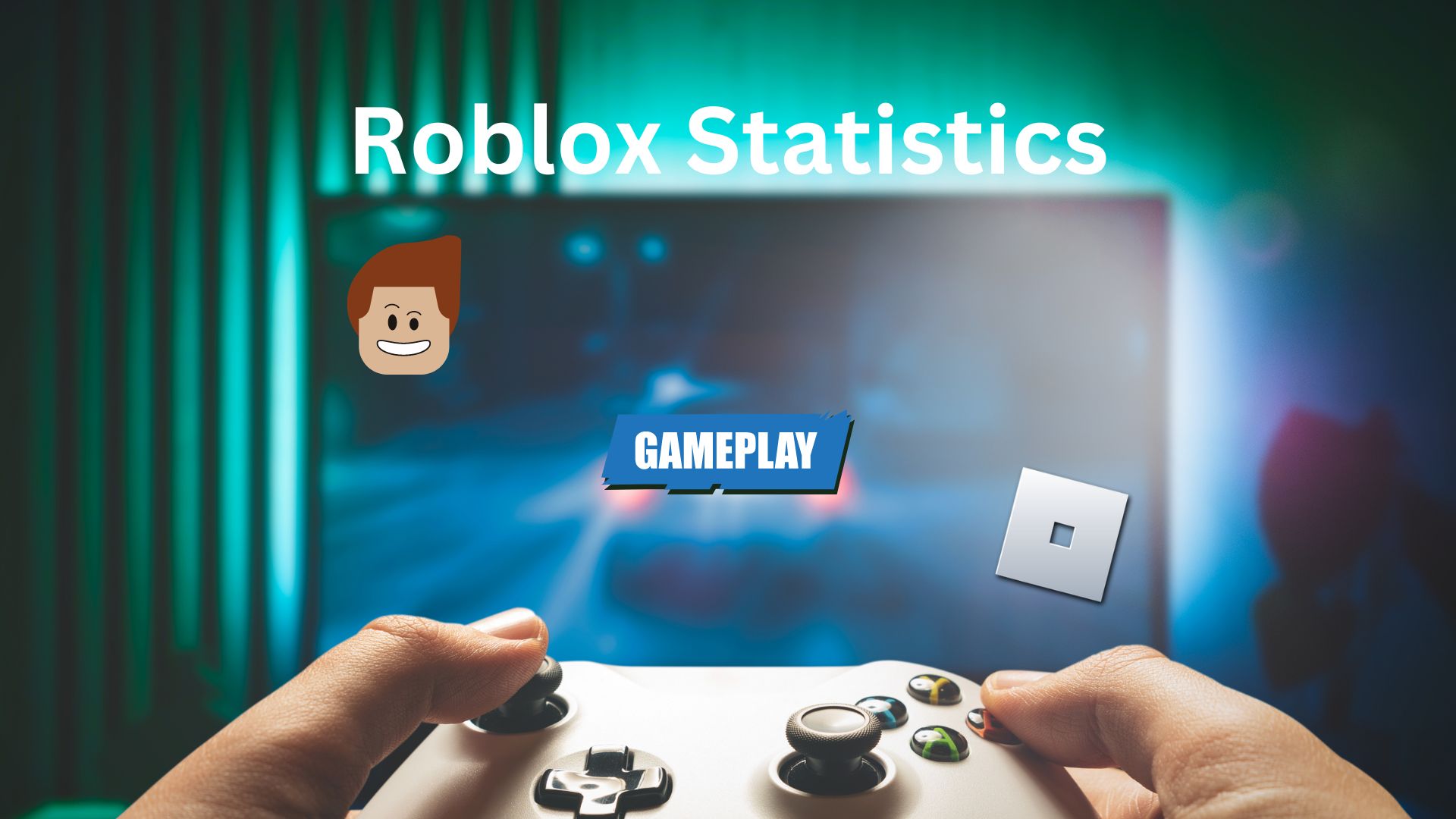 Introduction
Roblox Statistics: The reports say that Roblox statistics, it is clear that this video gaming industry in recent years is enhancing enormously. The founder of Roblox was David Baszucki, and Erik Cassel in 2006. Roblox is an internet-based gaming platform that allows players to play a wide variety of games, enables them in creating games, and an online chatting system. Currently across the world according to Roblox statistics, it has observed the active users of this application are 66.1 million/day and around 214.10 million/month.
These Roblox Statistics include insights from various aspects that provide light on how fast Roblox is becoming popular around the globe recently.
Editor's Choice
Revenue earned by Roblox Corporation in 2022 was $2.22 billion and in the 1st quarter of 2023, it was $655.3 million.
In the 1st quarter of 2023, the engagement hour of Roblox was 14.5 billion hours.
As of May 2023, the net worth of Roblox turned out $23.73 billion and in the same month, the monthly active users crossed over 214.10 million and daily users were 66.1 million approximately.
To date, the user involvement of Roblox has turned out to be 12,000 billion hours.
Roblox platform is currently having 9.5 million developers and is hosting over 50 million 'experiences'.
In 2022, the developer communities of Roblox have earned $623 million.
The most popular game for a longer time in The Roblox is [Adopt Me] a pet simulator.
According to Roblox demographic stats, it has been observed that 51% of males, 44% of females, and 5% of unraveled genders have played the game by the end of 2022.
As of March 2023, around $38 billion has been worth by Roblox gaming companies over the world.
In the United States, the highest grossing earned by the Roblox gaming app was between January to April 2022 generating $207 million.
Facts About Roblox Statistics
According to Statista, the age group statistics of Roblox in the 4th quarter of 2022; under 13 years = 26 million, and above 13 years = 32.4 million.
In the 1st quarter of 2023: under 13 years = 28.7 million, and above 13 years = 36.9 million
The share of daily active users of Roblox by the end of 2022: under 13 years = 55.82% and above 13 years = 43.41%
In the free adventure category, Roblox ranked 1st position on Google Store in January 2023.
The most downloaded games of Roblox in 2023 are made by Google Play users on their Smartphones and downloaded resulting in 500,000,000+ million.
The Roblox has received more reviews on Google Play = 27.7 million and on iOS = 6.3 million.
The Roblox Corporation is having around 2,128 full-time employees in the 1st quarter of 2023.
As of April 2023, the number of employees in the Department of Engineering = 800, Product = 400, Marketing = 200, Sales = 100, Customer Support = 100 and others = 100
As of February 2022 daily number of active users over the world was 55.1 million which has increased by 28% from the previous year and 3.8 million hours were engaged on Roblox games with a increase of 21%.
In 2022 people have spent above 2.6 hours each day playing Roblox games.
As of 2023, Roblox is having more than 50 million currently active games.
Roblox games played on mobile devices are approximately 79%.
(Image Source: cometoplay.co.uk)
Educational Benefits of Roblox
These unique gaming platforms allow in enhancing creativity among children and also enable them to transport within an open world and a virtual world of enjoyment.
If not in real life, you do war in Roblox.
This entertainment platform helps in expanding knowledge, especially in the coding world as it is having its programming language of Lua.
Develops entrepreneurial skills of children and teenagers.
Also enhances social skills, collaboration, and teamwork.
If people get bored then can take part in a variety of Roblox events such as contests, challenges, and tournaments.
General Statistics
As of 2023 the largest player of Roblox or daily active users across the region is Europe with 28.74% of the share followed by the Asia-Pacific region with 22.54% market share.
By the end of 2022, Roblox users spend an average of $20 per year.
The year-on-year growth of Roblox users has grown by 23% in 2022 from last year resulting in 56 million daily active users.
The global valuation of Roblox in 2022 was $20 billion, which has decreased from last year.
The user base of Roblox was 23% share was made by the age group of 9 to 12 years in 2022.
Roblox gamers in December 2022 have used mobile devices for enjoying games by 78% which has been disclosed by Roblox Corporation.
People in 180 countries have played the application of Roblox in which Europe was the leading user of Roblox with 16.6 million daily active users by the end of 2022.
The Roblox community of developers has experienced a fund increment of 24% in the 1st quarter of 2022 resulting in $182 million. On the other side, the growth observed in the Roblox platform in March 2023 was 63% from the previous quarter.
As of 2023, testing of Roblox's new advertising is currently performed by 200 developers.
Roblox subscribers have reached 4.04 million on YouTube and 8.3 million on Twitch as of 2023.
As of January 2023, employees in Roblox is more than 1,200 of which male is 62%, and females is 38%.
Roblox's Global Salary Distribution
(Image Source: vpnalert.com)
Roblox's Active Users Statistics
Daily Active Users by Region
In the 1st quarter of 2022: U.S. and Canada = 12.4 million, Europe = 15 million, Asia-Pacific = 12.6 million, and Rest of the world (ROW) = 14.2 million.
2nd quarter of 2022: U.S. and Canada = 12.4 million, Europe = 14.1 million, Asia-Pacific = 12.3 million, Rest of the world (ROW) = 13.4 million.
3rd quarter of 2022: U.S. and Canada = 14.2 million, Europe = 15.5 million, Asia-Pacific = 13.2 million, Rest of the world (ROW) = 15.9 million.
4th quarter of 2022: U.S. and Canada = 13.3 million, Europe = 16.6 million, Asia-Pacific = 13.6 million, Rest of the world (ROW) = 15.3 million.
1st quarter of 2023: U.S. and Canada = 14.3 million, Europe = 19 million, Asia-Pacific = 14.9 million, Rest of the world (ROW) = 17.9 million.
Daily Active Users Statistics
(Reference: businessofapps.com)
In the 1st quarter of 2022, the daily active users of Roblox across the world is 54.1 million
2nd quarter 2022 = 52.2 million
3rd quarter 2022 = 58.8 million
4th quarter 2022 = 58.8 million
1sy quarter 2023 = 66.1 million
Monthly Active Users Statistics
January, 2022 = 224.5 million
May, 2022 = 211 million
December, 2022 = 203.11 million
January, 2023 = 203.90 million
May, 2023 = 214.10 million
Roblox User's Leaving Volume Statistics
January = 560,000
February = 5 million
March = 6.48 million
April = 2.87 million
June = 6.4 million
December = 2.5 million
Roblox Daily Users Statistics by Age, 2023
Under 9 years = 25% of users
9 – 12 years = 29% users
13 – 16 years = 13% of users
17 – 24 years = 16% of users
25 years and above = 14% of users
(Reference: statista.com)
As of today, there are the top 13 countries across the world that are playing the most Roblox.
As of April 2023, the United States secured the highest position of global player expenditure on Roblox = 48%
Following are the countries of global players who are spending on Roblox South Korea = 6%, United Kingdom = 5%, Australia = 3%, Canada = 3%, Brazil, France, Japan, Malaysia, Hong Kong, Germany = 2% each, Czech Republic, and Philippines = 1% each, and other countries = 19%
(Reference: vpnalert.com)
As of January 2023, the share of Roblox players is highest in the United States = at 20.21% which is followed by Brazil = at 7.85%, Russia = at 6.09%, Turkey = at 4.43%, and the United Kingdom = at 4.42%
Roblox Games Statistics by Number of Visits
"Adopt Me!" has turned out to be the best game with 27.39 billion visits.
Tower of Hell = 16.69 billion
Brookhaven = 16 billion
MeepCity = 13.06 billion
Piggy = 10.07billion
Murder Mystery 2 = 7.54 billion
Royale High = 7.37 billion
Welcome to Bloxburg = 5.66 billion
Jaibreak = 5.64 billion
Blox Fruits = 4.09 billion
(Reference: statista.com)
Roblox Statistics by Revenue
January, 2022 = $537 million
April, 2022 = $591.2 million
August, 2022 = $517.7 million
December, 2022 = $579 million
April, 2023 = $655.3 million
Annual Income Statistics of Roblox Developers
As of 2022, 1st quarter = 147.1 million
2nd quarter = 143.1 million
3rd quarter = 151.5 million
4th quarter = 182.1 million
Roblox Usage Statistics by Platform
(Reference: statista.com)
By the end of December 2022, the Roblox Corporation gaming company has covered 78% of mobile game users.
By desktop game users = 20%
Console = 1%
Usage Statistics by Time
In the 4th quarter of 2022, the time engagement rate of Roblox has slightly reduced and resulted in 12.8 billion hours over the world.
Total time engagement in the entire year 2022 was 49.3 billion hours.
Whereas in the 1st quarter of 2023, the time has increased to 14.5 billion hours.
Around 4.07 billion hours were generated by European users.
3.456 billion hours = USA and Canadian users
3.192 billion hours = Asia Pacific users
3.774 billion hours = Rest of the world.
Roblox Employee Distribution Statistics by Ethnicity
(Image Source: vpnalert.com)
Most Loved Games Statistics by Countries
(Image  Source: sftcdn.net)
Conclusion
As of now after completing the article on Roblox Statistics it can be stated easily that this is a prevalent platform that includes enhance potential along with a diverse and large user-based company.  Recently people across the world are spending lots of time playing various games on Roblox apps and which has resulted in increased market value.
It is also observed that many new contents are under process by Roblox developers for enabling users' new options in this gaming platform. This article includes many different informative statistics that will help in understanding how the market of Roblox is growing enormously across the world.
How much does Roblox cost?
The download and joining to the Roblox platform is free with an option of game purchases for cosmetic items as well as upgrades. Games enjoyed by players in the 2nd quarter of 2022 were above 32 million and in August 2022 monthly active users of Roblox was 203 million.
Is Roblox platform safe for users?
Yes 100% safe because after downloading this application there are several process present for ensuring all safety measures. The team allow in monitoring and removing out all inappropriate contents with the help of filtered system.
In the Roblox platform, Robux is virtual currency used for buying various items for avatars in different games such as accessories and cloths.

Barry Elad
Barry is a lover of everything technology. Figuring out how the software works and creating content to shed more light on the value it offers users is his favorite pastime. When not evaluating apps or programs, he's busy trying out new healthy recipes, doing yoga, meditating, or taking nature walks with his little one.
More Posts By Barry Elad