Yelp Statistics By Business Category, Star Rating Distribution, Visitors, Platform, Country, Consumers
Barry Elad
Updated · Sep 07, 2023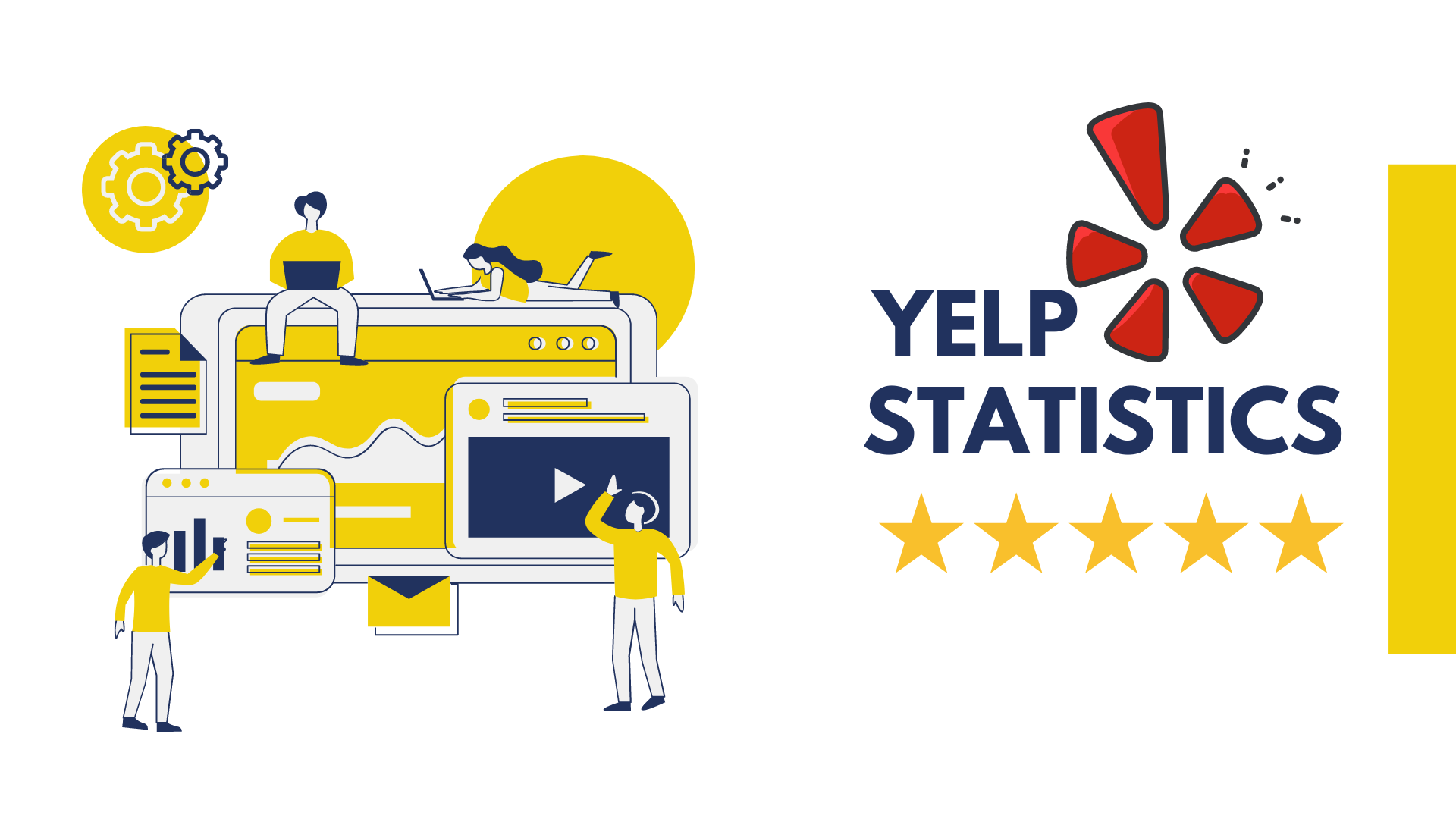 Introduction
Yelp Statistics: According to reports, Yelp is a review-based network industry and in general, this platform allows people to review industries such as Local Search, business ratings and reviews, online food delivery, and local homeowner services. Yelp was established in the year 2004, headquartered at 350 Mission Street San Francisco, California, United States. Across overall review-based networks, Yelp.com is the 44th most viewed website and the Yelp app includes 184 million reviews to date that allow people to understand the business performance. These Yelp Statistics include insights from various aspects that provide light on how is becoming popular among worldwide people in recent days.
Editor's Choice
(Source: agencyanalytics.com)
In the 2nd quarter of 2023, the net revenue earned by Yelp was $337 million and the net income earned by Yelp resulted in $15 million.
The market share of all other online review platforms Yelp has covered almost 6% to date.
On Yelp, 52% of all reviews make up mostly 5-star reviews.
Among overall Yelp reviews, it has been observed that 61% are written by women.
54% of Yelp customers have claimed that customer service is the most relevant factor in this platform.
In 2022, the website visitors of Yelp turned out around 59.1 million.
In the United States, among all social media platforms, Yelp ranks 10th.
As of 2023, online Yelper's top discussions are food and drinks (56%) and movies and series (45%).
On a daily basis, 12% of the U.S. people used Yelp in 2022 which is almost the same as the TikTok app.
Whereas, around the world, 78% of Yelp users are surfing social media regularly.
According to Statista, Yelp users around 77% of recommend online companies and brands.
As of 2022, it was observed that business found on Yelp has enhanced purchasing by 97% which per day purchasing resulted in 51%, and per week purchases increased by 90%.
Benefits of Yelp
The top benefit of using the Yelp for Business mobile app is allows you to respond to messages on the go.
Helps users stay informed with push notifications.
This platform also helps in monitoring performance at a glance.
Allow users to stay updated with Yelp pages
Enables easy customer support.
Responds to reviews quickly.
Helps in making the layout more attractive by enabling easy photo uploads.
This also manages paid features and picks up right where users left off.
Allow access to blog resources.
Facts on Yelp Statistics
(Source: vpnalert.com)
United States in 2023, Yelp had almost 265.29 million reviews.
In 2022, the Yelp app was used by 33.026 million devices across the world which was slightly decreased from 2021.
By the end of 2022, approximately 558,000 restaurants and many other businesses have paid for advertising on Yelp.
In the 2nd quarter of 2023, monthly average paying advertising locations resulted in 563K.
In 2022, the monthly average app unique devices was 33 million and by December 2022, Yelp's cumulative reviews were 265 million in the U.S.
The Yelp revenue breakdown statistics by-products are followed by advertising ($1.134 billion), transactions ($14.06 million), and other services ($45.04 million) in 2022.
In Yelp advertising revenue breakdown in service sectors resulted in $693.81 million while, restaurants, retail, and other sectors resulted in $440.59 million.
In 2022, revenue generated in the United States was $1.19 billion and international revenue was $8.30 million.
Whereas, costs and expenses in Yelp amounted to approximately $1.14 billion in 2022 which has increased from last year.
General Statistics
(Source: businessdit.com)
As of current reports in 2023, in the United States, almost 12% of customers use Yelp regularly many times a week and 3% of users use Yelp once a week.
In the Yelp platform, almost 78% of people are frequent daily users.
In the United States 2023, the total number of Yelp employees is around 3,900 individuals.
According to Yelp statistics, favorable Yelp is positively influenced by 94% of customers.
Negative reviews on the Yelp app can reduce the likelihood of engaging an effective customer base which was accepted by 92% of customers.
Yelp's online reviews and personal recommendations also help in gaining high level trust said by 79% of customers.
As of 2023, in the United States, the average Yelp salary has resulted in $107,334 annually in which the top 10% of employee earns above $181,000/year, and less than 10% of employees earns almost $63,000/year.
Top ten hobbies among Yelp users are followed by food (74%), travel (68%), music (65%), health and fitness (51%), reading and writing (51%).
Advertisement has annoyed around 46% of Yelp's users.
The top three motivational factors of Yelp users are followed by safety and security (40%), enabling them to learn new things (35%), and being successful (28%).
In 2023, around 96% of Yelp users use Smartphones for accessing the internet.
Yelper's Statistics in The U.S.
By Business Category
(Source: wallstreetzen.com)
According to the reports of 18th October 2022, for home and local services, 19% of reviews were available in Yelp.
The other business categories Yelp review stats are followed by restaurants (17%), shopping (15%), beauty and fitness (11%), health (9%), auto and events (6%), arts, events, and entertainment (4%), travel and hotel (4%), and nightlife (2%).
By Star Rating Distribution
By the end of 2022, the 5-star rating on Yelp review was about 52%.
Furthermore, other rating statistics are followed by 1-star (16%), 4-star (16%), 3-star (8%), and 2-star (6%).
By Visitors
Yelp's website visitors in 2022, were approximately 38.046 million via desktop devices around the world slightly reduced from last year.
, in March 2023, Yelp's website visitors turned out above 141.4 million with an increase of 8.07%.
Whereas, in the same year Yelp's mobile web visitors resulted in almost 59.179 million which has increased from 2021.
By the end of 2022, Yelp businesses by 6.321 million have been claimed by the owners
By Platform
As of January 2022, the top competitor of Yelp was Google with 73% of the market share and the 2nd most popular platform was Yelp with a 6% market share.
The other platforms' market shares are followed by Facebook (3%), TripAdvisor (3%), and Other (12%).
As of reports in 2022, before interacting with any business 45.18% of users have preferred checking reviews from Yelp.
Yelp User's Statistics by Demographics
 (Source: yelp-press.com)
As of June 2023, in the United States, the age group of Yelp users is followed by 18 years to 34 years with 24%, 35 years to 54 years (34%), and 55 years (40%).
The education qualification of Yelp users in the U.S. are followed by degrees bachelor's (87.2%), master's (5.2%), associate (4.2%), high school diploma (1.8%), certificate (0.9%), diploma (0.3%), doctorate (0.3%), and license (0.1%).
Whereas, 21% of Yelp users are earning around 59K, which is followed by $60K-$99k (24%), and $100K (more than 55%).
Yelp's Statistics by Employees
The employee statistics are divided by department or segment, by race or ethnicity, age, and by gender.
In the 3rd quarter of 2022, in the United States, the maximum number of employees was available in the sales and marketing department 63%, followed by product development (28%), and general and administrative (9%).
Employees statistics by ethnicity are followed by white (53%), Asia (15%), Black (10%), Hispanic (11%), not specified (5%).
As of December 2022, Yelp's employee below 20 years to 30 years was 51%, 30 years to 40 years (34%), 18 years to 20 years (6%), less than 18 years (3%), above 40 years (4%) and above 50 years (5%).
In the U.S. highest employee share in Yelp was 53% male, 43% female, 4% undefined genders, and 1% others.
The length of employment of 38% of Yelp employees (less than 1 year), followed by 28% of employees (5-7 years), 20% of employees (1-2 years), 8% of employees (8-10 years), 3% employees (3-4 years and 11 years respectively).
Yelp's Statistics by Types of Cost and Expenses
By the end of 2022 in the U.S., Yelp have spend maximum on sales and marketing department up to $514.93 million.
The second most important spending was on `the product development section with $305.56 million.
Furthermore, other types are followed by general and administrative ($164.11 million), cost of revenue (105.71 million), and depreciation and amortization ($44.85 million).
Whereas, total spending on Yelp's advertising in 2022 turned out $71.1 million.
Yelp Website Statistics
By Country
(Source: similarweb.com)
Currently, Yelp's website is available in 35 countries which are available in 42 different languages.
In the last month, the United States has been the leading country with more Yelp users and generating more website traffic accounting for 93.40% which has increased by 5.94%
Other countries recorded the following contribution in total traffic are United Kingdom (1.18%) increased by 15.52%, Canada (0.72%) increased by 5.36%, Australia (0.56%) increased by 22.32%, Philippines (0.43%) increased by 1.70%, and other countries collectively made around 3.71%.
By Traffic Source
(Source: similarweb.com)
As per Yelp statistics, the highest rate of traffic towards yelp.com is by organic search resulting in 73.14%.
73% is direct traffic while 1.38% is from referrals of social media networks etc.
Furthermore, other traffic sources towards yelp.com are Mail (0.83%), Social (0.70%), paid search (0.14%), and Display (0.08%).
By Social Media Referral Rate
(Source: similarweb.com)
YouTube has the highest rate of social media referral rate on Yelp.com resulting in 31.07% than other social networks.
Facebook and Reddit contribute almost 24.23% and 21.18% respectively.
Website traffic sent by Instagram is 25.55%% whereas, Facebook Messenger contributes by 5.34%
Other social media networks in yelp.com with nominal contribution percentages collectively make up 12.63%
Yelp Statistics by Usage
In 2022, Yelp users have contributed almost 21 million reviews which has increased by 3% from last year.
Whereas, 80% of Yelp searches were not included in a business name.
As of January 2022, almost 50 million users were observed from Yelp's desktop website.
79% of Yelp's users prefer online reviews preferred online reviews in 2023.
Whereas, almost 32 countries are currently using Yelp which is spread across 219 cities.
Yelp Statistics by Consumers
According to global review platforms in 2022, almost 1,700 Yelp user's fake accounts were closed by Yelp for reviewing fake activities.
According to survey reports, 9 out of 10 consumers in 2022 information was demanded by legal sources.
In the United States, almost 2,700 Yelp consumers issued alerts in which consumer alerts by 3% indicate paid review activities.
The customer alert reasons statistics by occurrence percentage are followed by compensated activity (3%), questionable legal threat (2%), suspicious review activity (15%), and media attention alerts (80%).
Yelp User's Statistics
By Recommendation
(Source: marketsplash.com)
As of 2023, Yelp users around 77% of recommend online companies and brands in case of buying products.
If Yelp customers like the company and brand, 67% of Yelp users recommend online services and products.
The other Yelp user recommendations percentage is followed by good customer service (54%), discounts and giveaways (46%), personal brand connection (40%), and support for favorite brands (36%).
By Discussion Topic
As of 2023, online Yelper's top discussions are food and drinks (56%) and movies and series (45%).
Whereas, 43% of Yelp user's popular discussion topics are vacation and travel.
Furthermore, discussions of Yelp user's stats are followed by Music (42%), and politics (25%)
Conclusion
As of today, after analyzing all statistics on Yelp it can be easily said that recently people have more towards collecting reviews about different restaurants and other businesses before investing. Yelp platform has experienced huge popularity as it is emerging as the leading consumer review site among many businesses across the world after Google. It has been observed that in 2023 the net revenue earned by Yelp is $337 million. This article includes many effective statistics that are explained elaborately above and will provide a better understanding of the Yelp platform.
Is buying Yelp reviews legal?
No it not explicitly legal, in case of buying Yelp reviews can violet Yelp's policies and business may face many serious consequences such as legal repercussions or account suspension.
How to understand fake reviews on Yelp?
This is the most challenging part but not impossible thus, some signs of fake reviews are suspiciously many reviews posted within short period, repetitive contents and excessive positive language more than required.
How to get effective and positive reviews on Yelp?
Some effective tactics are filling out business page, placing Yelp badge on the website, using Yelp branding in store, sharing Yelp reviews on Social media, proper responding to Yelp users, posting updated from businesses and promoting advertisements.
Barry Elad
Barry is a lover of everything technology. Figuring out how the software works and creating content to shed more light on the value it offers users is his favorite pastime. When not evaluating apps or programs, he's busy trying out new healthy recipes, doing yoga, meditating, or taking nature walks with his little one.
More Posts By Barry Elad